The Elegance at Hershey 2014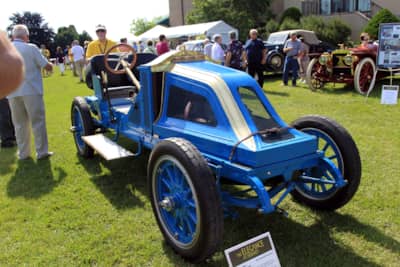 Hershey, Pennsylvania. If you're not deeply into antique automobiles, the name conjures up images of chocolate rather than fine classic automobiles. If you're not already familiar with Hershey being the home to the Antique Automobile Club of America (AACA), you're in for a surprise. They recently held their annual event, Elegance at Hershey, taking place at the Hotel Hershey - a grand hotel built by Milton Hershey during the Great Depression, partly to give employment to many of the residents of Hershey.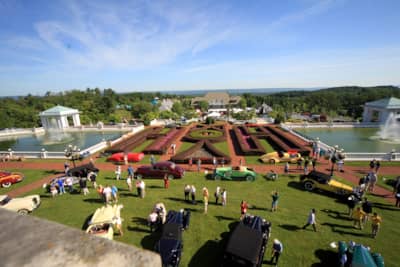 Thanks to the AACA, many magnificent motorcoaches made their way up the hill to the hotel that overlooks the Sweetest Place on Earth™, many of them hoping to win the prestigious Governor's Cup, awarded to the best car in the show.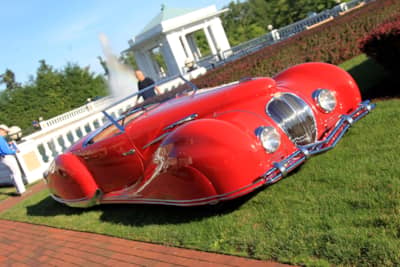 There were many deserving entrants, not the least of which was a 1947 Delahaye 135M Roadster by Figoni et Falaschi. Even for a Delahaye, this was a fascinating and beautiful car... but it wasn't the best car of the day.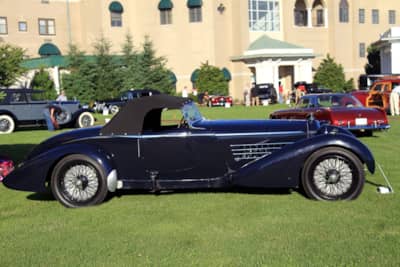 Neither was the 1934 Alfa Romeo 8C 2300 Speedster (shown above), the 1904 Oldsmobile "French Front" Light Tonneau  nor even the 1931 Jordan G-90 Speedboy Dual-Cowl Phaeton. 

In a field with more than a dozen Rolls Royces and Packards combined, one car stood above all the rest.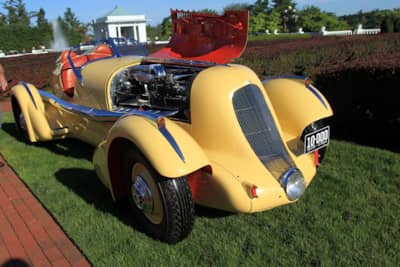 The day belonged to the Duesenberg Special Model J. Although judging at the event didn't officially begin until 2:30 p.m., any doubts as to which car would take the top prize ended when the Mormon Meteor rose slowly and gracefully, but thunderously, loud from the bottom of the hill one hour before the official 9:00 a.m. start of the show.
This unique, custom-built car announced its own entrance with the roar of its 420 c.i. engine.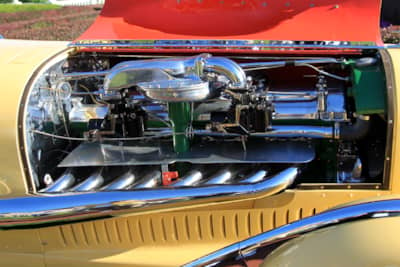 Starting its life as the Duesenberg Special, this beauty had an inline eight cylinder engine tuned to perfection by Augie Duesenberg, who managed to have the "Mormon Meteor," as it was later named, churn out 400 hp.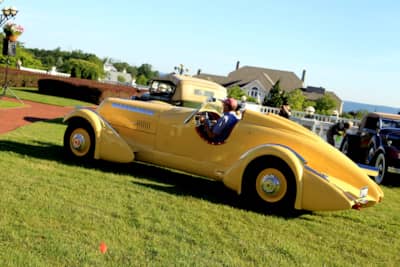 Originally owned by Ab Jenkins, who took the car to Bonneville and set the 24-hour land speed record at an average of 135.47 mph, a record that wouldn't be broken until 1961. Jenkins later converted it for street use, but in 2005, the Duesenberg was purchased by its current owner, Harry Yeaggy, who had it restored back to its original racing form. Although the most prestigious award of the day, the Governor's Cup is not the only award handed out on this day. Listed below are the five biggest winners of the day, with a gallery to follow. Governor's Cup 1935 Duesenberg Mormon Meteor Owner: Harry Yeaggy Founder's Award 1931 Minerva AL Convertible Sedan Owners:  Joseph & Margie Cassini, III The Hotel Hershey Award 1947 Delahaye 135-M Owners:  Robert & Sandy Bahre People's Choice Award 1954 De Soto Adventurer Owner:  Paul Gould Jack Rich Award 1934 Alfa Romeo 8C Owner:  Roger Willbanks