The Everyday Ram: A 650 hp Dodge Anyone Can Build
A manually shifted, Cummins-powered Dodge Ram is the quintessential truck for most diesel enthusiasts. In the eyes of many, combining the B-series inline-six with a standard transmission offers the best of both worlds: steadfast durability and utter simplicity.
Jake Bosie certainly thought so, as he jumped at the chance to buy this '05 Dodge Ram 3500 that he found sitting at a local dealership. While he'd previously owned an older 5.9L Cummins-powered Dodge, it wasn't the third generation body style or (more importantly) equipped with common-rail injection.
"The VP44 truck ('98.5-'02) I had before it just didn't have the power that the common-rail 5.9L does," Jake told us.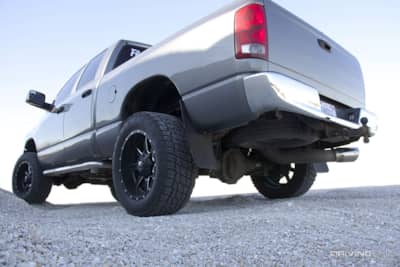 Stock Bottom End
Because the '03-'07 5.9L Cummins' rotating assembly is known to handle in excess of 800-rwhp before stronger rods and different pistons need to be considered, the short block in Jake's Ram is 100 percent stock. However, the top-end has received considerable upgrades in order to withstand elevated boost and cylinder pressure. After being sent off to the Cummins gurus at Scheid Diesel, the 24-valve head was cut to accept fire-rings (for an uncompromising combustion seal). While there, the 125-pound chunk of cast-iron was also fitted with oversize valve seats and a set of 5,000-rpm valve springs. The head anchors to the block via ARP's exotic material, Custom Age 625+ head studs.
(Read about the renowned Scheid Diesel Extravaganza.)
Stoking the Fire
Like many modern day diesel enthusiasts, Jake chose a huge injector when it came time to upsize from stock. He did this for two reasons: 1) large electronically controlled injectors can be detuned (dialed back) via tuning to match the engine's airflow capability, and 2) large injectors provide room for growth, should more airflow (i.e. compound turbos) ever make it into the equation. The injectors currently feeding the engine were built by Exergy Performance and feature nozzles that flow 80 percent more fuel than stock. To keep the injectors happy, a Dual Fueler CP3 injection pump system from Pacific Performance Engineering is employed, along with an AirDog lift pump that flows 150-gph.
Respiratory System
When it came time to spec the perfect turbocharger for the engine, Jake had his work cut out for him being that the truck was heavily fueled and manually shifted. He was tasked with finding a charger that could keep the truck drivable at low rpm (not laggy, or worse, smoky), yet provide strong midrange and exceptional top-end performance. He ended up settling on an age-old favorite: the PhatShaft 66 from Industrial Injection. Based on the BorgWarner S300 series, the 66mm charger spools quick and produces 53 pound of boost at full tilt. On the ECM side, a Smarty Touch S2G Programmer is used to tie all the truck's modifications together, electronically.
Iron Over Aluminum
Although the truck left the assembly line packing a G56 six-speed manual transmission, it was scrapped long ago. After destroying four gearboxes — a common problem when the G56's aluminum case is exposed to the earth-twisting torque a modified Cummins creates — the tried and true (cast-iron case) NV5600 became the truck's saving grace. But before the six-speed swap took place, the NV5600 was torn down, its internal parts were cryogenically treated for stress relief, and the gearbox was rebuilt. A 3850 competition dual disc clutch from South Bend is responsible for sending quadruple digit torque through the gearbox on a regular basis.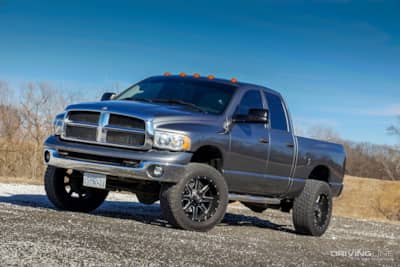 For Jake, addressing weak links before adding horsepower, careful parts selection, and sticking to a reasonable budget throughout the buildup explain why the truck is as well-rounded as it was the day it rolled off the assembly line. He can drive it year-round, rely on it daily, get 20 mpg on the highway, reel in sports cars and still tow or haul anything he needs to. Best of both worlds? It's more like best of all worlds…
With a quick glance under the hood of Jake Bosie's '05 Dodge Ram 3500, the 5.9L Cummins doesn't appear to be highly modified. Sure the bright red intake elbow and K&N system clue us into the fact that a couple of bolt-ons have been added, but otherwise the engine looks rather tame. By design, most of this Ram's power adders are hidden under the valve cover, the exhaust manifold, or in the ECM.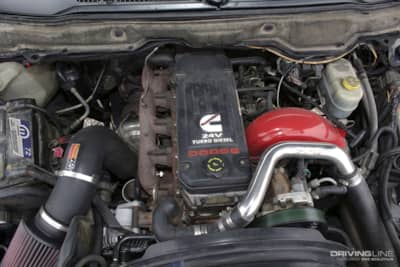 Bolting to the stock exhaust manifold and thereby dwelling in the factory location is a PhatShaft 66 turbo from Industrial Injection. The S300 series BorgWarner charger features a cast, 66 mm compressor wheel, 74mm turbine wheel, and a 14 cm, T3 foot exhaust housing. The PhatShaft 66 is known throughout the diesel industry for supporting big horsepower and being tough as nails. We can vouch for the tough as nails part, as this thing sees 53 psi of boost at full tilt — and on a daily basis.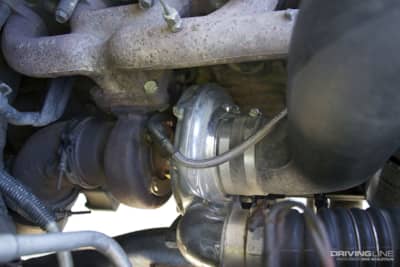 Replacing the choked down, squared factory intake elbow is a red powder coat unit from CFMPlus. A port incorporated into the back of the elbow allows Jake to keep an eye on turbo boost via in-cab gauge, which registers more than 50 psi under wide-open throttle.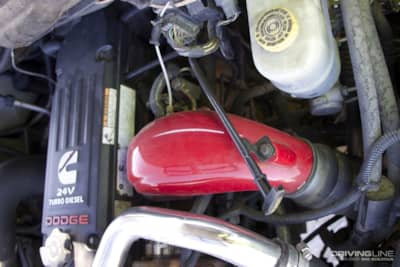 A pair of CP3 injection pumps, courtesy of a Dual Fueler kit from Pacific Performance Engineering, grace the engine. The factory pump resides in the stock location and the second CP3 (shown) is belt-driven up top. The two pumps work together in supplying 26,000 psi worth of fuel rail pressure to a set of 80-percent over injectors from Exergy Performance.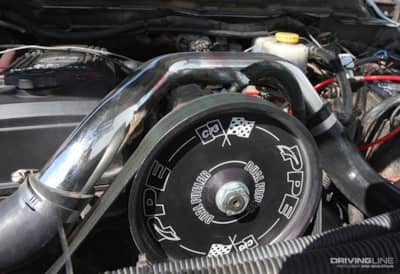 With an expensive set of injectors and dual injection pumps onboard, Jake wanted to take good care of his performance investment. This 150-gph AirDog lift pump system ensures a consistent 15 psi of fuel supply pressure is always on tap for the CP3 pumps to use.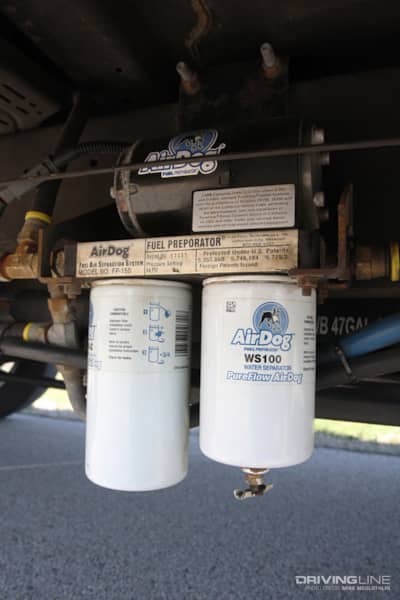 The '05.5 and newer Ram trucks were equipped with the G56 six-speed transmission — Jake's being one of them — which is notorious for failing when subjected to high torque loads (i.e. from a modified Cummins in front of it). After replacing the G56 on three separate occasions, an NV5600 swap was performed. And not only that, all of the NV5600's internals were cryogenically treated by Zumbrota Bearing And Gear (ZBAG) of Zumbrota, Minnesota prior to being installed. Torque transfer is made possible via a competition dual disc clutch from South Bend with a 3,850-pound plate load rating.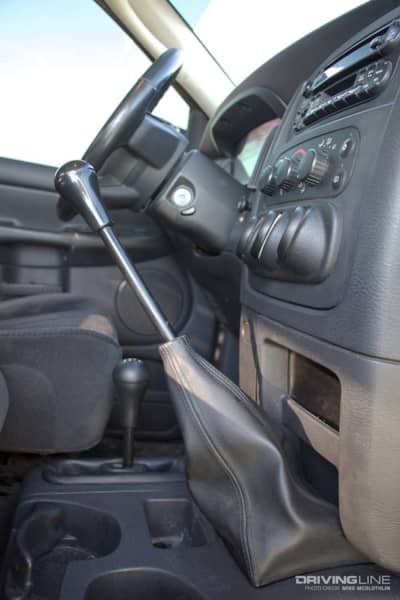 For year-round drivability, the truck relies on a set of 305/55R20 Nitto Terra Grappler G2's, which are mounted to 20x10-inch Fuel Maverick wheels. For Jake, the biggest plus of running the Terra Grappler G2 is its ability to hold traction well in the rain and with the truck in two-wheel drive. Believe it or not, maintaining rear-wheel traction in inclement weather is a big problem for diesel trucks in this horsepower range.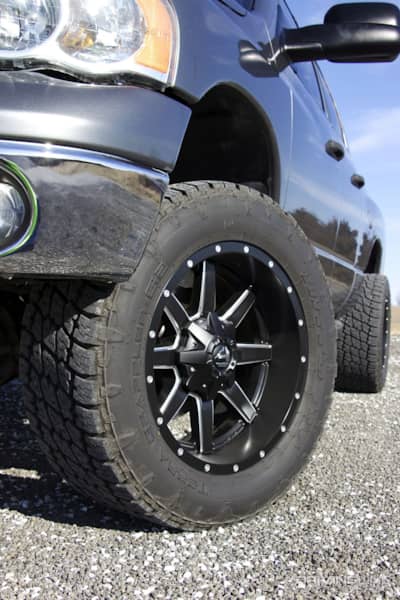 A Smarty Touch Programmer S2G takes care of tuning the truck's ECM and monitoring key vitals (engine coolant temp, boost). In case you were wondering, Jake leaves the Smarty set on kill at all times (Level 9 for power, with number 3 timing and number 3 set for rail pressure).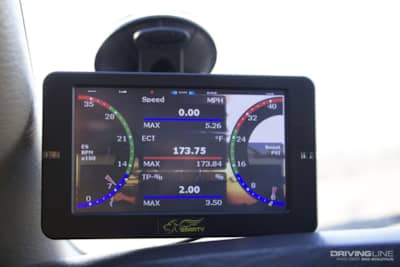 Don't ever let someone tell you that you can't pull off a good burnout with a manual transmission vehicle. With 1,300 lb-ft of torque at Jake's disposal at low rpm, very little effort is required to get the white smoke rolling.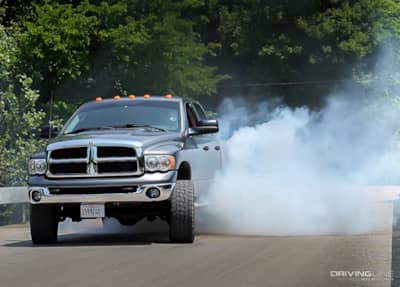 POWER SPECS
2005 Dodge Ram 3500
ENGINE: 5.9L Cummins featuring a Scheid Diesel fire-ringed cylinder head with oversize valve seats, ARP Custom Age 625+ head studs, 5,000-rpm valve springs
FUEL SYSTEM: PPE Dual Fueler CP3 system, Exergy Performance 80-percent over injectors, AirDog 150-gph lift pump system
AIRFLOW: Industrial Injection PhatShaft 66 turbo (S366) with 74 mm turbine wheel, 14 cm exhaust housing, T3 flange, and internal wastegate, K&N cold air intake, CFMPlus intake elbow
EXHAUST SYSTEM: 5-inch Flo-Pro turbo-back system with 6-inch tip
TRANSMISSION: Cryogenically treated NV5600, South Bend 3850 competition dual disc clutch
TUNING: Smarty Touch Programmer S2G
TIRES: Nitto Terra Grappler G2 305/55R20
WHEELS: Fuel Maverick 20x10-inch
SUSPENSION: Homemade rear traction bars