10 Years of the Japanese Classic Car Show
This year marks the 10th anniversary for the Japanese Classic Car Show, held annually at the Queen Mary in Long Beach, CA - and while it's already an event celebrating nostalgic cars, the sentiment was even stronger this time around. From restored to modified, every vehicle was in excellent show-quality condition despite, being 25 or more years old.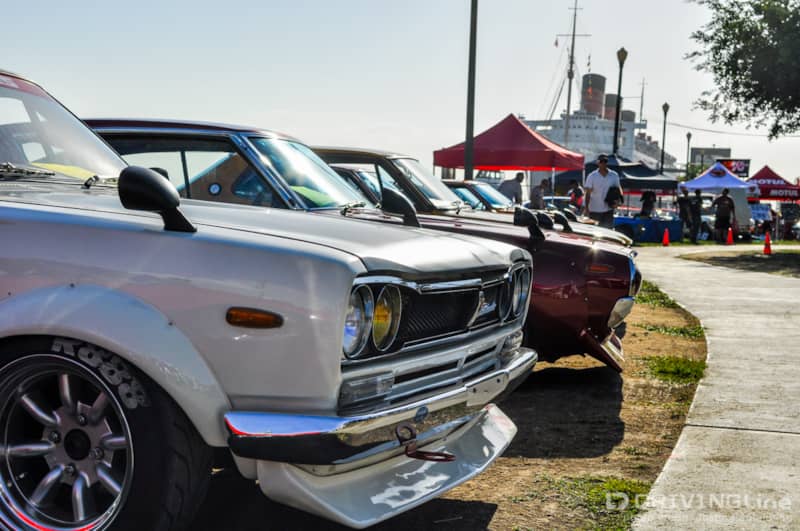 Scoping out the builds by the Queensway Bay, I was immediately overwhelmed by all of the vintage Nissan's and Datsun's. Every step on the grass took me to a different place on the timeline of Nissan's legacy - so it would only be fitting to take you all on a small climb up the Nissan family tree through the sights of JCCS's 10th year.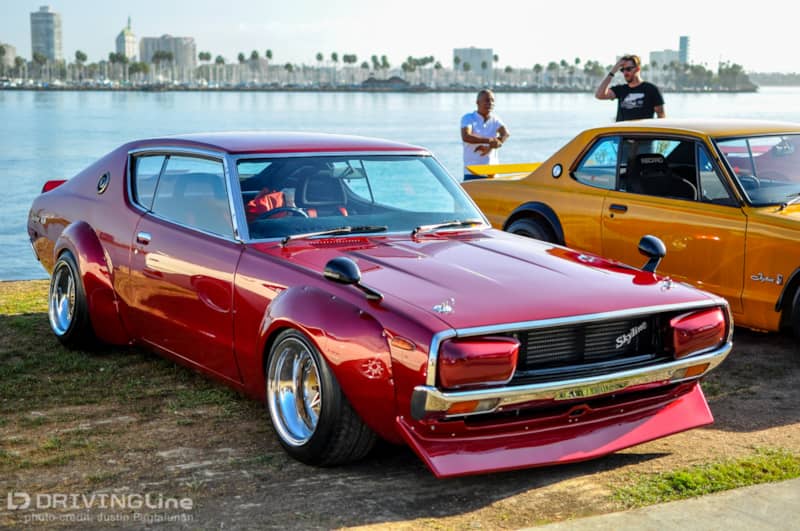 First, we'll start with the "young" of the group, and I use that term lightly because, while this masterpiece of a Nissan Skyline C110 might be the youngest of the bunch, it's still a car that was in production during the early 1970's! The fitment of those massive SSR Techno Phantom wheels are perfect, Patrick did a great job having one of the cleanest Kenmeri's on this day. Fun fact: "Kenmeri" is the nickname of this model Skyline because of advertisements out during the era featuring a couple named "Ken" and "Mary," enjoying their newly purchased Skyline.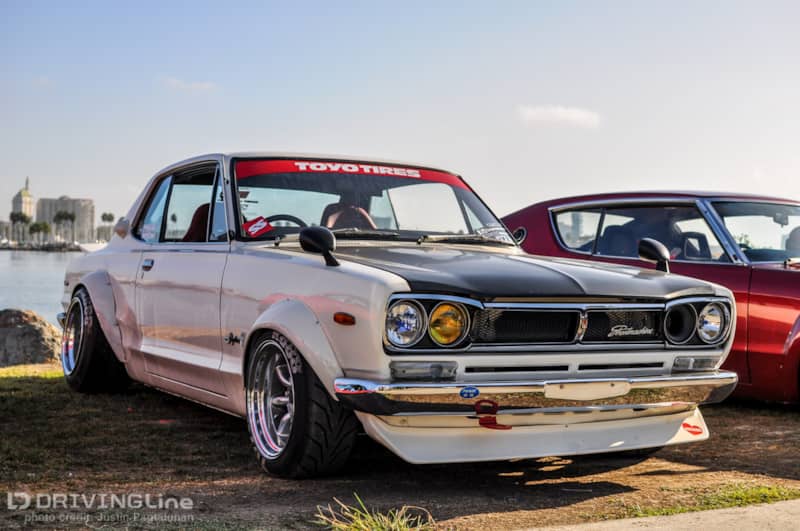 Just prior to the Kenmeri, the late '60s brought the Hakosuka - loosely translated as "Box Skyline," based on its boxy exterior design of course. Here is one of my personal favorites, Roy's Skyline 2000GT HT. This Skyline is perfect inside and out, but what really makes it is the dedication Roy had to find and build his dream car and turn it into a real street machine. If you ever bump into him or stumble upon his blog postings, it's definitely a story you will be on the edge of your seat for.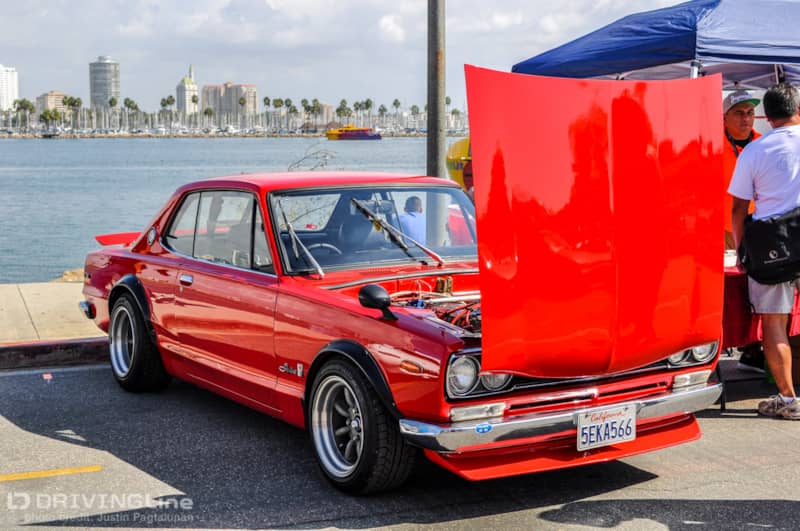 I spent so much of my time on the grass area of the show, that I almost missed TK Taka's Skyline GTR on RS Watanabe wheels. It was on display next to the International Vehicle Importers booth, which is a very good source for anyone thinking about importing a car into the US. There are strict laws and regulations that must be followed before a car can be imported legally, and they are a great reference to help you out every step of the way.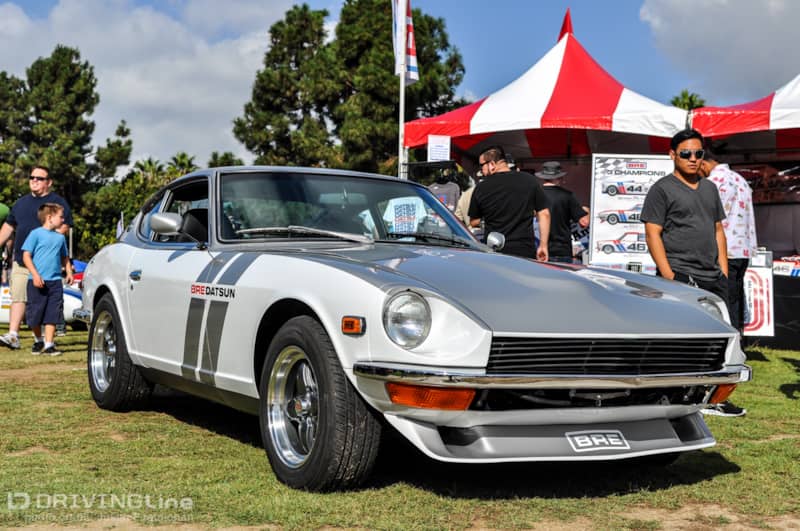 Datsun is a name that dates back as far as 1914, but was taken over by Nissan in the '30s, until it eventually got phased out altogether during the '80s. In between that time, they made some small cars that are still just as popular to this day as they were back when they were first released. One of which being the Datsun Z, which first came into production in 1970. Pete Brock might not be a household name to the mainstream, but he's a legend amongst the automotive industry. Way back in the 60's Brock Racing Enterprises (BRE) was born, first making automotive designs for the likes of GM and Shelby, and then after a successful racing career, BRE Datsun was formed from it. And here we are now with a newly unveiled BRE 1971 Datsun 240Z tribute car. The story behind this one is that it was bought from the original owner and completely stripped down then built back up to perfection - showcasing showcase all of the aftermarket parts Pete Brock designed that helped make his racing career as successful as it was back in the '70s.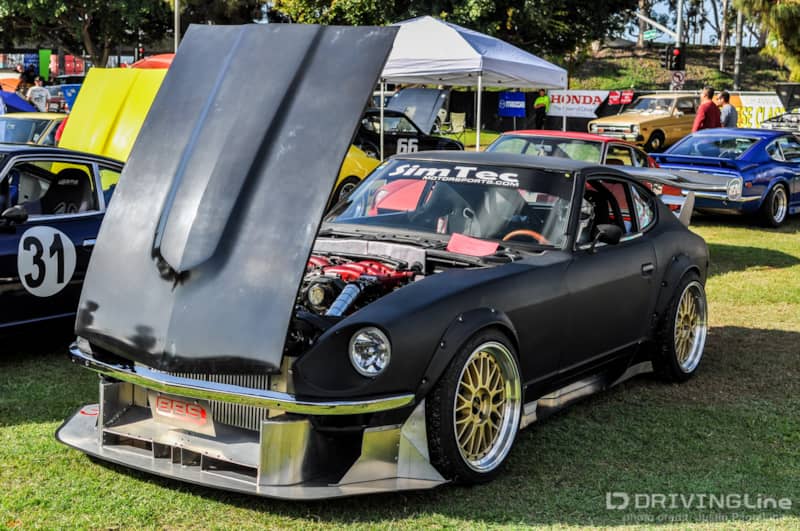 Here rests another Datsun 240Z, but of a different mold. SimTec Motorsports rolled out a truly aggressive road warrior style build. The metal front diffuser looks too sharp to touch, while the BBS wheels give this monster a footing to stand on. But what lies in the belly of the beast is the key factor here, a built Nissan VG30DET V6 engine which boasts a significantly higher horsepower than the original 240Z motor. And the gladiator helmet in the driver seat may not add any additional horsepower, but it does give the intimidation factor a big boost.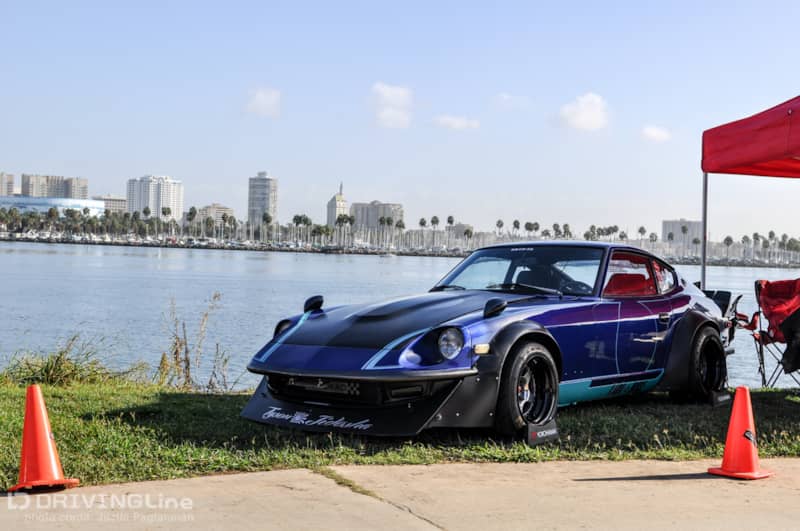 Doing big things by working on small things is something Jun Imai, one of the Mattel's hottest Hot Wheel Designers, is definitely known for. But he didn't just stop there, his "Street Fighter" 1974 Datsun 260Z is his second excellent complete car build he's worked on and what makes it so great is all the attention to details he put into making it his own. Whether it's a quality purchased product, an old, cleaned, and re-purposed part, or some one-off custom build part he made himself - it's a true representation of what goes on in this designer's creative mind!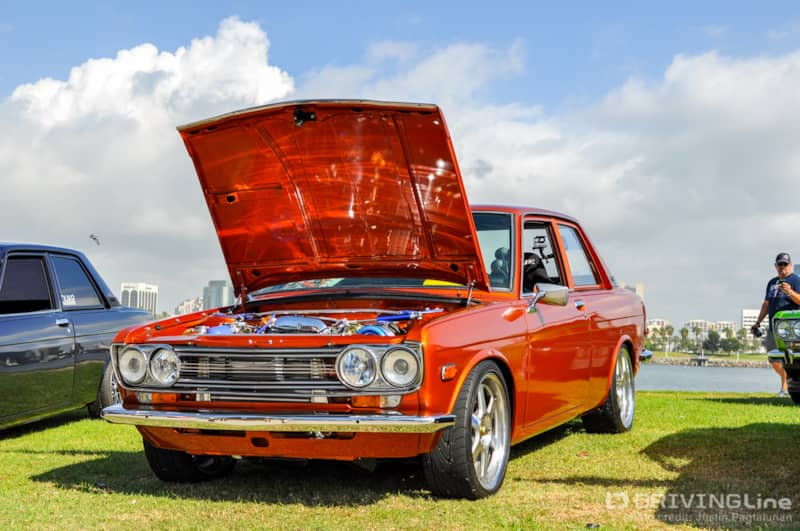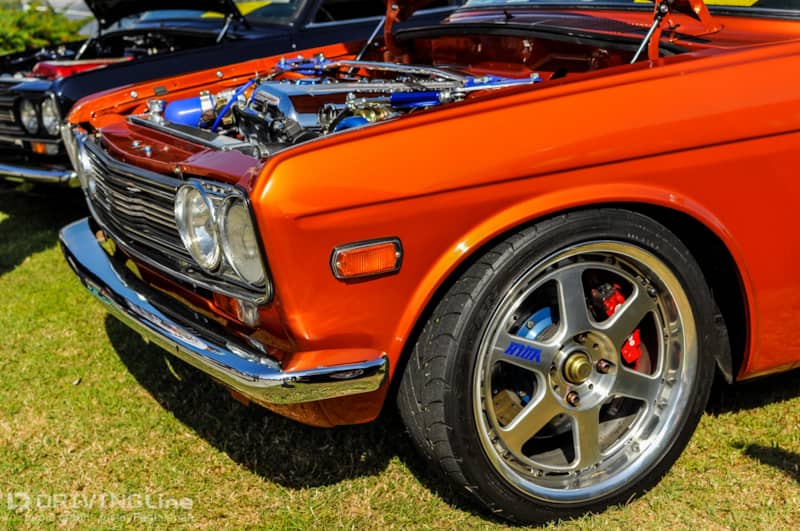 Before the Datsun Z rose to fame, production on the Datsun 510 began in 1967. It's simple and reliable design pulled people in, but it was the convenience that many of the parts were interchangeable allowing for easy upgrades and modifications for the 510's that kept the people into these little cars. John Paul's 1969 Datsun 510 with an SR-turbo swap was my personal favorite 510 at the show just because of how simple it is; clean inside and out especially how well it sits with those Nitto Tires wrapped around discontinued Volk Racing GT-P wheels, my all-time favorite wheel design ever.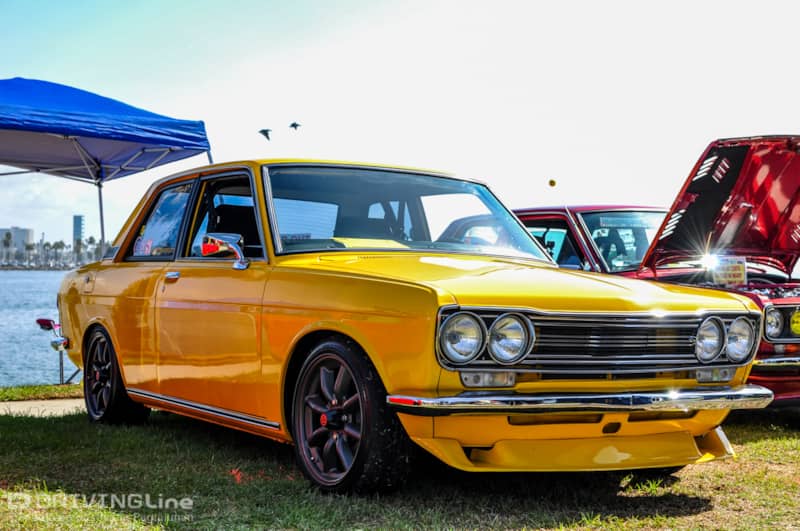 This yellow two-door Datsun 510 almost made me do a double-take, because there was a also a yellow Hakosuka with black RS Watanabe wheels elsewhere at the show. Two different cars from the same time period, the resemblance is uncanny. But a little more information on this 510 is that is has a Nissan KA24DE engine swap inside, seamlessly upgrading this classic beast.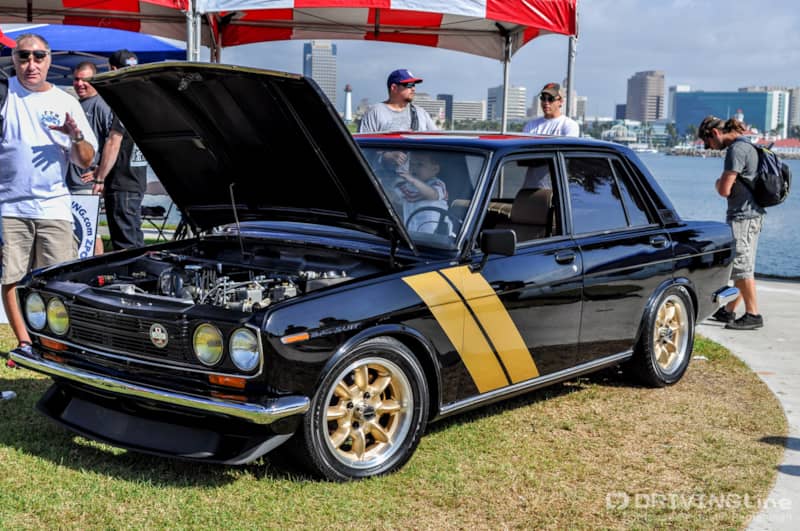 Another Datsun 510 I want to highlight is this one done in an awesome black and gold theme. The Datsun Dimer 510 emblem on the grill is a common nickname to many true Datsun 510 enthusiasts. And the two gold stripes on the side are homage to a BRE signature design for the Datsun's the brand has built in the past.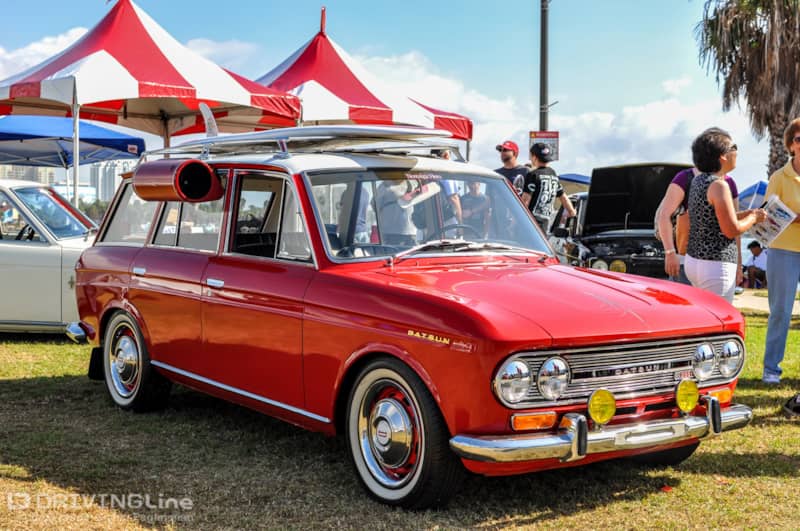 The 510 series is actually part of the Nissan Bluebird model, which is one of the longest-running models of any of the Japanese automakers. The Datsun 410 Wagon was first produced in 1964 and this particular one has been restored to its glory days of taking relaxing drives along the coast. Fully equipped with a surfboard on the roof rack and a vintage outdoor air conditioner, perfect for those easier times way back when – going to the beach without a care in the world and enjoying the ride.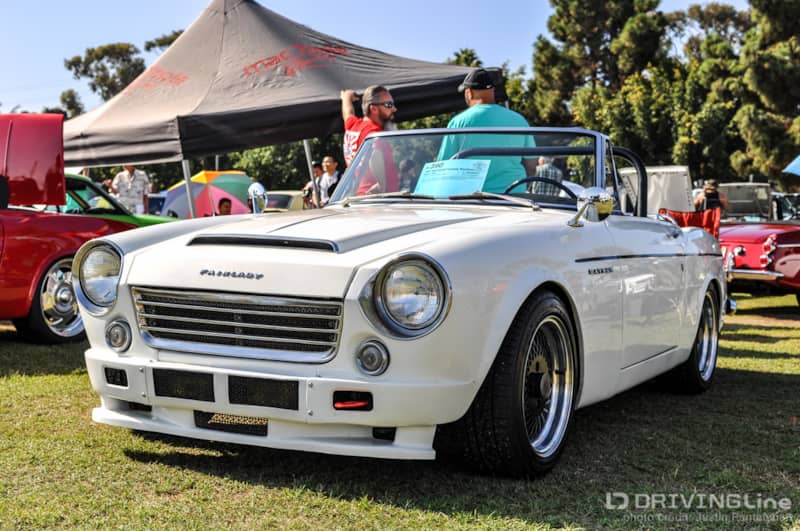 The Datsun Roadsters can be dated back to the early 1930's, which is where the Datsun Sport, or more popularly known as the Datsun Fairlady, came from starting in the late 1950's. The Fairlady is one of the oldest, most iconic import sports cars and helped bring into production similar competitor models from other Japanese automakers. This gorgeous white roadster is Shant's 1967 Datsun Fairlady, a tiny car with a lot of personality; especially with those 15" mesh Enkei E92's. The Nissan/Datsun family has been one of the more popular groups to always grace JCCS with a full force of individually modified classics. It's amazing how many variations you can find with such old cars – but it doesn't stop here! Check out gallery below to see more cars of yesteryear, including the Rat Rod Toyota Truck from the Toyota Museum, one of the first Acura NSX's built coming out from the Honda Museum, a Dodge Colt – but don't worry, he's cool, these were actually manufactured by Mitsubishi in the '70s, a 6 cylinder Nissan Patrol you can't miss, a couple of rotary Mazda trucks, and a 1969 Subaru Mini Van with a warning label stating it's maximum capacity is only 15 clowns. After the gallery, don't forget about the video to get a feel of JCCS's 10th-year vibe.