Day 8 (Last) of the 2015 West Coast JK Experience
Nitto Tire's JK Experience presented by Discount Tire is a trip of a lifetime. While the 'wheeling and attraction stops are all top notch, the confidence you gain in your driving abilities and vehicle after a week on JKX is invaluable. Many people will tell you how well the JK works on- and off-road. But, actually pushing the vehicle to its limits on a journey such as this, is truly an experience all its own.
As cliché as it may sounds, all good things must come to an end. The final day of the 2015 West Coast JKX would take us into one of the most monumental 'wheeling locales in the nation: Moab, Utah. Moab is well known as a sports recreation destination for dozens of outdoor disciplines. In the Jeep community, it's most widely known as the home of the annual Easter Jeep Safari. With numerous named trails and amazing scenery surrounding the town from every direction, Moab has become one of the top off-road destinations in the world.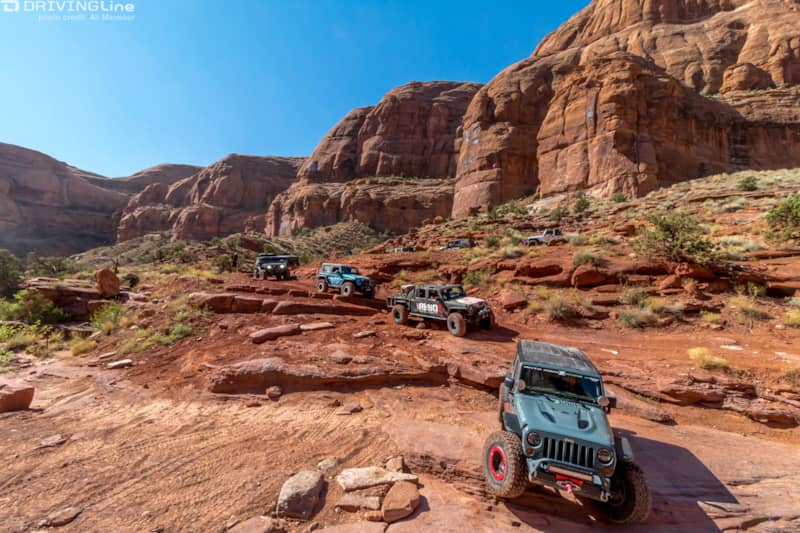 For our final trail, we'd land on one of Moab's most challenging, Pritchett Canyon. This six-mile long trail is jammed packed with steep ledges and rocky undercuts. There are plenty of spots to get yourself in real trouble, so we suggest never traveling alone on Pritchett and make sure your vehicle is equipped with a front mounted winch.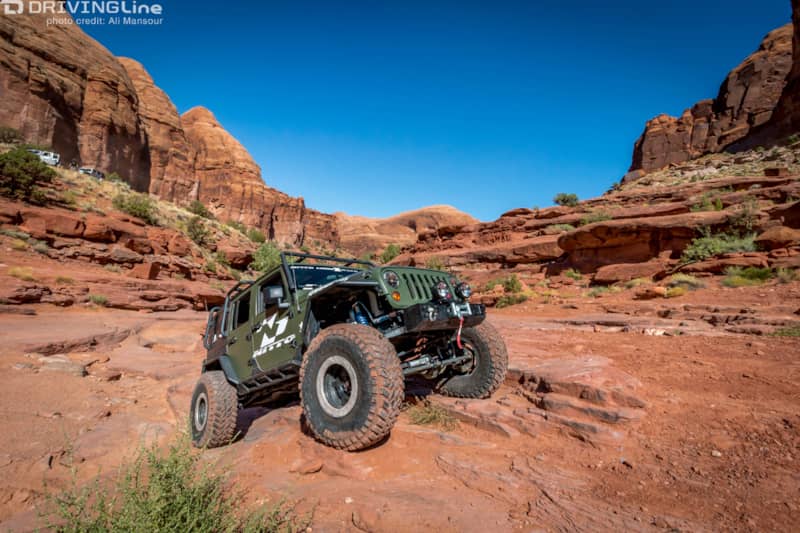 Mine Drafting's Eric Ames didn't need much input from his 6.4L Hemi V-8 as the Jeep's 40-inch Nitto Trail Grapplers did a fine job of hooking up. While commonly referred to as slick rock, Moab's red rock offers a tremendous amount of grip.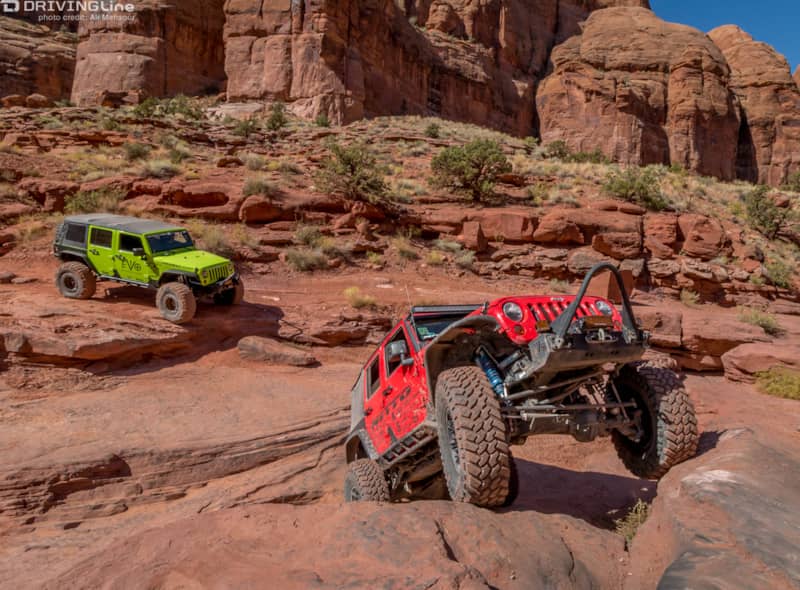 Pritchett Canyon can be especially challenging in a two-door JK. It's definitely doable, you just might lift a tire and use your winch a little more often that a longer wheelbase.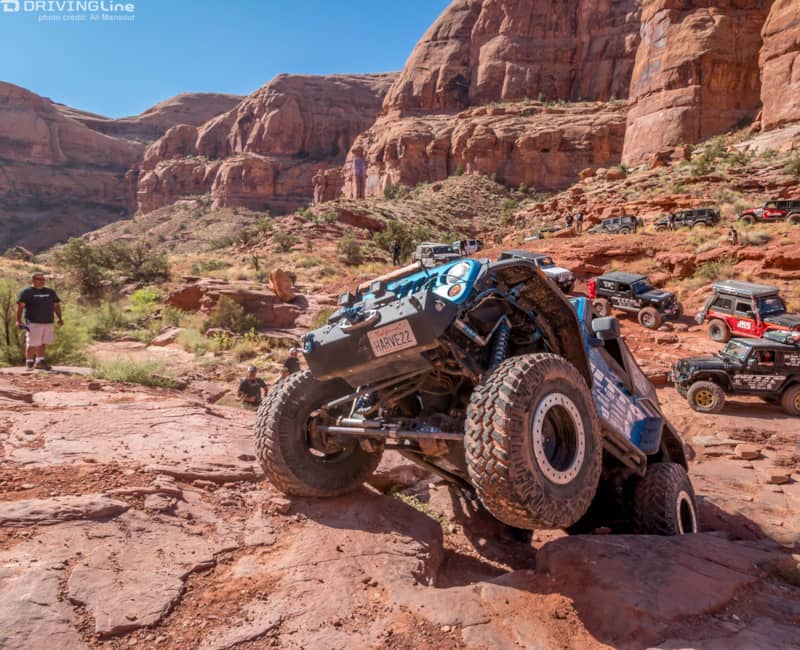 Speaking of wheelbase, Discount Tire's RESQ1 had plenty of it. When it comes to some of the larger obstacles on the trail, there are a few lines to choose from. The long-and-stable custom-built pickup was able to try some creative paths that others simply couldn't.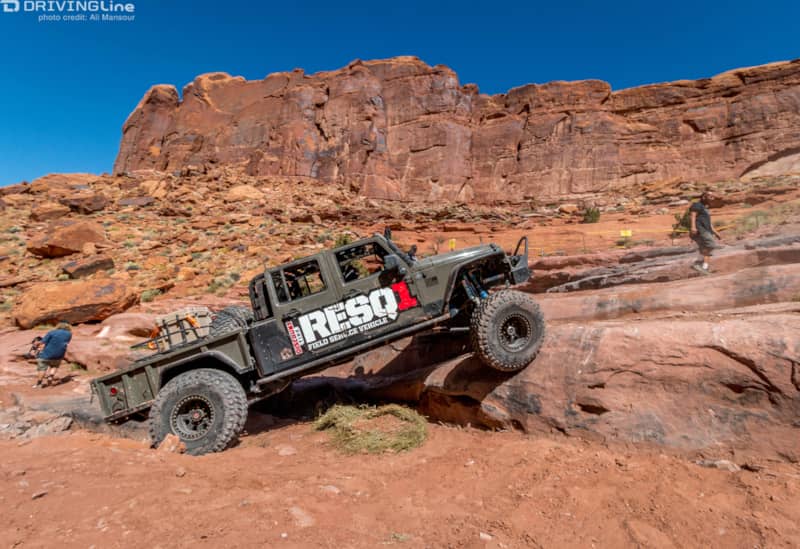 EVO Manufacturing representative Dave Roberts spent much of the week playing tail gunner and keeping the group moving. He, along with the rest of the EVO crew, did a great job to make sure the trip ran smoothly.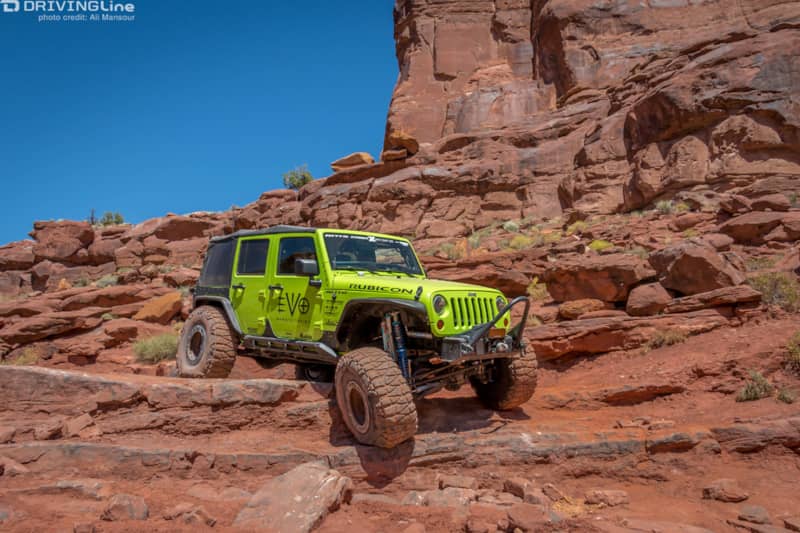 A few of the climbs along the trail are nearly vertical. This made for a slightly more eventful driving experience for those with manual transmissions. Great spotting and knowing when it was time to use the winch made this spot mostly drama-free.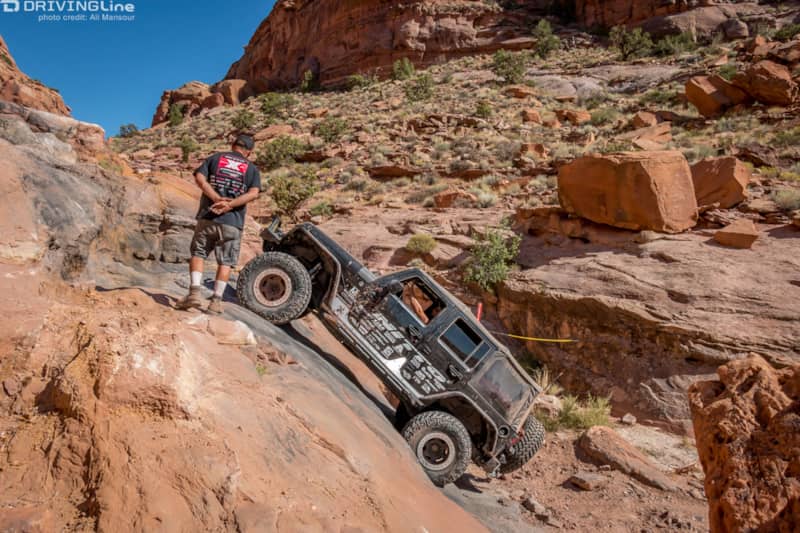 Pritchett Canyon's most famous obstacle is called Rocker Knocker. While some manage to conquer this particular spot by a straight on assault, most choose to crab walk their Jeeps over and crawl up. It's definitely a spooky feeling, but it's a case of the right line that just feels wrong.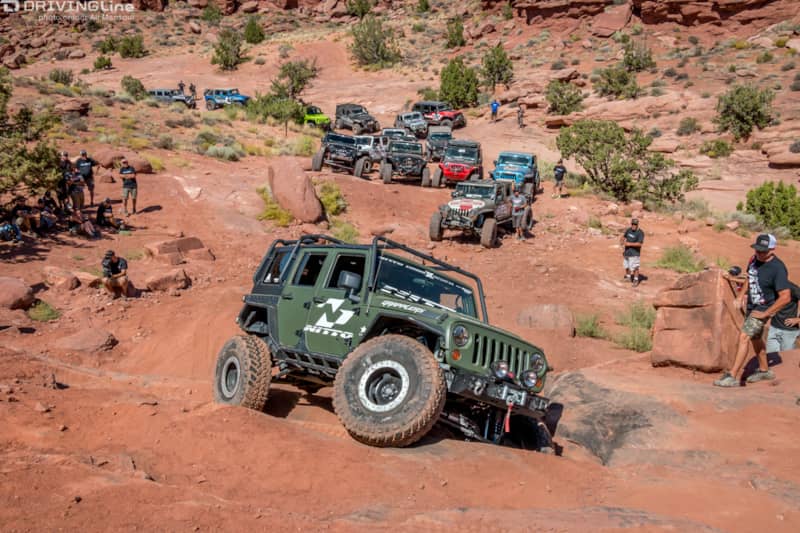 CJ Maurer had become ill and ended up in the hospital just 24 hours before this photo was taken. He, nor his wife Tina, wanted to miss out on 'wheeling Moab, so they caught up with the group early in the morning so they could wheel the final day.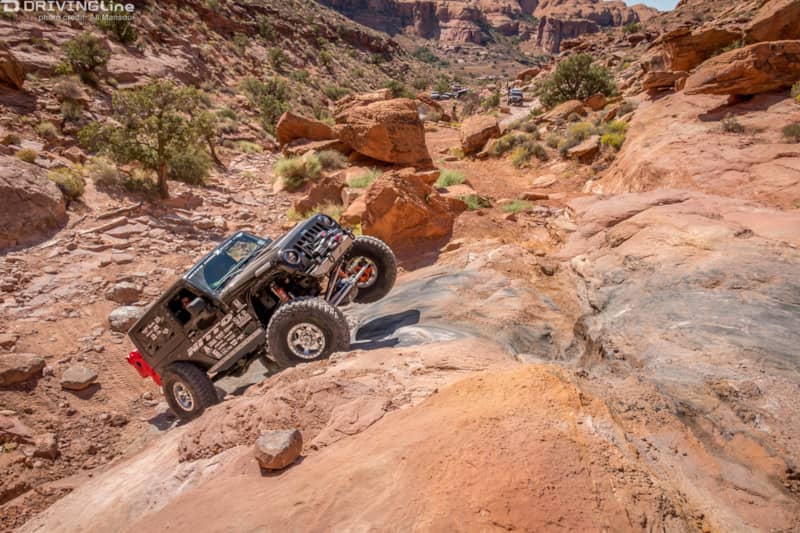 We also had four-time Ultra 4 champion and two-time King of the Hammers winner Loren Healy come and hang out for the day. With one race car being prepped and the other one being built, he opted to ride along for the day as a passenger. Healy has a JK of his own getting ready to go under the knife, which we'll have an exclusive on very soon.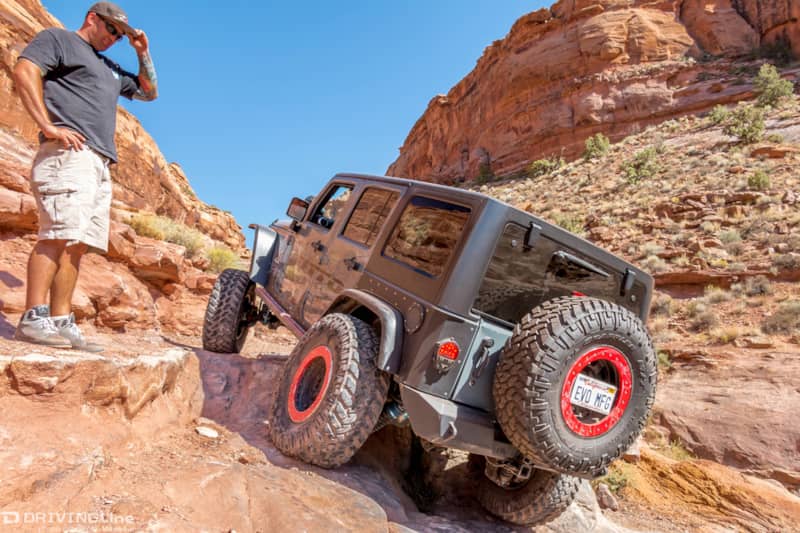 Another one of the big V-8 Jeeps in the group was piloted by Rigid Industries Steve Adams. Adorned with 40-inch Trail Grapplers, the Rigid JK had no trouble crawling its way through the canyon.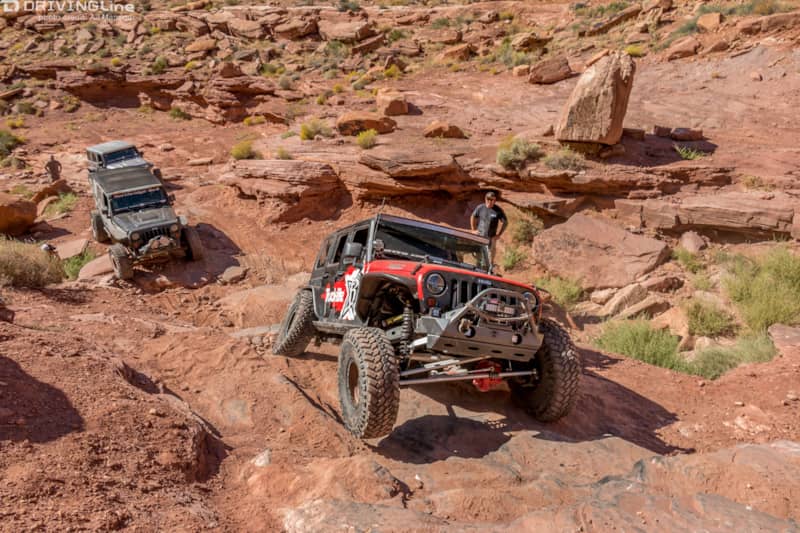 One of the last obstacles leaving the trail is called Rock Pile for good reason. This is a great way for your spotter to get a workout as many of the rocks become ejected as each rig powers up the trail. Thankfully, everyone chipped in and we were able to get the group through this section in record time.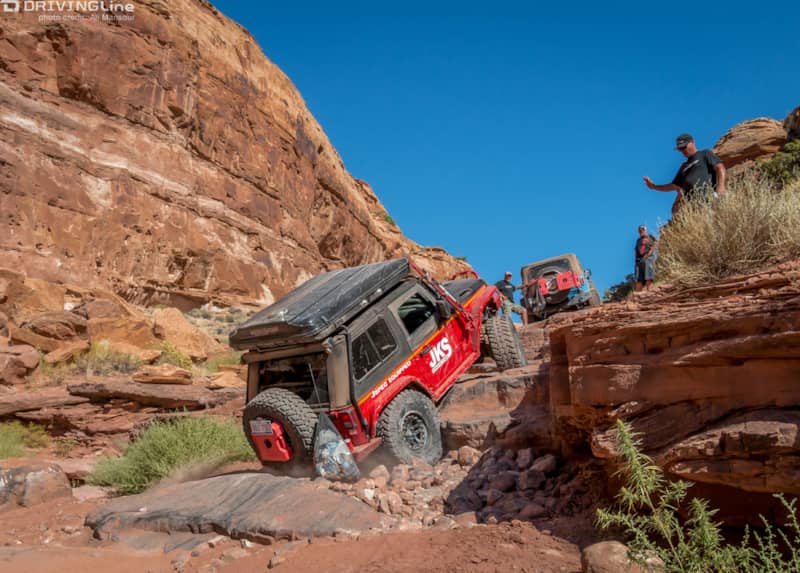 After we all made it off the trail, we took a drive roughly 30 miles outside of Moab to massive privately owned rental cabin. It would be here where we'd have our final driver's meeting and meal of JKX. It's been an action-packed year with three JK Experience trips in the books. Planning for next year's journey is already under way.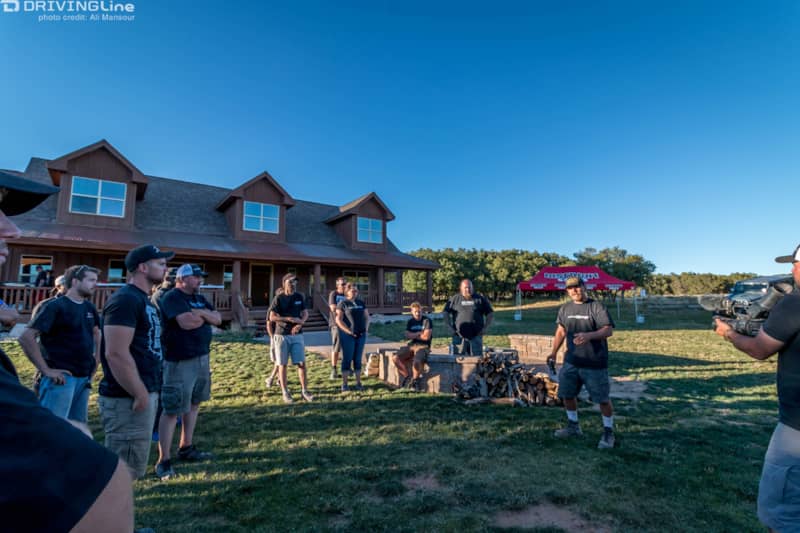 Want to be a part of JKX? Visit www.jk-experience.com to sign up! To see more from Day 7, check out the videos and photo gallery below.