10 Craziest Big Money Off-Road 4x4 Rigs
There are plenty of cheap and fun ways to head off-road, but what if you're a billionaire with a little cash to spend and want to go way, way over the top with your next rock crawler? Unsurprisingly, there exists an entire industry devoted to outfitting the budding Bruce Waynes out there seeking to get into the 4x4 scene, soaking up cubic tons of dollars in much the same way as private jets and bespoke exotic cars.
Which trucks would be our picks for conquering the great outdoors in the most flamboyant fashion possible? We've selected 10 ridiculous off-roaders that include 'excess' as standard equipment.
1. Mercedes-Benz G 63 AMG 6X6
The Mercedes-Benz G 63 AMG is already a bonkers high performance SUV, marrying body-on-frame military-inspired ruggedness a twin-turbocharged, 5.5-liter V8.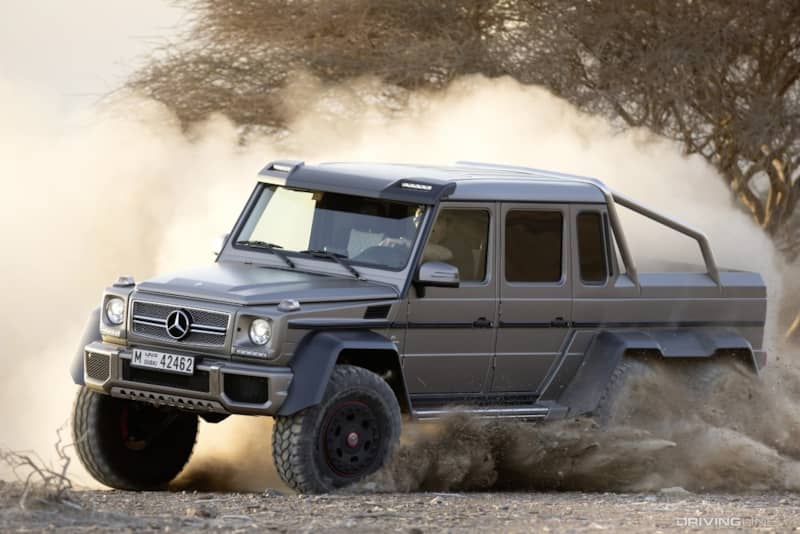 The 6X6 model, which isn't an aftermarket conversion but an official Silver Star offering, ups the ante by adding 6 driven wheels, portal axles, and ridiculous levels of interior comfort to go with its 544 horsepower. Although no longer in production (the last models were built in 2015), the G 63 AMG 6X6 is a rare example of a factory off-road hot rod that has completely lost its mind.
2. Avtoros Shaman 8x8
Six-wheel drive not enough for you? How about octo-drive! The Avtoros Shaman 8x8 provides double the traction of your average off-road ride, while throwing in respectable amphibious capability to boot.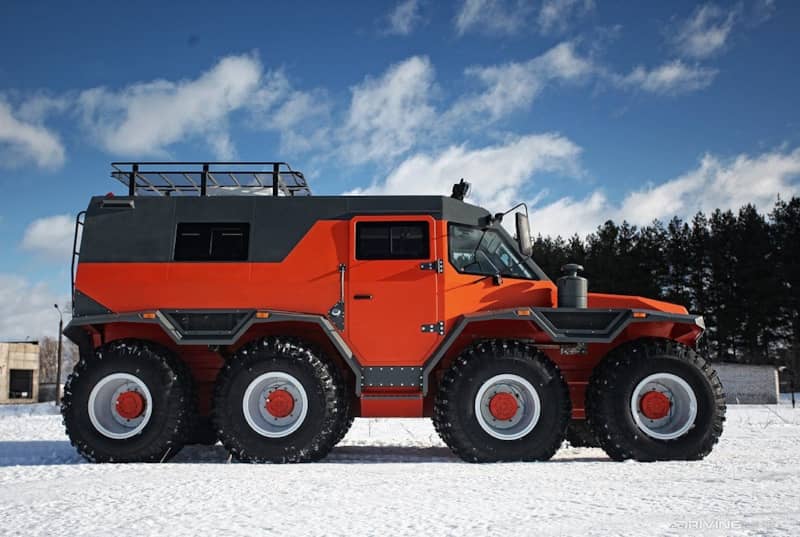 Just don't look to get anywhere too quickly in your Shaman, given that its 3.0-liter, four-cylinder diesel engine delivers a top speed of just under 45-mph. Still, it more than makes up for its pokiness with features like a sideways 'crab' driving mode and 31,000 lbs of towing capacity.
3. SHERP ATV
8-wheel drive is great, but what if you're more into monster truck rubber? The SHERP ATV stands tall with its Gravedigger-style balloon tires that are equally at home floating above the muck in a marsh as they are clambering for grip up a stony pass.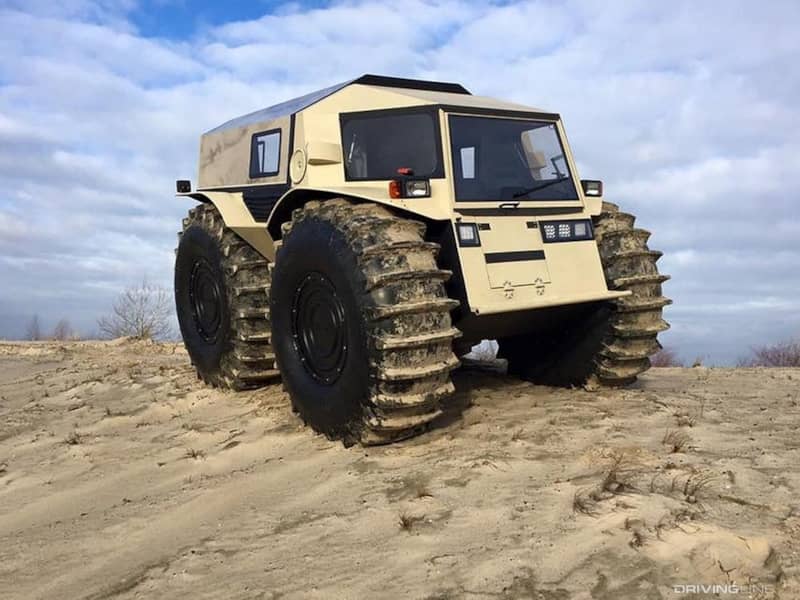 Even the body shell of the SHERP is intended to maintain positive buoyancy when traversing water, with or without the tires installed. This super-weird, super-specialized vehicle is about as quick as the Shaman, and unlike other trail rigs features no suspension articulation at all, or traditional suspension of any kind, relying entirely on its tires to absorb the rough stuff and shuttling torque from one side of the vehicle to the other to change direction.
4. Howe and Howe Tech Ripsaw EV3
From 6 tires, to 8 tires, to giant tires, to 'who needs tires?' The Ripsaw EV3 moves to a lightning-quick, fully-tracked drivetrain that was made famous in the Fast and Furious film franchise.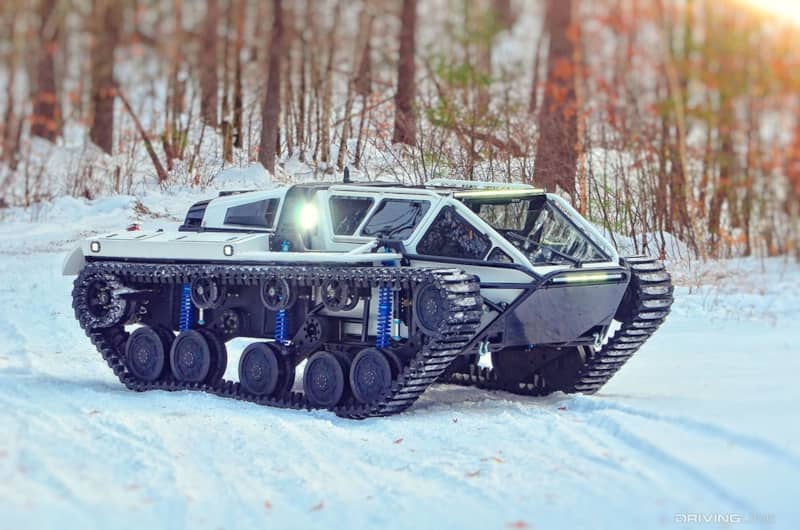 Note that the 'EV' in the Ripsaw's name doesn't refer to 'electric vehicle,' but rather 'extreme vehicle,' which is suitably appropriate for a tank with 16 inches of suspension travel, up to 1,500 horsepower and a cockpit that is completely ensconced by a system of airbags for the ultimate in high speed off-road comfort.
5. Rezvani TANK
It may have TANK in its name, but this 'tactical urban vehicle' from Rezvani doesn't offer the tracks found on the Ripsaw.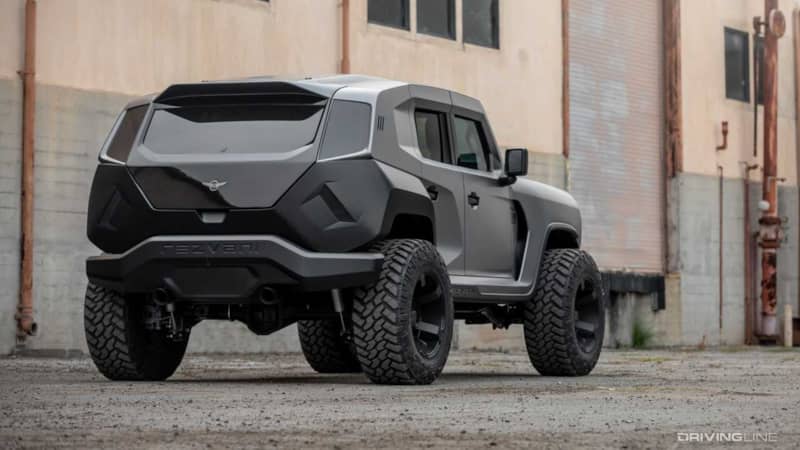 Instead, it delivers the angular body styling more commonly seen on ballistic-deflecting military armor (and indeed, can be purchased in a bulletproof edition if so desired), as well as a high-sitting ruggedized chassis, a night vision system for tackling the dunes in the dark, an optional 707 horsepower supercharged Hellcat drivetrain and Nitto Trail Grappler Tires.
6. Mil-Spec Automotive Hummer H1
The Hummer H1 is familiar to almost any off-road fan, but there's no question that the platform has gotten a little long in the tooth over the past several decades.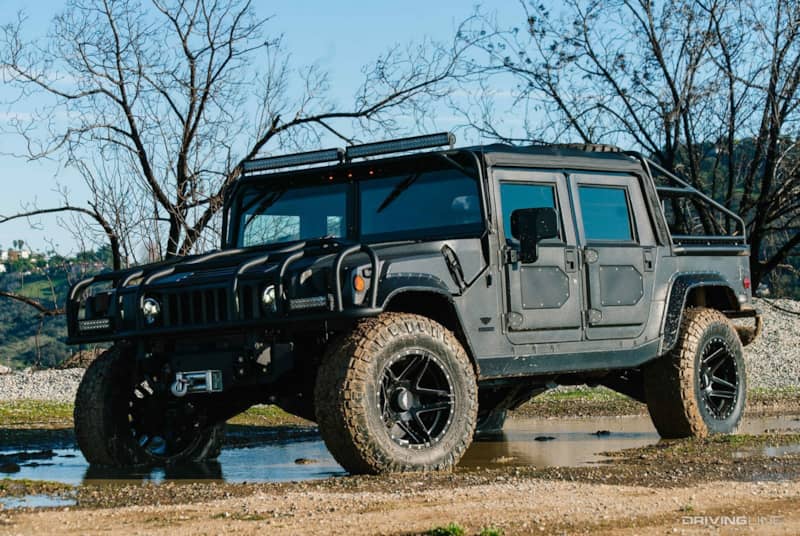 Enter Mil-Spec, which has addressed most of the H1's weak points (including the installation of a 6.6-liter Duramax diesel and an Allison six-speed automatic), replaced the four-wheel drive with a part-time system, fabricated an interior that is a huge improvement over the original's 'lowest bidder' character and mounted Nitto Ridge Grappler tires. It's now the kind of crawler you'll enjoy almost as much on the way to the trail as you will out in the boonies.
7. Multidrive Technology Toyota Land Cruiser 6x6
The Toyota Land Cruiser has always enjoyed a strong following in Australia, where it's used in a wider range of roles than the luxury truck image it's cultivated in the United States in recent years.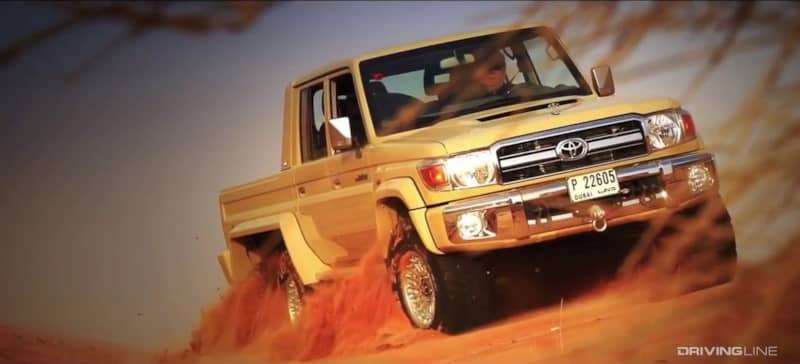 Multidrive has taken the popular Land Cruiser platform, added on a new rear frame section, and stuck a third set of drive wheels underneath to give it 6x6 capability in addition to its global reputation for near-unkillable reliability in some of the toughest possible conditions. The company has been focusing on 6x6 conversions for almost 40 years, with kits also available for the Toyota Hilux (read: Tacoma), and the Australian-market Ford Ranger pickups.
8. Aton-Impulse Viking 2992
Russia seems to be a nearly bottomless well of unusual off-road vehicles, and the Aton-Impulse Viking 2992 is one of the more intriguing options from the motherland.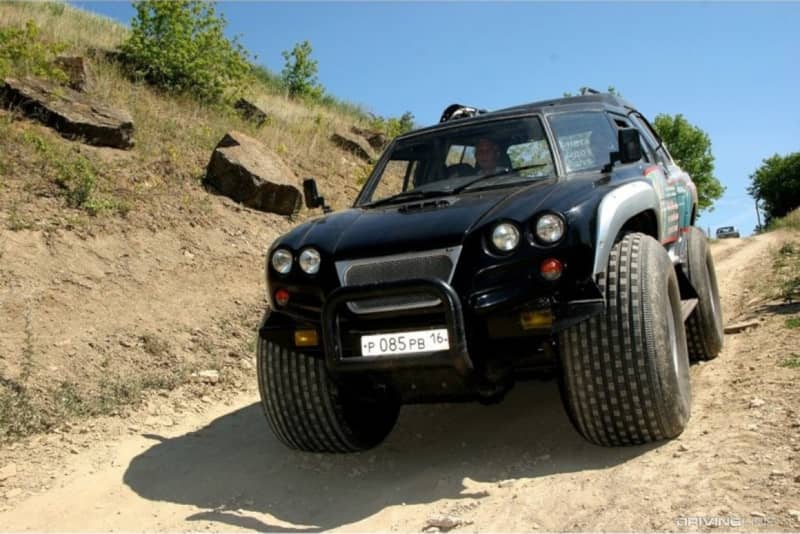 Like the SHERP, the Viking 2992 is amphibious (with jet propulsion for crossing lakes and rivers), which might suggest that most Russian 4x4 trails are endlessly wet and perilously deep. Uniquely, the Aton-Impulse seats up to seven passengers, letting you take the entire family along as you slowly totter along the landscape, 82 horsepower four-cylinder engine dutifully spinning at a modest sub-40-mph pace.
9. Mercedes-Benz Unimog U 5030
The Unimog has long enjoyed pounding almost any terrain imaginable into submission, and it continues to be one of Mercedes-Benz's go-to vehicles for deep-pocketed customers who want to take it all with them, wherever that might be.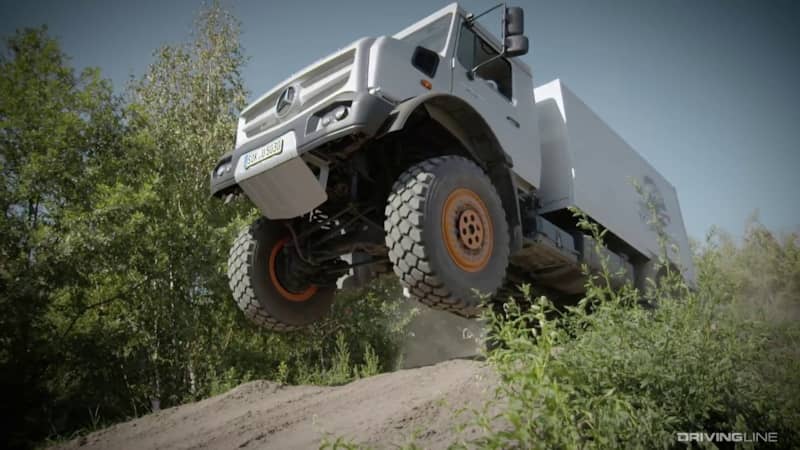 The U 5030 model offers a 299 horsepower diesel engine and tuning from Hellgeth Engineering Special Vehicle Construction, which makes it one of the mightiest 'mogs you can buy from the factory. If you add a Bliss Mobil conversion to the package, you're talking about a condo-on-wheels that is just as happy blitzing up the side of a ski hill in the dead of winter as it is crossing the Mojave.
10. Legacy Power Wagon
Legacy Classic Trucks has revived one of the original off-road monsters with its Power Wagon conversion.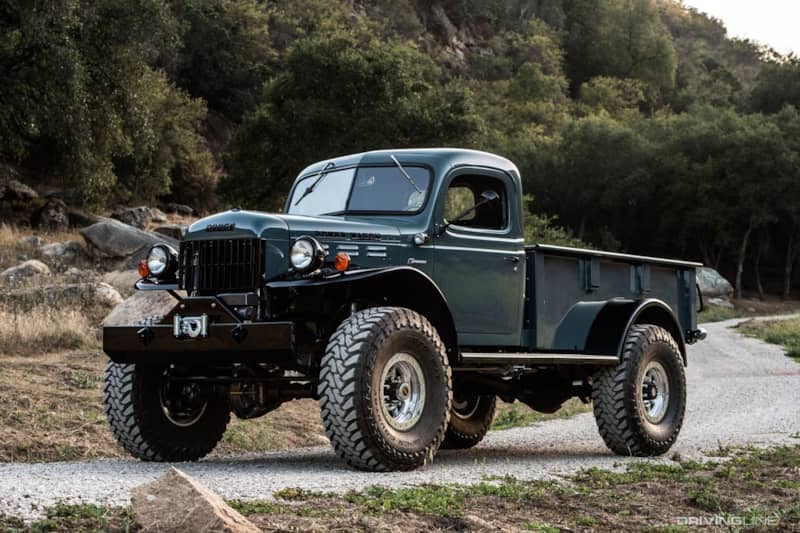 A restoration outfit that aims to better everything about the platforms it starts with, Legacy invests 1000 hours of labor into each Power Wagon it turns out, maintaining the classic look of the heavy duty truck while installing all of the expected mod-cons, plus your choice of Chrysler, Cummins, or GM LS power plants to push its Dana 60/Dynatrac Pro 80 axle combination (with Warn locking hubs and ARB air-locking differentials). That's just the beginning of the rabbit hole of options and equipment that can be had with the Power Wagon, making it a formidable weapon for anyone's next expedition.
Looking for unusual off-road options that are a little more budget friendly? Check out these non-Jeep trail rides that almost anyone can afford.