10 Years of Yearning: Jordan's Journey to Acquire a Motorex R34
To those of us living in the United States, the Nissan R34 GT-R is forbidden fruit. Even with thousands upon thousands of dollars, there's no way one can be imported from Japan and registered for unlimited mile public road use until 25 years after it's manufacture date—generally between the years 2024-2027. Then how, one might ask, did Jordan come to own an R34 GT-R V Spec II that he can rip through the canyons and to local car shows without sweating the feds and repo men? One word: Motorex.
To anyone that's heard the Motorex story, it's a familiar tale of fraud, excess and the sketchy early days of importing grey market cars from Japan following the Japanese stock market crash in 1991. For everyone who may be lost and confused, here's an incredibly condensed rundown of what happened: Motorex was a registered importer of Nissan Skylines in the late 90s, responsible for bringing the cars across the Pacific and getting them up to EPA (Environmental Protection Agency) and NHTSA (National Highway Traffic Safety Administration) standards before releasing them to the private party that initially purchased the car from Japan via Motorex.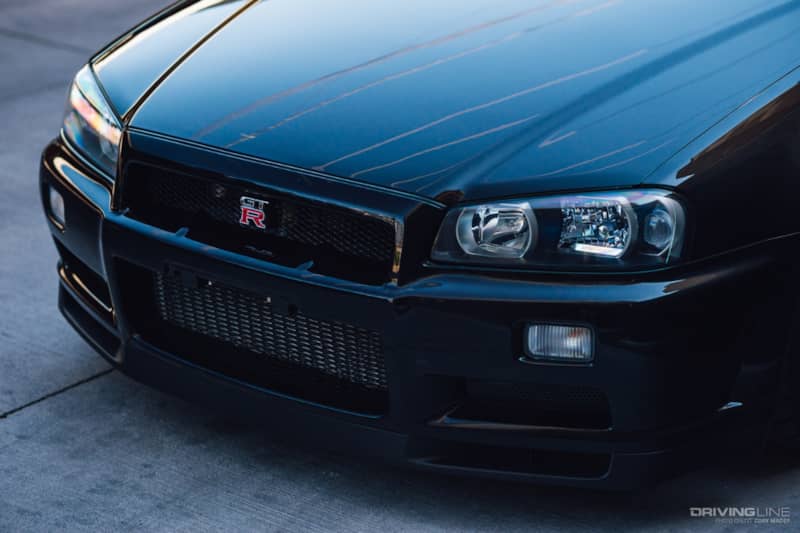 With each model of car that came in, the NHTSA required crash tests to be carried out. If the tests failed, another car had to be imported, have safety equipment installed—like additional frame strengthening bars, for example—and then this new and improved car had to be crash-tested. One could see why this process would be incredibly expensive, and why Motorex tried to lobby the R32 and R34 as models "substantially similar" enough to the R33 so that they didn't require separate crash testing.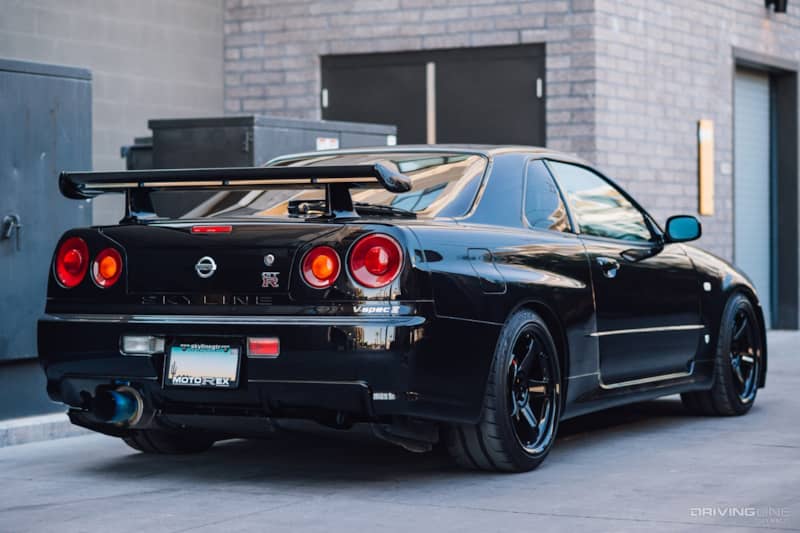 The owner of Motorex continued to bring in cars faster than they could be brought up to safety and smog standards, vastly outspent his income on questionable habits, and eventually the whole company came falling down. Cars went missing, paperwork never got filed, payments were made to Motorex but products and services went unrendered, and then one night their entire inventory was stolen from their warehouse in Gardena, California. The theft is a whole story in and of itself, but the happy ending is the cars and their parts were recovered and eventually released to the owners that had paid for the cars to be imported.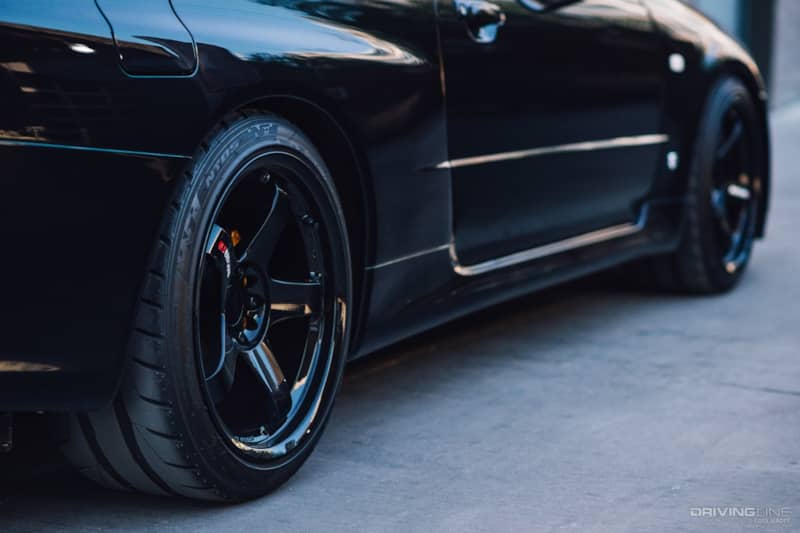 In 2006 the Department of Transportation revoked Motorex's importer status after finding 17 Skylines had been released with little-to-no compliance modifications or paperwork accompanying them, and would later issue bond releases to all the Skylines that had been imported through Motorex. These bond releases allowed the owners to register their cars in the US since they bought the cars in good faith that Motorex would bring them up to standards and not be defrauded right alongside the US government.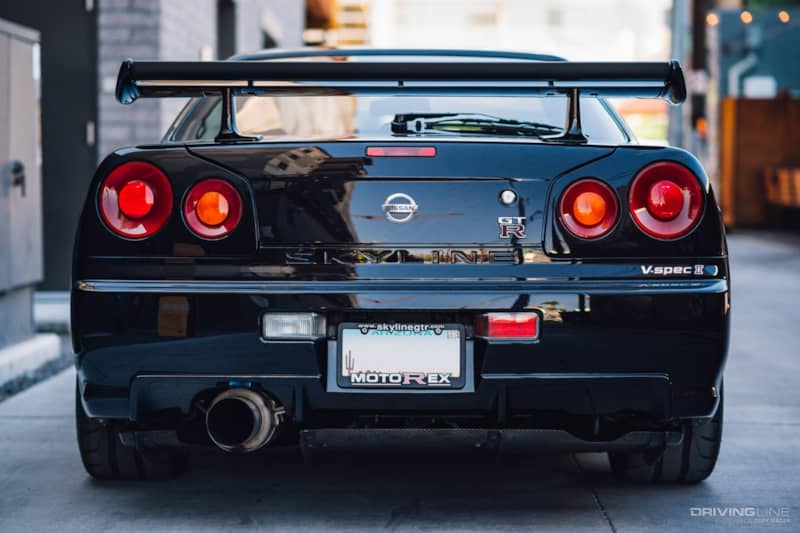 Now that that incredibly long short-retelling is covered, though we do honestly suggest reading up on the full story available through a quick Google search or two, how did all that lead to Jordan getting into the driver's seat of this black-on-black GT-R? Well, that story is a much shorter one.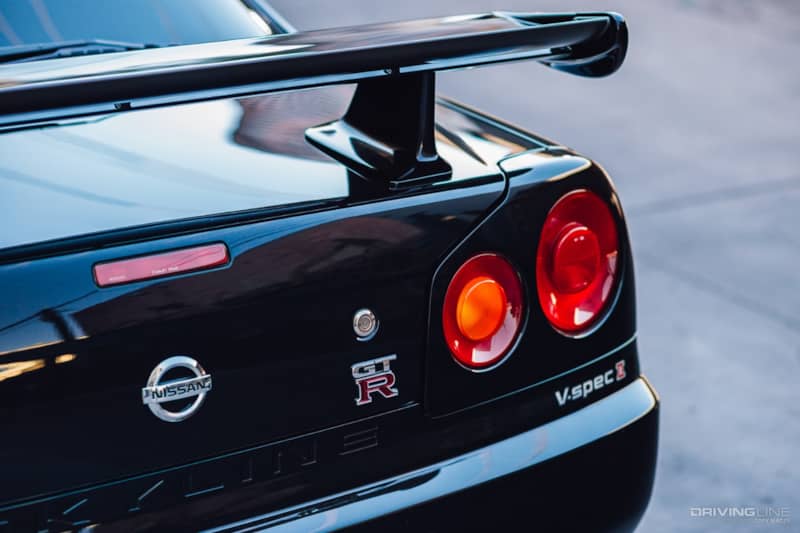 After researching all the ways to skirt the import process, including gaining Canadian citizenship, and finding that there's honestly no way to do it without getting your car crushed after its seized by the government, it seemed like all hope of getting an R34 ahead of the year 2024 was pretty much lost. Years of playing Gran Turismo had hyped up the R34 in Jordan's mind, like many American JDM kids, but one day while at a conference Jordan got a call he couldn't quite believe.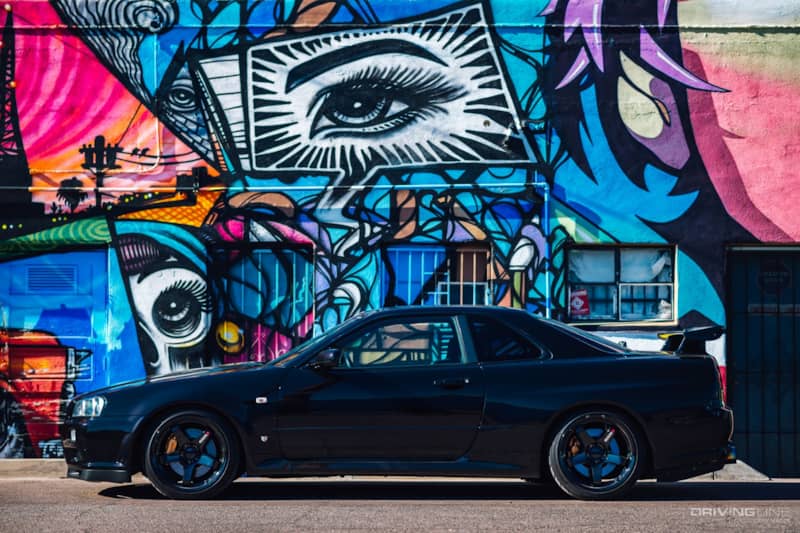 CNC Motors had an R34 someone wanted to sell before moving and Jordan's contact got him one of the best "first dibs" in history. Photos began to get sent over text message and they were all showing one of only twelve known Motorex R34s. He immediately consulted Sean Morris—ex-Motorex employee, automotive importer guru, and current owner of Top Rank International Vehicle Importers—and Sean said it looked legitimate. Moving quickly, Jordan called the number on the bond release paperwork to verify the Motorex VIN (intentionally edited out of the photo below) and everything checked out.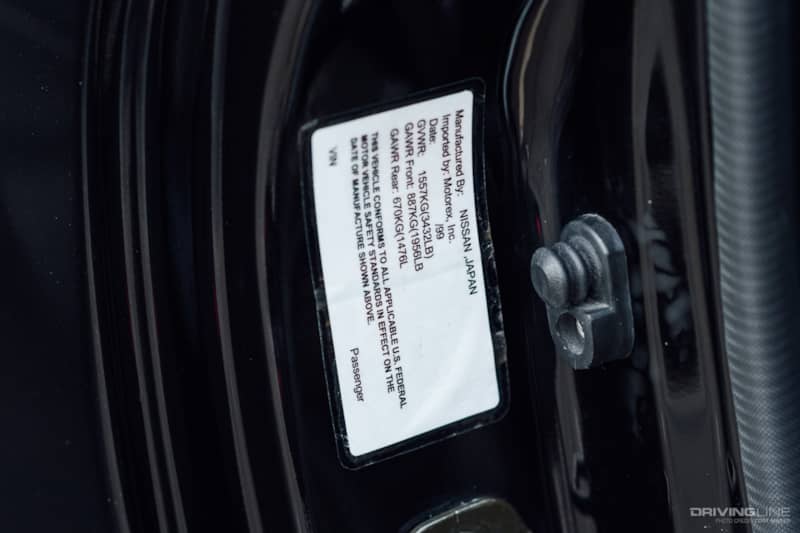 With the car purchased and paperwork in-hand for one of the most hard-to-acquire cars in the US, Jordan started taking it apart. The car as it sat was serviceable but also looked all of it's 19 years old. After consulting with Garage Defend of Japan on just how R34s had their paint applied at the factory and spending thousands on the last available "new" OEM parts (the trim at the base of the driver's window was $800 by itself, for instance) it was time to carry out the restoration. Every piece of glass and trim was removed, the entire car was repainted to a factory black pearl, and everything was reassembled. The whole process took about 6 months thanks to the work of Dan Hogan at Hogie Shines, and it appears to be worth every penny. According to Jordan, due to the research put in and paint application techniques used, it would be nearly impossible to tell this car was repainted compared to an OEM GT-R.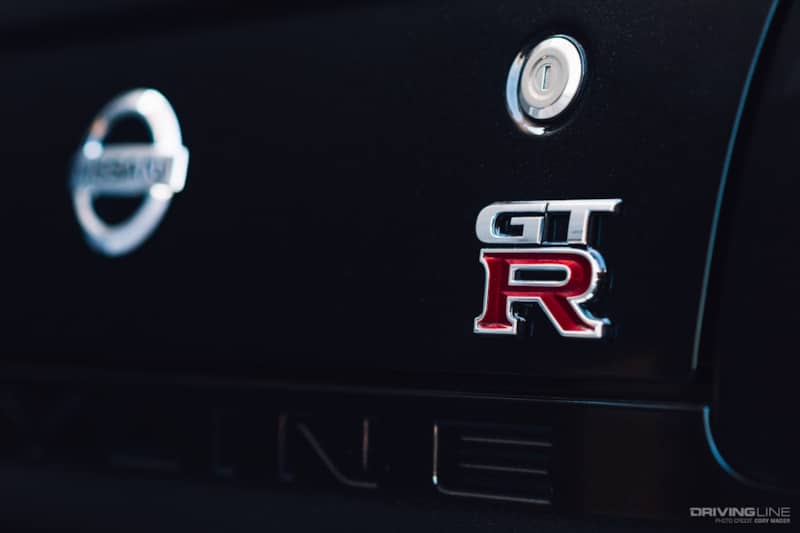 Inside, not much has been changed as the original right-hand drive cockpit was already so well-developed. The orange 320 km/h gauge faces stand out in the otherwise monochrome interior.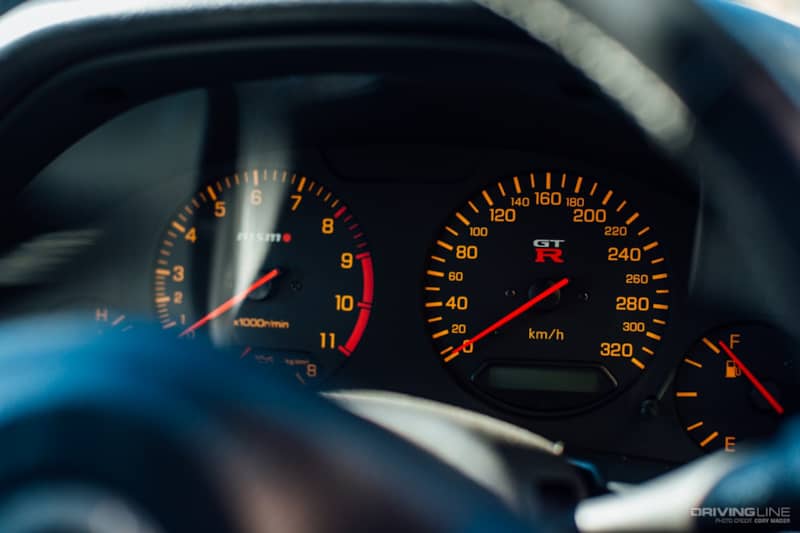 Under the hood lays the sleeping beast of an RB26DETT, its twin turbos and true baseline of over 300 horses ready for any spirited driving they may be asked to perform.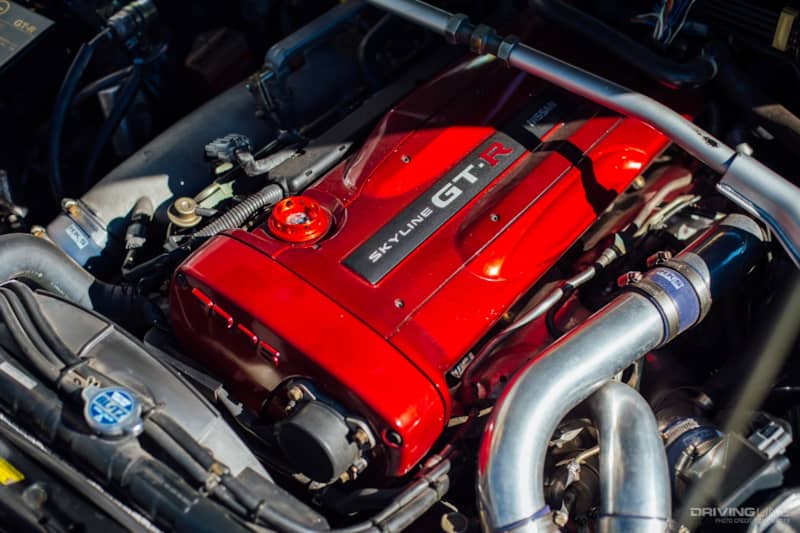 Underneath, the V Spec II trim included stiffer suspension, larger Brembo brakes on all four corners, and NISMO LMGT4 wheels Jordan wrapped in meaty Nitto NT05 tires ready and willing to transfer the RB's power to the pavement.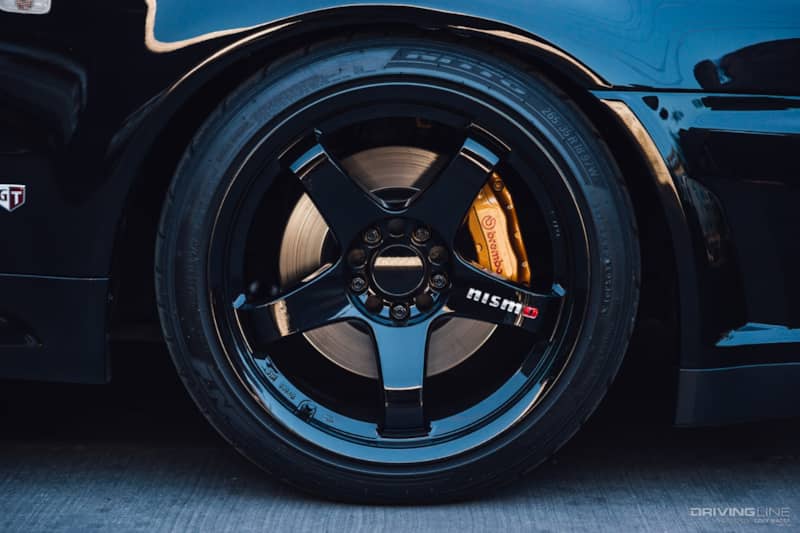 While the whole ordeal took Jordan about 10 years to go from initial research on a move to Canada, to owning the fully restored version in these photos, it just goes to show—good things come to those who wait, prepare and strike while the iron's hot… at least that's how we think the saying goes.