2016 Formula Drift Rd3 Orlando Speedworld Recap [Gallery]
Only three rounds in and you could say the drama is building up nicely. Anything and everything is happening, and drifting's fans and biggest critics are having a field day chiming in with support or disapproval. After qualifying first with a 95, Vaughn Gittin Jr. is placed heads-up against Nitto teammate, Alex Heilbrunn, placing the Pro veteran against the Pro rookie, and during their One More Time battle, Heilbrunn is sent home after slowing down, which caused Vaughn to lose angle and proximity. Next, "Mad" Mike Whiddett was on a solid route to a win, giving an excellent chase to Ken Gushi, but the RADBUL debeaded a tire, which couldn't be replaced during competition, sending Whiddett home early. After receiving a $250 check for the top qualifying position, Vaughn went into the Top 16 against Jhonnattan Castro, but fell flat during his chase run, an unlikely move in comparison to his A-game at Road Atlanta. Fredric Aasbo would eventually finish First, followed by Kristaps Bluss and Chris Forsberg.
Photos by: Julius Mayo Jr.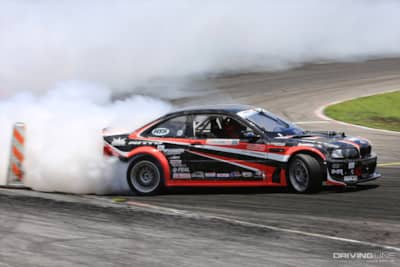 Stay up to date on all Formula Drift news and coverage throughout the season at: DRIVINGLINE.com/DRIFT. 
Save