2016 Formula Drift Track Guide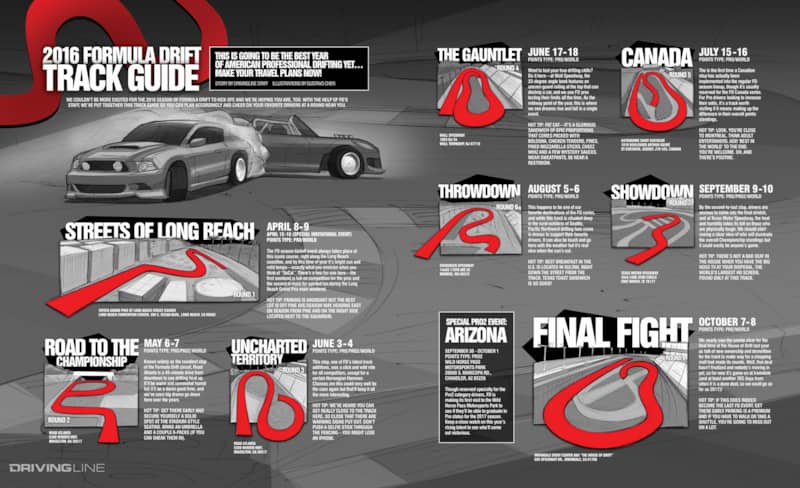 We couldn't be more excited for the 2016 season of Formula Drift to kick off, and we're hoping you are, too. With the help of FD's staff, we've put together this track guide so you can plan accordingly and cheer on your favorite drivers at a round near you.
Round 1: Streets of Long Beach
April 8/9 + Special Invitational Event: April 15/16
Points Type: Pro/World
Toyota Grand Prix of Long Beach Street Course, Long Beach Convention Center, 300 E. Ocean Blvd., Long Beach, CA 90802
The FD season kickoff event always takes place at this iconic course, right along the Long Beach coastline, and by this time of year it's bright sun and mild temps—exactly what you envision when you think of "SoCal." There's a two-for-one here—the first weekend is full-on competition for the pros, and the second is more for spirited fun during the Long Beach Grand Prix main weekend.
Hot Tip: Parking is abundant but the best lot is off Pine Ave/Season Way, heading east on Season from Pine and on the right side located next to the Aquarium.
Round 2: Road to the Championship
May 6/7
Points Type: Pro/Pro2/World
Road Atlanta, 5300 Winder Hwy., Braselton, GA 30517
Known widely as the rowdiest stop of the Formula Drift circuit, Road Atlanta is a 45-minute drive from downtown to see drifting heat up. It'll be warm, somewhat humid but it'll be a damn good time, and we've seen big drama go down here over the years.
Hot Tip: Get there early and secure yourself a solid spot at the stadium-style seating. Bring an umbrella and a couple 6-packs (if you can sneak them in).
Round 3: Unchartered Territory
June 3/4
Points Type: Pro/Pro2/World
Orlando Speed World, 19164 East Colonial Dr., Homestead, FL 32833
Last year, this stop, one of FD's latest track additions, was slick and a wild ride for all competitors, except for a certain Norwegian Hammer. Chances are this could very well be the case again but that'll keep it all the more interesting.
Hot Tip: We've heard you can get really close to the track here, so close that there are warning signs put out. Don't push a selfie stick through the fencing—you might lose your smartphone.
Round 4: The Gauntlet
June 17/18
Points Type: Pro/World
Wall Speedway, 1803 NJ-34, Wall Township, NJ 07719
Want to test your true drifting skills? Do it here—at Wall Speedway, the 33-degree angle bank features an uneven guard railing at the top that can destroy a car, and we see FD pros testing their limits all the time. As the midway point of the year, this is where we see dreams rise and fall in a single event.
Hot Tip: Fat Cat—it's a glorious sandwich of epic proportions that comes packed with bologna, chicken tenders, fries, fried mozzarella sticks, Cheese Whiz and a few mystery sauces. Wear sweatpants, be near a restroom.
Round 5: Canada
July 15/16
Points Type: Pro/World
Autodrome Saint-Eustache, 1016 Boulevard Arthur-Sauvé, St-Eustache, Québec J7R 4K3, Canada
The is the first time a Canadian stop has actually been implemented into the regular FD season lineup, though it's usually reserved for the FD Canada series. For Pro drivers looking to increase their odds, it's a track worth visiting if it means making up the difference in their overall points standings.
Hot Tip: Look, you're close to Montreal. Think adult entertainers. Add 'best in the world' to the end. You're welcome. Oh, and there's poutine.
Round 6: Throwdown
August 5/6
Points Type: Pro/World
Evergreen Speedway, 14405 179th Ave SE, Monroe, WA 98272
This happens to be one of our favorite destinations of the FD series, and while this track is situated deep in the rural outskirts of Seattle, Pacific Northwest drifting fans come in droves to support their favorite drivers. It can also be touch and go here with the weather but when the sun's out, it's real nice.
Hot Tip: Best breakfast in the U.S. is located in Sultan, right down the street from the track. Texas toast sandwich is so good!
Round 7: Showdown
September 9/10
Points Type: Pro/Pro2/World
Texas Motor Speedway, 3545 Lone Star Circle, Fort Worth, TX 76177
By the second-to-last stop, drivers are anxious to come into the final stretch, and at Texas Motor Speedway, the heat and humidity will take its toll on those who are physically tough. We should start seeing a clear view of who will dominate the overall Championship standings but could easily be anyone's game.
Hot Tip: There's not a bad seat in the house when you have the Big Hoss TV at your disposal, the world's largest HD screen, found only at this track.
Special Pro2 Event: Arizona
September 30/October 1
Points Type: Pro2
Wild Horse Pass Motorsports Park, 20000 S. Maricopa Rd., Chandler, AZ 85226
Though reserved specially for the Pro2 category drivers, FD is making its first visit to the Wild Horse Pass Motorsports Park to see if they'll be able to graduate to Pro status for the 2017 season. Keep a close watch on this year's rising talent to see who'll come out victorious.
Round 8: Final Fight
October 7/8
Points Type: Pro/World
Irwindale Event Center aka "The House of Drift", 500 Speedway Dr., Irwindale, CA 91706
We nearly saw the smoke clear for the final time at the House of Drift last year as talk of new ownership and demolition for the track to make way for a shopping mall had made its rounds. Well, that deal hasn't finalized and nobody's moving in yet, so for now it's game on at Irwindale (and at least another 365 days from when it is a done deal, so we could go as far as 2017)!
Hot Tip: If this does indeed become the last FD event, get there early. Parking is a premium and if you have to walk or take a shuttle, you're going to miss out... on a lot.