2016 Nitto JK Experience Alaska
What began in 2009 as a trip to showcase the off-road prowess and overall versatility of the 2007 to current Jeep Wrangler JK has become one of the most iconic 'wheeling trips in the nation.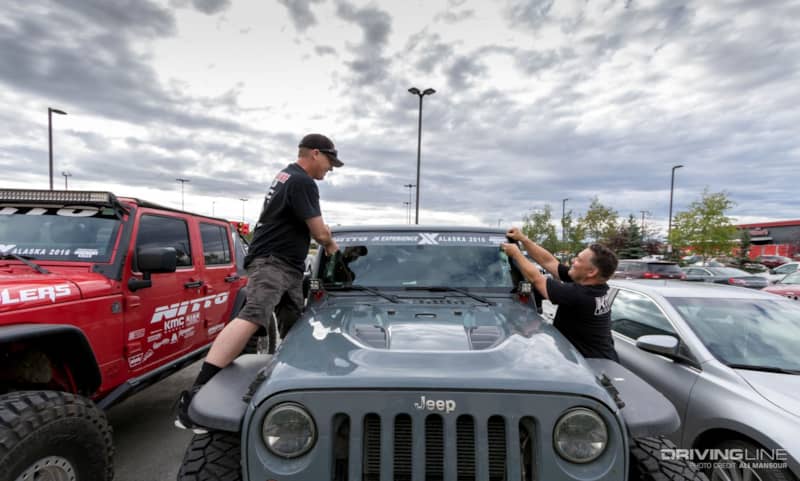 After traversing many of the lower 48 states in previous years, for 2016, JK Experience creator Mel Wade set his sights north, way north. To prove out what has undoubtedly become the most capable four-door Jeep ever produced, the Nitto JK Experience presented by Discount Tire traveled to the last frontier, Alaska. This year's week-long adventure would take its participants on an unforgettable trek through rarely seen Alaskan backcountry and log nearly 2,000 miles along the way.
We know you're interested in seeing just what went down, so we're giving you a recap of the week's experience. We'll have more JKX Alaska coverage coming to you soon. So, be sure to check back for more in-depth coverage of how each day unfolded.

Hello Alaska!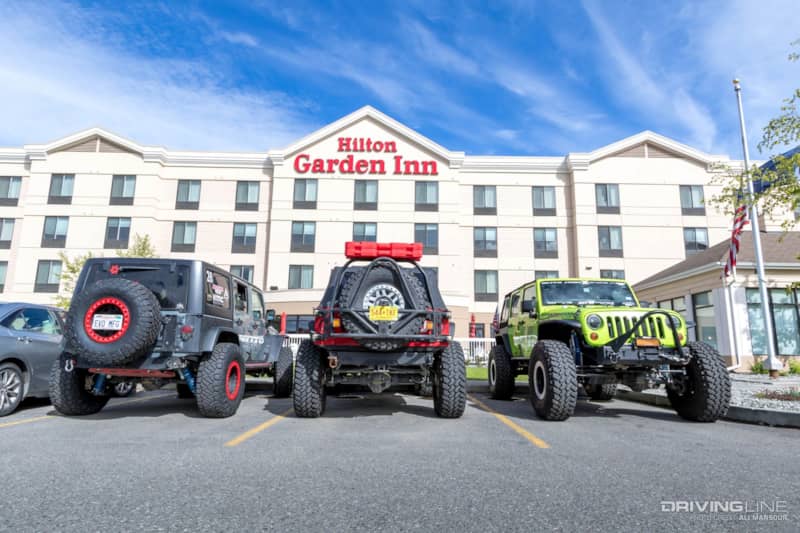 Any way you spin it, getting a vehicle to Alaska has its logistical challenges. With participants coming in from as far east as New Jersey and South Carolina, most opted to ship or trailer their Jeeps to the start of JKX in Anchorage. Check in consisted mostly of simple formalities and swag-bag handouts. There's also a few wavers to sign in case you become a grizzly bear's brunch along the way.
Mt. Baldy (Day 1)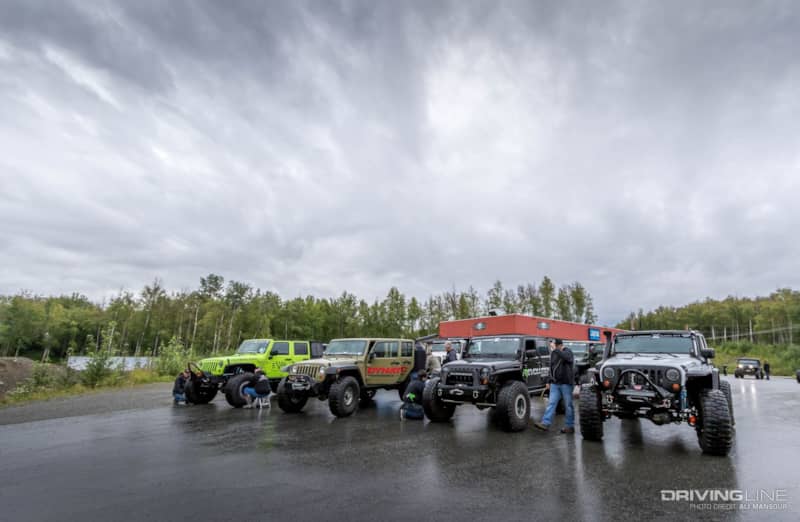 In what would set the tone for the week, the group awoke to cloudy skies and steady rainfall. Leaving our plush digs at the Anchorage Hilton, we hit the Glenn Highway and headed north. After a cruise through one of the more populated areas of Alaska, we made our way to a rural gas station. There, we'd meet with our trail guide for the day, Cory Peterson. Peterson was one of the key resources for the Alaska Off-Road Warriors show on the History channel, and is an expert on the Alaska trail system.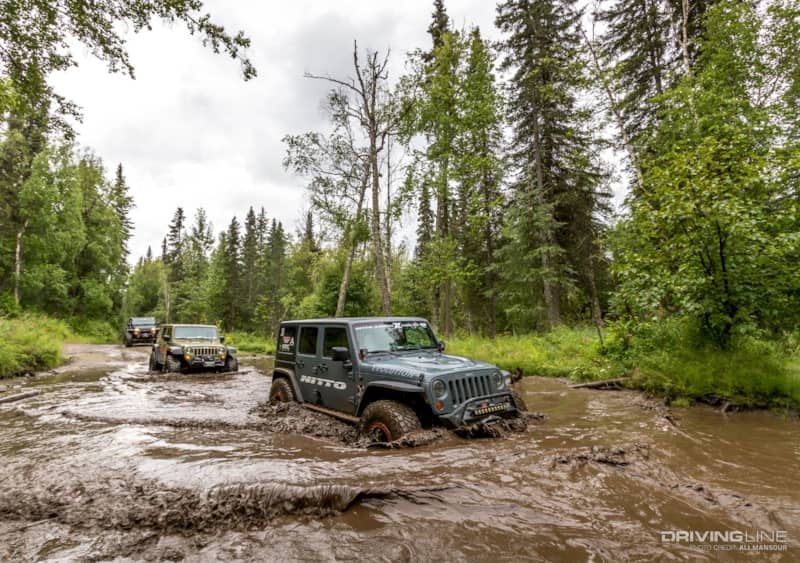 Our trail for the day would be Mt. Baldy. It's a popular hiking and OHV trail that has an off-shoot that leads to a B-29 bomber that crashed during World War II. JK Experience creator Mel Wade wasted no time getting the group in some serious slop. Wade equipped his 2013 JK Unlimited Rubicon with Nitto's all-new Ridge Grappler tires for the trip. Just a few minutes into the trail, the 37x12.50R17 hybrid all-terrain/mud-terrain treads were proving their place in the Grappler family.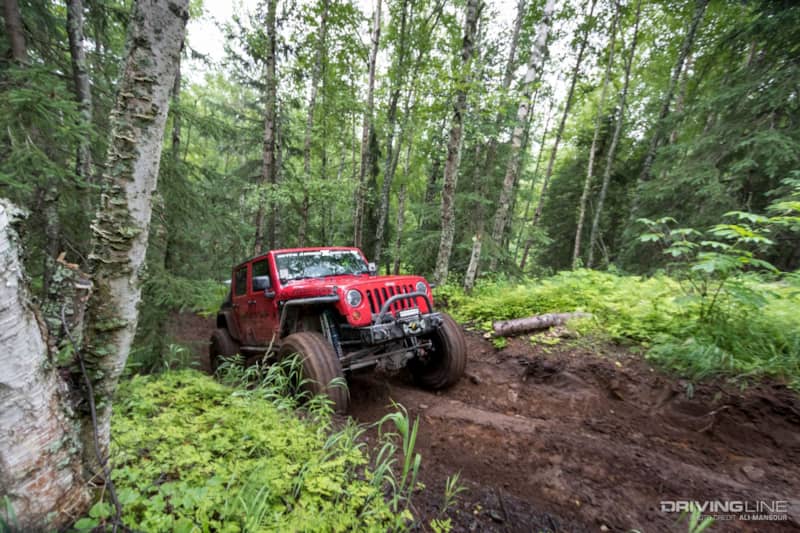 The first real challenge of the day would be a steep hillclimb that required a gracious amount of skinny pedal to successfully top. (Check out our Facebook live video archives to see how extremely slick the 'climbs were). For those that couldn't quite make it on their own, they winched. Invited Canadian guest Chris Larsen gave it everything his 2010 JK had when it was his turn to go. Thankfully, the 40-inch Trail Grapplers did their part to keep the Jeep moving forward.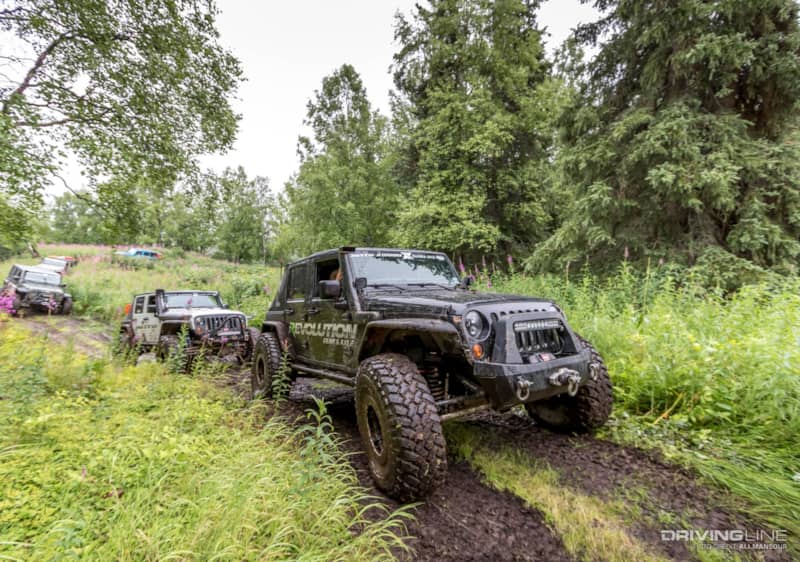 Mt. Baldy trail is mostly wooded on the lower half and winds through a series of hills and deep mud crossings. The two New Jersey natives in the Revolution Gear & Axle JK found their rhythm early on in the slick stuff and had little trouble making it through the trail.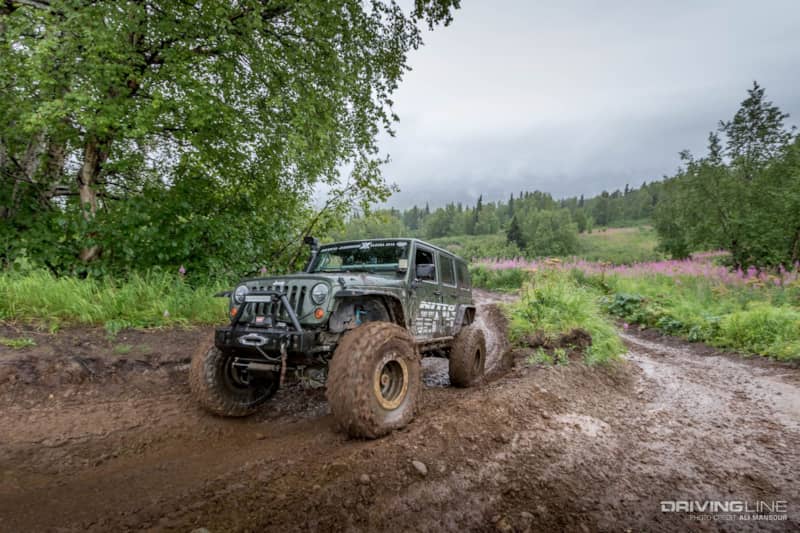 David Retzloff, and his co-driver Bobby Van Horn, hauled the Dynatrac and EVO-equipped 2009 JK up from Hillsboro, Oregon. One of the few manual transmission Jeeps on the trip, Retzloff was able to pick the right gear for the job when 'crawling wasn't an option. While Retzloff's JKX week was trouble free, on his drive home, his tow rig, trailer, and JK were stolen in Canada. If you hear or see anything, please call the authorities and/or email us at editor@drivingline.com.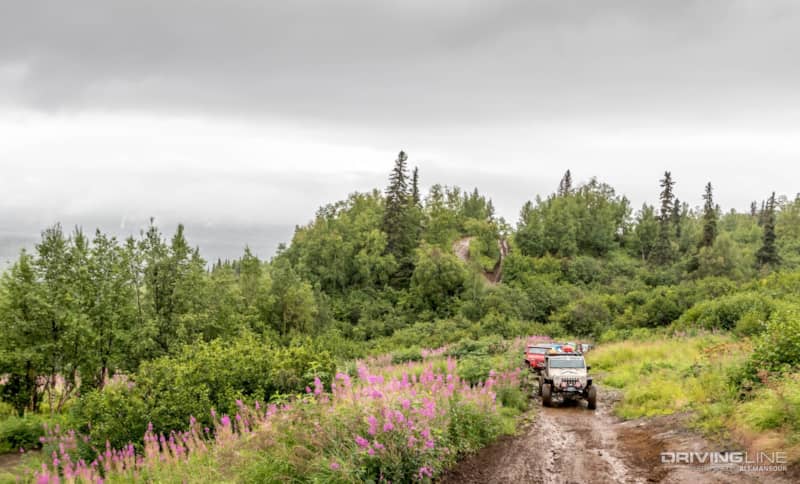 Mt. Baldy trail gets its name from the bare peak at the top of the mountain. With so much rain, the trail conditions deteriorated quickly. Ultimately, we were not able to complete the trail as was originally planned due to time constraints and trail conditions.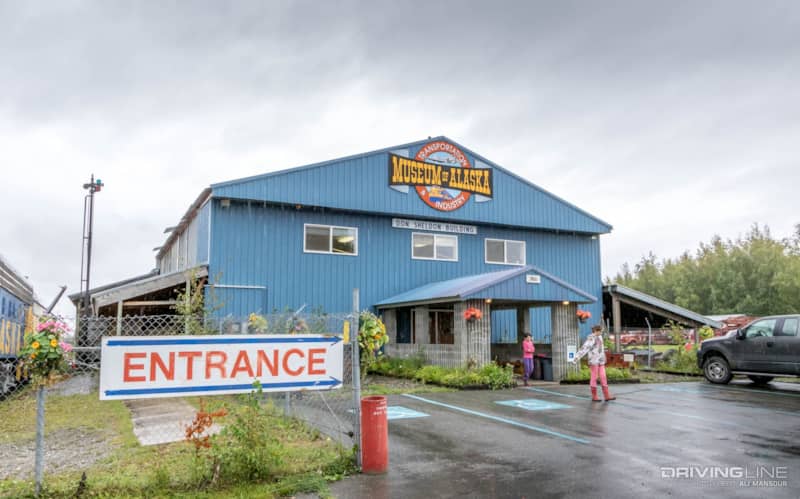 One of the reasons for the time sensitivity was our stop by the Transportation & Industry Museum of Alaska. This history-rich compound was incredible, and filled with vintage trains, automobiles, and airplanes.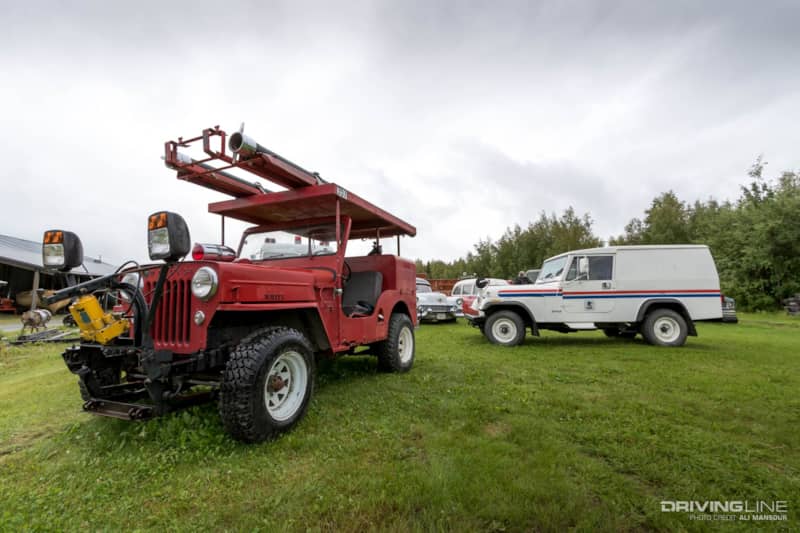 We don't want to spoil all of the luster of the museum by showing you all of the neat stuff they have, but we have to at least show you two of the vintage Jeeps on hand. Yes, that's factory-hardtop CJ mail Jeep that was specially made for the Alaskan mail service. The other is a CJ-3B fire truck. We want both.
One Denali, No Escalades (Day 2)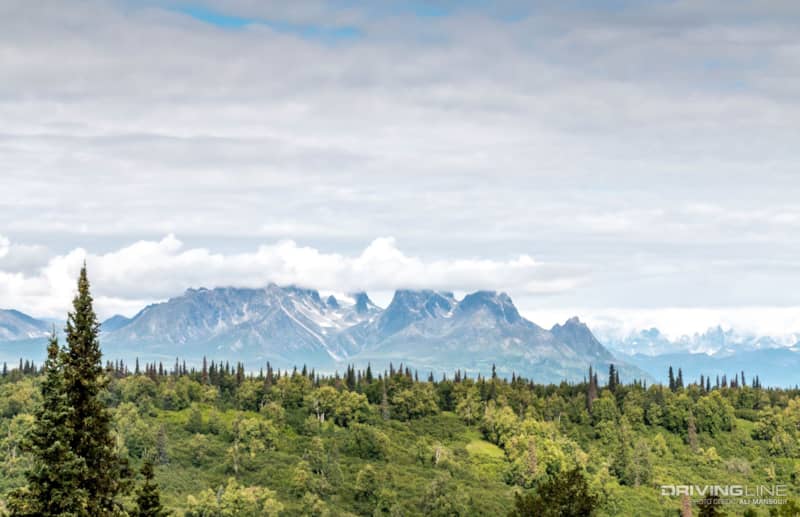 We start off day two of JKX checking out from the Talkeetna Alaskan Lodge. This picturesque resort sits on the south side of Denali Mountain. This day would be a road day of sorts, with a stop by Denali National Park, and a little 'wheeling mixed in to keep everyone on their toes. Heading out from the hotel, the group topped off with fuel and continued north through the winding countryside.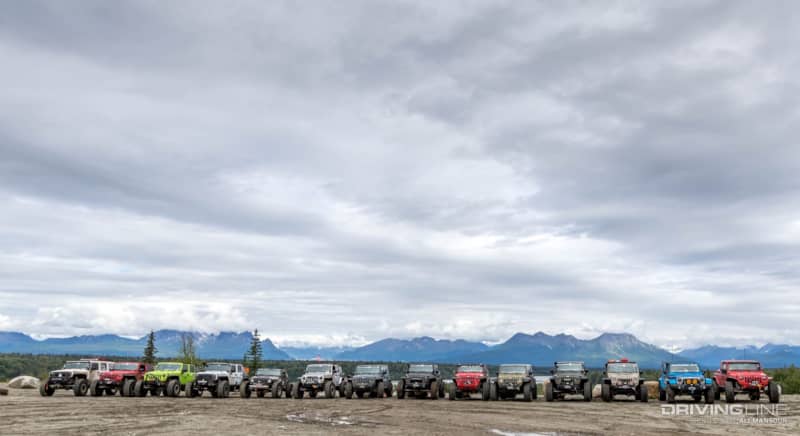 While you can't conquer the Denali Mountain by Jeep, there are plenty of opportunities to get some photos of the 20,000ft-tall peak with your rig in it. According to the locals, on 30 percent of the people who visit Alaska get to see Denali in its entirety. Sadly, we wouldn't be part of the group as the cloud cover would hide its southern side that peaks at 20,320ft.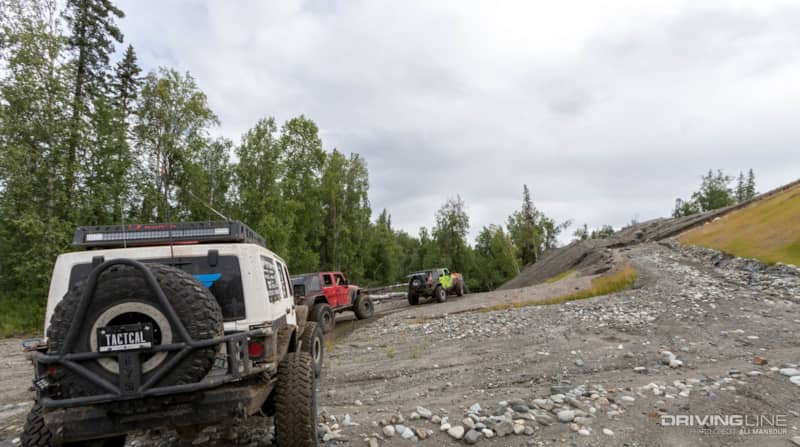 Exiting our photo stop, we hit a private trail for a quick jaunt through the forest. It weaved us through the woods a short ways, eventually dumping the group back onto the highway.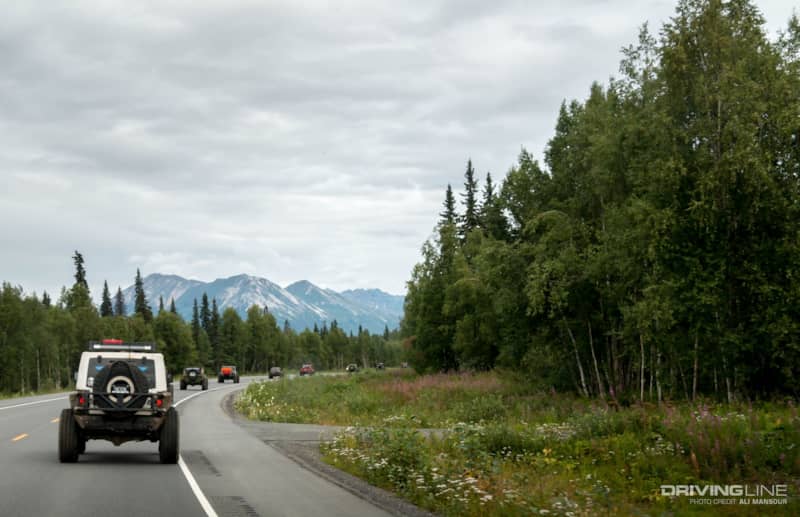 Hitting a mix of rain and clouds, we continued our long trek north. This beautiful drive through Alaska is made all the more impressive by the fact that we were managing highway speeds with a group of Jeeps of which the smallest tire was 37 inches tall. A testament to the on-road refinement the JKs bring to the table.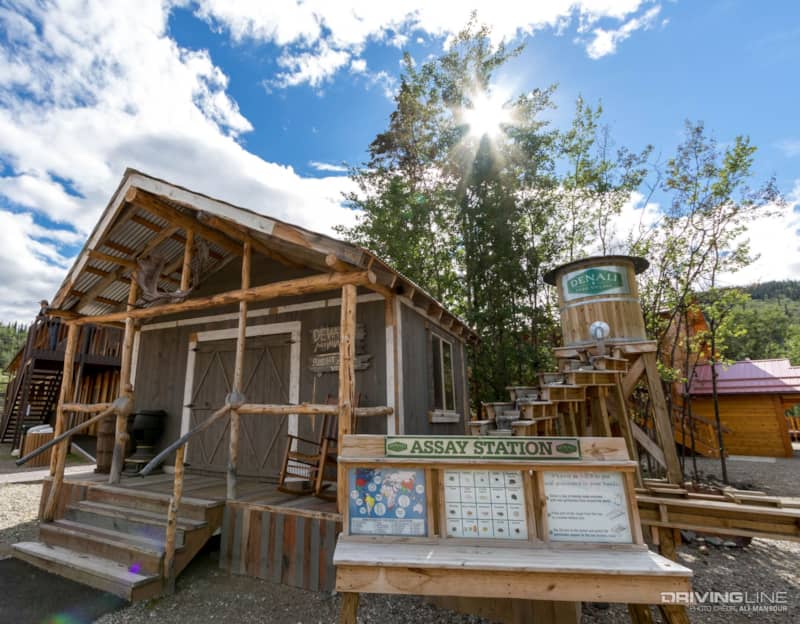 Our landing pad for the evening would be the Denali Grizzly Bear resort. Oddly enough, we didn't see any grizzly bears there on vacation…..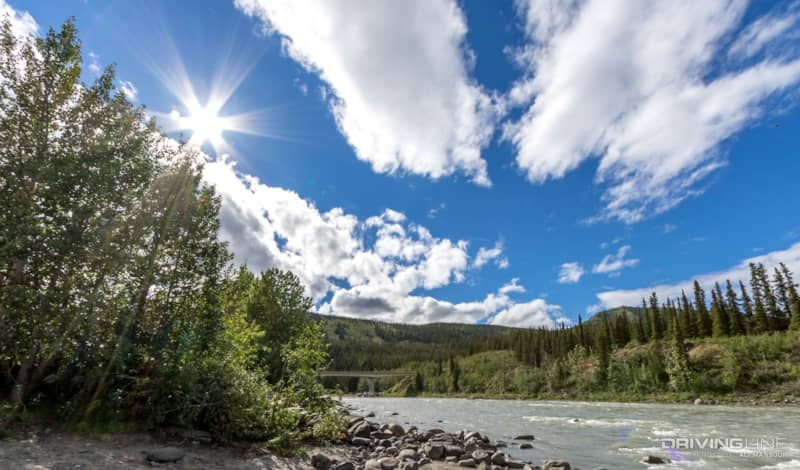 Since we arrived at the resort with plenty of daylight left, a portion of the group opted to make good use of the riverfront and head out on a whitewater rafting adventure. We'll save that spectacle and hilarious experience for you to view on video.
Into The Wild (Day 3)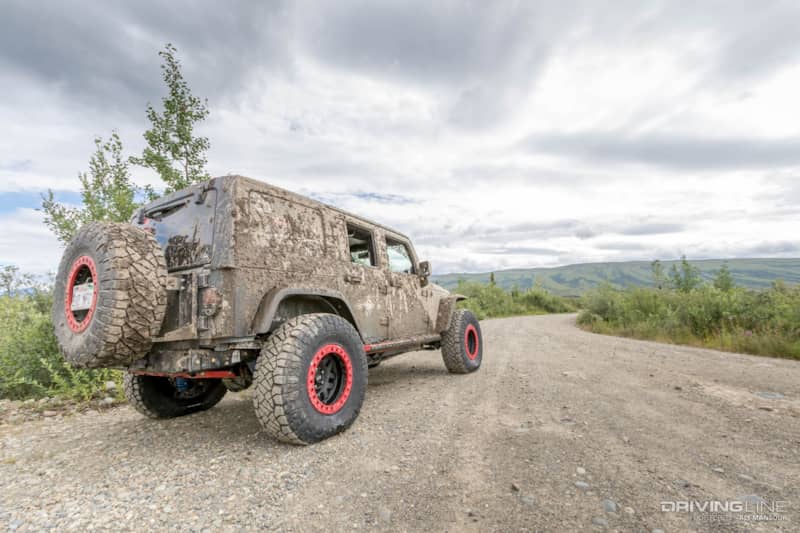 In Alaska, we learned that "road" doesn't mean that you'll find pavement, or a passible path. On day three, we found ourselves on the Stampede Trail. Located west of Healy, Alaska, it's a road made famous by the book and movie adaptation Into The Wild. It's where the famous Magic Bus still rest and you can come face to face with an impassible river.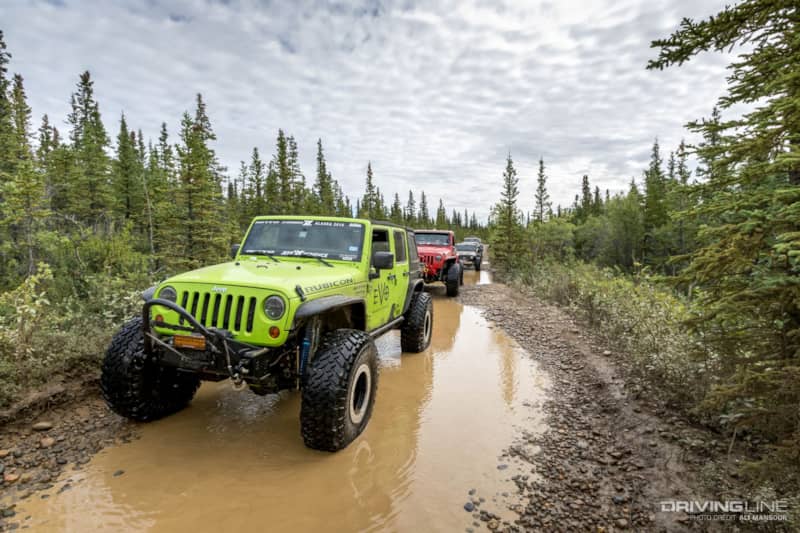 Extremely remote, Stampede road starts out as a tight, but relatively easy trail. Standing water is your biggest threat early on.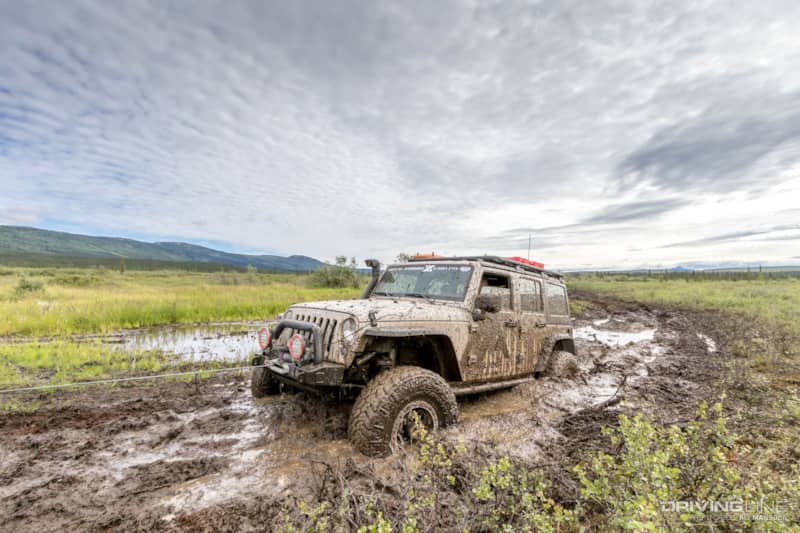 However, the trail dynamic rapidly changes as you  drive onto the muskeg. This incredibly water-rich bog can quickly become a seemingly bottomless pit once you break through the top layer. ARB, along with many others in the group, would get ample opportunity to put its Warn recovery winch to work on this day.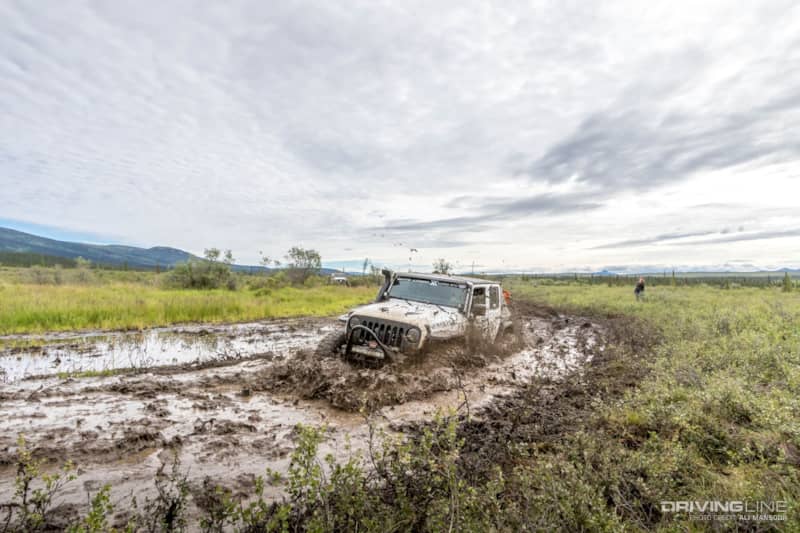 Since we were aiming to tread as lightly as possible, we kept our contact patch on the trail limited. Doing so meant the guys farther in the pack had to use horsepower and momentum to make it through. Dave Oehlman of Smokin' Dave's BBQ put his Hemi V-8 and 40-inch Mud Grapplers to work to get through the thick, brown slop.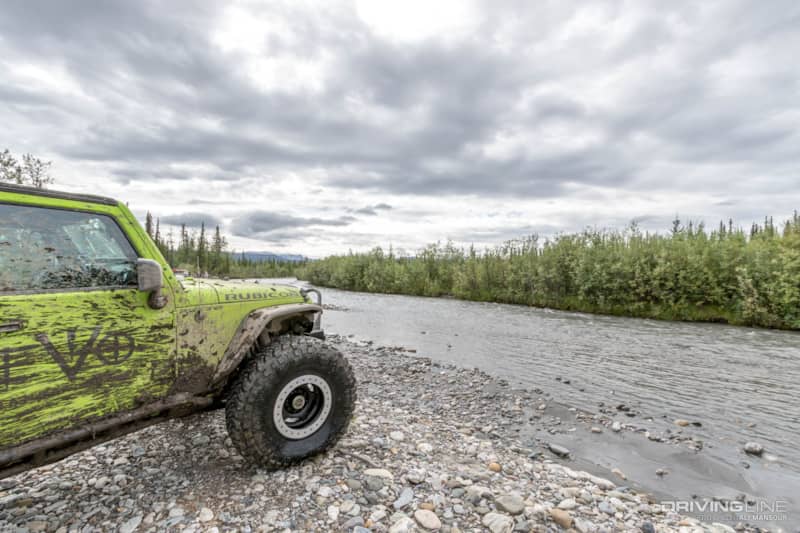 Depending on the time of the year, the Teklanika River can be too dangerous to cross. While relatively calm, we found it too deep to forward on this day. The famous Magic Bus from Into The Wild is actually on the other side of the river, so we were not able to make it over. This served as a nice rest stop and turnaround point for the group.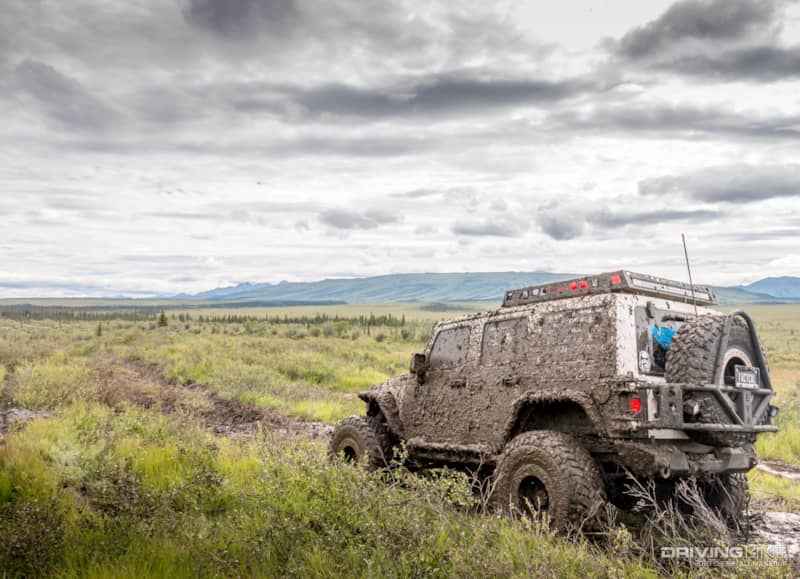 The pace leaving the trail was similar to heading out, slow and deliberate. Virtually every rig had added weight in mud. Tactical Off-Road owner's C.J. and Tawnie Breaux had a few minor issues with their Supercharged 2013 Wrangler Unlimited during the week, but thankfully the EVO support crew was able to keep them moving along.
The Road to Prudhoe Bay (Day 4)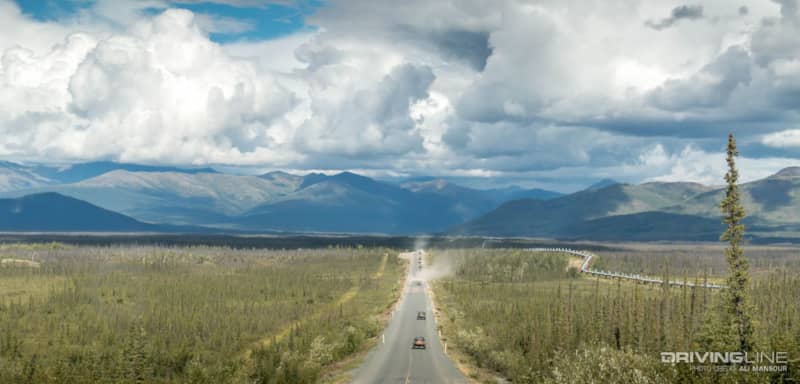 If you manage to bring your four-wheel drive all the way to Alaska, there's one bucket list item that you must force yourself to do. That is, you must drive to the tip of the world and see Prudhoe Bay. The road is brutal, fuel stops sparse, and the likelihood of you needing a new windshield by the time the round-trip journey is over is around 90 percent. In fact, by the time we made it to our camp in Deadhorse, every Jeep in our group would have a damaged windshield.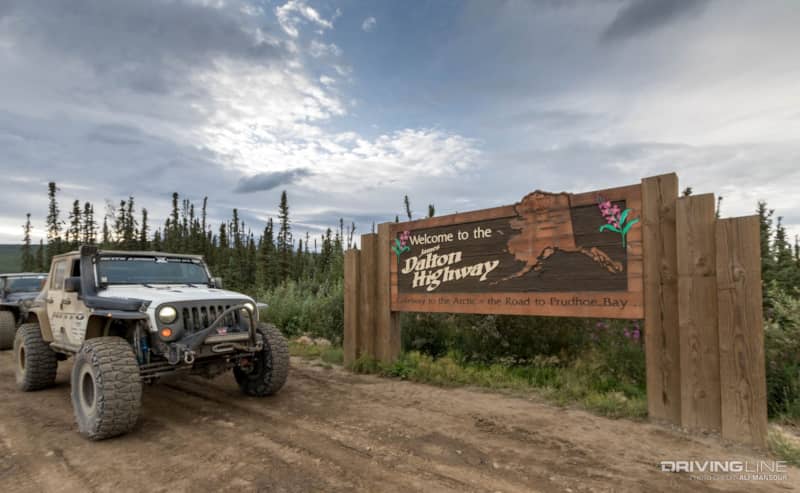 If you want to drive north as far as you possibly can in North America, the Dalton Highway is the way to get there. The road was built in sections starting in the 1970s and wasn't opened entirely to the public until 1994. The highway still serves as a critical channel for those servicing pump stations along the trans-Alaska pipeline and to carry supplies to oil fields at Prudhoe Bay.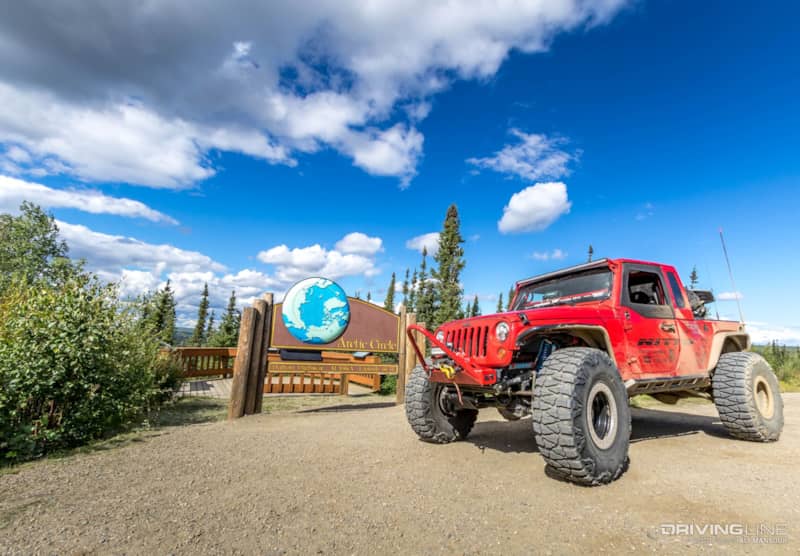 This is as far north as many tourist dare to travel. From here, you still have another 305 miles to drive north to Prudhoe Bay.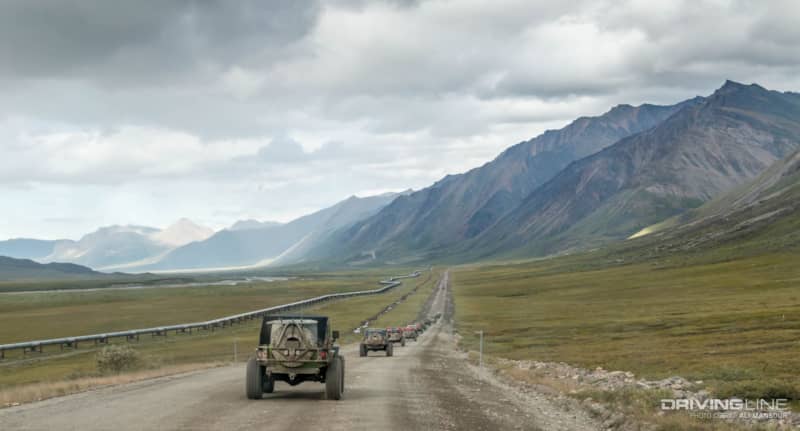 Just as incredible as the scenery, is the engineering marvel that is the trans-Alaska pipeline. With Prudhoe Bay currently producing around 500,000 barrels of oil a day, that's a lot of crude to get from one place to another.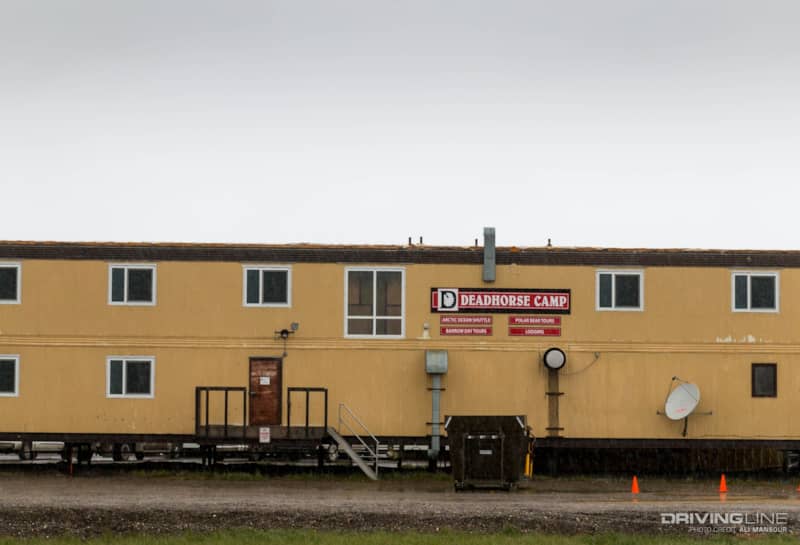 Our digs for the evening would be in Deadhorse, which is just a few miles south of Prudhoe Bay. These dorm-style lodging camps were all over and house an array of oil field works and tourist that come through the area. Hilton it is not, but it's much better than chancing camping only to become a polar bear purée.
The North Pole (Day 5)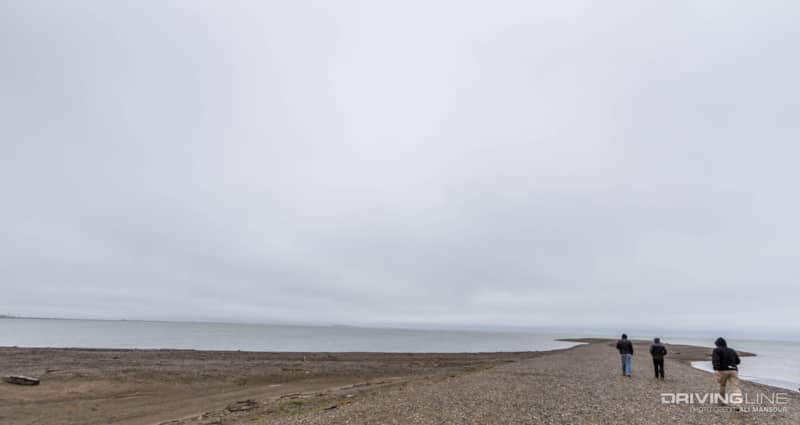 If you've come this far, you might as well get your feet wet in the Arctic Ocean. Even in the summer, it's extremely cold. In order to actually see the Arctic Ocean, you'll hop on a tour bus and get trekked out through the oil field camps to a northern access point. We were hoping to see Russia, a polar bear, or Sarah Palin's house, but didn't have any luck.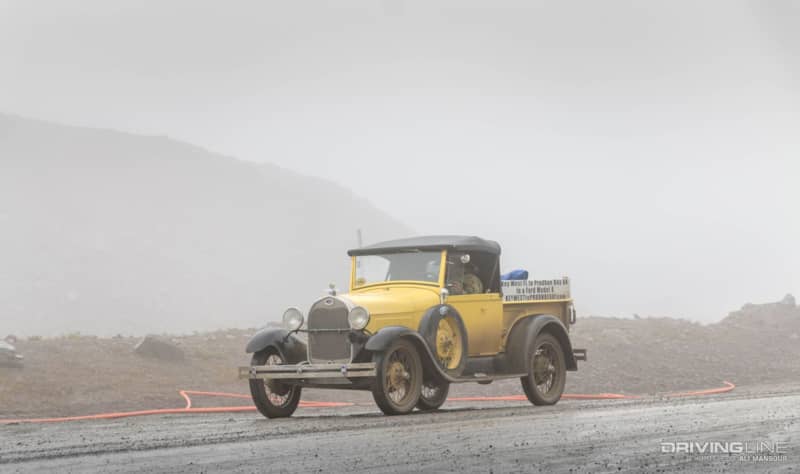 Our group felt a little less hardcore on our journey back down the Dalton Highway when we ran into Bob Kehn and his 1929 Ford Model A roadster pickup. Kehn had been on the road for 21 days when we crossed paths. His starting point of his journey was Key West, Florida!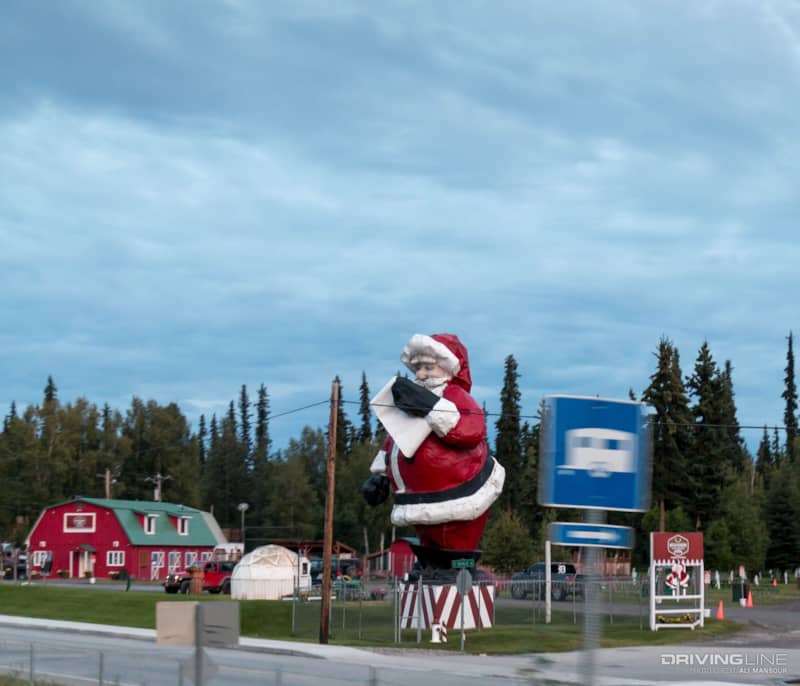 After over 400-plus miles on the road, we made it to the North Pole! Yes. This is North Pole, Alaska, and they embrace the Christmas theme as wholeheartedly as you would expect. The group still found it a little odd that we had to drive south to get to the North Pole. Another fun note, we got in close to midnight and still had ample daylight.
Red Rock Canyon (Day 6)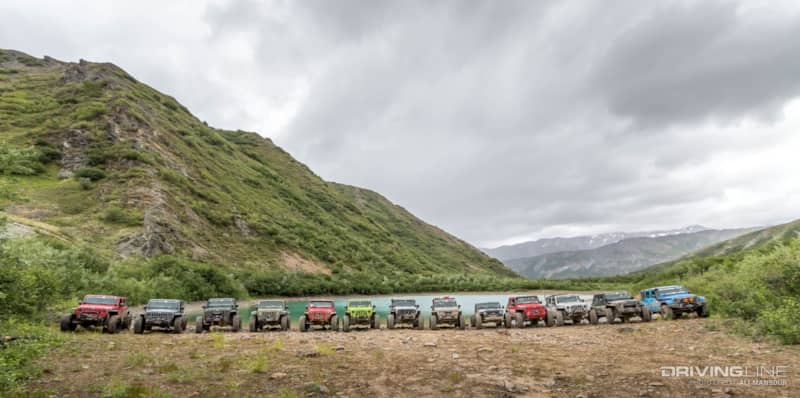 Saying goodbye to Christmas in July, we got back on a windy two-lane highway to feed us to our next trailhead. Today's journey would drop us into the Rainbow Ridge area, a spot named for the assortment of colors you'll find as a result of the volcanic rock along the mountain side. This narrow trail would also thread the group to the Castner glacier.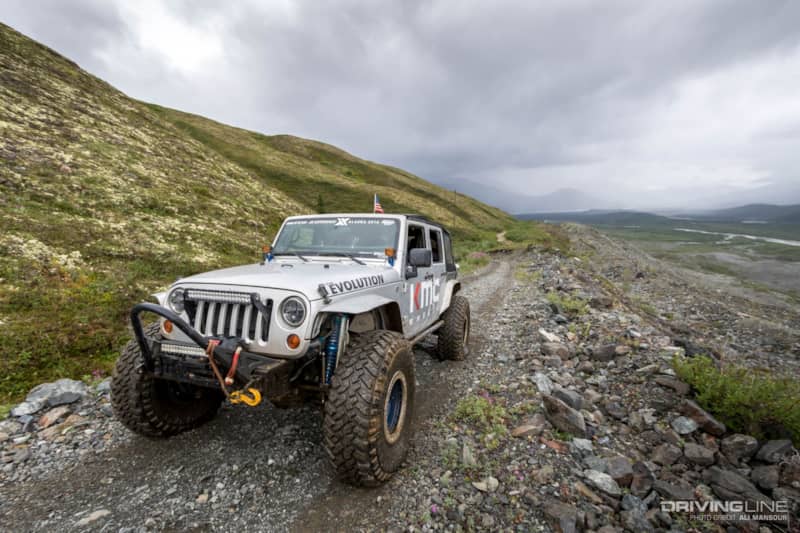 A long winding ridge snakes along the side of the mountain and is your only option for getting to this portion of the Castner glacier by vehicle. At times, the trail was just the width of KMC Wheels JK.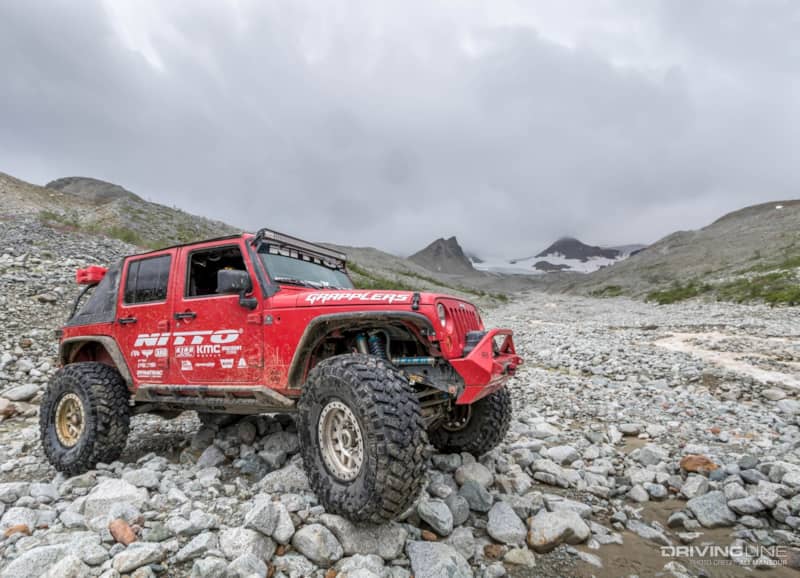 We drove up as far as we could safely, then hiked up to check out some of the stunning ice caves and glacial formations. Some of you might recognize this JK as The Family Dragon. It's two-time KOH champion and Ultra4 racer Loren Healy's personal Wrangler.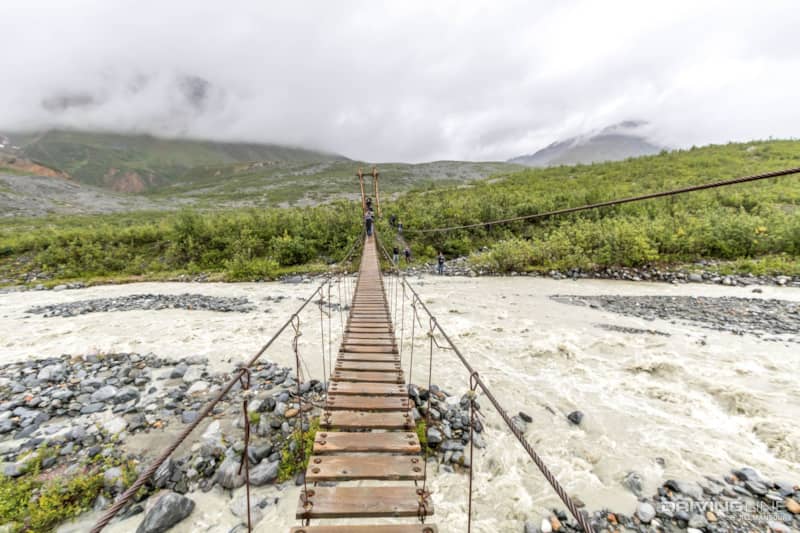 Just up the road, we stopped by the path to the Gulkana glacier. To access the glacier, you must pass over what we'll refer to as a very weathered suspension bridge. It's definitely worth the hike if you ever find yourself in south-central Alaska. 
Knik Glacier (Final Day)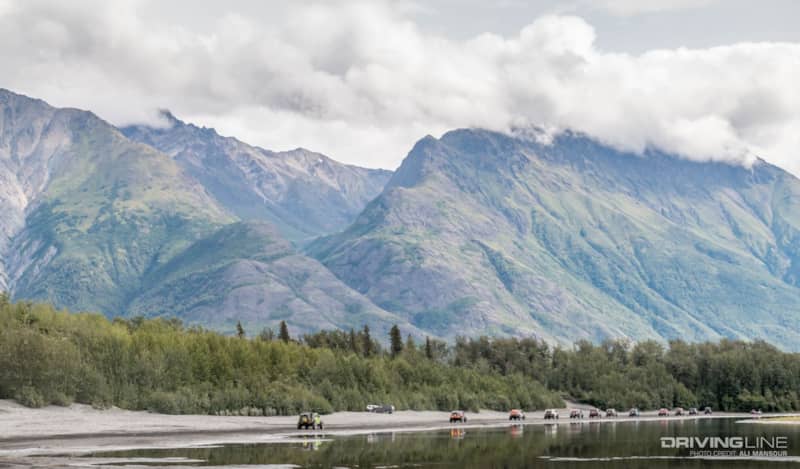 The final day of JKX would send us to the Knik River Public Use Area. It's over 250,000 acres of state and federally owned land that offers places to fish, shoot, hike, and use your OHV and four-wheel drive. It's extremely wet and had those lacking snorkels in the group a little worried. Aside from the deep water, the 'wheeling wasn't overly extreme, but you would be hard-pressed to find a place as scenic.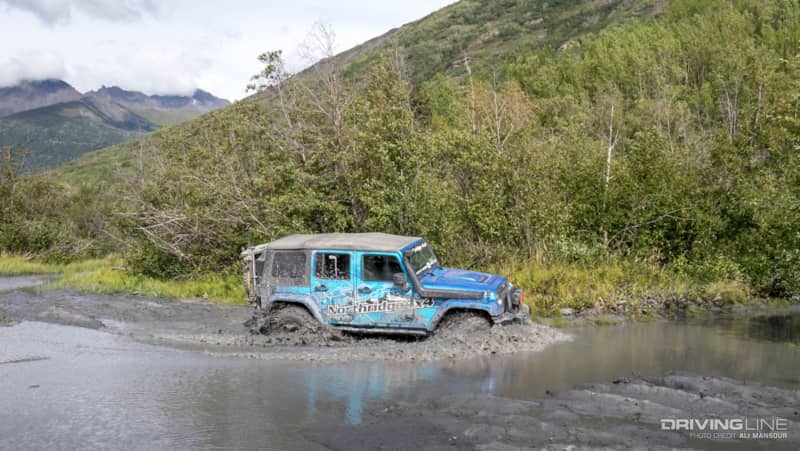 Mud and deep water were in abundance. Thankfully, Northridge 4x4's Eric Johnson knew how to navigate through the murky waters. Johnson, along with cameraman extraordinaire David Page were always there to lend a hand on the trail and we're looking forward to seeing some of their footage from the event. (See last year's JKX video series from Northridge).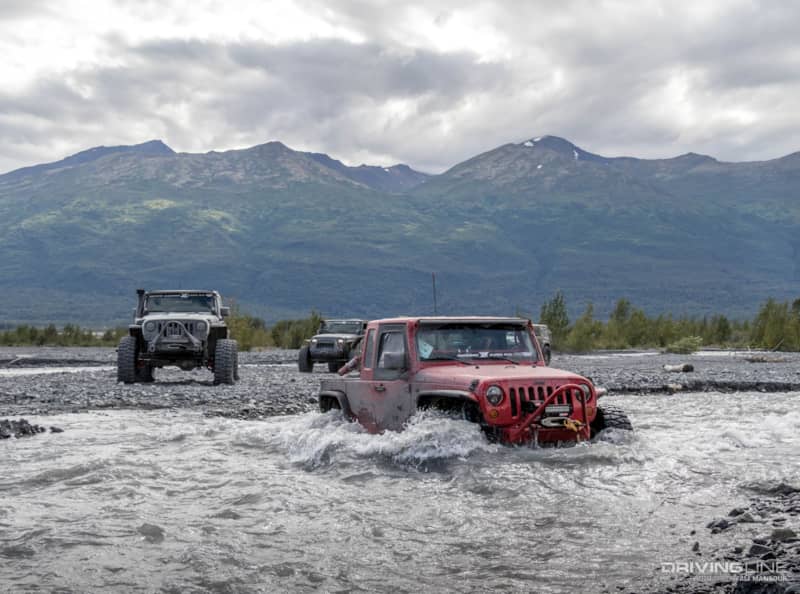 Fording water can be pretty tricky and especially hazardous. With so many water bodies flowing around and through the area, you'll have no choice but to pick a shallow spot and make your way through. Thankfully, everyone in our group managed to keep the air out of the intake and aside from a few electronic issues, no one suffered any major water damage.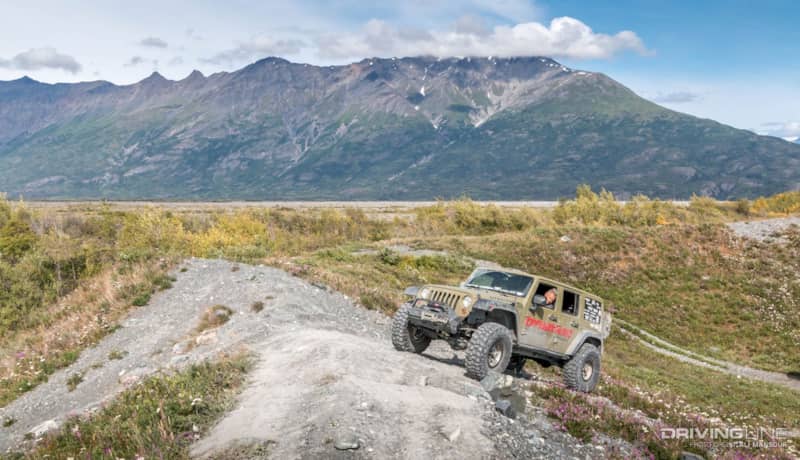 JKX has been a proving ground for new Wrangler products for years. Dynatrac's motto is "Confidence to Explore" and with the majority of the group running the company's hardware below, they were proving the mantra true all week. In fact, we had zero axle failures over the course of the trip.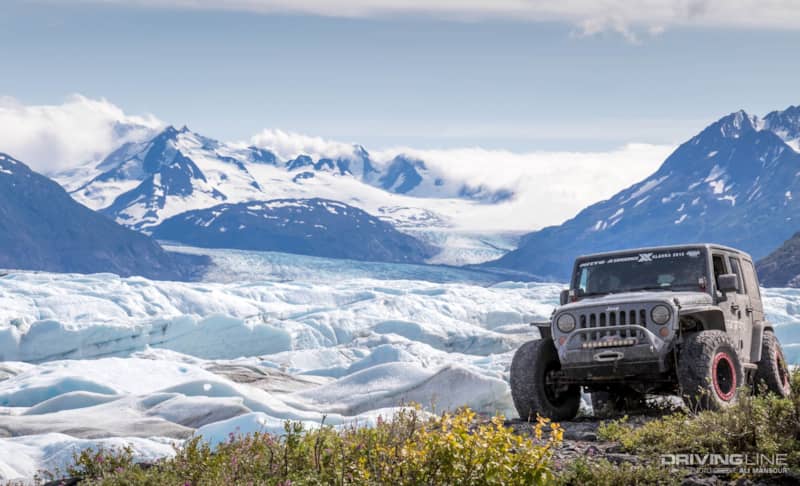 If there was ever a way to put JKX into one photo, this was it. Located a little over 50 miles from Anchorage, we found our final site for the trip would be the Knik Glacier. With a five-mile-wide face and a sea of ice at the base, it's truly a site to see. Those brave enough to trek out found themselves a bit wet at the end, but we couldn't think of a better way to wrap up such a monumental week.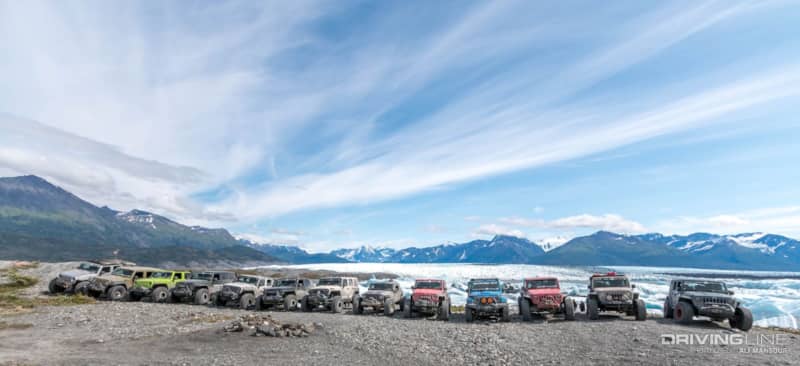 Want more Alaska JK Experience coverage? Don't worry! It's coming soon.