2017 Formula Drift Long Beach Recap [Gallery]
After cancelling Formula Drift's first qualifying session last year due to uncharacteristically rainy weather at the Streets of Long Beach, the sun decided to do its SoCal thing this year and shine away at the Series opener, allowing 30 drivers to compete in a qualifying session. The resulting top five qualifying spots depicted a generally accurate forecast of which drivers would bring their A game into the tandem battles. While the 97-point No. 1 qualifier Vaughn Gittin Jr. of Nitto Tire had his tandem day unexpectedly cut short in the Top 16, the drivers in the second, third and fifth qualifying spots picked up where they left off and brought their success into the Final 4 and onto the podium.
Three was the name of the game for No. 3 qualifier Ryan Tuerck as he earned his 12th career podium in third place. However, the big story here is that the drivers who claimed first and second place (James Deane and Nitto's Alex Heilbrunn) are both only in their sophomore year in Formula Drift, proving that their No. 2 and No. 5 qualifying performances were not just flukes. Both recipients of the Rookie of the Year award (Deane in 2010, Heilbrunn in 2016), they're obviously living up to their prescribed potential, but — much to everyone's surprise — to the greatest extent, beating out podium regulars like Chris Forsberg and Fredric Aasbo.
Browse through the gallery at the top to catch all the action from FDLB qualifying and tandem competition.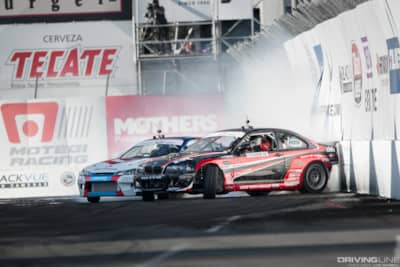 Of course, this is only the beginning; there are probably many more surprises coming our way this season. Have Deane and Heilbrunn flipped the FD script and set the stage for the rounds to come? Only time will tell. Next stop: Uncharted Territory, Round 2 in Orlando, Florida.
(Photos: Luke Munnell, Byron Yoshida)