5 Front-Wheel Drive Pickups We Never Got (And 3 Trucks We Did)
Front-wheel drive is a miracle of packaging and efficiency, but this popular car platform has almost never translated into mainstream pickup trucks. Almost every truck on the market makes use of a traditional rear-wheel drive layout with the option of four-wheel, or in some cases all-wheel drive.
The reasons behind this are many. Primarily, full-frame designs popular for hauling and towing are easier to build in rear-wheel drive form, heavy cargo or trailers would lift weight off of the front drive wheels, and CV joints aren't designed to handle V8 levels of torque on a regular basis.
That being said, there have been a number of automakers that have experimented with front-wheel drive pickups for light duty work. Very few of these concept trucks ever made it to the market, but a handful snuck through and offered buyers a rare alternative to traditional pickup designs.
Here are 5 front-wheel drive pickup concepts we never got, and 3 we did.
1. Hyundai Santa Cruz Concept
The Hyundai Santa Cruz has been intriguing pickup fans for several years by hinting that the Korean giant was going to get involved with the American truck market. The sleek-looking trucklet first appeared in Detroit at the 2015 auto show where it showed off a unibody design, rear-hinged secondary doors to access the back half of the passenger compartment, and the promise of a turbodiesel drivetrain good for 190hp and 300 lb-ft of torque. The front-wheel drive truck also offered an all-wheel drive option via the brand's HTRAC system.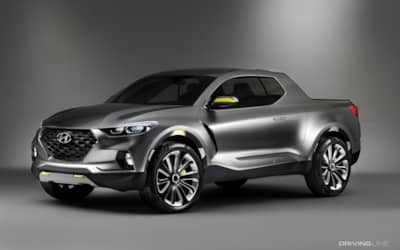 Hyundai would further whet the appetites of the small truck faithful by regularly making mention of its intentions to build the sporty-looking Santa Cruz using one of its several small crossover platforms. It claimed a desire to tap into the 'lifestyle' segment of buyers who wanted a truck for play rather than work purposes.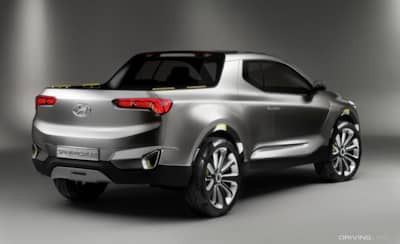 In an interesting turn of events, it looks like the Santa Cruz is the one front-wheel drive truck concept on this list that will eventually make it into dealerships. Hyundai has all but confirmed a compact pickup for production in 2022, and while it won't look exactly like the original truck that first rolled on stage in Detroit (corporate styling edicts have since changed), it will follow the same general outline when it comes to size and drivetrain.
2. Toyota A-BAT Concept
In many ways the Toyota A-BAT helped pave the way for Hyundai to take the idea of a front-wheel drive pickup concept seriously. Unveiled nearly eight years before the Santa Cruz, the A-BAT was a four-door crew cab with a small bed and big, chunky attitude that also relied on a unibody crossover platform.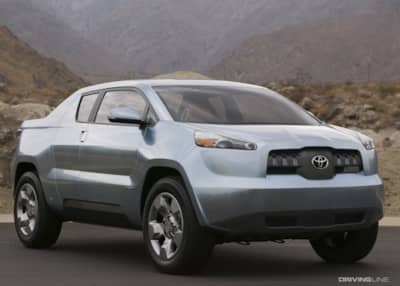 Unique to the A-BAT was its hybrid drivetrain, which borrowed largely from the Prius' Hybrid Synergy Drive system.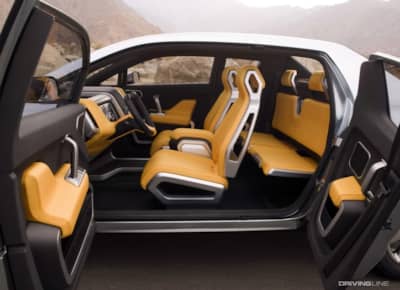 Toyota went all-out in giving its pint-size pickup an array of useful features, such as an extendable cargo area (into the passenger compartment as found in the Chevrolet Avalanche), sliding tie-downs, and even solar panels on the dashboard.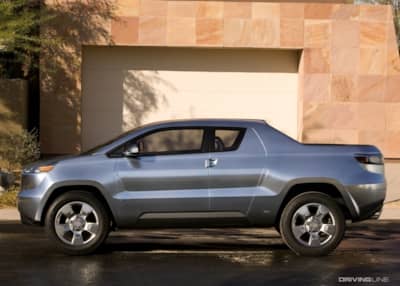 The A-BAT was never seriously slated for production, and it's not hard to understand why. Toyota was making major bank with the traditional Tacoma pickup and didn't need to introduce a homegrown rival into the equation, a situation that continues to this day.
3. Dodge Rampage Concept
Yes, that name is a familiar one, and we'll be getting to the original Dodge Rampage a little later on. In 2006 however, Chrysler raised eyebrows with its second take on a front-wheel drive pickup, even borrowing the name of its original effort.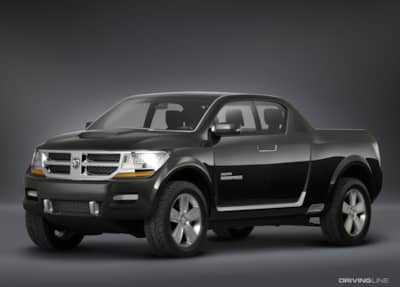 The Dodge Rampage Concept offered the kind of aggressive, big rig styling that had become standard issue from the truck builder, but it also featured several unusual characteristics that would set it apart from the similarly-sized production Dakota. Namely, the truck's silhouette revealed a sliding rear door in place of a standard hinged design, which made it easier to get in and out of the cabin. It also delivered big under the hood with a 5.7L V8 engine driving the front wheels, which was way, way outside the box in terms of pickup drivetrains.
It's tempting to see the Rampage Concept as a shot across the bow of the Honda Ridgeline, which was roughly its contemporary. If the financial crisis hadn't intervened two years later, who knows whether Chrysler would have funded a production Rampage to replace the largely unloved Dakota.
4. GMC Granite Concept
The GMC Granite Concept was offered in both SUV and pickup forms, as its architecture had been designed specifically to be modular. First shown off in 2010, the Granite truck was a subcompact design that could accommodate just two passengers.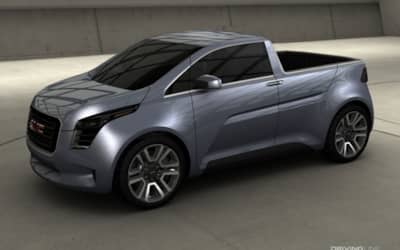 GMC tried to spin this as a plus, stating that the truck was aimed at a portion of the market being 'underserved,' but in the ensuing decade it became clear that single cab trucks have been reserved primarily for contractors and fleet buyers. The Granite came with a four-foot cargo box and a set of barn doors that could accommodate a slide-out portion of the bed (to extend hauling space) in place of a standard tailgate.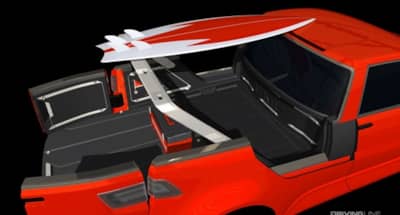 Its most daring feature was a pop-up rack that sprung up like a flying bridge to serve as a brace for carrying longer, roof-mounted items such as kayaks or surfboards. This was complemented by a pair of sliding side panels that removed the need to reach over the edge of the cargo bed.
5. Nissan Nails Concept
Of all the vehicles here the Nissan Nails Concept is clearly the most pie-in-the-sky.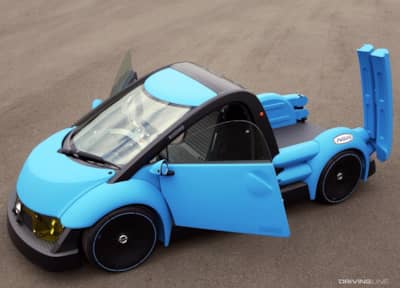 The low-riding truck's strange proportions (its bed is more of an open-air trunk than a cargo box), its dramatically-swept windshield, and its ultra-durable body panels seem to contradict each other. Is this truck destined for the job site or to be hard-parked outside the local car meet?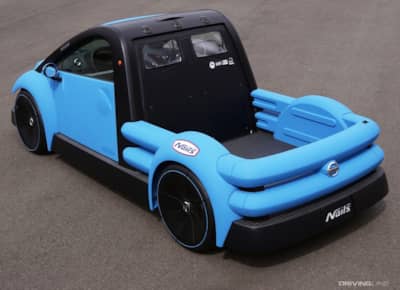 The Nails was initially shown off at the Tokyo Motor Show, which is used to flights of fancy in the small vehicle segment. Despite never making it into the Nissan product portfolio, the Nails did at the very least explore integrating cell phone connectivity in an automotive package well before the devices became common.
Front-Wheel Drive Trucks That Made It To Production
1. Honda Ridgeline
The Honda Ridgeline is by far the most successful front-wheel drive pickup of all time. Now in its second generation, with a third just around the corner, the Ridgeline is best described as a pickup aimed at those buyers who don't want to own a truck but who need the versatility that they have to offer.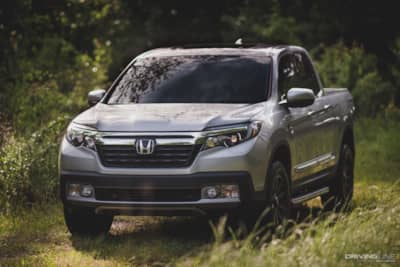 The Ridgeline's unibody platform and modest V6 engine give it relatively frugal fuel mileage and a comfortable ride that most traditional trucks can't match, and its thoughtful construction includes a long list of useful storage compartments and nooks to further enhance the utility of its five-foot cargo bed.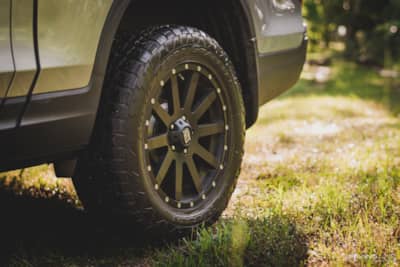 Lest you think that length sounds a bit short, it's actually quite competitive with the truncated boxes found on most modern full-size crew cabs.
2. Dodge Rampage / Plymouth Scamp
The original Dodge Rampage didn't have the same V8 firepower as the 2006 concept. In fact, when the Rampage debuted back in 1982 it couldn't even break 100 horses, with its 2.2L four-cylinder engine falling short by four. The tiny truck was based on the same platform found under the Dodge Omni and Dodge Charger compact cars.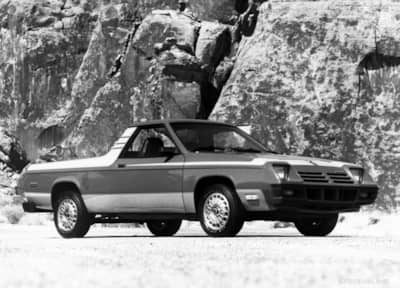 The following year the Rampage would gain a sibling in the virtually identical Plymouth Scamp, and it would also add a five-speed manual transmission to help corral those humble horses under its hood. Sadly, the Rampage and Scamp combo were known more for their lack of reliability than their cargo hauling capability.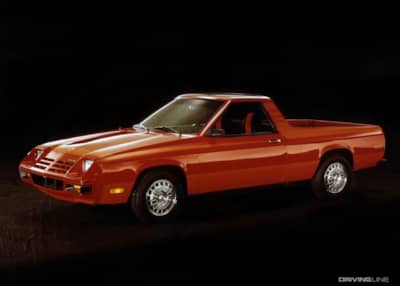 By the end of 1984, both had left the market.
3. Volkswagen Caddy
Also known as the Rabbit Pickup, the Volkswagen Caddy was exactly that: a version of the VW Rabbit hatch with a pickup bed in place of its rear seat and trunk.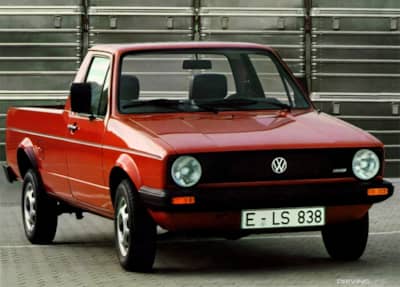 Built in Pittsburgh, Pennsylvania, the Caddy first went on sale in 1979 and was motivated by a meager four-cylinder engine that couldn't handle all that heavy of a load.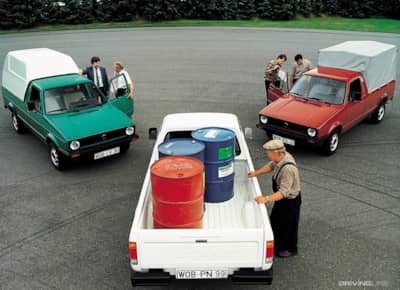 The Caddy has become an icon among Volkswagen fans, but it didn't exactly set America on fire when it was originally on sale. Although production would continue globally for two more decades, by the mid-'80s the U.S. would say goodbye to the tiny truck for good.