7 Great Android Apps for Your Off-Road Adventures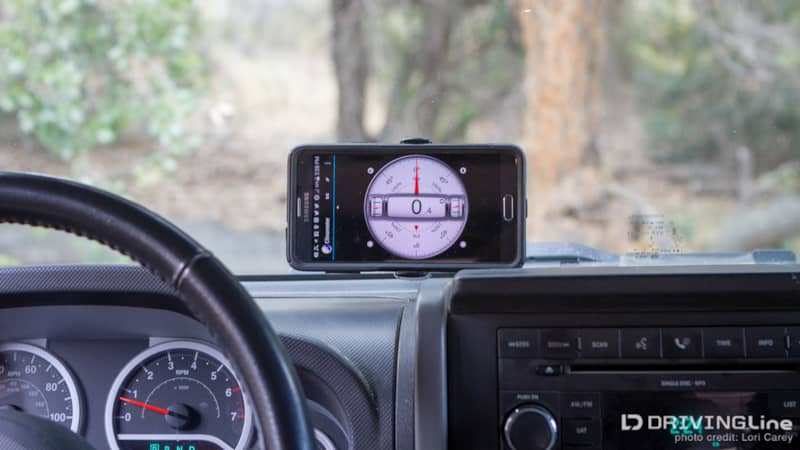 Since I typically don't have a cellular signal when I'm out on a trail in the backcountry, I usually turn my phone off. It's nice to have a break from the non-stop pings of e-mails, chats and social media tagging. Cutting the cord lets me live fully in the moment and immerse myself in the world around me, something I think we all need more time to do these days. But there are some apps that don't rely on a cellular/internet signal, which are very handy to have when I'm out on the trail, so I make sure I always have a way to charge my phone in case I need it.  I've also learned that electronics can fail and I'm a big believer in redundancy. Some of these apps are great backups to any primary technology you might have. We have the best of both worlds since I have an Android phone and my husband has an iPhone. Today I'm going to share some of my favorite Android apps for my off-road trips, and next week I'll share our favorite iPhone apps.
Clinometer + bubble level – free Ever wonder exactly how steep a slope is because you felt like you might roll? This clinometer has a large, easy-to-read display, and the bubble level comes in handy for things like leveling out a trailer.
SAS Survival Guide Lite – free SAS Survival Guide - $5.99 The free Lite version has some basic survival tips including things like how to find water, direction finding and signaling - but it is ad supported. The full version contains additional items like the entire text of the SAS Survival Guide, a Morse Code signaling device, photo galleries of edible, medicinal and poisonous plants, Extreme Climate Survival sections, how to handle fire and hazardous chemicals and a comprehensive First Aid section.
American Red Cross First Aid - freeThis app contains simple step-by-step instructions and videos for most basic first aid scenarios including heat stroke. The content is preloaded so no internet/phone signal is required, and it can be toggled to a Spanish language version. 911 is also integrated into the app so you can call EMS directly if you do have a signal.
  Do you have any favorite Android apps that I should add to my list?