7 Things to Know Before Selling Everything and Moving Into an RV
Millennials have a bad reputation. They desire meaningful and purposeful lives, but at what expense? Living on the road and ditching the boorish checklist of adulting has become a phenomenon. Check Instagram or YouTube and you'll find a barrage of DIY'ers building campers and young, good looking couples living in VW vans. They all seem to earn a living merely by telling you how to earn a living out of a van.
I'm 31 and considered an "Oregon Trail Millennial." I am wholeheartedly pursuing the notion that life has more to offer, and perhaps it's on the road. I'm taking my wife and one-year-old son, living nomadically through the United States. It's a romantic concept from afar, but I decided to take the plunge, head first. We've sold most of our possessions and purchased a large camper. I'm attempting to live happily on the road, adventuring through the country, seeing cool things and experiencing my family, my life and the world around us. Here are a few of the lessons we quickly learned in our first month on the road.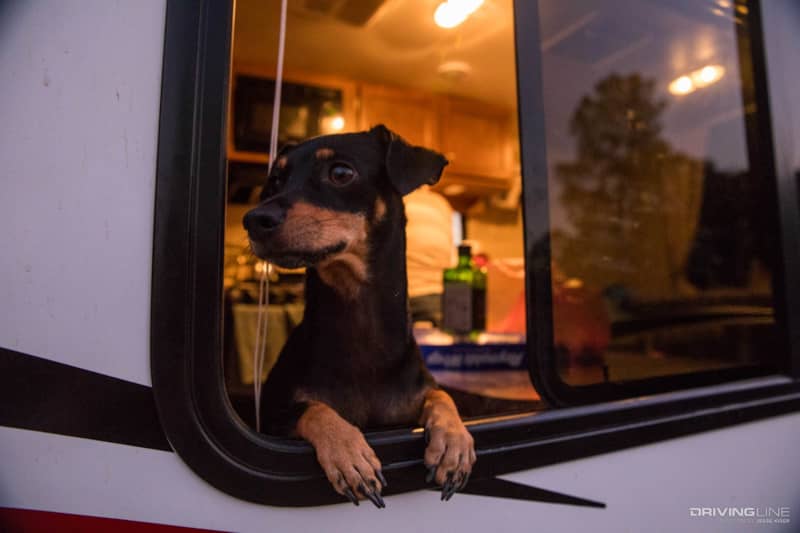 1. The Set Up
Finding the perfect combination of budgeting, while meeting your needs and desires, makes traveling worthwhile—the truly fun part is the planning. Luxury camping is a huge industry, so there are plenty of options ranging from cheap to expensive and turn-key to DIY.
I already had a 100,000-mile 2006 Ford Econoline E-350, my own grocery-getter and motorcycle hauler, and it luckily has a 3.5-ton towing capacity, allotting for plentiful options of tow-behind trailers. Of course, I couldn't use gooseneck/fifth wheel trailers, but those are too expensive anyway.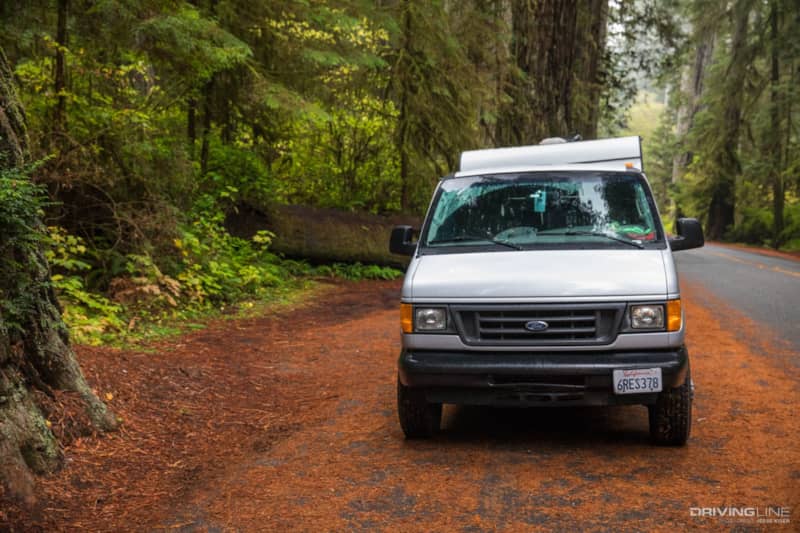 We quickly jumped on a used 2016 Eclipse Milan, a 26-foot tow-behind camper with a fiberglass shell, at a local dealership. It had an entry-level price, mid-level amenities and being only slightly used meant it felt new. The bank even treated it as a new purchase, resulting in an easy loan. When I picked up my camper after the purchase, the dealers laughed at my van, but all my research confirmed it was within the weight limit classified by Ford.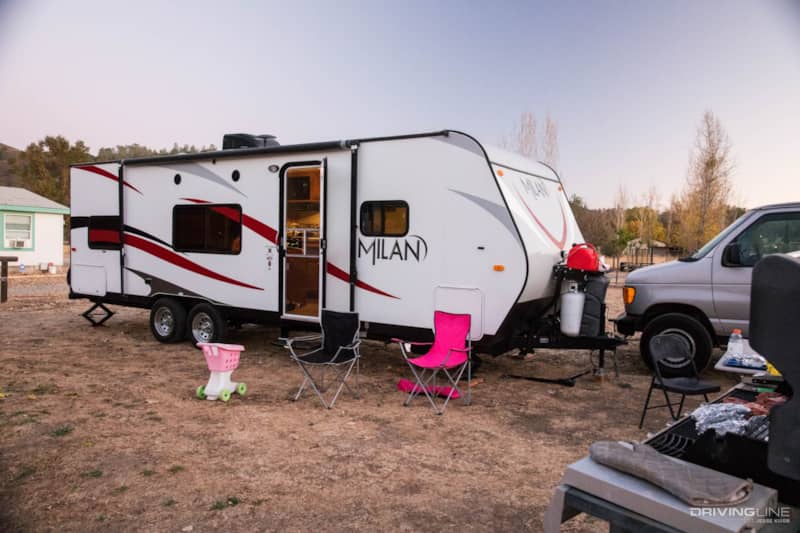 I have around $5,000 invested the van, including the required towing additions. I ordered a complete towing package through Summit Racing for about $700, which included a trailer-brake controller, hitch, bolt-in-hitch receiver, 7-way plug and a weight distribution kit. I also made a trip to the junkyard to attempt to use factory Ford trailer wiring. The weight distribution kit required concentration and some fine-tuning. It transfers the weight from the tow vehicle onto the trailer, meaning the van handled tremendously better when adjusted properly.
Many RVs are based on the Econoline chassis, which uses a frame-mounted accessory battery box; I purchased one from a friend at Vantage Optics. This second battery provides an extra jump if we need it and helps to charge the camper batteries while on the road. I installed a heavy-duty relay so the battery is only in parallel when the ignition is hot. I also used a secondary fuse box from Amazon and wired up additional interior lights and plugs throughout the rear of the van, including a cheap, cigarette-plug 110-volt inverter. I finished the upgrades with a storage rack, and now have a mobile work station.
2. Camper or RV
For me the choice was easy. We already owned the Econoline, so a tow-behind was the way to go. (A "tow-behind" trailer is a mid-level camper that is a step up from a pop-out and step below a fifth-wheel in terms of size.)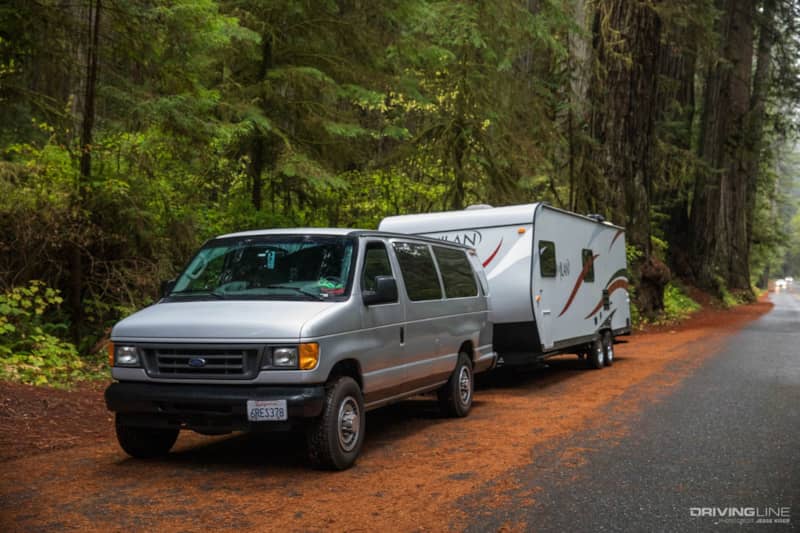 While a tow-behind camper made the most sense for us, there are quite a few tradeoffs between campers, RVs and RVs with a tow-behind vehicle. Depending on your priorities and budget, you may favor one over the other.
| | | | |
| --- | --- | --- | --- |
|   | CAMPER | RV | RV WITH TOW-BEHIND |
| PRICE | Least | Middle | Most |
| STURDINESS | Least | Most | Most |
| TOWING | Least | Most | Most |
| RV AREA PARKING SPOT | Least | Middle | Most |
| MOBILITY ONCE PARKED | Yes, with larger vehicle | No | Yes, with smaller vehicle |

3. Rest Areas Are Great
Just hearing the words "rest area" can leave you with a sketchy feeling; they're dark, dingy and filled with the noise of idling trucks. But, in my short experience, most rest areas are quite comfortable places to stay a night.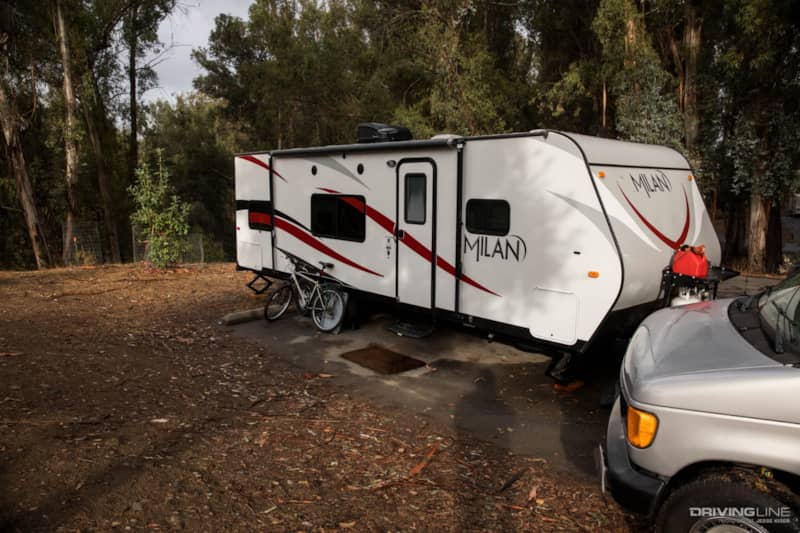 Yes, trucks idling is annoying, but inside the camper, especially if I have my own generator running, it's bearable. They're far from the busy streets of a town and usually well-kept with an occasional on-site employee, so vagrants and homeless don't often visit rest areas. This means visitors tend to keep to themselves or simply keep moving. The rest areas we've encountered felt safe for our family, plus they're free, which is always a win.  
4. Dry Camping and Backups
RV sites provide mobile-life necessities, but depending on the season and how tourist-heavy the area is, nightly rates stack up higher than your average Southern California rental property. In order for this trip to happen, we have to pay for it, which means making a conscious effort to keep costs low. Coined "dry camping" (no hookups such as electric, sewage, etc.), an occasional dry overnighter here and there greatly lowered our monthly average.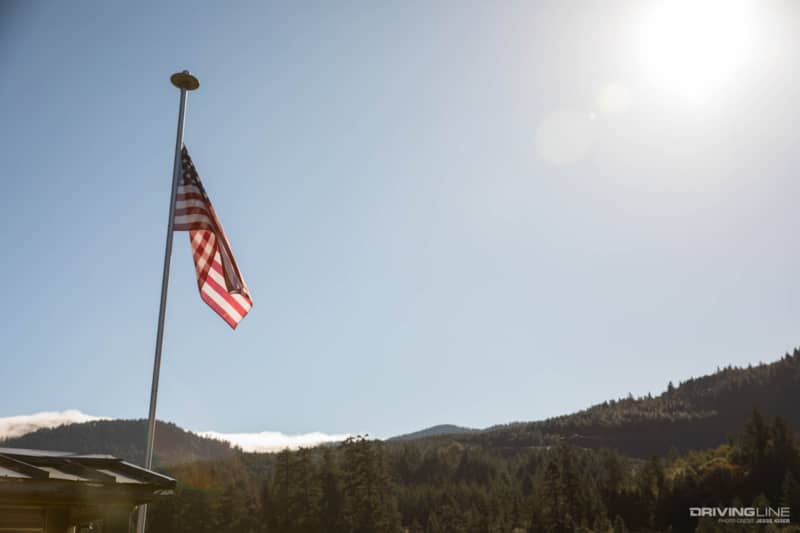 Dry camping creates certain needs, however, meaning we need special items like either a generator or a battery/inverter system for extended periods of time (more than a couple nights). Our batteries will power the basics, like lights and cooking, for about two nights of use—unless it's around freezing or below.
I've scheduled backups for the most important elements of our trip, too. For instance, I have four roadside assistance memberships: AAA, GoodSam, Kawasaki Riders Group (got a deal through a friend) and Verizon Hum X. I have enough tools to fix most roadside emergencies too, but having several systems in case one isn't effective is important. Luckily though, we did not encounter any emergency situations.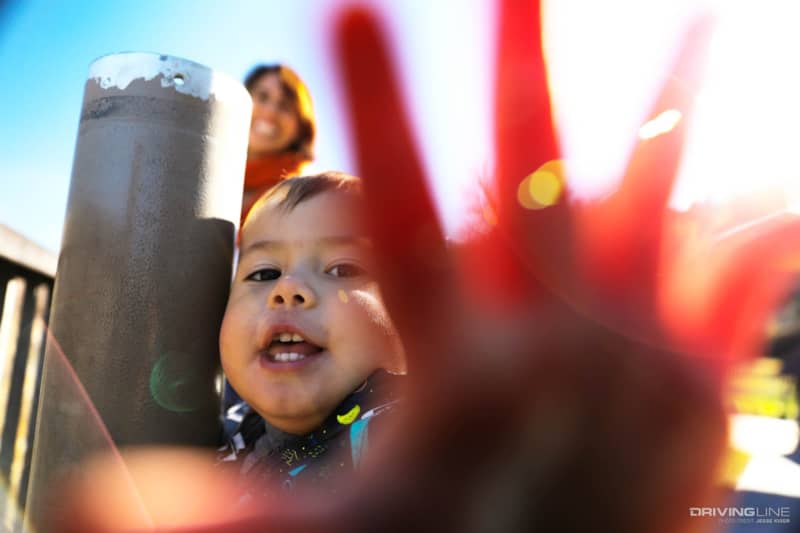 5. Living or Loving, Renting or Buying
This lesson is more for the normal RV or camper user, and not those living on the road. Our timeline started by purchasing the camper several months before we departed. This meant paying ridiculous Southern California storage fees.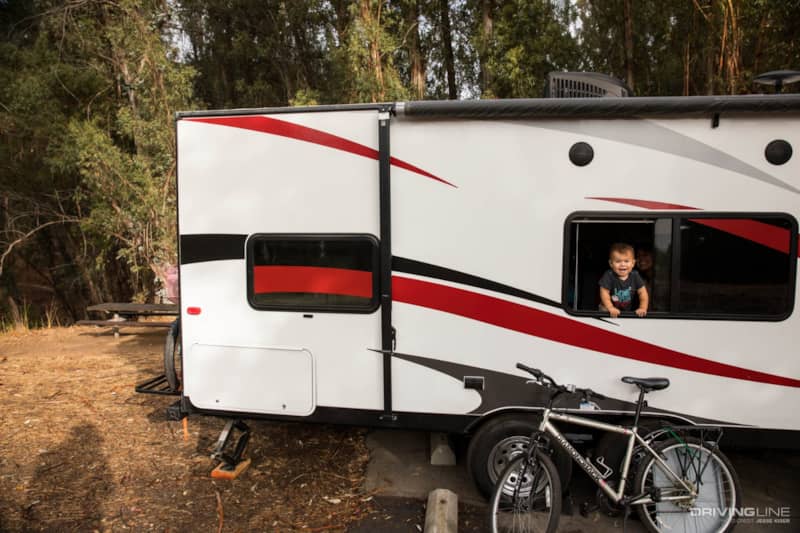 It cost us around $250 a month for the payment and $250 in storage—it was expensive just to let the camper sit. If you use an RV once a season (three weeks in a given year), rent, don't buy.
Rental Day: $50-$200
Rental Weekly: $800-$1,500
Yearly Cost (three weeks in a year): $2,400-$4,500
Owning Daily Cost: $16
One Month Owning/Storage: $500
Yearly Cost: $6,000
Bottom line, unless you're spending over $6,000 per year in rentals, keep renting.
6. Rich Man, Living Like a Poor Man
Many long-termers use solar panels, which charge batteries and invert power from 12 volts to 110 volts. They're environmentally friendly, silent and can be used non-stop. However, solar panels—if you have enough of them to be useful—and inverter systems are expensive. 
We currently use two 12-volt marine batteries mounted on the camper's frame, meaning our primary supply of power is 12 volts and propane. Our water pump (sink and shower) is 12 volts and our refrigerator, heater, and hot-water heater operate on propane. Our plan for the future is to use a generator for 110-volt power, but it'll primarily power the A/C unit—an unnecessary accommodation in Oregon's winter.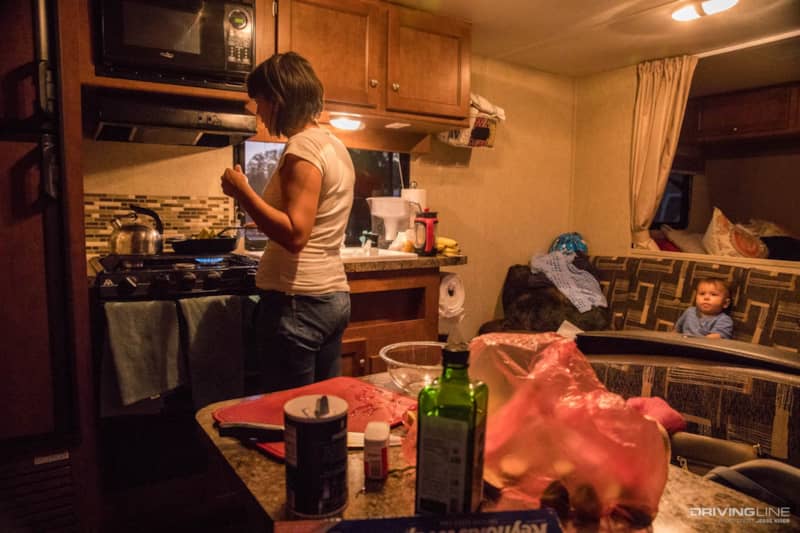 A camper's insulation is limited, so simple tricks like blankets over windows or using double-sided tape for lining are important. Luckily, propane is cheap in most places (avoid RV sites for propane, sometimes they gouge). It varies greatly, but generally filling two bottles cost $30-$70 and would last us at least three weeks using the heater often during the winter. 
7. It's Always a Good Time
Our winter-time travel wasn't all bad. Though cold temperatures were difficult in some areas, RV resorts were rarely sold out and tourist destinations mostly calm. If you like to avoid the bustle of crowds, winter is a great time to travel.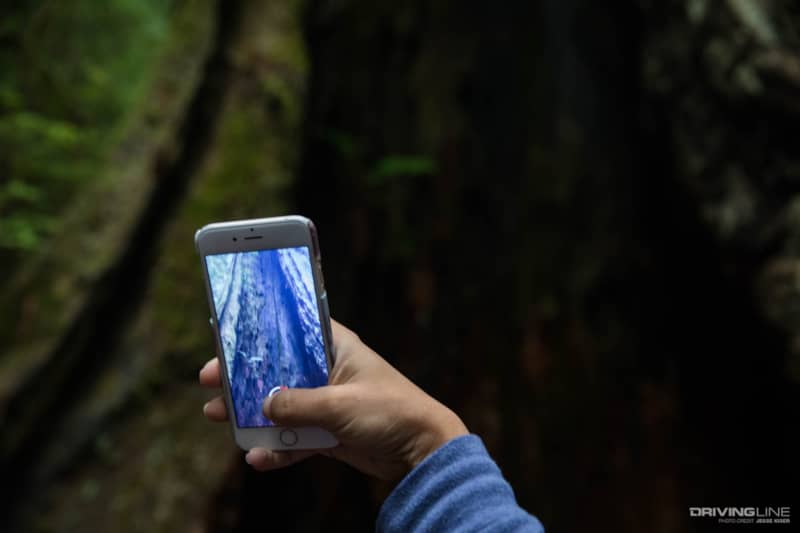 Friends and family discouraged us when we decided on our departure date, but there is no wrong time to travel. If you have the desire and are able to find the means, do it. I've had the ability to happily dwindle part of my life savings and experience the country, and my family, in a way I couldn't have dreamt possible.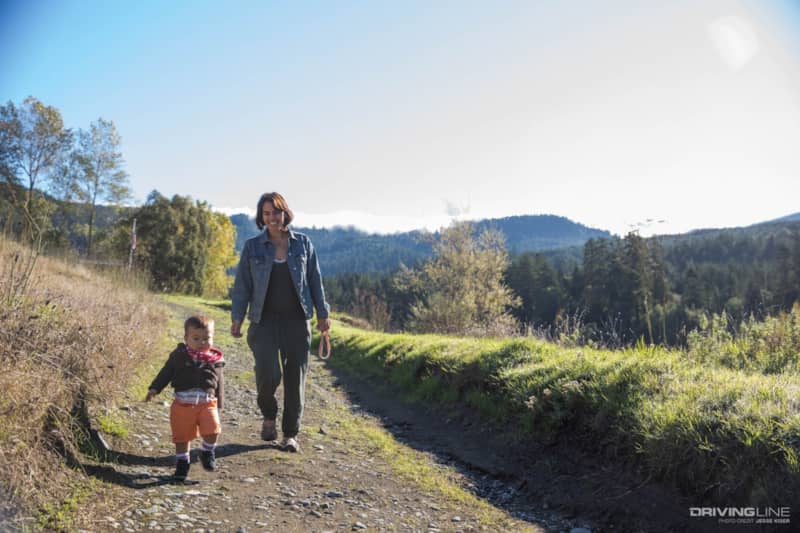 Quick Tips
Mom and Pop RV spots are legit. Use Yelp to its fullest potential.
Try to purchase only one night at a time, then experience the site before upgrading to a longer stay.
Purchase quality sewage hoses.
Plan, but be flexible.
Be patient when traveling. Double your expected arrival time.
Like the article?
 

Subscribe to our newsletter

 

to get more sent straight to your inbox!