A '71 Pro-Touring Chevelle Built for Driving
When it comes to cars, you can build them and then put them in a protective bubble for the rest of their days, or you can build them to drive, as many of the greats in this industry have intended. For Bryan Wenger of Cheyenne, Wyoming, there has never been a question about which type of automotive experience he's going to have. He builds them to be driven, because why else would you own a performance car?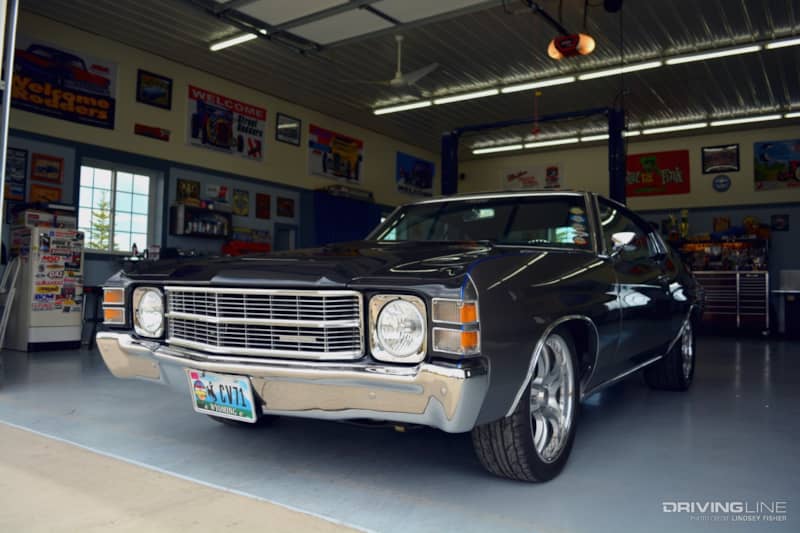 Bryan's passion for muscle cars is no secret along the Rocky Mountain Front Range. A member of the Cheyenne Rods and Customs club, as well as the Camaro Club of the Rockies, Bryan can be found wrenching on his own projects or those of his friends and family members just about every free weekend and evening–that is, if he's not at some sort of car event, most likely one with an autocross.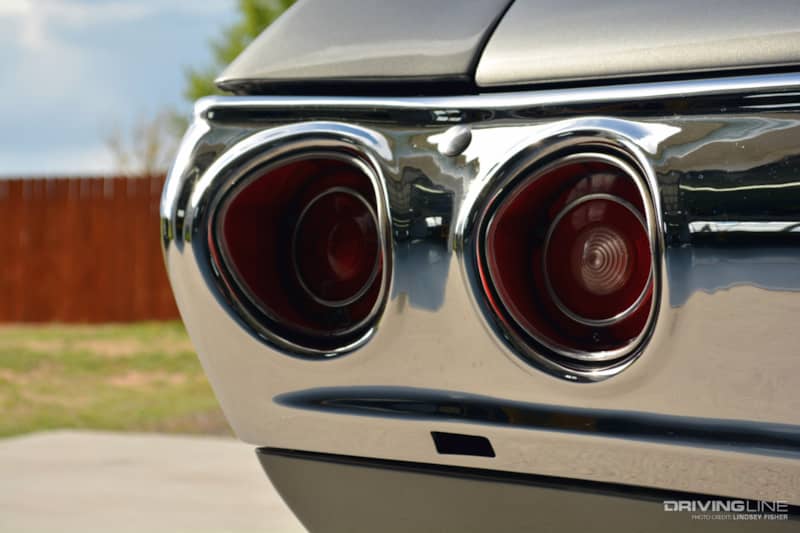 Growing up around performance cars can give anyone a leg-up on an automotive passion for life, and for Bryan, it started early. Cars have always been an interest of his and he's owned a number of classic and modern muscle cars since high school, but it was one car in particular that shaped Bryan's automotive enthusiasm over the years–the Chevelle.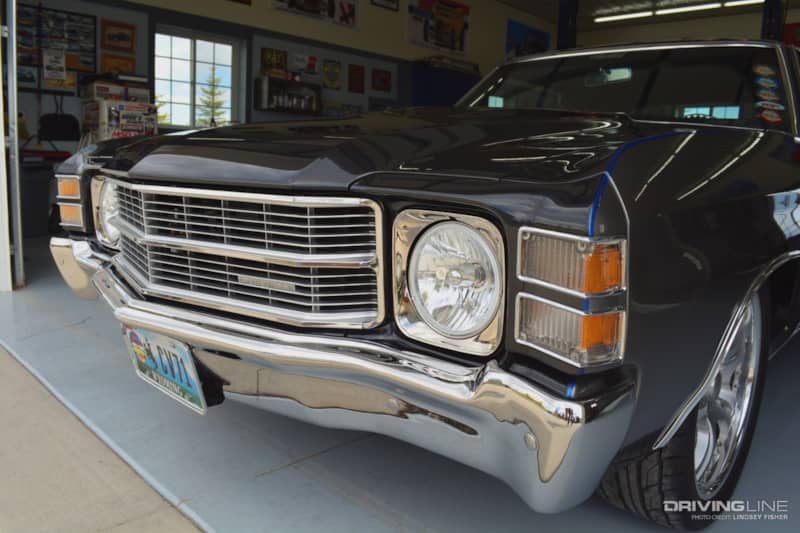 "My first car was a '72 Chevelle in high school and I always wanted to build another one," Bryan told us.
So when life put him in a position to take on that dream build, he took full advantage! Six years, and a lot of time, money, planning and tweaking later, and Bryan's '71 pro-touring Chevelle is a dream come true. Although, in true gearhead fashion, he admits the car may never be completely done.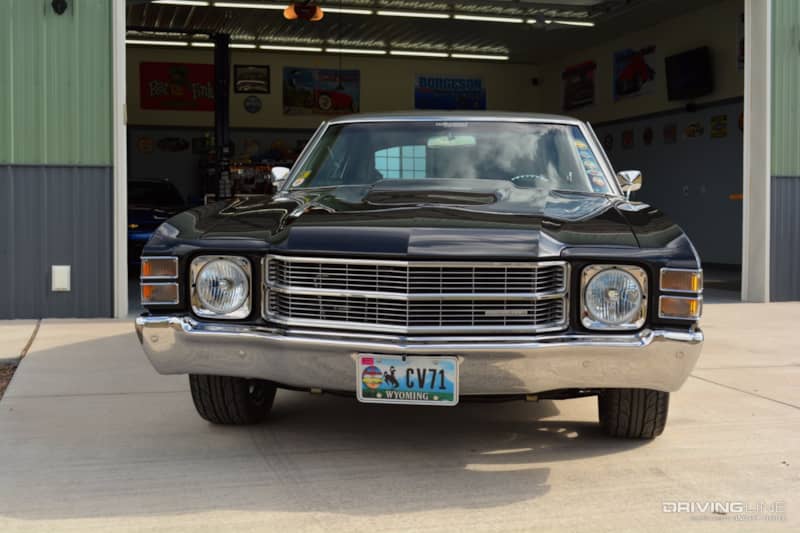 Building the '71 Chevelle of his dreams
When it comes to pro-touring cars, handling is everything and Bryan's Chevelle is aptly equipped. Underneath the car, you'll find a full Global West suspension system complete with adjustable arms in the rear, QA1 adjustable coilovers on all four corners, and a 600 series steering box up front.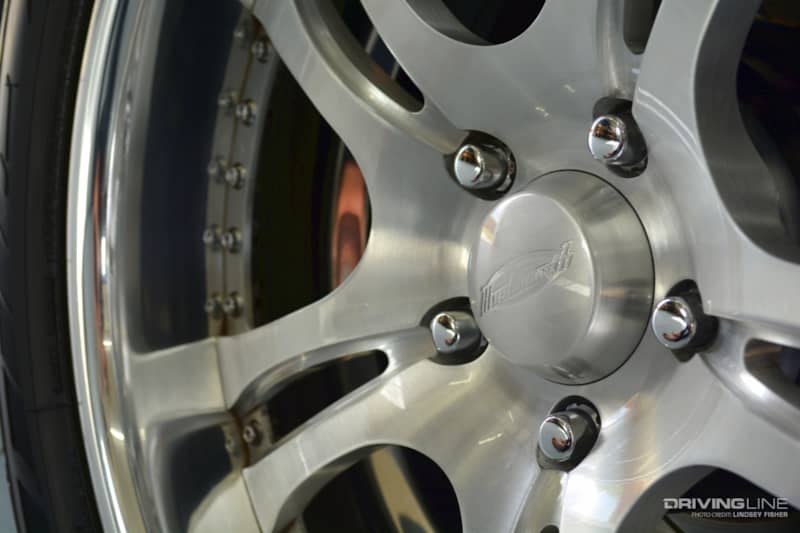 Planting the car to the pavement are 18" Rushforth Super Spoke wheels wrapped in sticky Nitto NT555 G2 tires.
"I choose the 555 G2s because I like the look of the tire and they are available in the sizes that I wanted," Bryan explained. "They handle great... I feel Nitto is a great tire and plan on using them for a long time for all my performance tire needs."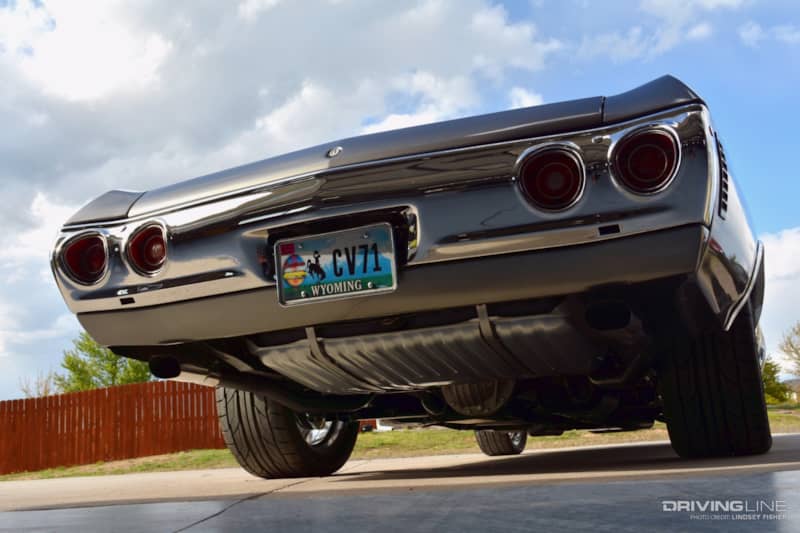 With superior handling comes the need for superior stopping power as well, which Bryan took care of by outfitting his Chevelle with Wilwood 6-piston calipers matched with 12.88-inch rotors up front, and Wilwood 4-piston calipers matched with 12.25-inch rotors in the rear, all powered by a hydroboost CPP adjustable master cylinder.
"The car stops amazingly well," Bryan told us. "Better than any car I have ever driven."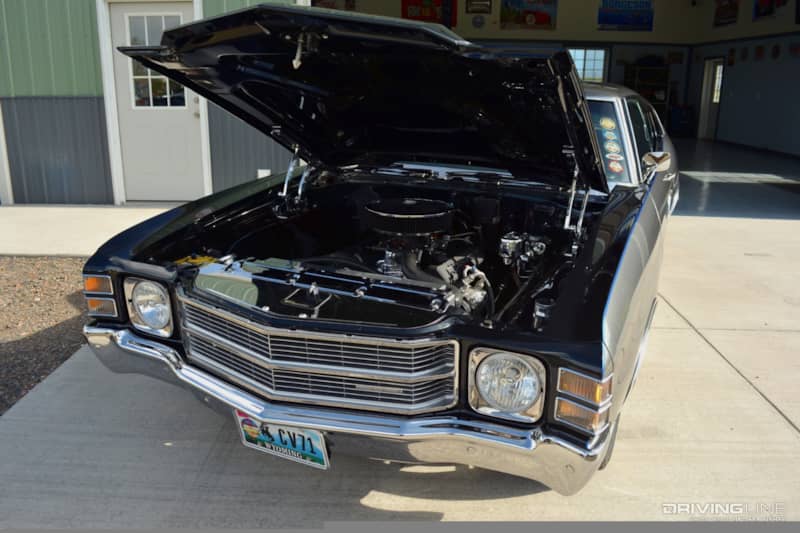 What is a pro-touring car without a boost in power? Well, for one, not nearly as much fun! Luckily, Bryan has that taken care of too.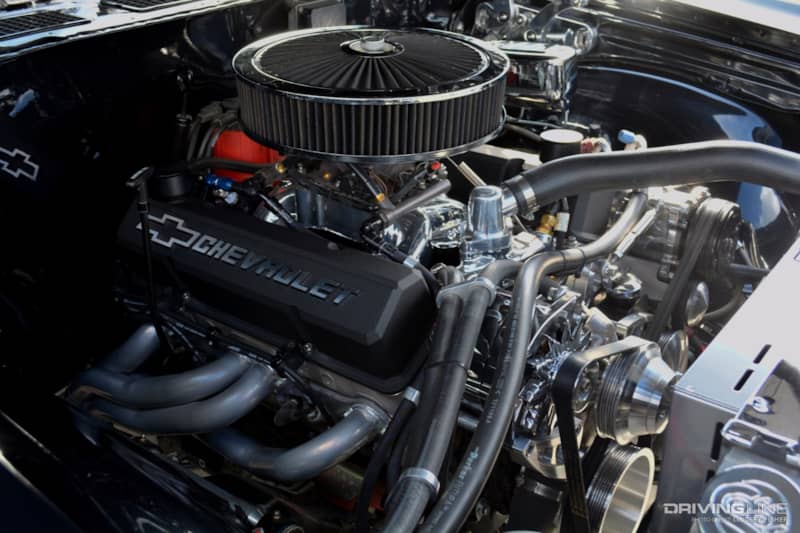 Powering the Chevelle is a GM Performance Parts ZZ383 V8, which is equipped with goodies ranging from a GMPP roller camshaft (duration: 222/230; Lift: .509 intake/.528 exhaust), GMPP forged crank, PM rods and 9.6:1 hypereutectic pistons to Fast Burn GM aluminum heads, a Holley Terminator EFI system and an Edelbrock RPM Air-Gap EnduroShine intake. With additional components like a BE COOL radiator, MSD small cap HEI and 6AL-2 ignition system, TANKS EFI fuel tank and Doug's mid-length headers attached to a 2 ½-inch Flowmaster exhaust system, this bad boy supplies the Chevelle with 425hp and 449 lb-ft of torque.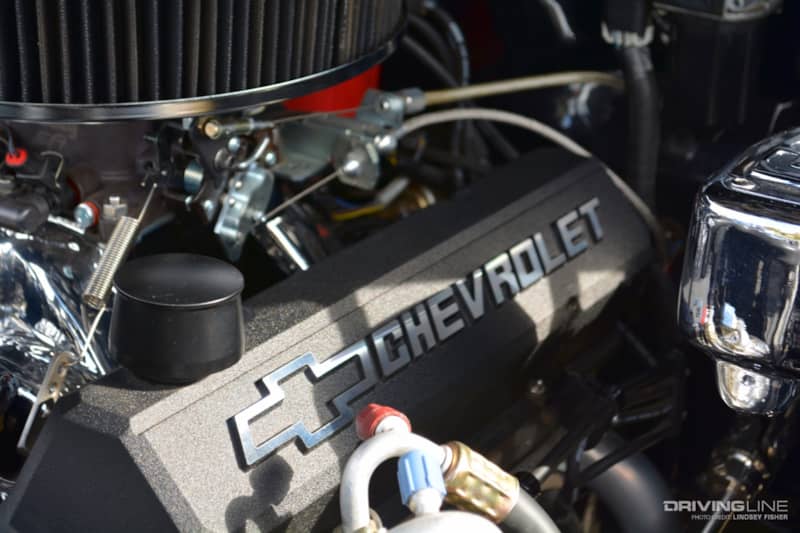 Backing the GM Performance engine is a Bowtie Overdrive 200R4 Stage 2 transmission with a 2400 stall. This pushes the V8's power to the rear wheels via a Denny's 3 ½-inch driveshaft tied to a GM 12-bolt/Eaton Positraction rearend with 3.73 gears, flanked by Moser axles.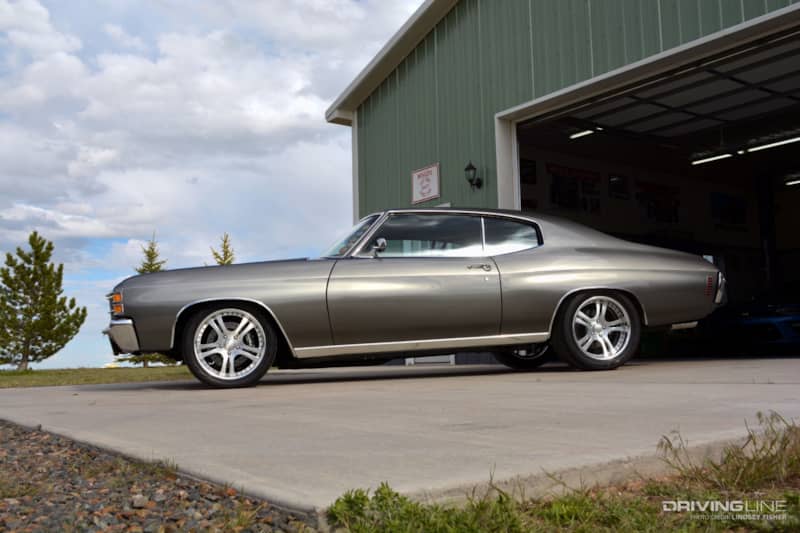 Aesthetically, the Chevelle maintains nearly all of its classic muscle car looks and lines, with the exception of Clayton Machine Works door handles and Fesler hood hinges. Painted by Gary's Paint & Restoration of Cheyenne, the Chevelle features a unique Dupont Dark Carbon Effect, Mineral Gray and Viper Blue paint scheme.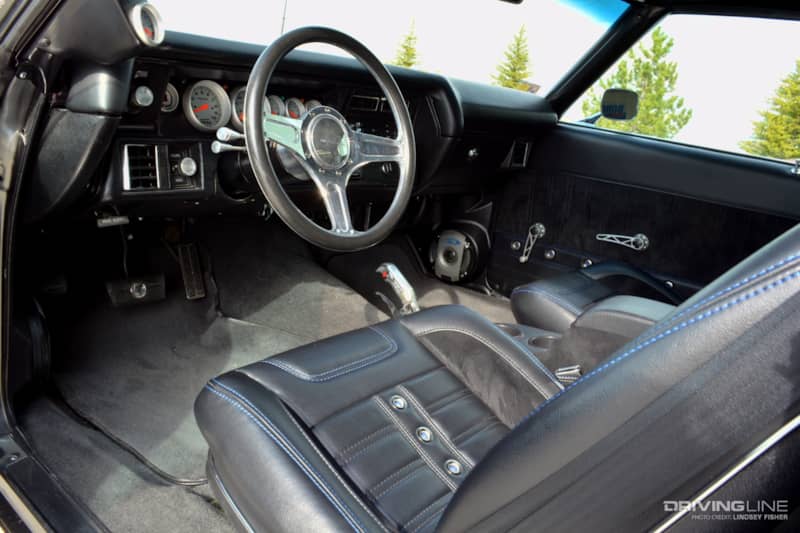 Inside, the interior has been treated to a nice upgrade thanks to both Bryan and Stitch Headz, featuring black TMI seat covers with blue stitching, as well as door panels and a center console that match. The car's original dash has been upgraded with aluminum inserts, Auto Meter gauges with a GPS speedometer, and a Billet Specialties tilt steering wheel. The plush interior also features creature comforts like a Vintage Air conditioning and heating unit, Clayton Machine door handles and window cranks, and a full Alpine stereo system.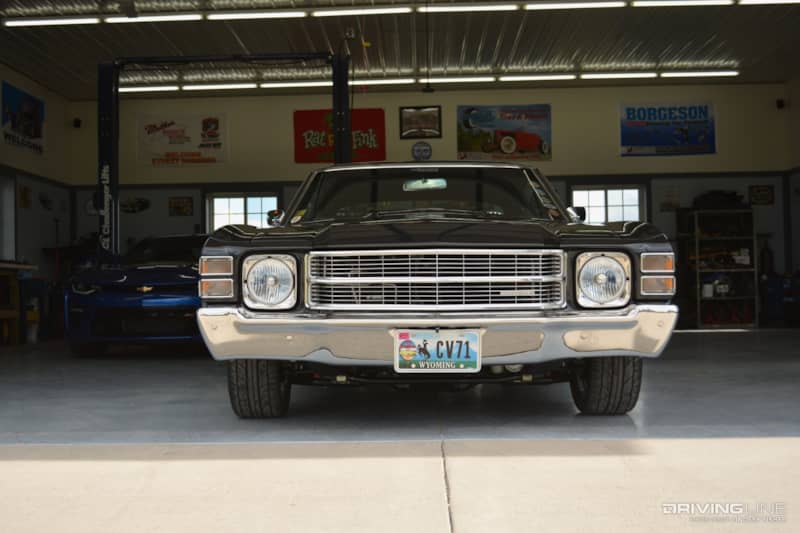 There's no beating a classic muscle car built to perform–something Bryan knows plenty about. Over the years, his Chevelle has received many awards and recognitions at events like Goodguys and Super Chevy shows, as well as competed against some pretty big hitters in the autocross world. But while the awards are nice and the honors appreciated, it's not about winning for Bryan. Rather, it's about friends, family and having a car he can drive and enjoy on a daily basis that he built with his own hands!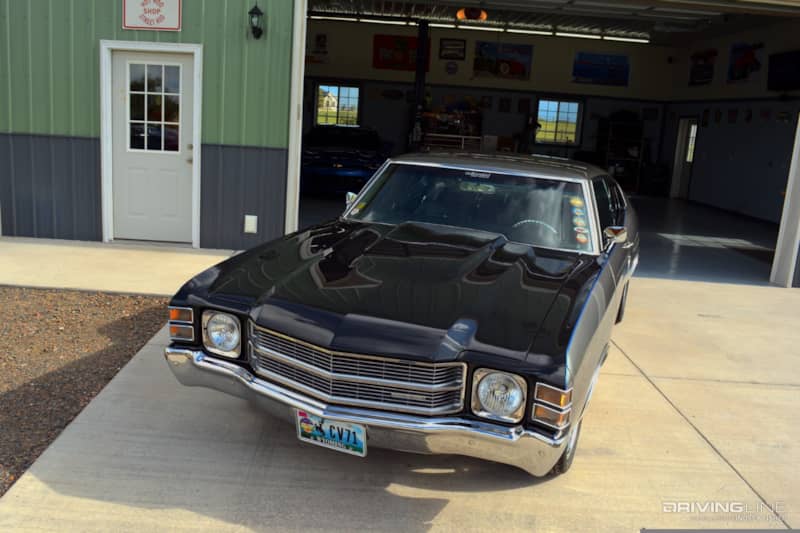 To that note, he'd like to thank all his family and friends for all their support and help on the car over the years, especially his brother Donnie, who ironically also owns a performance-built 1971 Chevelle he autocrosses alongside Bryan.
SPECS
Bryan Wenger's 1971 Chevrolet Chevelle
| | |
| --- | --- |
| POWER OUTPUT | 425 hp and 449 lb-ft of torque |
| DRIVETRAIN | Performance Parts ZZ383 V8; GMPP roller camshaft (duration: 222/230; Lift: .509 intake/.528 exhaust), forged crank, PM rods and 9.6:1 hypereutectic pistons; Fast Burn GM aluminum heads; Holley Terminator EFI system; Edelbrock RPM Air-Gap EnduroShine intake; BE COOL radiator; MSD small cap HEI and 6AL-2 ignition system; TANKS EFI fuel tank; Doug's mid-length headers; 2 ½-inch Flowmaster exhaust system; 200R4 Stage 2 transmission with a 2400 stall; Denny's 3 ½-inch driveshaft; GM 12-bolt/Eaton Positraction rearend with 3.73 gears; Moser axles |
| SUSPENSION | Global West suspension system; QA1 adjustable coilovers front and rear; 600 series steering box; front Wilwood 6-piston calipers with 12.88-inch rotors up front; rear Wilwood 4-piston calipers matched with 12.25-inch rotors; hydroboost CPP adjustable master cylinder |
| WHEELS/TIRES | 8x8-inch front and 18x10-inch rear Rushforth Super Spoke wheels; Nitto NT555 G2 245/40Z18 and 295/40Z18 tires respectively |
| EXTERIOR | Painted by Gary's Paint & Restoration in Dupont Dark Carbon Effect, Mineral Gray and Viper Blue paint scheme; Clayton Machine Works door handles; Fesler hood hinges |
| INTERIOR | TMI seat covers, door panels, center console; aluminum inserts to original dash; Auto Meter gauges; Billet Specialties tilt steering wheel; Vintage Air conditioning and heating unit; Clayton Machine door handles and window cranks; Alpine stereo system |