A Closer Look at the New Design of the Petersen Museum
The newly re-opened Petersen Automotive Museum in Los Angeles has a dynamic new façade that's had everyone talking since the plans were first shown. After getting an up-close look and having a chance to talk with the lead architect, Eugene Kohn, we wanted to give you a closer look!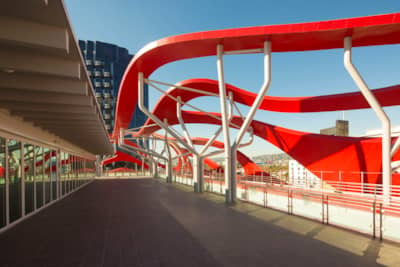 Check out these fun facts about The Petersen's new exterior:
308 total ribbons
Work completed in just 13 months
Design idea sparked over a bottle of wine in Italy
Rivets build off existing structure of original building
12 support "trees" help to connect ribbons to building structure
Largest tree is ~30 feet tall
Ribbons composed of stainless steel and aluminum finish skin
"Hot Rod Red" exterior color invokes feelings of speed
140,000 custom stainless-steel fasteners, aka "rivets," were used
700 feet of LEDs bring the ribbons to life at night with color-changing ability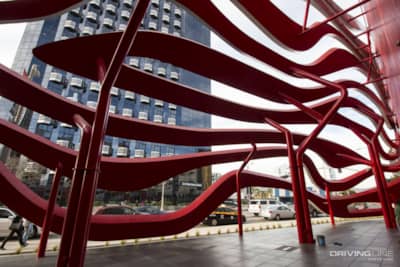 The exterior of what was originally a department store built in 1962 has always been… how can we say, lackluster. While what's inside is what truly counts, we all know Los Angeles is all about first impressions.
(We loved the interior museum display transformations even MORE than the outside – check out these 12 reasons why you've got to pay Petersen a visit!)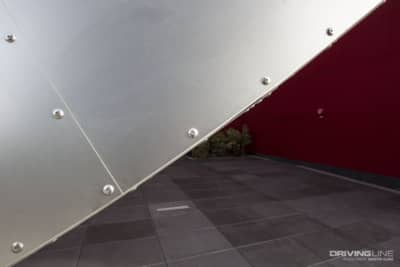 What you'll now see when approaching the intersection of Fairfax and Wilshire boulevards is a building covered with sculptural "ribbons" designed to invoke feelings of speed, motion, and recognition of the car as a work of art. The exterior transformation is a bold move, with LA's automotive-driven traffic environment in mind – which is in stark contrast to pedestrian cities such as New York and Chicago where bypassers have more time to take in their surroundings.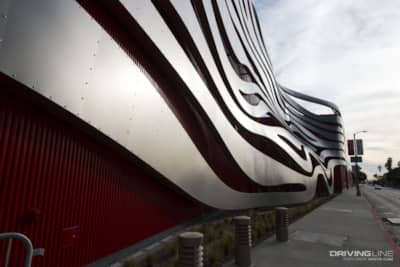 Whether you love them or not, these bright red ribbons are sure to become an iconic landmark of LA's Wilshire Corridor. Find out more about paying them a visit at Petersen.org.
What do you think about The Petersen's new look? Comment below, we'd love to hear!