All Lined Up: 2015 King of The Hammers Qualifying Results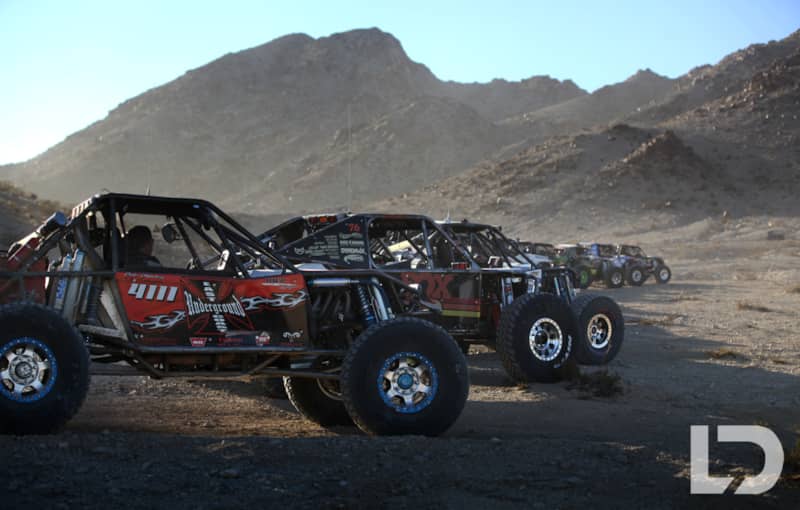 Qualifying for King of The Hammers is a strategy in its own. In a race with as many of variables as KOH, racer's mindset is as important as whether the car stays together for the grueling 220 miles of desert terrain and rock. Both this year's race and qualifying course have brought significant changes in how racers strategize for a finish… which in a race as hard as KOH is a win in itself. Certainly in the past racers have begun at the back of the pack and picked off competitors one-by-one throughout the day, like the time in 2009 when Shannon Campbell started next to last and ended up winning. Some teams prefer starting mid-pack, but of course, pole position is always the most sought after. As soon as the qualifying course was announced this year, drivers seemed to be frustrated that it was composed almost entirely of rock sections at the area between Back Door and Short Bus. 4 Wheel Parts Qualifying began Tuesday, where competitors lapped the course at record speeds, so fast that the famous "power hour," where the fastest of 4400 class are scheduled to run, was moved up a few hours.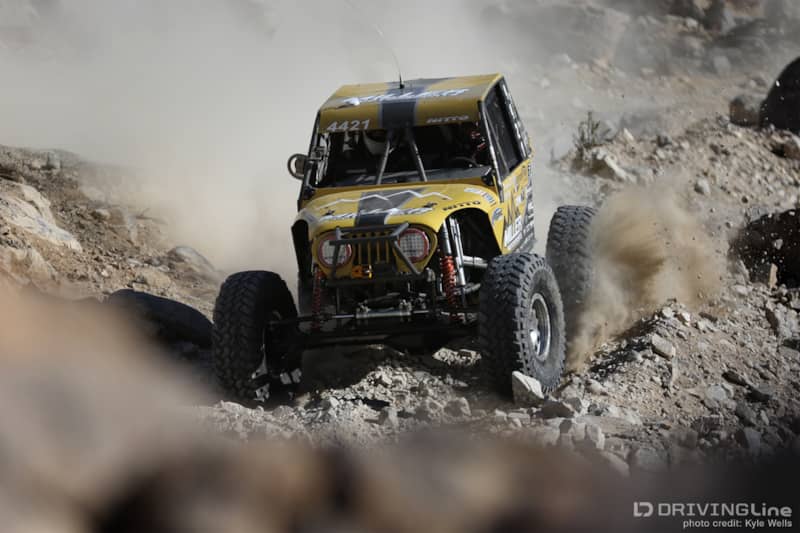 It was during that time that Erik Miller #4421 laid down an amazingly fast run. Erik, who qualified third at last year's KOH, got a time of 2:06.5 – sitting six seconds ahead of his closest follower, a surprise last chance qualifier, Corey Kuchta #4464 at 2:12.160. Amidst many breakages, and an epic barrel roll by Mel Wade #4451 from which he recovered and continued driving without a stop to complete his pass, it was Clay Gilstrap and Andrew McLaughlin that would claim other top times.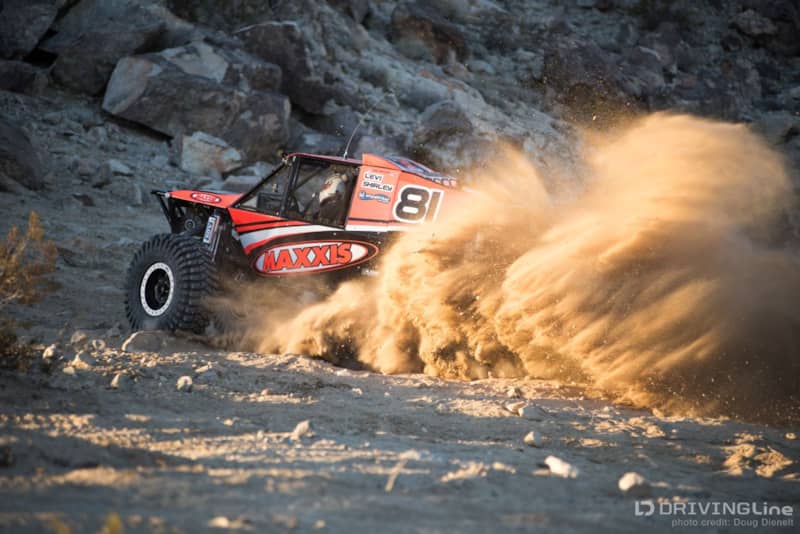 The following day had approximately 40 more pre-qualified KOH drivers and a handful of LCQs to get timed. Again, there were breakdowns and broken parts, bringing up the question from spectators as to whether racers were ruining their race-day chances by being too competitive in qualifying. Wednesdays "Power Hour" would bring many of the fastest times, pushing top qualifiers from the day before lower on the starting order list.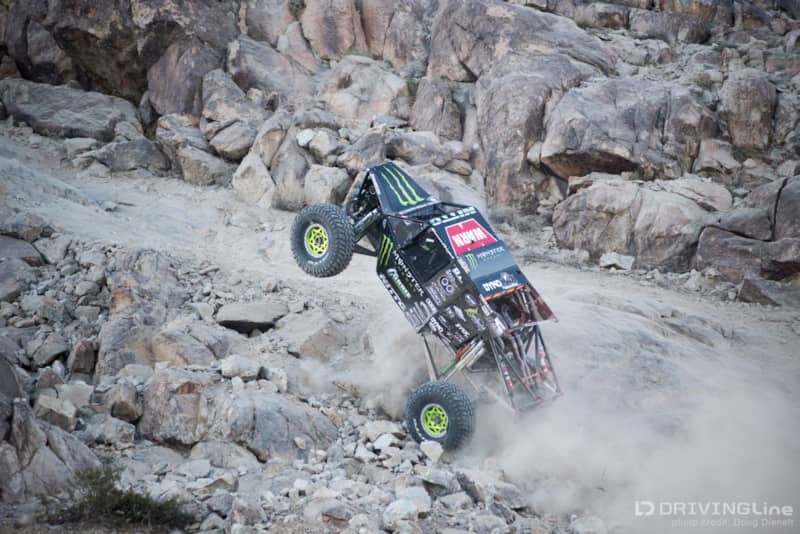 Many of the top drivers made the qualifying course look easy by how smoothly they covered it, but not all. Darren Henke #4441 had a massive front-end failure putting the course on hold for a while, as well as Tim Cameron #4111 and Shannon Campbell #5 who both took head-on hits to boulders. Greg Adler #210 and Levi Shirley #81 put down good runs, at 2:13.590 and 2:14.310 respectively, but nowhere near Erik Miller's 2:06.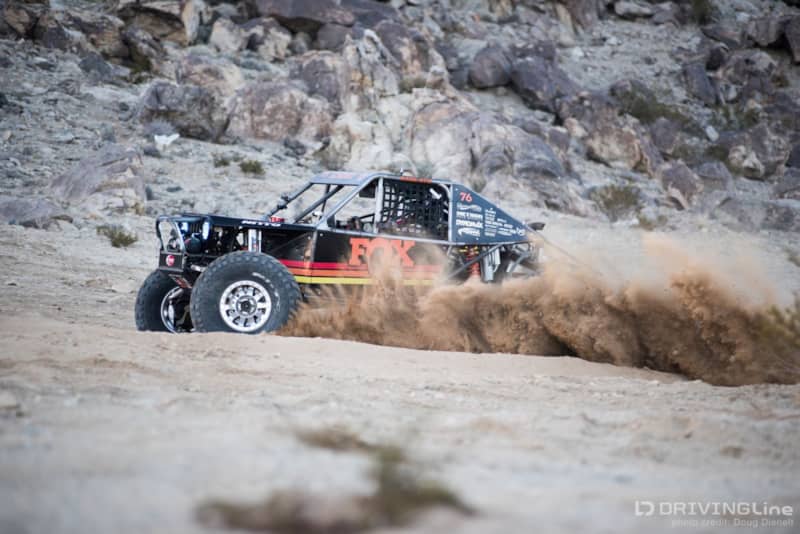 Just as it seemed Miller couldn't be beat, the fifth to last qualifier came out of nowhere with a time far surpassing everyone's expectations. Breaking the two minute mark, and a full seven seconds faster than Erik, Jason Scherer #76 blazed through at 1:59.5. Scherer, whose newly-built buggy has been plagued either with bad luck or small issues to work out, finally proved its namesake "The Gavel" by a flawless run that let all others know who to look out for on race day. So come Friday morning it will be Scherer and Miller starting side-by-side as qualifiers #1 and #2, they'll be followed thirty seconds later by Tom Wayes and Derek West (who's in a brand new car that seemed like it didn't want to come together a week ago.)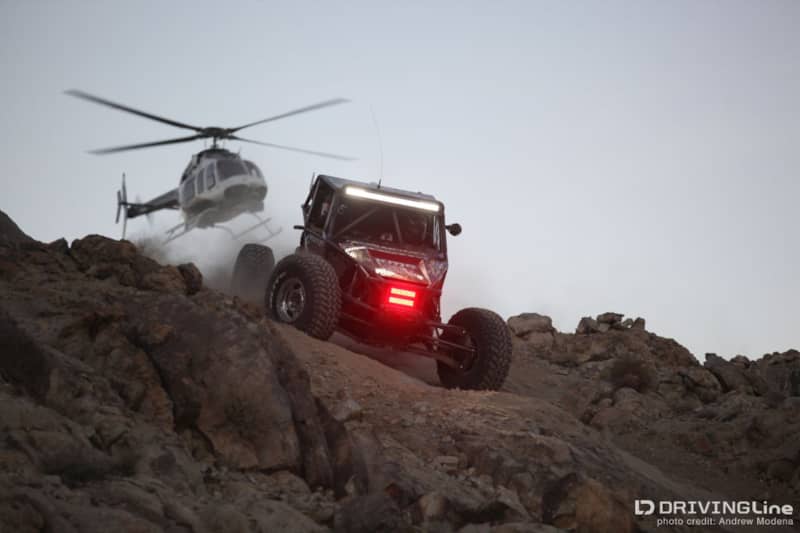 Last year's King, Loren Healy, was the last to run and many watching his performance were confused by a couple times when he momentarily stopped on the course and stuggled over a rock area. As it turns out, his transmission started going out at the very beginning of his run but he was able to get it through. Not until he came through the line was it noticed that Healy's front lower a-arm was damaged by a rock he'd hit. He still managed to qualify thirteenth (lucky 13?) with 2:17.780. Healy wasn't the only one limping away from qualifying. Other than Darren Henke mentioned earlier, Tom Wayes broke a CV and will be headed into Friday's big race on used parts and Shannon Campbell's hard head-on hit with a rock left his back less than optimal for the grueling endurance race.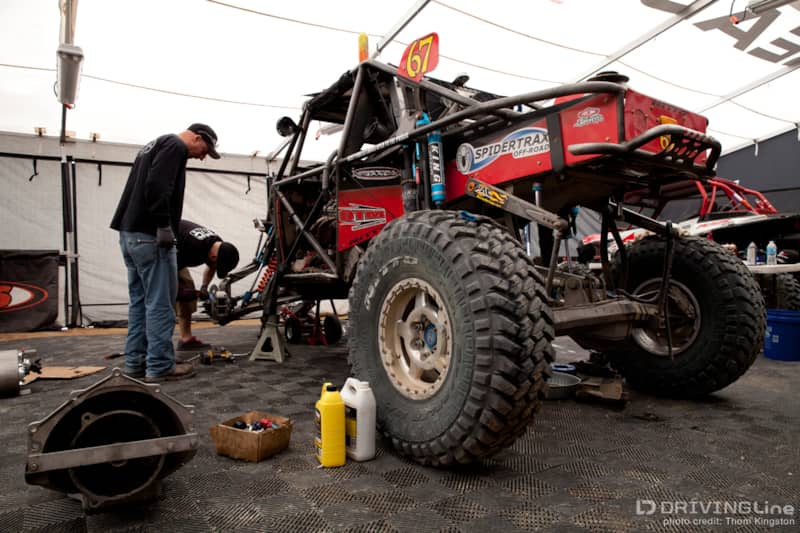 So as Healy has been working round the clock to repair his "Red Dragon", he's depended on the generous and fortuitous help of fellow racer and past King, Randy Slawson, who happened to have the only other set of completely custom a-arms from Armada Engineering awaiting placement on build back at Bomber Fabrication headquarters.  With Slawson's permission, a team on their way to Hammertown broke in to pick up and bring the needed a-arm to Loren. It's this kind of sharing and teamwork which makes Ultra4 so special – sure everyone wants to win… but at the end of the day you'll go out of your way to help a competitor, creating a group of racers that acts more like family than foe. Enjoy the gallery below, get the full results from the 4 Wheel Parts Qualifying at Ultra4's website, and tune into Ultra4's livestream coverage and our streaming social feed at LiveatKOH.com. We'll be bringing you recaps of race day and stay tuned for many more stories from Johnson Valley as the 2015 Nitto King of The Hammers presented by 4 Wheel Parts continues to unfold.