Badder Is Better at D&Z Customs
During the muscle car golden era, Detroit focused on horsepower and attitude. Suspension and brakes weren't a real priority as far as factory development was concerned. Building a big block road terror with drum brakes and late '40s-era suspension technology was standard practice for the Big Three and in some ways just added to the badass factor of the primal street racers.
One thing that couldn't be improved was the styling and profile of the classic muscle cars. With NASCAR glory on everyone's mind, many of the hulking V8 coupes evolved into wind-cheating fastbacks. Even the mid-sized pony cars were big and intimidating. Today, classic muscle cars are worth big bucks. Collectors who have spent years wanting a particular model are often surprised by the primitive ride quality and performance once they attain their dream car.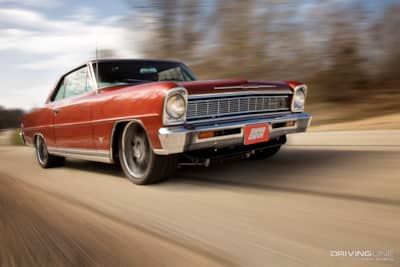 Randy Johnson isn't the type of guy who settles. A car nut since childhood, early-on he earned a reputation for seeking to maximize performance in the cars he was drawn to. Those cars were usually Camaros.
"Almost 20 years ago I built a '70 Camaro. I did some typical things, put in a big block/turbo 400, messed with the springs. And I used 17-inch wheels, which were a new thing at that time.  There was no shop, I just did it to feed my car addiction.
"It just went from there. I liked the way the car felt, but I thought it could go a lot further. I just explored ways to set it up on my own, by trial and error."
(All racing photos courtesy of Optima Batteries)
It turned out to be kind of an introduction to Pro Touring." Other guys with the same ideas liked what they saw Randy doing. He became a go-to source for information and exchanging performance ideas. In 2007 Randy and his wife decided to just jump in with both feet and open their own shop. D&Z Customs was born.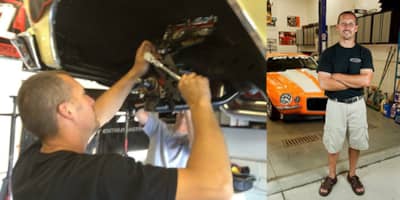 "I like to stay away from the 100point nut-and-bolt restorations."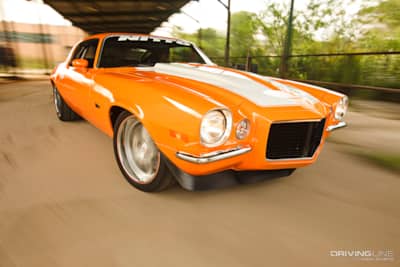 With an emphasis on improving classic muscle cars with updated technology, Randy tapped into years of experience gained the hard way. "You tend to buy things over and over. Something works, another doesn't. You try something else and sell a 10-day-old component for half of what you paid.  It was expensive, but it really helped me when I opened D&Z because I had all that personal knowledge that I could use to save my customers from wasting money by buying the wrong thing." Often, a little amateur psychology is needed to figure out the true goals of a proposed project. "You have to talk to the customer. What they're really thinking isn't always what they describe.  They've usually seen a car they like, but they're not always clear on the performance specifics. Trans Am racing is different from Rallycross or Pro Touring."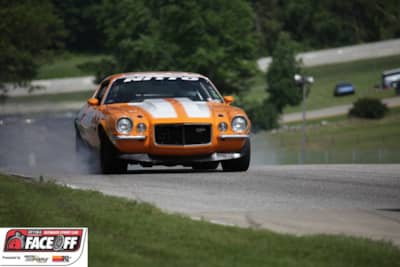 Randy's orange '70 Camaro is a lost and found feel-good story. This was the car that got everything rolling and provided the initial testing platform for what would later become D&Z Customs.  Forced to sell it to finance a '66 Chevelle build which would go on to win awards and establish his business, Randy would later re-acquire the car and re-imagine it's potential. The complete rebuild would take every component of the car to a new performance level and serve as a testing buck for big brakes, big motors and new suspension tweaks.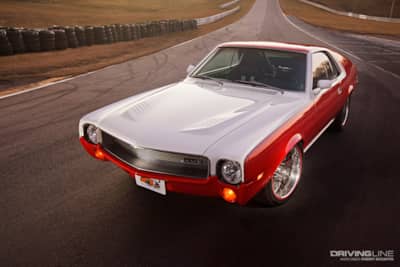 "The '69 AMC AMX for Jimi Day was a challenge. It's a unique car and there are not a lot of them out there. It had been worked on at another shop before it came to me, and there were some issues." The original goal was to work out suspension mods and drop in a crate LS3 motor and go Pro Touring. By the time the AMXess hit SEMA, Randy had performed the full D&Z treatment with a completely new Camaro-based subframe and suspension, huge brakes and countless improvements aimed at creating a competitive track car is also at home on public roads. The unique car generated a huge buzz at it's SEMA unveiling and the D&Z reputation grew.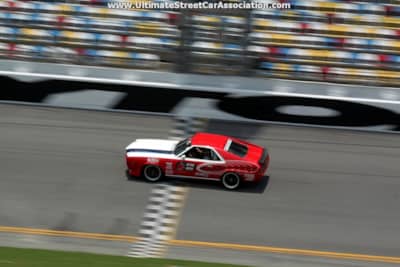 "It's fast. It goes around the track. It Autocrosses. And the best thing is that he's put about 30k miles on it."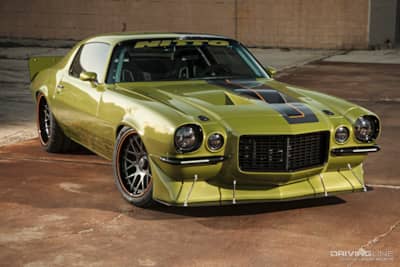 Randy is a big fan of second-gen Camaros. Sourcing an unmolested '73, he decided to construct an all-out no-compromise Pro Touring track beast that would showcase everything that D&Z was capable of producing. A 680hp LS7 was just the beginning. RideTech springs and shocks bolt to a Heidts Pro-G subframe, and a Tremec T-56 does the shifting. Huge 14in Wilwood discs up front and 10in stoppers in back take care of fade issues while racking up laps. Nitto tires keep the car on the proper line and the green monster even boasts a sound system and a/c for those warm track days. Randy constructed a custom carbon fiber hood with deep channels to function as a heat extractor as well as custom front and rear spoilers.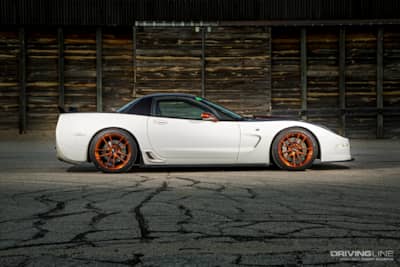 The latest D&Z project is conceived to dominate USCA (Ultimate Street Car Association) events. Starting with a reasonably priced 2002 Corvette C5 Z06, Randy is stepping away from his more classic F-Body Chevys and creating something to stand out from the many other Corvettes competing in the series. "I wanted to incorporate body details and influences from other Vette models." Fenders and quarter panels have been re-worked. A Ligenfelter LS7 pumps out 630hp, a full RideTech suspension upgrade keeps things stable and Nitto NT05 tires ride on Forgeline wheels finished in custom Transparent Copper. Up close, every component of the car has been detailed and perfected by Randy Johnson's hands.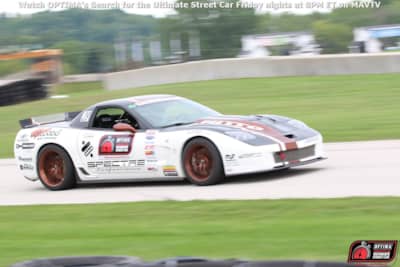 "The racetrack is the best place to figure out what is working and what can be improved. I take that on-track knowledge and apply it directly to my custom builds. I can be confident about what a particular component will do or not do."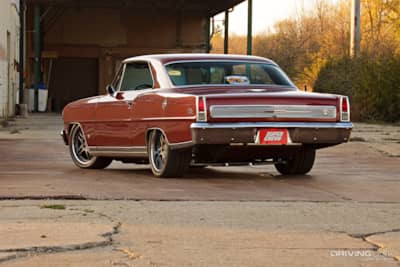 "When a customer comes in all excited about a particular component that he read about somewhere, it's great to be able to say to him, 'It's an okay part, but I broke one after 30 laps at Road Atlanta and maybe we should consider this other thing. A lot depends on the focus of the customer. If he just wants to cruise around on the boulevard, I won't push as hard for the top-of-the-line stuff. But if he wants to get out on the track and chase me around, I'll recommend a higher level of stuff because they won't be happy unless the car performs at a higher level."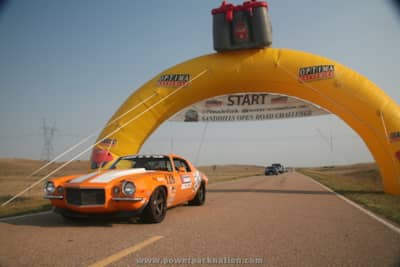 From messing around alone in his garage to a nationally prominent expert builder in Resto Mod/Pro Touring/Autocross, Randy Johnson still enjoys every day in the shop and out on the track. "I'm one of the lucky guys who managed to turn a passion into a business."