Blaze JT: A Fully Built Jeep Gladiator on 40-Inch Nitto Trail Grapplers & Race Ready Suspension
Matt Thompson, owner of custom 4x4 shop 3D Off-Road in Colorado Springs, knows a thing or two about building custom off-road vehicles. He started honing his craft of off-road fabrication in 2001 by working on Toyota Tacomas that he would modify with V8 motor swaps, bobbed beds, Dana 60 axle swaps and even custom suspension and tubed chassis. We've been trying to convince Matt to do a Jeep build since we started building all of the Built2Wander Jeeps together back in 2017, but he remained loyal to his passion for Toyota trucks. Matt finally obliged when Jeep released the Gladiator for the 2020 model year. It didn't take long for him to begin dreaming up his version of the ultimate Gladiator build, and this year he turned his dreams into reality by completing his Ultra4 inspired do-it-all Jeep truck.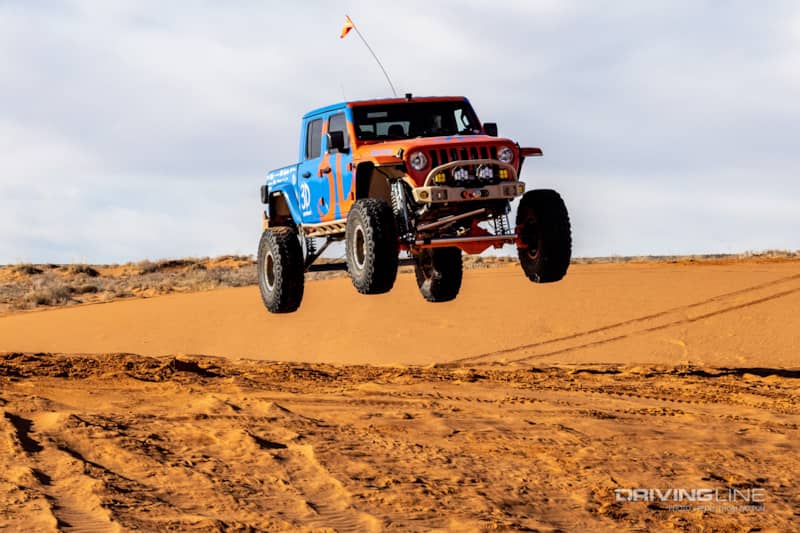 King of the Hammers Inspiration
It's no secret that the King of the Hammers (KOH) is considered the single toughest off-road race in America, combining sections of technical rock crawling with high-speed desert racing. Matt's involvement with KOH spans back to 2007 during the very first race between the "OG 13", where he helped on the pit crew for former Ultra4 Race Director JT Taylor. In 2009, he returned as co-driver for Bryan Shirley where the two raced KOH together through 2015, placing as high as 7th and in the top 10 four of the six years. Racing is in Matt's blood, and he wanted his Gladiator to be capable of conquering the same style of terrain found in places like Johnson Valley, where the Hammers takes place. With an equal passion for technical crawling and going fast, Matt designed his Jeep to do both without compromising functionality for daily drivability.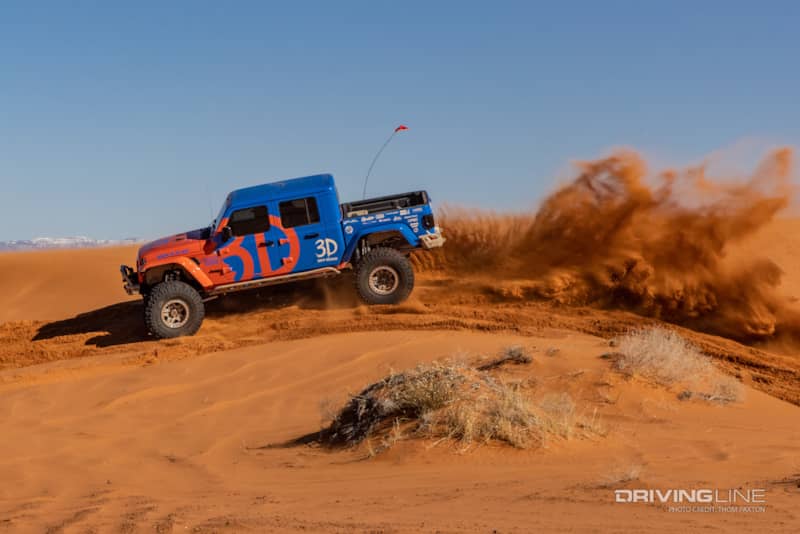 Different by Design 
The most crucial area that Matt had to address to achieve his goals of going fast and having enough travel to crawl the rocks was suspension. Matt leveraged his expertise developed from building custom crawlers and race buggies alike over the last two decades and set out to design his own suspension. He fabricated custom 3D Off-Road upper and lower shock mounts on all four corners to allow him to run 60mm Bilstein 9200 series triple bypass shocks and 8125 series coilovers. Customized to 11 inches in length, the Bilstein bypass/coilover setup provides for plenty of travel to achieve that KOH-inspired performance and a smooth ride on-road. A set of Bilstein 9100 series hydraulic bump stops were added in the rear to help dampen the hard hits when Matt has his Gladiator up to speed in the desert whoops.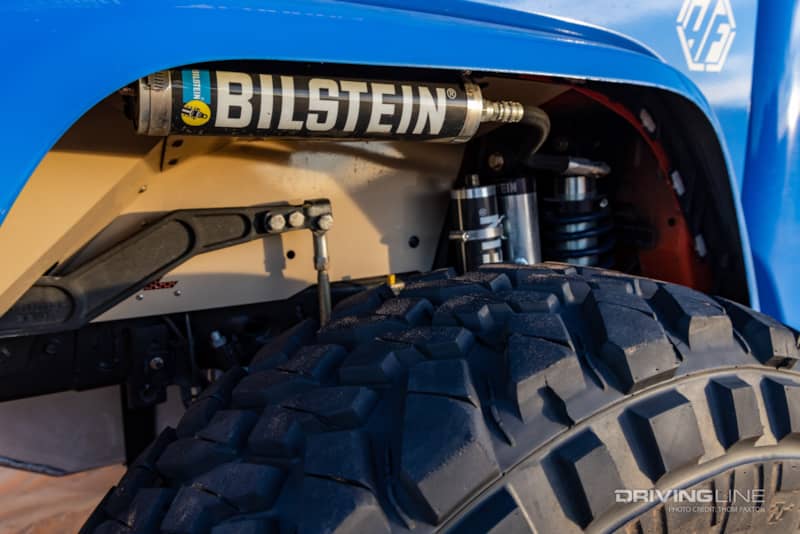 RockJock Equipped
Matt turned to RockJock 4x4 to help with the other areas of his suspension setup. He swapped out the factory sway bars with RockJock's Antirock Sway Bar Kit with forged arms at both the front and rear. The Antirocks help free up suspension articulation for more traction off-road and eliminate excess body roll, making for a better ride on-road. Matt also used their JL/JT front long arm kit with solid aluminum control arms and heavy-duty Johnny Joint rod ends at each end, which provide over 30 degrees (per joint) of quiet, shock-dampening articulation. In the rear, Matt custom fabricated a set of lower trailing arms to maximize up travel without having to send the upper shock mounts through the bed. He also designed and fabricated custom triangulated upper link mounts and control arms, equipping them with Johnny Joints. This setup keeps the rear axle centered as the suspension cycles, providing more stability at high speeds while off-road.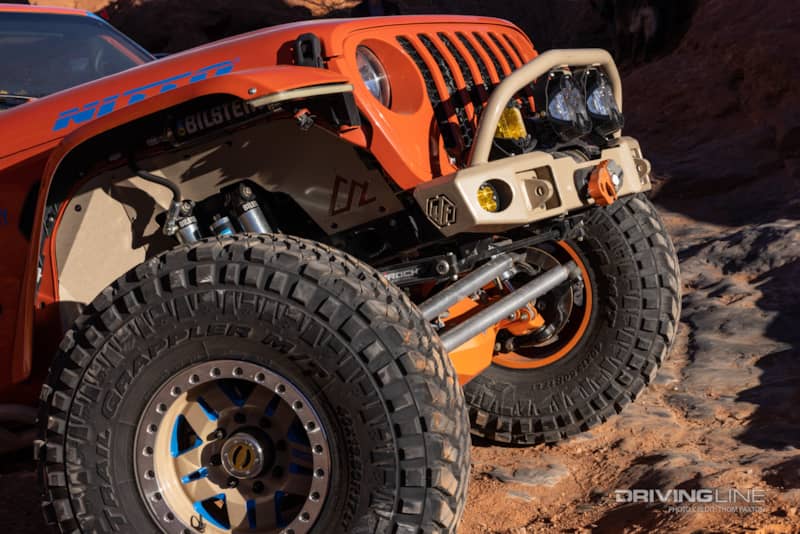 Bobbed Bed
After wheeling his Jeep Gladiator with the stock-length truck bed for a little over a year, Matt got tired of hearing the rear bumper drag on the rocks and decided to bob the bed. He shortened the truck bed and frame nearly 10 inches to reduce the overhang behind the rear axle and improve the departure angle of his Gladiator. The bodywork and paint turned out so perfect that at first glance, you can hardly tell he even cut into the bed to begin with. Matt had to ditch the factory fuel tank under his shortened truck bed to run the aforementioned custom triangulated upper links in the rear suspension. He fabricated a custom 21-gallon aluminum fuel tank and made custom mounts to place it just behind the rear axle. The fuel tank stays out of harm's way with a high and tight design and even features all of the factory vent solenoids and fuel filler functionality.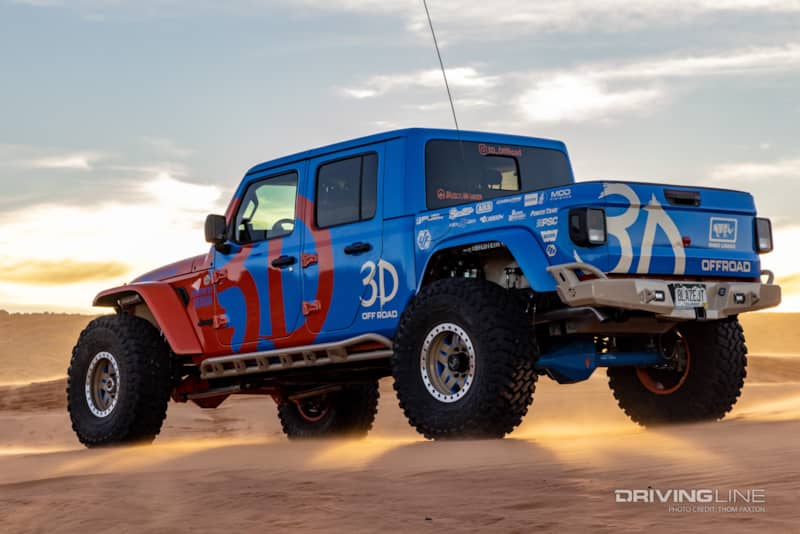 Hardcore Armor for Hardcore Off-Road Conditions
Hefty Fabworks provided a set of their JT high clearance front and rear bumpers, which happen to be manufactured and designed right here in Colorado Springs. They also provided a set of frame-mounted Gladiator rock sliders, which have proved to be the ideal setup to prevent rocker panel damage in the rocks. American Adventure Lab quick-release inner fenders were installed front and rear and customized to fit around the 3D Off-Road bypass/coilover mounts, providing a clean aesthetic and protection in the wheel wells. Matt also installed a set of American Adventure Lab's Hi-Line Fender Brace with daytime running lights. He paired these to a set of factory JT Rubicon fender flares, and the combination provides plenty of clearance for his 40-inch Nitto Trail Grappler tires. The armor was custom powder coated by Mod Finishes to make the truck stand out from the crowd. We think they knocked it out of the park with the custom color scheme!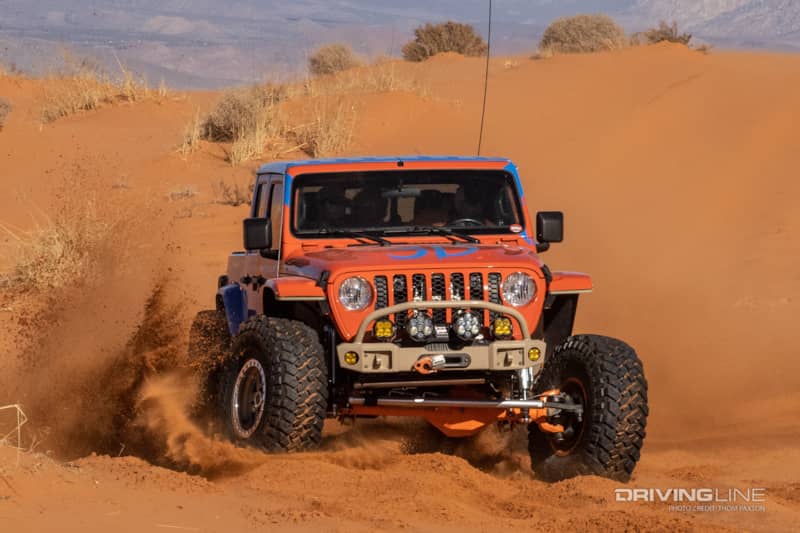 Beadlock Wheels and Nitto M/T Tires
Underneath the Blaze JT is a set of 17-inch Fuel Anza D116 Beadlock wheels finished in a custom three-tone colorway from Mod Finishes. They were mated to a set of 40-inch Nitto Tire Trail Grappler M/T tires. Matt had great success with his previous set of 40-inch Trail Grapplers, racking up over 40,000 miles on both the street and trail with zero issues. It's hard to ignore the durability of the Trail Grappler M/T off-road thanks to its three-ply sidewall and the added bonus that they perform relatively quiet and smooth on-road. Lastly, Apex Design rapid precision valve stems were added to each wheel and tire combo to allow for lightning-fast airing down when on the trail.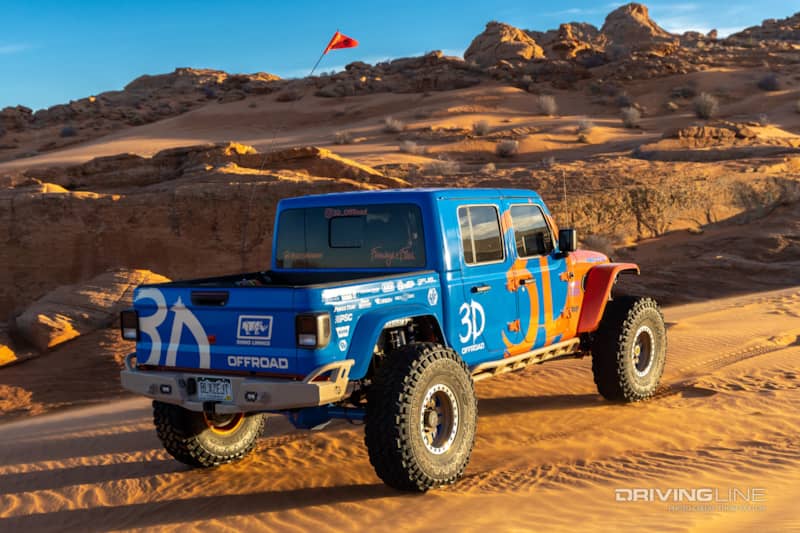 Spidertrax Fabricated 9-Inch Axles
Supporting the weight of a 40-inch M/T tire and heavier beadlock wheel is no easy task, especially when you consider the type of off-roading that Matt enjoys. That's why he opted to build out a set of SpiderTrax Pro Series Fabricated 9-inch Axle Housings spec'd to 74-inch WMS. Packed with 35-spline ARB Air Lockers and 5.42 Revolution Gears, there's plenty of strength to handle the Nitto 40s and then some. Branik Motorsports supplied 300M axle shafts with 1480 U-Joints, both front and rear. Currie Enterprises accounted for the knuckles, spindles and big brake kit on all four corners. Connecting each axle housing to the factory NV241 2.72:1 transfer case is a set of 1350 series Adams Drive Shafts. All axle brackets were fabricated in-house at 3D Off-Road by Matt as well, furthering the custom touch that makes this build Different by Design.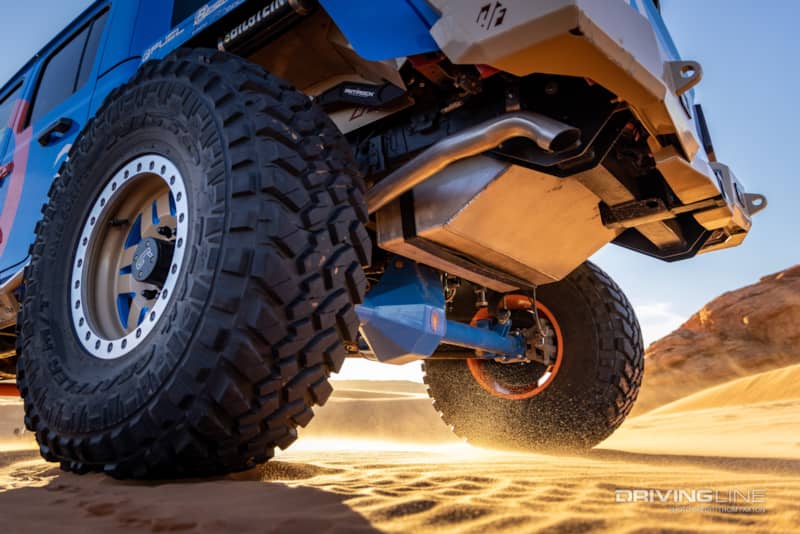 Heavy Duty Steering
Turning a 40-inch tire in the rocks is another challenge, as the stock electronic steering in the Jeep Gladiator leaves much to be desired. The problematic factory steering system was replaced by a PSC Cylinder Assist steering kit, which includes their Big Bore XD steering gearbox, high flow mechanical pump and hydraulic ram assist. Coupled to RPM Steering's HD Aluminum Tie Rod and Drag Link, this setup makes light work out of turning a 40-inch Nitto Trail Grappler in even the most challenging rock-crawling scenarios. Rounding out the steering up front is a heavy-duty trac-bar by RockJock 4x4.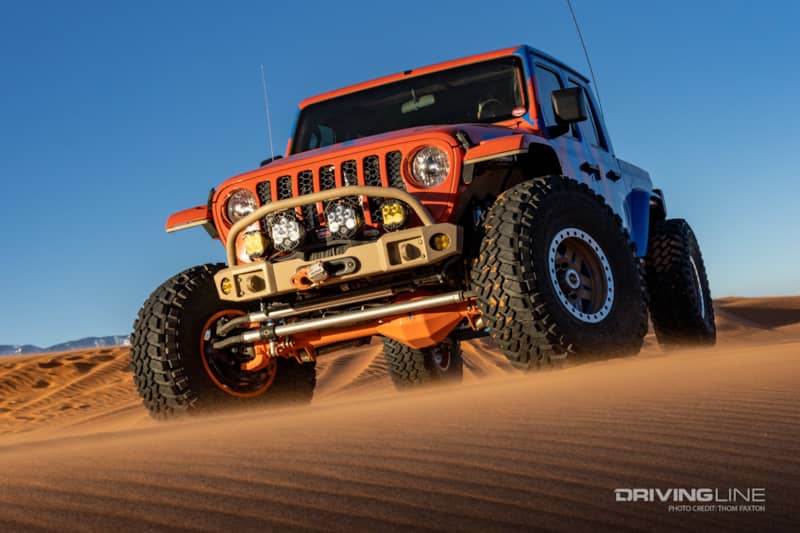 No Stone Left Unturned
Accessories can make or break a build. Matt made sure to carefully accessorize his Gladiator to add functionality to critical areas such as lighting, recovery and onboard air without overdoing it. A set of Baja Designs LP6, LP4 and Squadron Sport LED lights were added to the front bumper, while flush mount S2 reverse lights were added to the rear. Underneath, you will find a set of Baja Designs amber LED Rock Lights, which provide a nice touch when navigating obstacles on the trail at night. A Warn Zeon 10-S winch paired with a Factor 55 Hawse Fairlead and UltraHook are on standby in the event of a recovery. Matt also installed a 10-pound Powertank and an ARB twin air compressor for onboard air duties. A SwitchPros switch panel is mounted inside the cab to control all accessories. Lastly, Magnaflow's Rock Crawler series exhaust was added, allowing for a higher clearance solution with a pleasant exhaust note, as well. With Matt's attention to detail, no stone was left unturned on this build.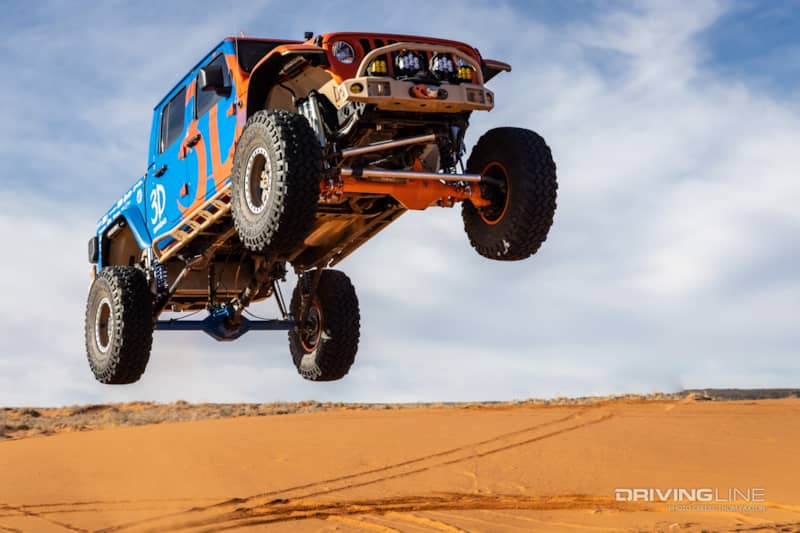 Looking to the Future
Matt's not quite finished yet. He is in the process of setting up 3D Off-Road as an authorized dealer and installation center for America's Most Wanted's 6.4L V8 HEMI conversion. To ensure that his shop has the process down to a science, he plans to add their first 6.4L 392 conversion to the Blaze JT. The goal is to complete this before Easter Jeep Safari in April. Once complete, Matt plans to enjoy his Gladiator as is and begin focusing on other projects lined up for the shop. We can't wait to see the Blaze JT with a HEMI V8 and are looking forward to future builds together with 3D Off-Road! Be sure and keep an eye out for January's episode of the Built2Wander vlog series for a full feature of the reborn Blaze JT.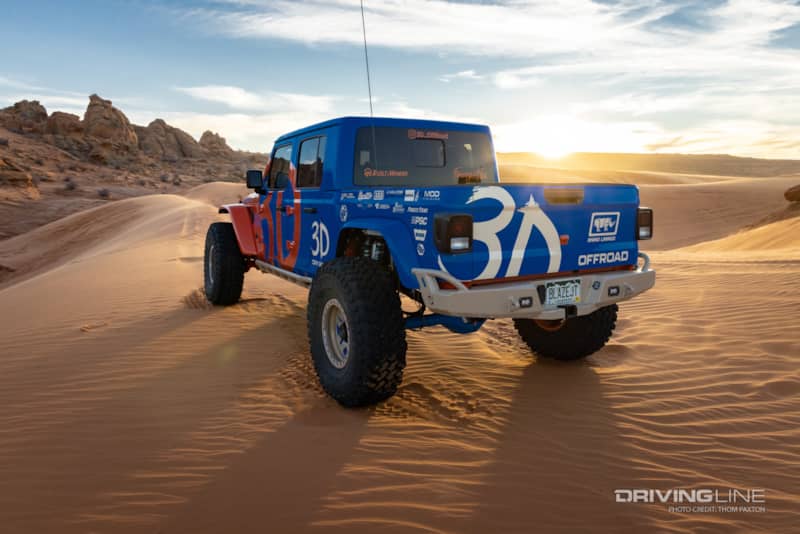 More From

Driving Line
Look back on where modded Gladiators all started with the OG40.