Team Nitto Driver Chelsea DeNofa Wins 2022 Formula Drift Seattle
Story By Joey Redmond
Photos By
Formula Drift returned to the Pacific Northwest with a record sellout crowd and some great weather just north of Seattle, Washington at Evergreen Speedway. Chelsea DeNofa, who won the 2021 Formula Drift event, managed to take it back-to-back with another win this year after countless One-More-Time calls and some controversial car-to-car contact and collisions that occurred throughout the night.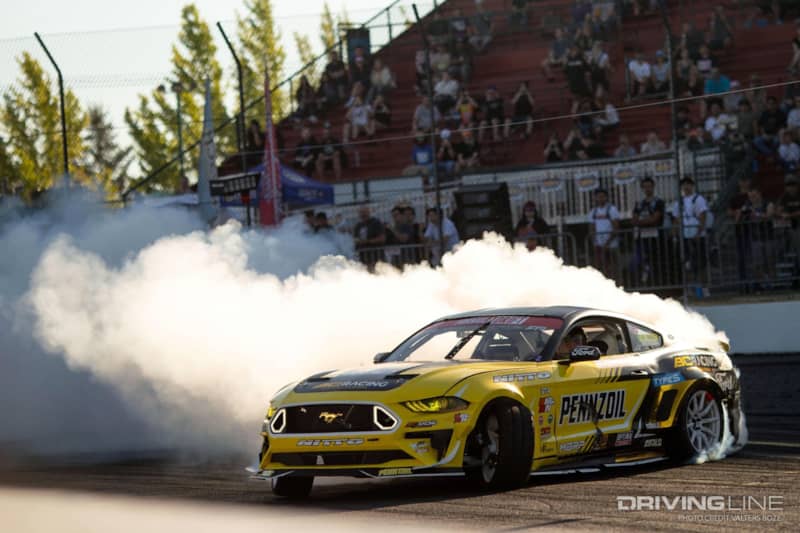 Qualifying
Kazyua Taguchi backed up his first place at St. Louis performance by puting down a second top qualifying spot two events in a row! Taguchi put qualifying out of reach for the rest of the field by laying down a monster score of 93. Chelsea DeNofa and Chris Forsberg were close behind in qualifying with finishes in second and third place. Dan Burkett barely snuck into the competition with a 32nd place qualifying run after Trenton Beechum couldn't get a high enough score on his last chance qualifier run to compete in the main event.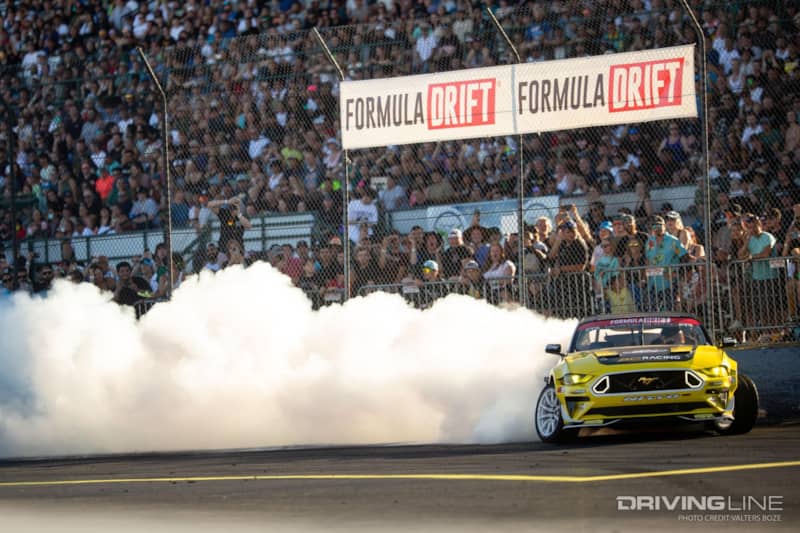 Top 32
An identical rematch from St. Louis started the Seattle Formula Drift Championship Round 6 as Kazyua Taguchi faced off against Dan Burkett. The end result was opposite of the last time however, with "Rad" Dan Burkett taking home the victory after Kazyua Taguchi made a mistake in the chase position coming off the bank and couldn't complete the lap on course.
Matt Field and Odi Bakchis faced off in an early "Frenemies" Battle that put the whole crowd on their feet! The first battle saw lots of contact and ultra-close proximity tandem runs and two judges made a OMT call. The following OMT battle was even closer, but Matt Field got the win with two judges to one on the call. According to the judges, Odi Bakchis' mistakes in the lead run are what put Matt Field into the Top 16.
Chelsea DeNofa took on Mike Power—Mike Power crashed into DeNofa when trying to chase him. That gave Chelsea DeNofa's RTR Ford Mustang an easy advance into the next round of competition.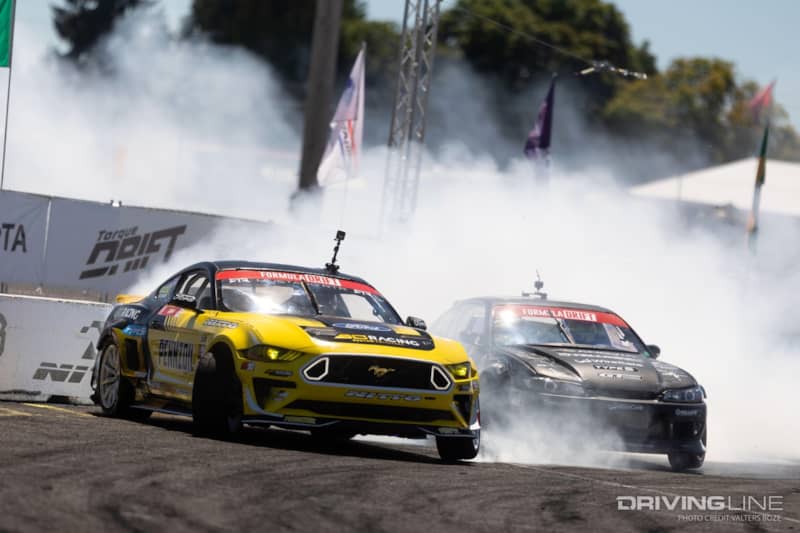 Just as he was about set to make his competition run with Kyle Mohan, Ryan Tuerck's car sprung a major oil leak in the burnout box and was forced to call a Competition Timeout. Ryan Tuerck's team quickly identified the problem, the turbo oil line just came loose, so it was an easy fix for the Papadakis team and Ryan was able to go on to win his tandem battle against Kyle Mohan to get into the Top 16.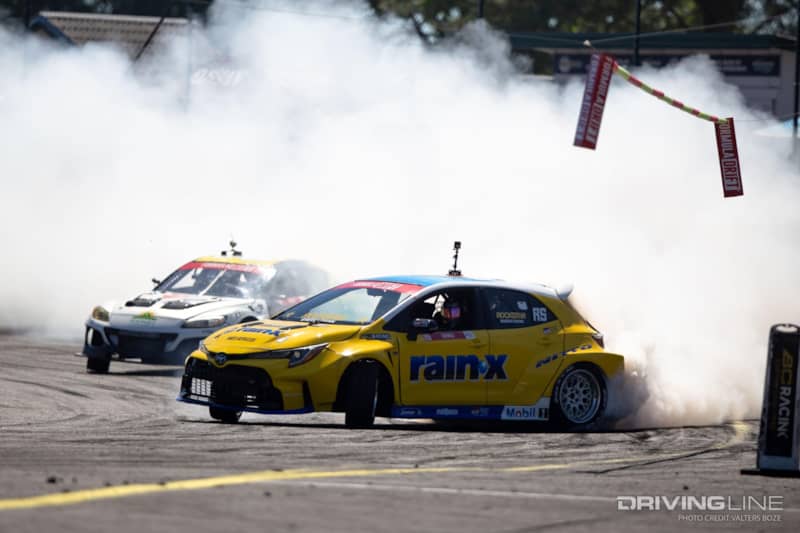 Chris Forsberg then faced Jonathan Hurst in a close battle, but Forsberg really pushed his Nissan Z close to Hurst in the tandem chase battle which made the difference between the two battles. Unfortunately, Jonathan Hurst smashed the wall while crossing the finish line and Forsberg managed to stay in drift and avoided contact with Hurst's BMW as it happened, and was able to advance to the next level.
A One-More-Time Top 16 (or OMG, So Many OMTs)
The weather couldn't have been better for a Top 16 battle as Dean Kearney and Dan Burkett threw down in front of the packed stands. The first battle was pretty even despite Dean Kearney suffering through a steering rack issue and the judges had a split OMT call to see them run again. Despite Dean Kearney over rotating in his lead run on the first OMT battle, the judges still called it even and requested they run a second One-More-Time before making a final winner call. The craziness of this battle continued, but Dean Kearney couldn't keep his Dodge Viper in drift on the third battle and gave Dan Burkett a hard-fought win to propel him into the Great 8.
Next up was Justin Pawlak versus Matt Field. Pawlak looked a little shaky in his chase battle against Matt Field. Justin Pawlak had massive angle on his lead run, but it pulled him way down the bank in the process which hurt him score wise. The judges had another split call but two of them picked Matt Field to advance into the next round.
Chelsea DeNofa and PNW local, Travis Reeder, had a great showdown, but the judges called it an OMT. Travis Reeder peddled to catch up on the first OMT battle and ended up crashing into Chelsea DeNofa by outer zone three in the chase battle. Chelsea DeNofa moved into the next round of Formula Drift on a split decision from the judges.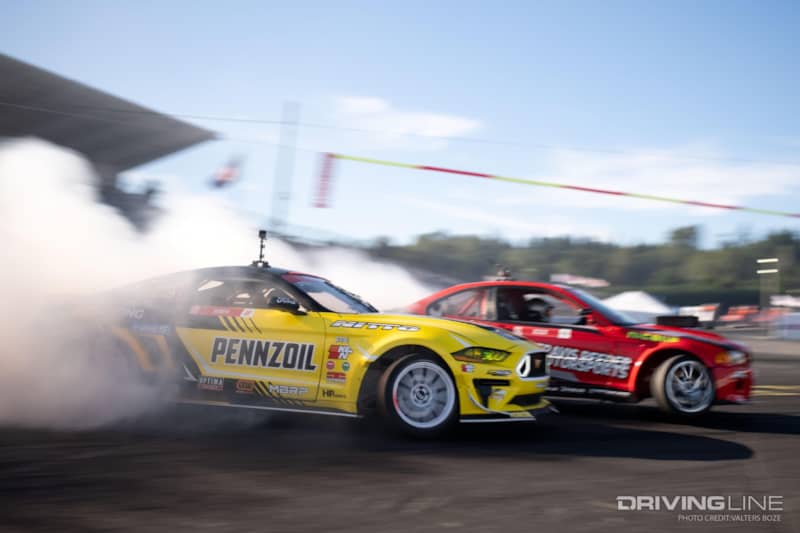 Chris Forsberg then faced Jeff Jones in a close all-Nissan Z battle! The judges called a One-More-Time on this battle so they could get a definitive winner. It looked like Jeff Jones might push for a huge upset, but on his lead run his bumper fell off and the trunk hatch came open (without hitting a wall) which, unfortunately for Jones, was an automatic incomplete for his run. This gave Chris Forsberg the win and moved Forsberg into the Great 8 battles.
An Interesting Great Eight
The first round of competition for the Great 8 saw an old versus new Toyota Supra Battle. Dan Burkett faced off against Fredric Aasbo, but as Aasbo entered the bank he smacked his Toyota GR Supra right into the wall at high speed, and managed to stay on the gas and kept going. Fredric Aasbo called a Competition Timeout to repair his Toyota GR Supra before the second half of the battle— the car was fixed but Dan Burkett had a flawless lead run and was given his first ever Final Four debut in his Formula Drift career!
Matt Field and Dylan Hughes matched up next and both pushed hard which resulted in yet another One-More-Time battle for the night. The two drivers had a crowd-pleasing battle, and the judges forced another OMT call so they were set to run again. On the third battle, Matt Field was on an insane chase run but spun on the bank. The judges faulted Dylan Hughes saying he slowed down, which gave Matt Field the advancement into the Final Four.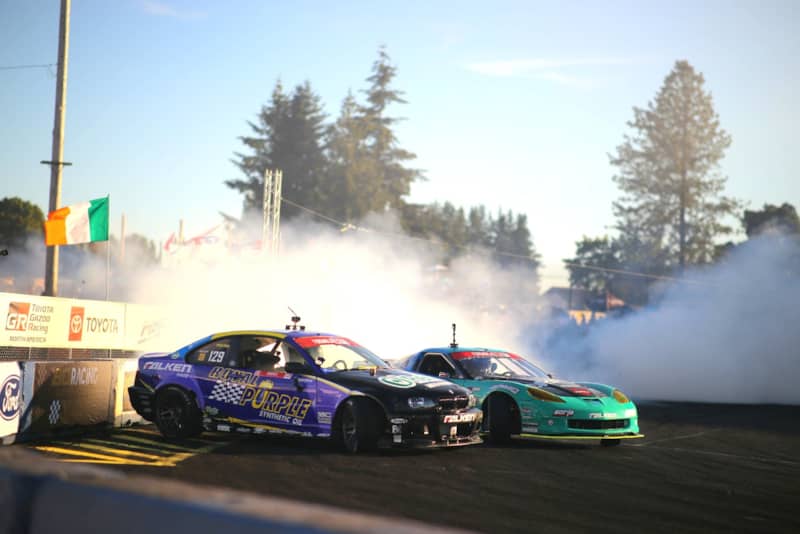 Chelsea DeNofa and Ryan Tuerck were the next battle with both drivers warming up their Nitto NT555 G2 tires for an incredible showdown. In true fun-haver fashion, Chelsea DeNofa went hard in the lead run, but coming off the bank Ryan Tuerck spun around in the chase position giving DeNofa an advantage for the second half of the battle. Ryan Tuerck never returned to the start line because he discovered he had suffered a broken axle, which gave Chelsea DeNofa another final four appearance and a shot at winning the day.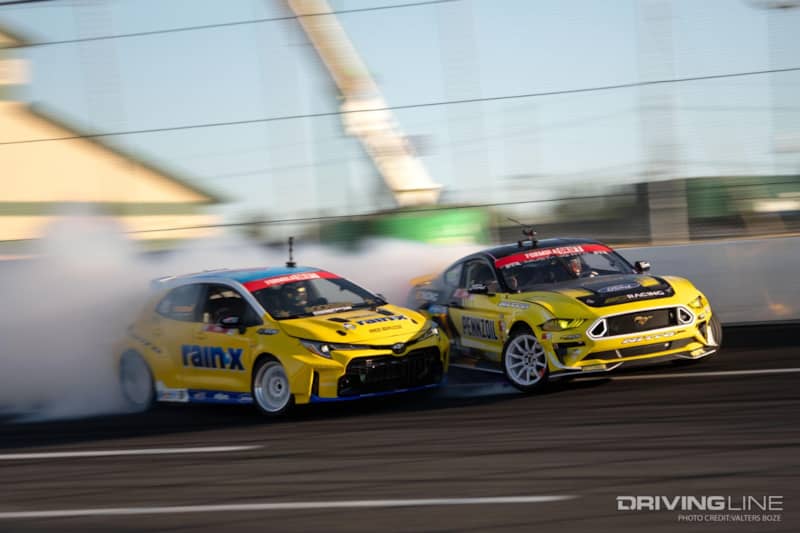 Chris Forsberg made easy work of Taylor Hull, who struggled to keep up in his Chevrolet Corvette. Chris Forsberg put his new Nissan Z in the right places in both runs and moved into the Final Four as well.
Finally, Down to Four
Chris Forsberg and Chelsea DeNofa were set for an epic showdown. The battle was close but on Chris Forsberg's lead run he scrubbed too much speed coming off the bank and the judges put Forsberg at fault to give Chelsea DeNofa the pass into the Final Battle.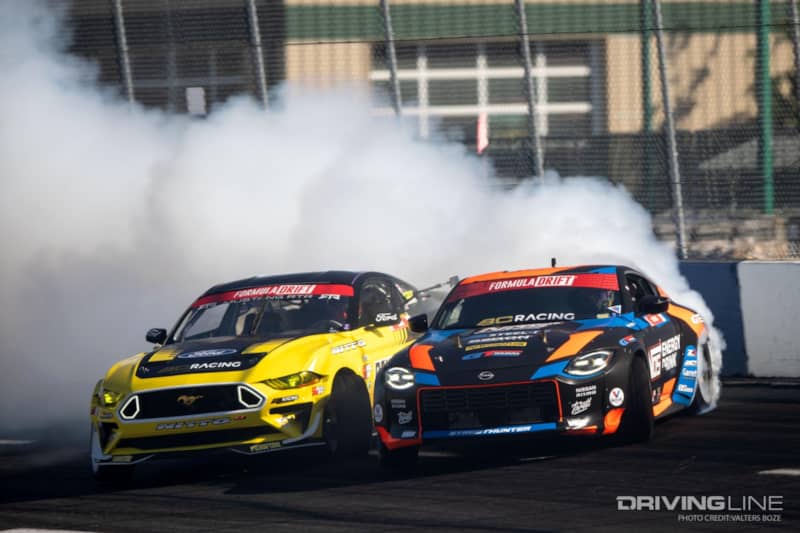 Matt Field beat Dan Burkett in a straight up battle to close out the final four. Matt Field really excelled in the chase battle as both drivers did a phenomenal lead run for the night. This set Matt Field to face Chelsea DeNofa in the final battle!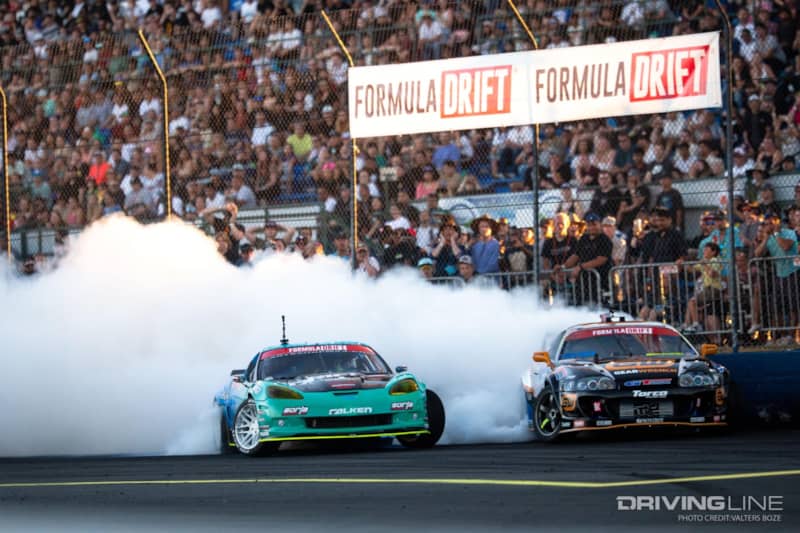 A Wild Final Battle
Chelsea DeNofa and Matt Field had a great battle, but a big mistake by Matt Field ended this great battle early. Matt Field was in the chase battle first and he smashed into Chelsea DeNofa's trunk and pushed him towards the wall. DeNofa corrected it and the two drivers hit again and the fault was assigned to Matt Field. The drivers looked over the cars and returned for the second run of the finals. DeNofa had a great chase run and didn't make any mistakes which gave him his first victory of the 2022 Formula Drift season.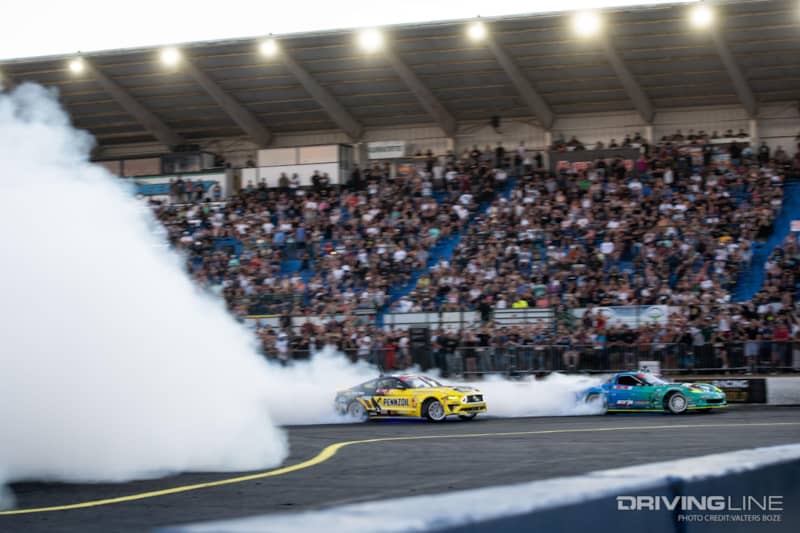 The last victory Chelsea DeNofa had was at this same track during the 2021 Formula Drift season. So far, the 2022 Formula Drift season has produced six different winners in six rounds which is a series record for the number of winners in a single season. This also marks Chelsea DeNofa's seventh all-time career win in Formula Drift which puts him into the Top 10 most winning Formula Drift drivers of all time!