First Look: Miller Motorsports Pro Series Chassis
Every sport has its top athletes. The ones that have put in the time and proven that they have what it takes to be the best at what they do. In Ultra4 Racing, Erik Miller is one of those athletes. Starting off 2016 with a win at the most coveted race of the year, King of the Hammers, Miller's season continues to be a good one.
When it comes to virtually any type of motorsports, much of the success can be accredited to a talented driver and finely tuned vehicle. It's with that notion that the Miller Motorsports compound has released its own Pro Series chassis.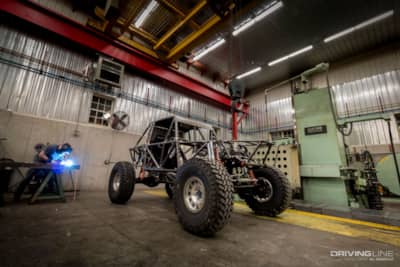 What makes this solid-axle chassis particularly special is that it's a clone of Miller's 2016 King of the Hammers winning car. The big difference between his proven, and well-used race car, is the Pro Series chassis was fully designed in Solid Works using CAD, so each tube, notch, and tab has a home.
Offered in various levels of completion, the Miller Motorsports Pro Series chassis is an excellent option for anyone looking to get into the off-road racing or hardcore 'wheeling. The first production chassis landed in the hands of Josh Blyler of Big B Motorsports. While Josh plans on racing the east coast off-road racing circuit for 2016, he has sights looking west for next year.
To get a better look at the all-new production chassis, we took a drive up to Pennsylvania to the Big B Motorsports facility: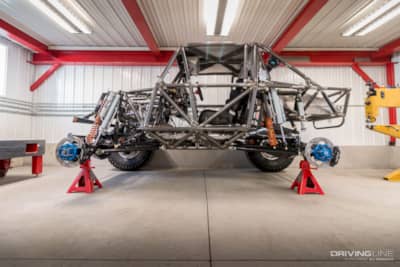 Main Cage
Miller Motorsports Pro Series chassis was designed entirely in Solid Works and is completely laser-cut and fixture indexed. The main 'cage and impact areas of the chassis are comprised of 2-inch, 0.120-wall 4130 chromoly tubing.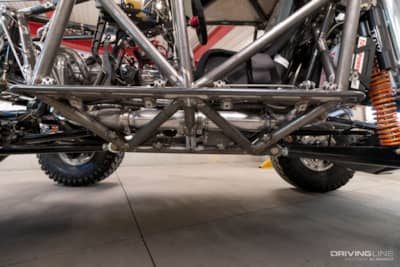 Sub-Frame
The sub-frame uses all miter cut pieces of tubing. High-impact areas around and under the chassis receive aluminum inserts to provide additional strength, without significantly increasing the weight of the chassis.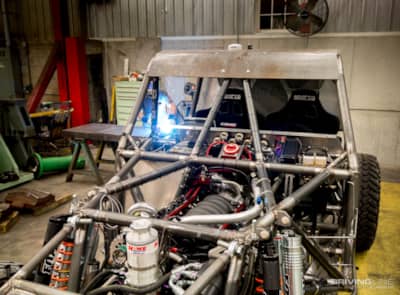 Front & Rear Sections
The front and rear sections of the chassis are built with 1 ¾-inch, 0.120-wall 4130 chromoly. While you can choose to MIG or TIG weld the framework, Big B Motorsports owner Josh Blyler opted to TIG the majority of the chassis.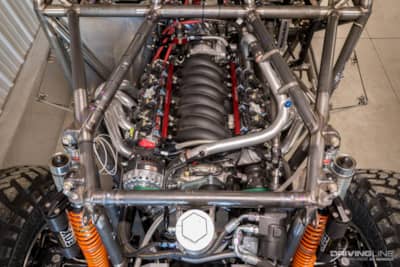 Engine
Miller's Pro Series chassis is built to easily accommodate a small block V-8 engine. Powering the Big B machine is a 6.2L LS3 V-8. The General Motors crate engine has custom headers, which feed a 3-inch exhaust and DynoMax Race Bullet mufflers. A Mechman high-performance alternator works with two Total Power batteries, while a custom wiring harness from Pacific Fabrication ensures everything communicates correctly.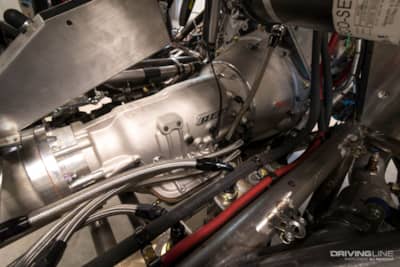 Transmission
A custom-built TH400 transmission is used to translate the 495 horsepower and 473 lb-ft of torque power of the all-aluminum V-8. In the world of Ultra4 and desert racing, the TH400 is king.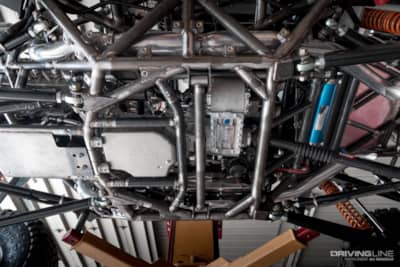 Transfer Case
Dividing up the power is a gear-driven Atlas II transfer case from Advance Adapters. The two-speed T-case was optioned with a 3.0:1 low range. In a racing environment where seconds count, the 3:1 low range offers enough gear reduction to get through technical sections, without putting you into a full crawl mode. These are rock racers, not rockcrawlers after all.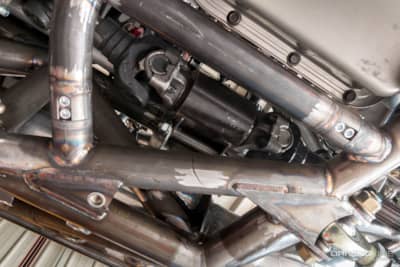 Support Bearing
To make sure the front driveshaft is protected as much as possible, Miller Motorsports crafted this custom support bearing. This allows the front 'shaft to thread neatly through the chassis and remain tucked out of harm's way.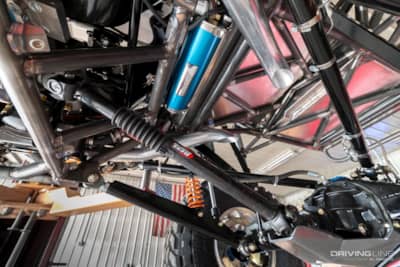 Driveshafts
Both JE Reel 2 ¼-inch diameter driveshafts are built with 3/16-inch wall tubing and use 1350 U-joints. The rear 'shaft is turning a GearWorks LP10 drop-out third member, which is stuffed with a GearWorks spool and 5.43:1 gears. Note the Accusump oil accumulator tucked neatly between the tubing to safeguard against engine oil starvation.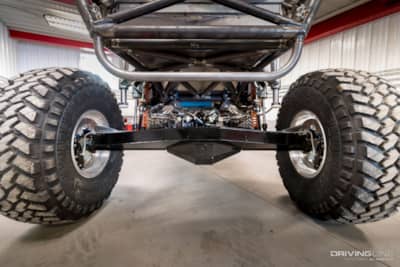 Axles
Out back, you'll find a Spidertrax Spider 9 Pro Series housing. The 4-inch-tube, full-float axle uses Spidertrax Ultimate unit bearings, 40-spline 300M axleshafts and Spidertrax rotors. Stopping force comes by way of Wilwood six-piston calipers. Since the Pro Series chassis remains fairly open, you can opt for a variety of solid axles depending on your preference and budget.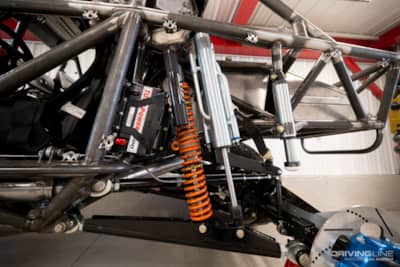 Suspension
Miller's Pro Series chassis come setup for a four-link trailing arm suspension. The trailing arm configuration allows for 20 inches of total wheel travel out of the Fox 2.0 coilovers and 3.0 five-tube bypass shocks Big B's rig is running.
Additional suspension tuning can be found via the PAC Racing Springs 35-spline rear sway bar and 2.5 Fox bumpstops. You may notice the limit strap mounted to the sway bar. This serves not only as much-need axle limiter to protect the shocks, but also prevents any chance of the sway bar from inverting due to the large amount of suspension travel.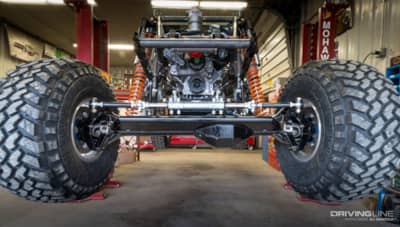 Steering System
The chassis is setup to handle a fully hydraulic steering system, which is the mainstay in Ultra4 Racing at the highest level. Big B Motorsports set up its car with a complete steering system from Howe. The double-ended cylinder mounts cleanly to the Spidertrax Spider 9 Pro Series axlehousing.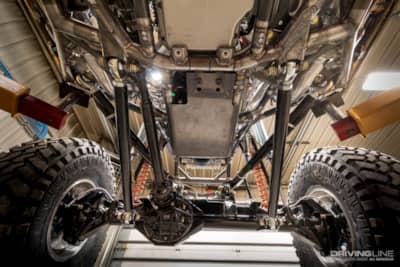 Control Arms
A set of 4130 chromoly control arms secure the Spidertrax axle in place, while a GearWorks HP10 differential is fit with spool that feeds a set of 35-spline 300M axleshafts. Since the chassis mounts the upper control arms in a triangulated fashion, no front track bar is needed.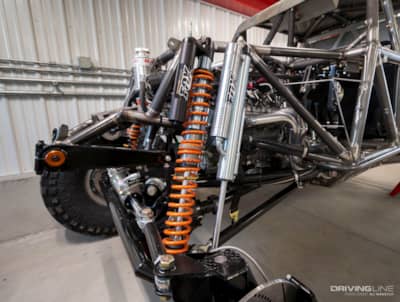 Coilovers & Shocks
Up front, Fox 2.0 coilovers are paired with a Pac Racing Spring 14-inch, 150-pound, primary coil and 16-inch, 200-pound, secondary. This setup is additionally damped by Fox 2.5, four-tube bypass shocks that effectively cycle a balanced eight inches of up and downwards travel. The 16 inches of total wheel travel is further dialed by Fox 2.0 bumpstops and a PAC 28-spline front sway bar.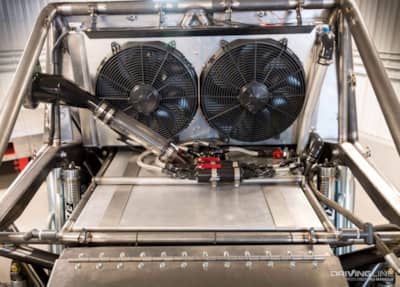 Radiator & Fuel
Twin electric puller fans help channel air through the Ron Davis radiator, while a custom 40-gallon Fuel Safe tank makes sure the car has plenty of gas to stay moving. Dual in-tank fuel pumps and AllTech Motorsports fuel baffles make for worry free delivery, while Aeromotive fuel filters ensure what's getting to the LS3 V-8 is clean.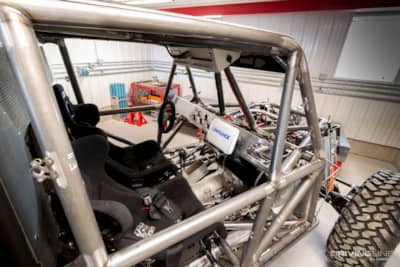 Design & Navigation
Miller Motorsports Pro Series chassis was designed as two-seater, which is extremely helpful in races such as King of the Hammers. An assortment of Auto Meter Elite series gauges keeps the driver in the know, while a Lowrance GPS allows the co-pilot to assist in critical navigation.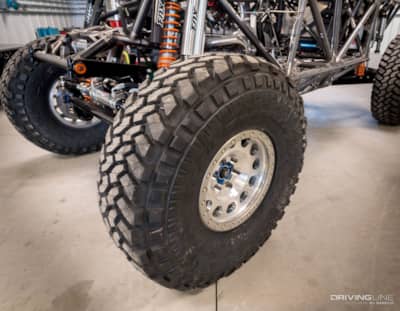 Tires
Big B Motorsports setup its chassis to run a 40-inch tire. Here, the racer is fixed with 40x13.50R17 Nitto Trail Grapplers. The durable mud-terrain radials were mounted on a set of 17-inch forged aluminum beadlocks from Method wheels. This continues to be a winning tire and wheel combo for Miller Motorsports and a setup we're seeing many racers opting for in and out of the Ultra4 Racing circuit.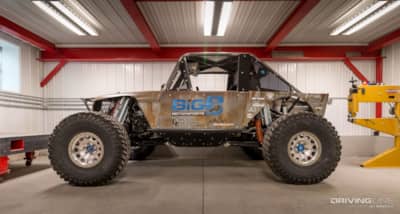 Wrap
Rusty panels on a brand new buggy? Don't fret, it's just a wrap. Below the thick vinyl covering are .040-gage aluminum panels.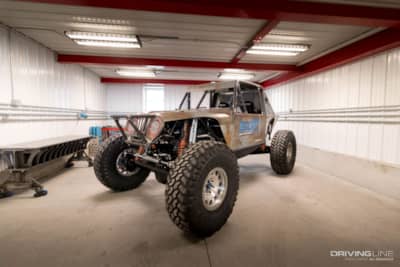 Championship Buggy
We all know that Air Jordans don't exactly give you the moves like Michael, so the Miller Motorsports chassis won't be the thing holding you back on race day.
Speaking of racing, just days after our shoot of this freshly completed buggy, Blyler took home a first place trophy in a local off-road racing event. Not a bad start for a new pair of shoes…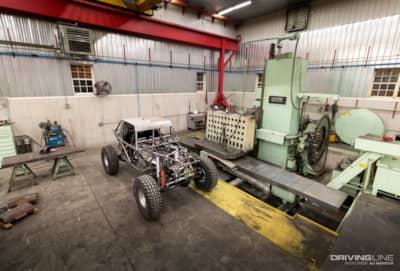 SPECS AT A GLANCE
Wheelbase (in): 113
Width (in): 85
Belly height (in): 16
Approx. weight (lbs): 5,000
Check out the video of Erik Miller walking us through his new chassis!
Save
Save