From Daily Driver to Track Tester: BuildJournal E46 M3
For many, the E46 M3 is one of the last of the modern, pure driver's cars—rear-wheel drive, manual, naturally aspirated inline-six with no driver's aids. These days, a clean one is hard to come by. Andrew Lim's M3 was no exception. Searching far and wide, spending nights online endlessly scrolling though forums and Craigslist looking for his perfect M3, Andrew eventually laid eyes on this highly desirable Alpine White on Cinnamon combo, six hours away from his home in Southern California. After exchanging a few emails, Andrew booked a one-way ticket to Arizona, picked up his M3 and his life has never been the same since.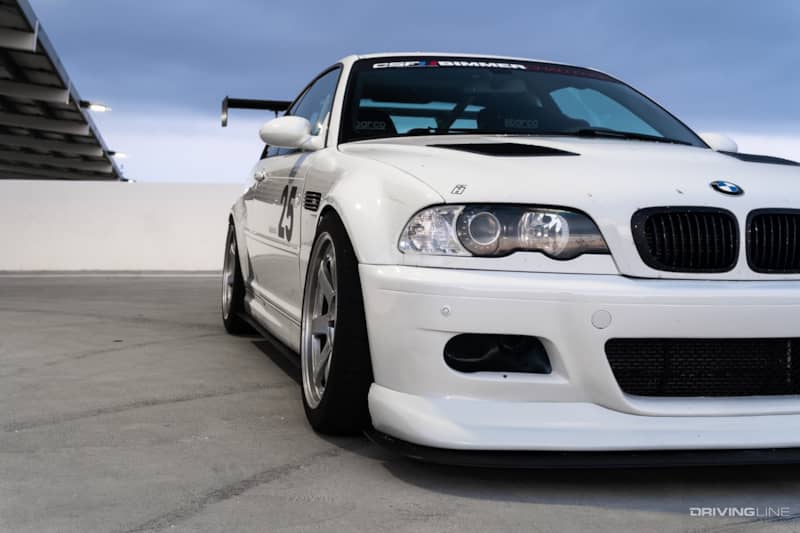 Andrew Lim's E46 started life as a daily driver, and at first he did his best to maintain it. The car spent most of its time putting along in SoCal traffic, but on nights and weekends, Andrew and his M3 would hit up the local canyon roads and track days.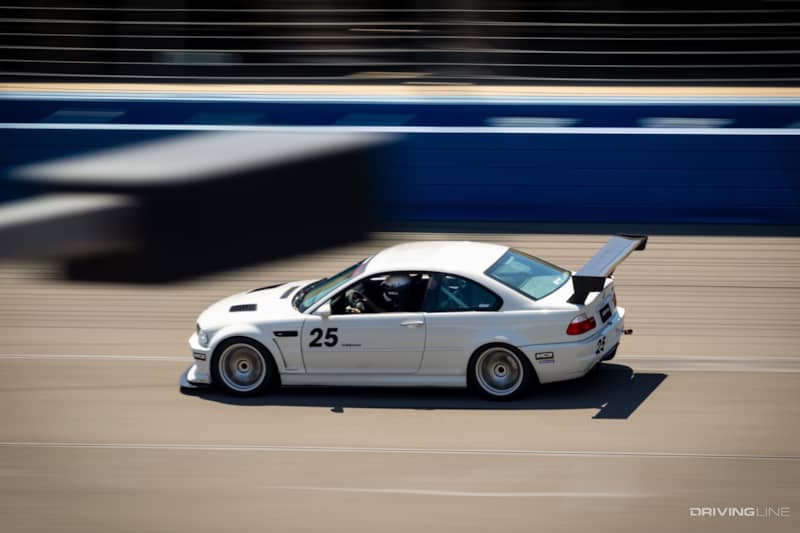 The more he drove, the faster his lap times got. In his quest for that illusive PB, Andrew choose to do away with his rare cinnamon interior.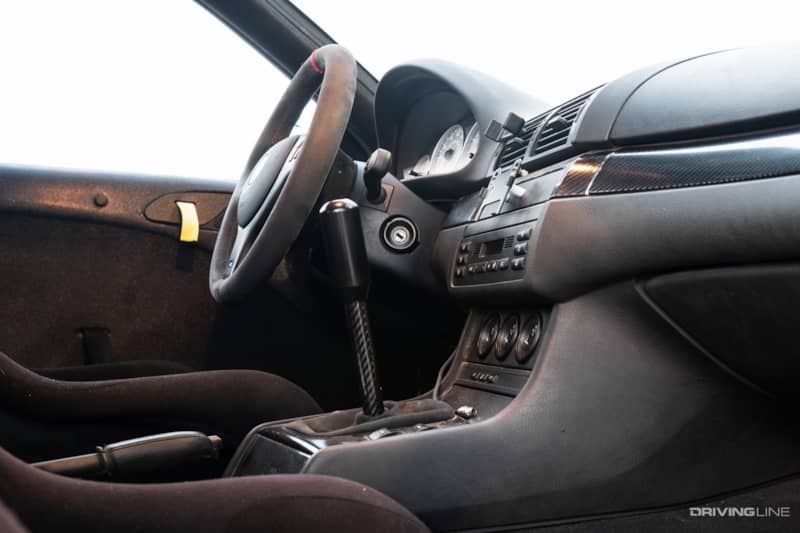 Gone are the creature comforts of power leather seats, the center armrest, door panels, back seat and even the sunroof. In its place are a pair of lightweight Sparco bucket seats and six-point harnesses, HARD Motorsport lightweight door panels, a carbon fiber center console, Autopower roll cage and rear seat delete that help keep weight down and keep himself strapped in his seat as the car grips the corners.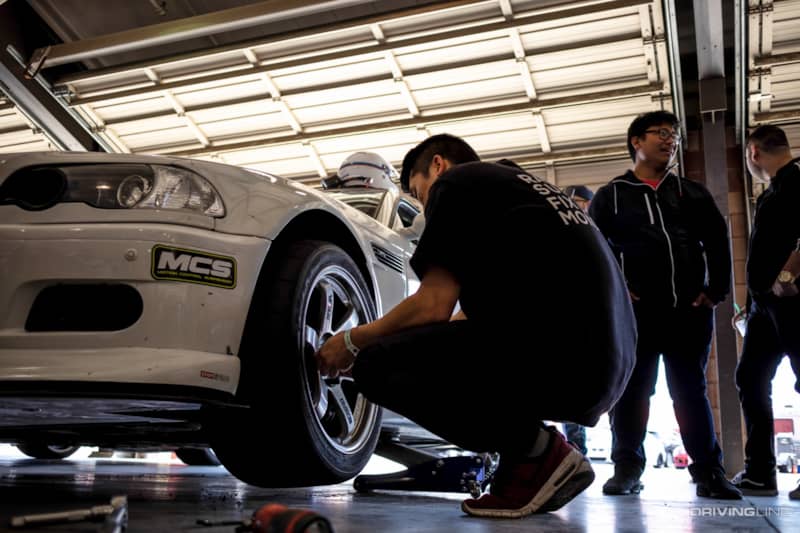 Andrew has personally tested several brake, suspension and wheel set ups. Currently, the M3 sits on MCS 1WNR coilovers, Stoptech front calipers and Porsche 996 Brembo rear calipers covering 18x10 ET25 Volk TE37 OG wheels wrapped in Nitto NT01s.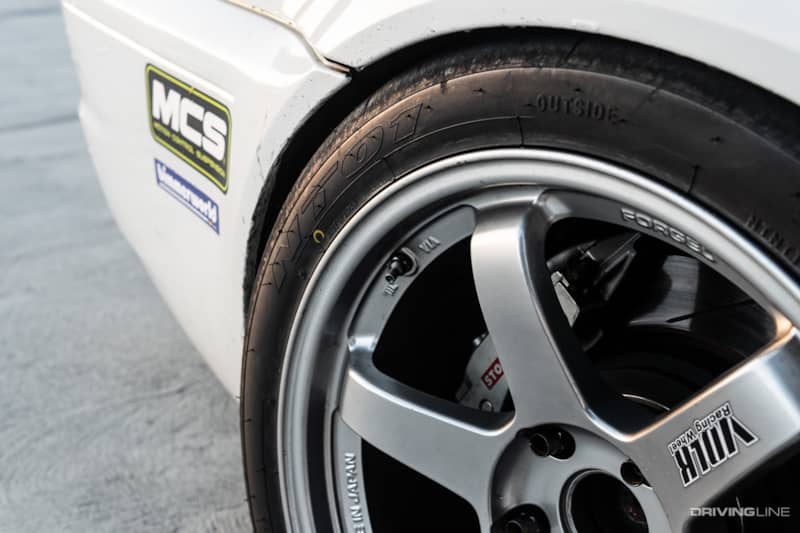 Andrew has found Nitto's NT01 to give him the mechanical grip he needs to put down his personal best lap times, which he has done at Willow Springs, Auto Club Speedway and Buttonwillow.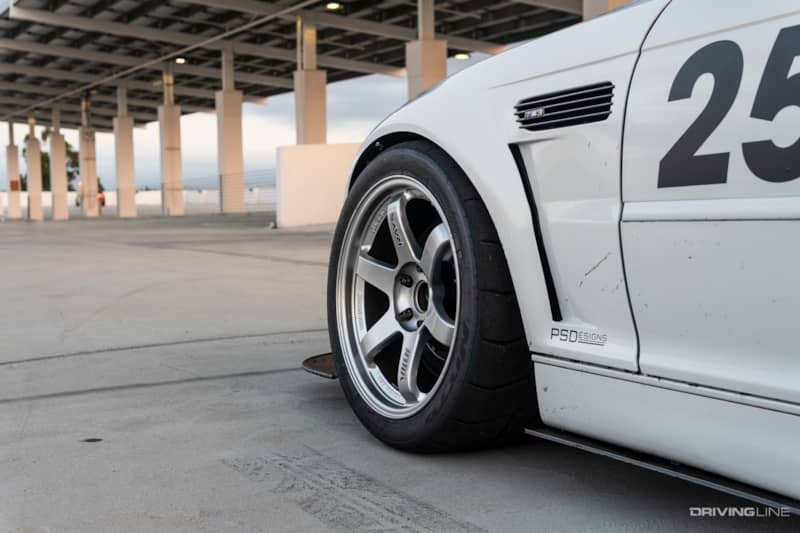 Being a higher mileage chassis, Lim has gone through and replaced every part of the suspension to maximize grip and remove the sloppiness that can be found on a high mileage BMW. Lim has reinforced the rear subframe (a common E46 issue) with a HPF reinforcement kit, and every bushing and suspension mount has been refreshed with bits from AKG and Turner Motorsports.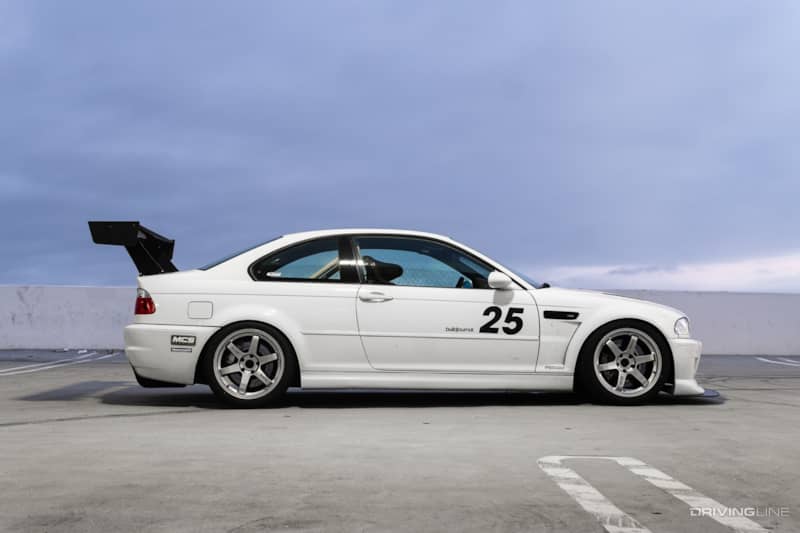 Under the hood, the 333hp 3.2L inline-six doesn't need much, so Lim kept things simple with a handful proven of bolt-ons. The S54 receives added power from an Eventuri carbon fiber intake, Evosport headers, Bimmerworld Race Exhaust, Tuner Motorsports pullies and Walbro 255lph fuel pump, all tuned for maximum performance with Lim's signature B-Spec Tune for the E46 M3.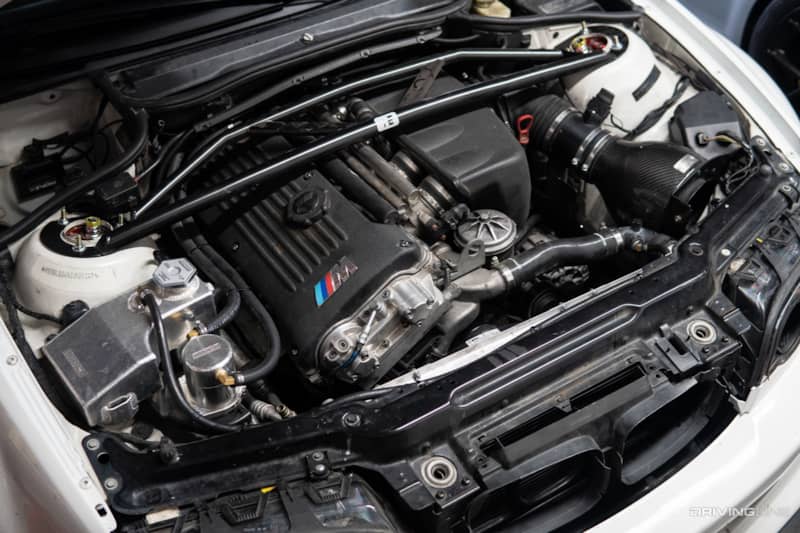 Outside, the car retains the classic silhouette of the E46. Lim has added an RS Future LM Wing, HARD Motorsport brake ducts, Buildjournal Race Splitter, Quick-Release Adjustable Splitter Mounts, ACS-replica lip, side skirt splitter and a Bimmerworld CF Diffuser to match the single exit Bimmerworld Race Exhaust.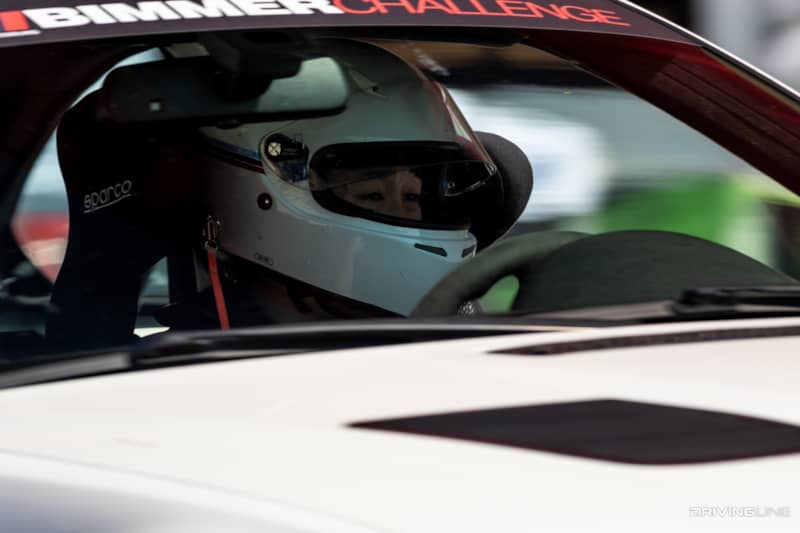 Over time, Andrew and his M3 have both evolved. Just as the M3 has evolved from daily driver to track car, Andrew himself has progressed as a driver and DIYer. From basic oil/filter changes to addressing common E46 issues like reinforcing the subframe, rod bearings and VANOS issues, Andrew has done it all in his garage.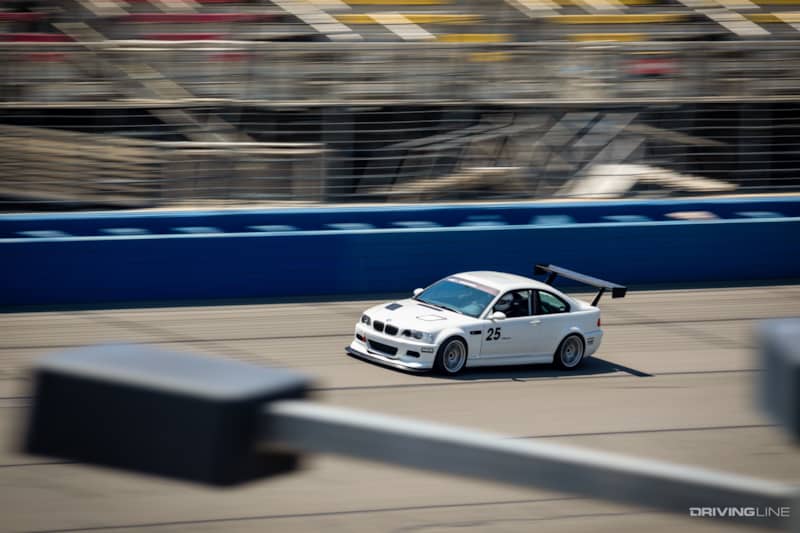 The car has been a test bed for almost every E46 M3 part imaginable, including many of the parts Andrew and the team at Buildjournal have developed themselves.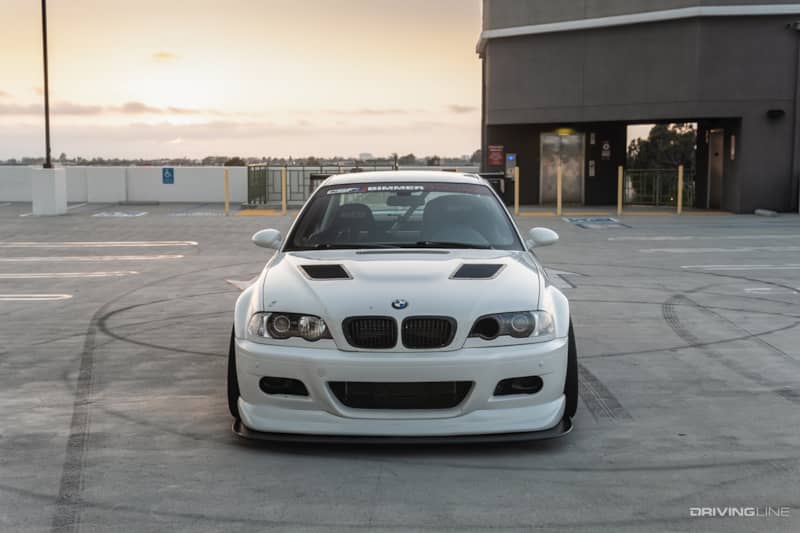 One of which is their signature B-Spec Tune, an e-flash tune that can add as much as 30whp with proper supporting mods, improve drivability and add features such as launch control.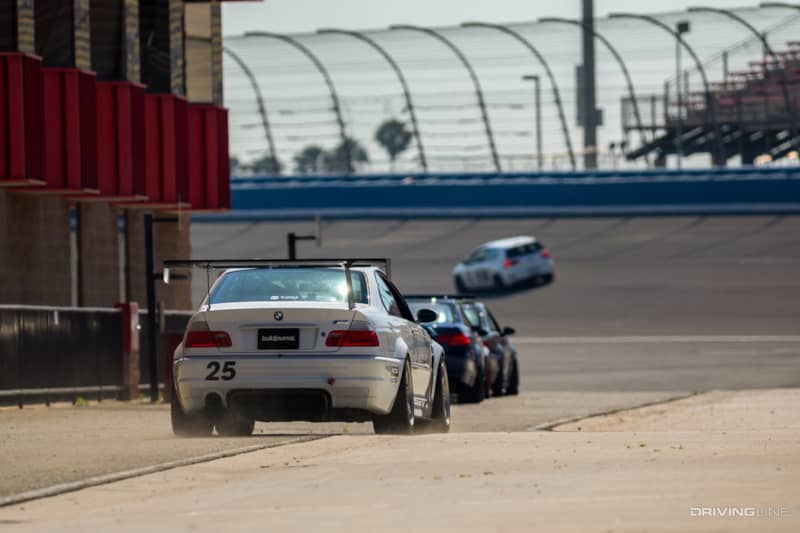 Their R&D has paid off in continually faster lap times at tracks across California. See the Buildjournal M3 in action below.
Click here to see an E36 M3 take on an Integra Type R in our Driver Battles Series.
Photos courtesy of Andrew Lim & Jeremy Adajar
Engine
Buildjournal B-Spec Tune

, 

Eventuri carbon fiber intake,

 

Evosport stepped headers,

 

Bimmerworld Race exhaust,

 

Bimmerworld radiator hose kit,

 

Turner Motorsports power 2-pulley kit,

 

Walbro 255lph w/ Radium Sleeve,

 

AFD PROFLEX E85 kit,

 

N15 Design, electric fan mount,

 

Spal 16" fan,

 

Koyo radiator,

 

Moroso coolant reservoir tank,

 

Moroso oil catch can

Suspension/Wheels

Volk TE37 OG 18x10 ET25 Mercury Silver. 

Nitto NT01 275/35/18, 

MCS 1WNR coilovers,

 

Vorshlag camber plates,

 

Eibach ERS 900# F / 500# R (true rear coilover),

 

Eibach front sway bar,

 

Stoptech ST-40 front / Brembo 996 rear calipers,

 

Endless ME20 pads,

 

Stoptech stainless steel lines front,

 

Rallyroad stainless steel lines rear,

 

HPF rear subframe reinforcement kit,

 

Turner Motorsport FCAB,

 

Turner Motorsport RTAB,

 

AKG differential mount,

 

AKG subframe bushings,

 

Garagistic upper strut reinforcement plates, 

Motorsport Hardware stud kit,

 

Motorsport Hardware Titan MH lug nuts

Exterior

Buildjournal Race splitter

, 

Buildjournal Quick-Release Splitter Brackets

, 

Buildjournal side skirt splitters

, 

Buildjournal IAT Relocation Kit,

 

RSFuture LM Wing,

 

Trackspec Hood Vent Kit,

 

Bimmerworld Race Diffuser,

 

ACS replica lip, 

G5-R project retrofit

 with Philips CBB bulbs, P

SDesigns fenders,

 

S2R Tuning sunroof delete

Interior

Sparco Circuit seat,

 

Sparco EVO seat,

 

Sparco 6-point aluminum harness,

 

Sparco side mounts and sliders, 

Street Faction rear seat delete,

 

Coby alcantara tri-stitch steering wheel, 

RTD V4 shifter,

 

Autopower Race Roll Bar,

 

VAC gauge panel,

 

Stack gauge kit, 

HARD Motorsport Lightweight Door Panels

, 

HARD Motorsport RS Style Door Latch Pull Strap,

 

CSL center console,

 

CSL headliner,

 

AIM SOLO 2 DL w/ custom dash mount