Game Changer: Chevy 2500 Coilover Conversion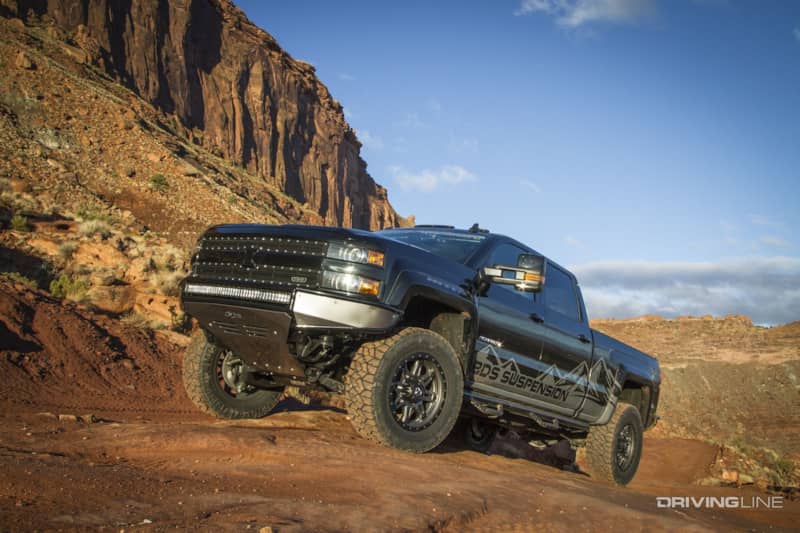 Company owned trucks are some of the most abused. For suspension manufacturers such as BDS Suspension, it is constantly using new platforms to create, prove, and ultimately produce new suspension systems. We spotted the company's 2015 Chevy 2500 out on the trails around Moab doing some trail riding to test out the its latest suspension offering for the 2012 to current GM 2500 4x4 trucks. Built and owned by BDS Suspension out of Coldwater, Michigan, this truck has been the test mule for their soon to be released mid-travel coilover conversion kits for the late-model GM2500 trucks. The new suspension is designed to be right at home on the open trail or cruising down the highway. We caught up with the guys and followed along as they put the new kit through its paces.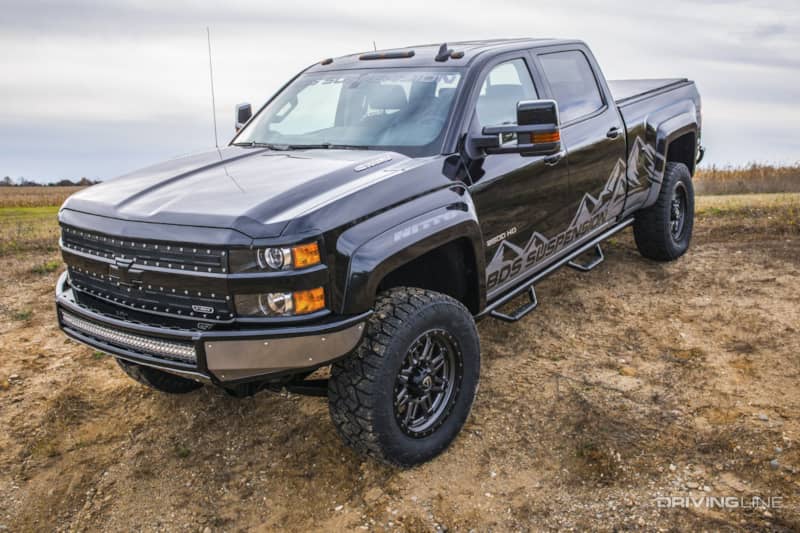 The truck itself isn't over the top. It was built to not only test the capabilities of the new suspension, but also to inspire a new generation of enthusiasts looking to get more out of their HD's suspension without diving into the commitment (not to mention the expense) of going full long travel. Sitting on a set of 35-inch-tall Nitto Tire EXO Grappler tires, this 3-inch coilover kit is meant to be blend of stance and performance.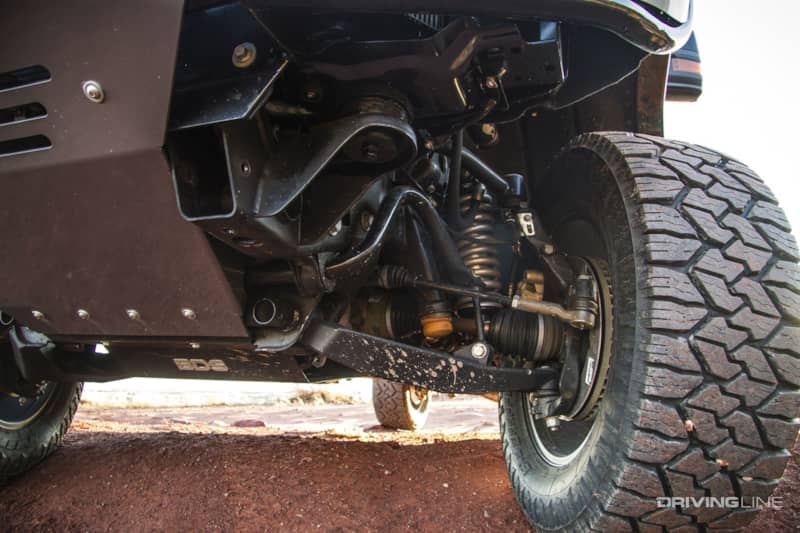 The factory torsion bars and stamped-steel control arms were replaced by a BDS 3-inch coilover conversion using FOX 2.5 remote DSC coilovers and Fox 2.0 IFP bump stops. The system features TIG welded chromoly upper control arms and boxed lower arms that utilize OE-style rubber bushings and heavy-duty ball joints for long life and quiet operation.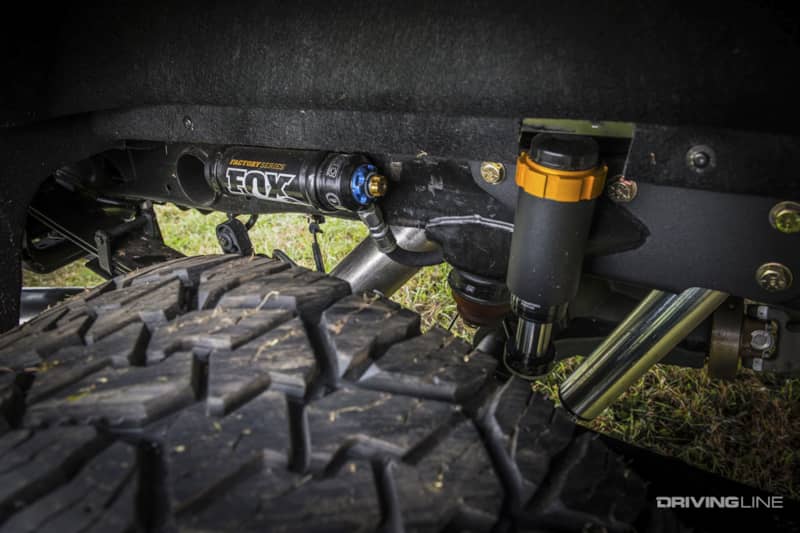 In the rear, the truck features long-travel BDS leaf springs, FOX 2.5 remote DSC shocks and FOX 2.0 IFP bumpstops. This setup allows for increased travel, while soaking up the bumps with 12-points of high speed and 10-points of low speed compression adjustment from the DSCs.
In true "chrome don't get you home" fashion, this HD Raider has been de-chromed and color-matched to the factory black. Custom touches include a T-Rex X-Metal series grille fitted along with a modified N-Fab RDS series bumper and 40-inch ZRoadZ LED lightbar. The setup maximizes approach angle and offers extra protection.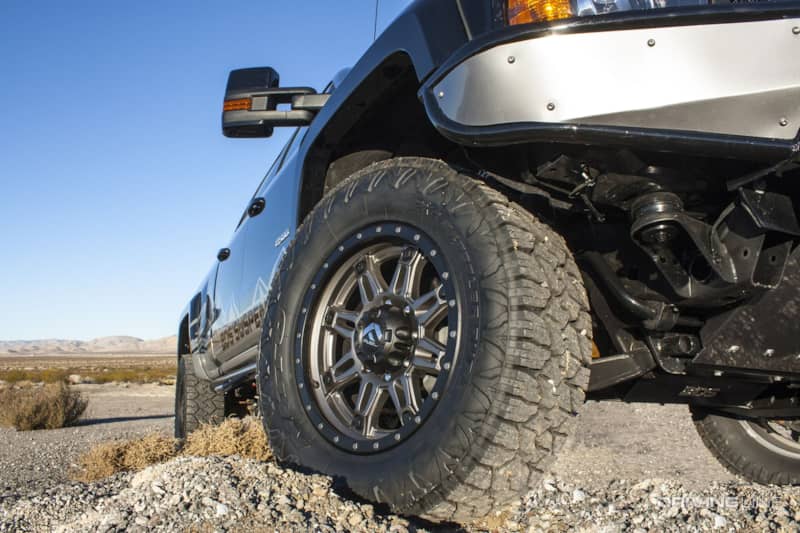 With the 3-inch BDS coilover conversion installed this truck rolls on a set of 35x12.50R20 Nitto EXO Grappler tires mounted on 20x9 Fuel Hostage III wheels. This setup offers a plush on-road ride, good performance off-road, and great towing capacity with the Load E rated 10-ply sidewalls.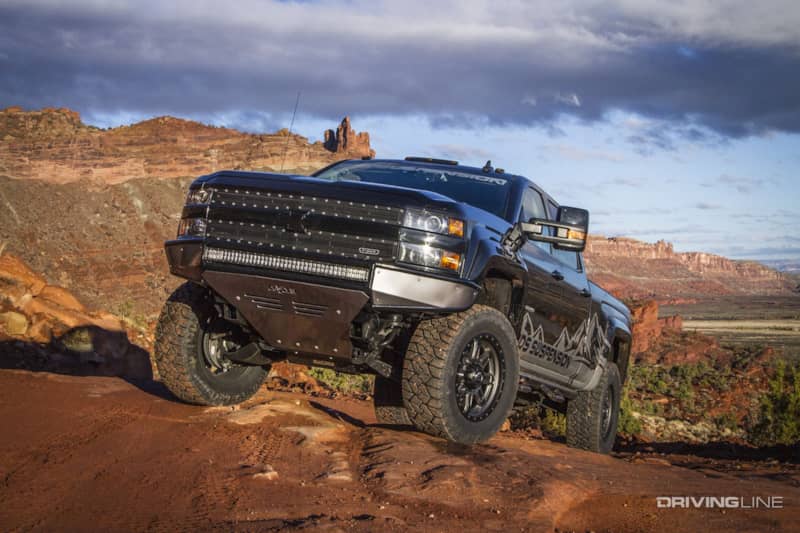 This HD is right at home on the trail or cruising the highway. Here it is climbing the Golden Spike trail in Moab, Utah, with Arches National Park in the distance. For a place typically inhabited by Jeeps and solid-axle trucks, this HD held its own on the rocky trails leading up the ridge to some spectacular views.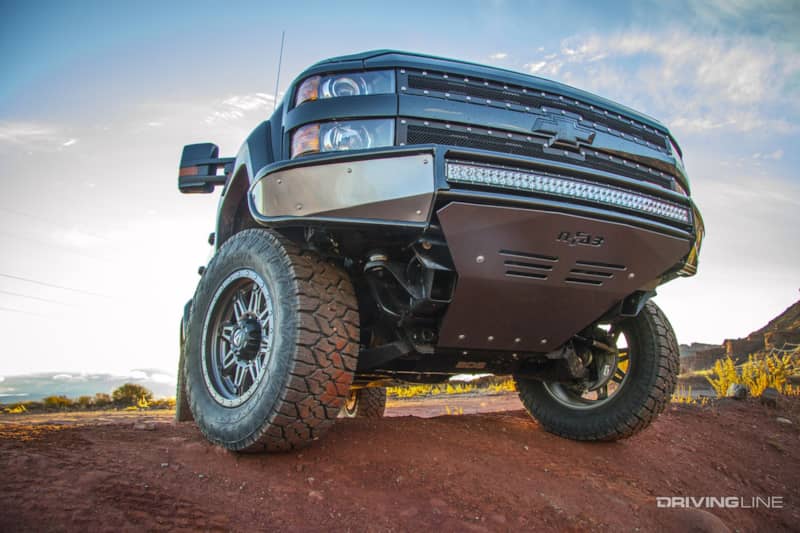 BDS's intention with its new kit was to maximize ground clearance while improving suspension travel. The engineers from BDS told us the kit improves suspension travel by more than 30-percent without any increase to the truck's track width. No need to run glass up front like you'll find with long travel kits and outside of weld-in IFP bumpstops, BDS said this kit is entirely bolt-on.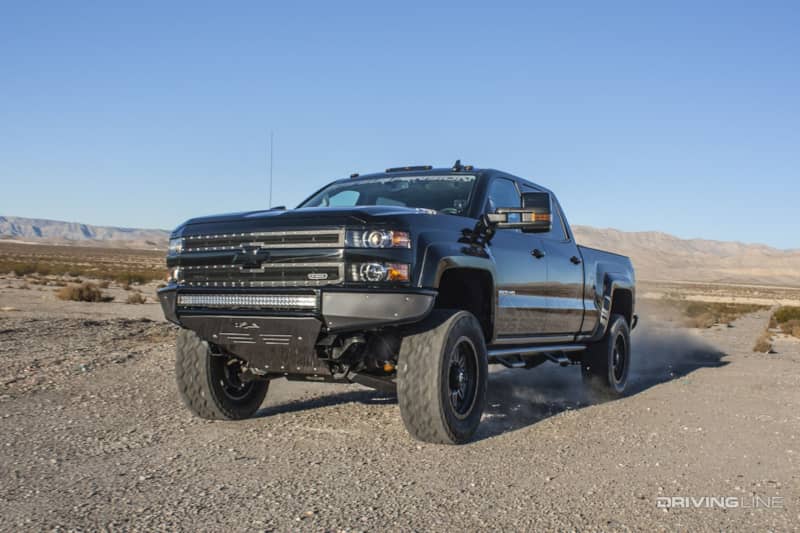 This Duramax is right at home climbing trails or blazing the open desert. The mid-travel IFS coilover suspension allow this ¾-ton truck feel nimble like a ½-ton out on the trail, even when its charging through the open desert.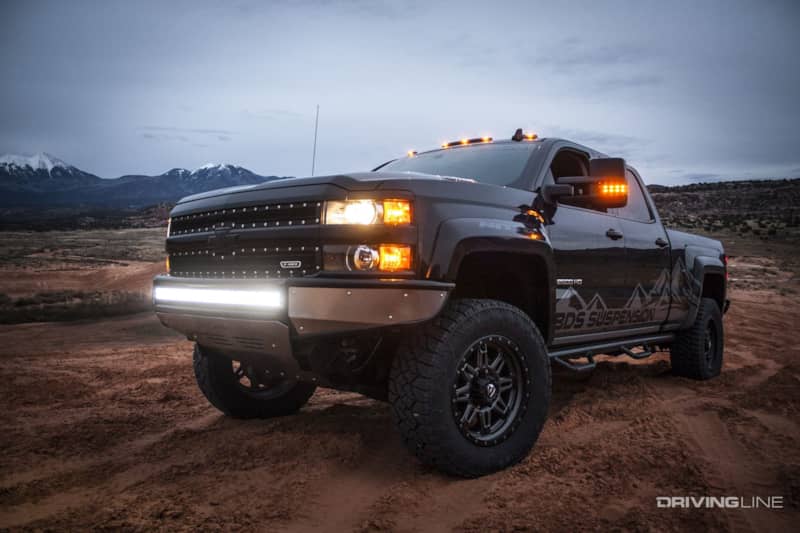 In a world of over-the-top lighting solutions, this truck stays tame with a single 30-inch ZRoadZ curved LED lightbar. This gave plenty of light to brighten up the trails after dark.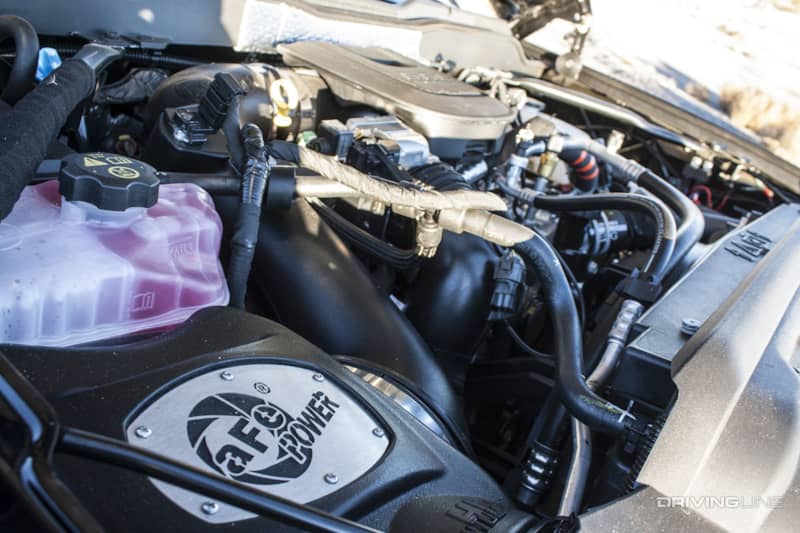 Under the hood of this Silverado 2500HD you'll find a 6.6L Duramax. It's fit with an AFE cold-air intake and tuned by a Bully Dog diesel GT tuner.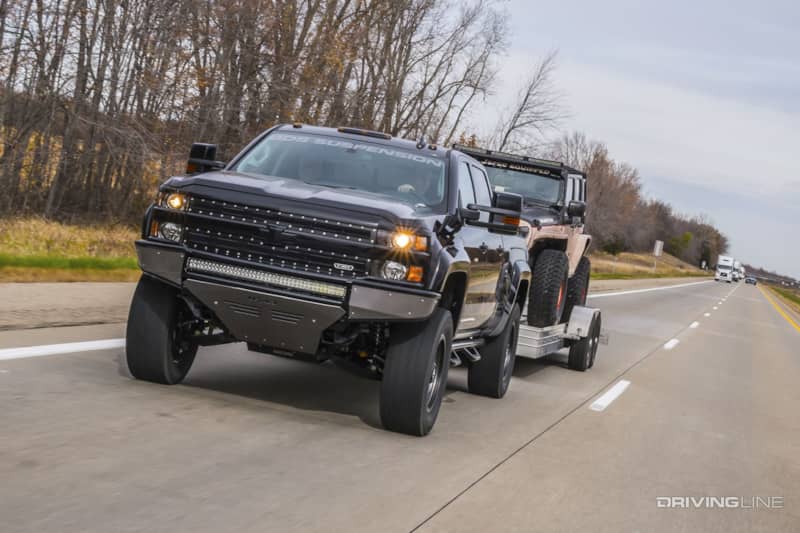 Overall, we were impressed with the new BDS kit and live the idea of a more performance oriented suspension system for the ¾-ton GM platform. Making your tow rig a smooth performer on-road and off is a trend we would like to see more of.