George Barris 1925-2015 Kustom Kulture Original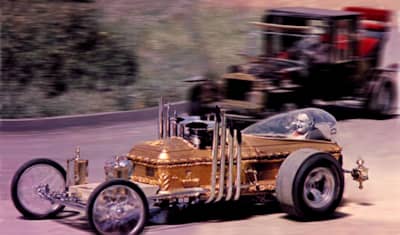 Photo Courtesy of Kayro-Vue Productions
George Barris was your favorite car customizer before you knew what a custom was, and this is why. When I was four years old, my parents took my brother, my sister, and I on a day trip from L.A. to Tijuana. I don't remember much from that day; I can't say what we ate or whether or not we saw the bullfights. The thing I do remember is that before crossing the border to return home we stopped at a crowded shop that smelled of leather to pick up some cheap souvenirs. My brother picked out a small set of bullhorns that would hang in his room for years to come. My sister chose a woven poncho. I spotted something packaged in a box and held it up to my Dad. He asked me if I wouldn't want something more Mexican to take back. There was only one thing in that shop that my four-year-old mind had any interest in and that was a classic die-cast Corgi Batmobile.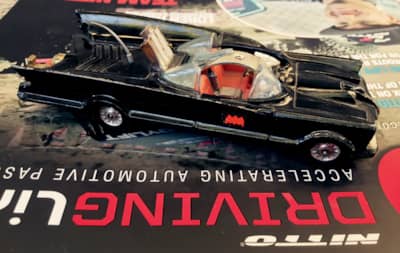 I still have it.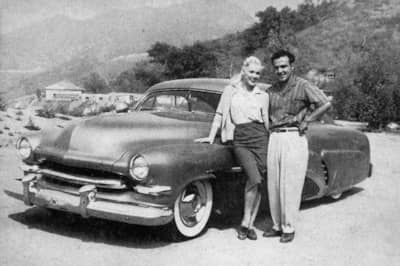 All photos courtesy of Barris Custom Industries unless noted otherwise.
Born in Chicago to Greek immigrants, George Barris and his brother Sam would start restyling cars as teenagers in Chi-Town. They even started a club called the "Kustoms Car Club", probably establishing the first usage of the "K" in custom. Immediately successful, the two Barris boys packed up to make their name out West under the warm California Sun. Opening a small customizing shop south of Los Angeles, the brothers would be key players in the about-to-explode Kustom Kulture scene.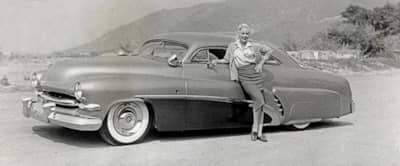 Marketing themselves as traditional coachbuilders able to restyle cars from mild to wild at a reasonable cost, the business took off and the brothers moved to their familiar shop in North Hollywood. Their creations were consistent show winners throughout the fifties and their "Hirohata Merc" became THE standard for all other builders to consider when styling a custom. The Barris shop became the biggest name in custom cars in a town that was crowded with customizing geniuses. Soon his name would extend far beyond the automotive subculture.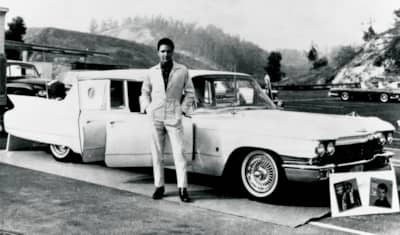 Photo Courtesy of RCA Victor Records
Pimpin' Lincolns, Caddys, and Rivieras for celebrities and studio heads was good business in the swinging sixties and the Barris shop in North Hollywood was the go-to place to have your personal mark styled into your daily transportation.  George and his brother Sam came into frequent contact with show business people that would lead from providing the odd background hot rod, to movie and TV sets, to more specialized special order fabrication. It was the beach blanket youth culture sixties and fun, fun, fun was what it was all about.  Even the King himself, Elvis put in an order for a long white Caddy limo with the full Barris treatment. Meant to be a gold-plated chauffeured show-stopper, Barris packed the limo with a television set, 10-LP record changer, telephone system, luxury yacht-like interior styling and enough switches and buttons to impress an astronaut. It was a rolling Graceland for the King.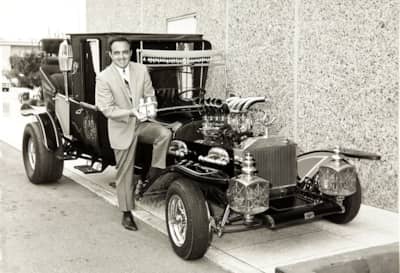 When The Beatles hit and hot rod-crazed teenagers traded in their old roadsters for new guitars. Barris was there to bridge the gap. In '64 his shop built The Munster Koach, a completely kooky 18-foot-long TV rod built from three Model T bodies that brought the Barris name to a nationwide audience. The Munster Koach was far-out even for the hot rod crowd and the studio merchandising machine made sure that every kid had a tee shirt on his back and plastic model kit on his shelf. The hearse-styled Munster Koach was so popular that the network commissioned a special Barris-built coffin dragster, called Drag-U-La for Grampa, the show's vampire tinkerer.
And then came the Batmobile. The Barris 1966 TV Batmobile is the most recognized custom car on the planet. Show someone in a remote Himalayan village, or anywhere else on the planet a photo of the latest Italian supercar and they might have trouble naming it. Slide in a photo of the Barris Batmobile and the recognition is immediate. As is widely known, Barris didn't completely style the car, those duties were performed a decade before in Detroit when the car was designed as a light metal-blue Lincoln concept called The Futura. Barris had acquired the aging showcar and it had been languishing outdoors behind his shop. ABC television originally contracted Dean Jeffries to construct a '59 Cadillac based custom for the show, but insisted on a three-week build schedule. Jeffries bowed out, citing time constraints and so the job went to Barris. Tapping designer Herb Grasse and sheet metal man Bill Cushenbery as associates, Barris transformed the Futura and the ultimate custom was ready for the cameras.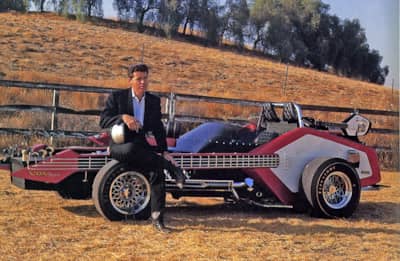 The kooky sixties demanded more. A string of interesting cars would roll out of the Barris shop throughout the decade. The British Vox Musical Instrument Company wanted a promotional car to push their groovy guitars, organs and amplifiers to U.S. buyers. The Voxmobile could not only handle eighteen guitars blazing through mounted tube amps, it could cruise slow in a parade or get the band to their next gig in a hurry with it's high-performance Ford small block.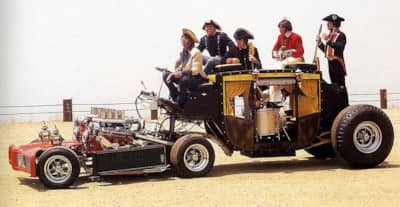 One of the most interesting Barris cars was The Raiders Koach, built for the pop band, Paul Revere and the Raiders. It was set up as a dual-engine six-wheeled coach, equipped with the bands instruments and amps. The two Pontiac GTO motors were engineered to pull the coach with the front "truck" section while the driver steered hydraulically from the rear coach section. Nothing like it had ever been seen and again, the plastic models flew off the shelves.
The roots of today's Kustom Kulture lifestyle dig deep into anyone forming metal or sketching bodylines. Every builder today started out as a kid gluing together plastic model kits. Barris was astute enough to use the cultural shift of the early sixties to catapult himself into the pop cultural center. He loved having his picture taken and made regular public appearances with his cars.  Where some truly exceptional customizers weren't sure or didn't care where their place in automotive history would be, George Barris made sure that his name and his cars would never be forgotten. Even today, the Batmobile travels the car show circuit and no one can just pass it by. It triggers something in everyone and forces them to stop and admire those body lines one more time, those lines that they already know so well.
Barris wasn't the only Kustom Kulture king working to change perceptions of automotive design and potential. If Ed Roth was the Mad Daddy of Kustoms, Dean Jeffries was the quiet genius, and Von Dutch was the alien from outer space, then Barris was the ringmaster. He was the one to call in strangers and titillate them into becoming Kustom Kulture converts. To almost every kid born since 1966, the Batmobile was the first car they fell in love with. It would lead to many other mechanical beauties in this, the Automobile Age. Barris wasn't just a giant of car culture and Kustom Kulture, he was a touchstone and an original of American culture.