Getting Radical on Track at VIR With Formula Experiences
The first thing you learn spinning an open cockpit car at 130 mph is that if you're going to mow the lawn, you'd better have your visor down. This was my overriding thought as the Radical SR1 I was only moments ago piloting up the long pit straight at Virginia International Raceway's South Course finished its final rotation and came to a stop, covered in grass and dirt, about 10 feet from a concrete barrier.
My second concern? I hope I haven't just bought a starter. You see, the Radical makes use of a motorcycle drivetrain, which means if it ever rotates in the wrong direction while in gear it has a nasty tendency to tear the starter right off the engine. "Both feet in" was the mantra I'd internalized from the briefing the night before, but now I couldn't get the sequential gearbox to snap into neutral and I began to doubt whether I'd caught my folly in time before it made a dent in my bank account.
The safety truck rolled up and Ty, the manager of Formula Experiences on-track operations, walked over with a look of concern masked by a wry smile.
"Did you try to start it?" he asked.
I shook my head no. He poped me out of my harness and squeezed himself behind the flat-bottom wheel, kicking in the clutch pedal and pushing the start button. The Radical fired right up, the air pump whirring to life, and he pulled back on the left paddle while hitting the neutral button. The car effortlessly slid out of gear.
"Not enough air pressure in the system to activate the gear selector," he explained. He gestured towards the truck, which then took me back to the pit, the SR1 following along behind us none the worse for wear despite my stunt. I exited the pickup in front of my fellow drivers, holding the mud-spattered helmet that serves as a beacon of the shame that accompanies any agricultural excursion in a car that doesn't belong to you.
Peter Heffring, the man responsible for my presence here at VIR and the principal behind Formula Experiences, walked up to me, his face a mixture of concern and gentle good humor.
"Well," he said, his gaze moving from my helmet, to the car, then back to me again. "That was a learning experience, wasn't it?"
Time To Go Racin'
Formula Experiences, still in its inaugural year, is one of the more unique paths to fantasy racing glory available in the United States. Heffring, a software mogul turned Radical racer, was inspired to make FE a reality after he realized there was a gap between full-fledged racing schools and high performance driving club events.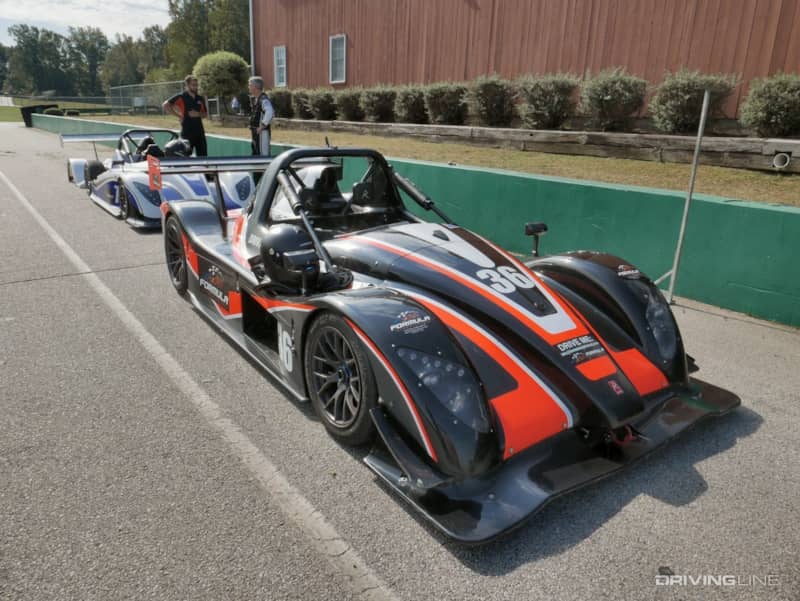 "I looked at what every school out there was doing, and I realized I didn't want to run a school, I wanted to offer an experience," he told me later that afternoon during a break from the action. "I didn't want something that was strictly regimented. I wanted to provide a structure that would have people comfortable in a race car, even if it was the first time they'd ever set foot on a track. Something that gave them a chance to learn, and of course move forward with their driver education, but with the prime focus being on having fun in the moment."
It's this thinking that has lead to an emphasis on small groups (no more than 12 for those booking the individual packages, with corporate team-building packages typically larger and splitting their day between track and go-karting) and substantial amounts of track time. You get to try out a simulator, too, in both static and full-motion setups that provide a taste of the 1.65-mile South Course in a race car before you suit up for the real thing.
Also in the mix is a once-in-a-lifetime opportunity to lap Virginia International Raceway under cover of darkness in a ride-along with a Radical outfitted with off-road projector beams (truly exhilarating), and ride while Heffring and his lead instructor Wyatt Foster trade positions, but not paint, to demonstrate what it's like to race wheel-to-wheel with just inches between vehicles.
Radical Concept
The fleet of Radicals (single-seat SR1 and dual-seat SR3 models) ready to be thrashed at Formula Experiences are phenomenally light and remarkably quick. The wider-track SR3 pulls 2.3 g in cornering and hits 60 mph in 3.1 seconds. It's far more likely that you'll find your own limits as a driver before you bump up against theirs, as my proven by my spin earlier in the day. There's also a pair of Ligier F4 single-seaters on deck to provide a Indy-like open wheel driving alongside the LMP-lite Radicals.
Off-track interlude aside, I found myself surprisingly comfortable behind the wheel of almost all of the Formula Experience cars. My favorite was the Radical SR1, which marries 175hp from a 1.34L Suzuki four-cylinder with less-than-half-a-Miata in curb weight.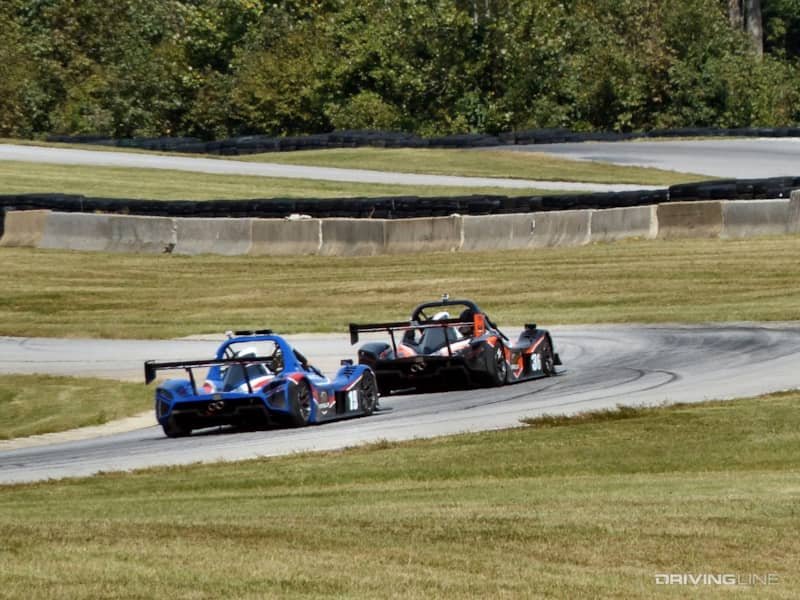 Get past the claustrophobic tightness of its cockpit and you'll find your confidence increasing with each passing lap as you tear around VIR's short course behind the ably-piloted lead car (with either Heffring or another capable instructor at the wheel). For most people, including yours truly, this will be their first contact with a full-aero car, which actually sticks better to the tarmac the faster you go. It's initially a mind-melting concept to embrace for anyone making the transition from street cars, but one which quickly becomes second-nature.
Roll your eyes if you must at the lead-follow format, but trust me, even experienced pilots will have difficulty maintaining the same pace as the professionals with Radical series racing experience. It's a built-in safety valve that keeps drivers on a pace that matches their comfort zone, but having a rabbit to chase (particularly one that knows the line at VIR inside and out) is also a formidable learning tool that had most members of our group improving their performance throughout the day.
"I have four track records here," explains Foster, Heffring's go-to instructing hot shoe. "Well, maybe five. I did a 2:50 around the full course in a semi-truck. I'm just gonna call that a record."
Driver education on the track isn't just about lap times and braking zones, of course. Sometimes, it means discovering things about yourself that shatter previously-held assumptions. While I loved the steroidal go-kart feel of the Radical SR1 and enjoyed the communicative street tire-shod SR3's extra power, when it came time to sample the Ligier F4 I found myself surprised by just how uncomfortable I felt with my feet laid out almost straight ahead of me and just my head sticking up from the top of the car's carapace. All of my excitement about my first-ever open wheel session evaporated after just a few laps, and I came in early, unable to trust in the F4 in quite the same way as either of the Radicals. Again, as Peter would say, a "learning experience."
More Than Just a Day at the Track
In addition to providing a bucket-list checkmark for drivers who've always dreamed of racing glory and the associated adrenaline, Formula Experiences now offers Sportscar Vintage Racing Association (SVRA) licensing. It's even the first SVRA-endorsed school in the country. This is on top of the driving packages like the one I tried out, which range from $1,495 to $2,695 depending on how much track time you're looking for, and whether you also want to drive one of your own vehicles at VIR at the end of the day.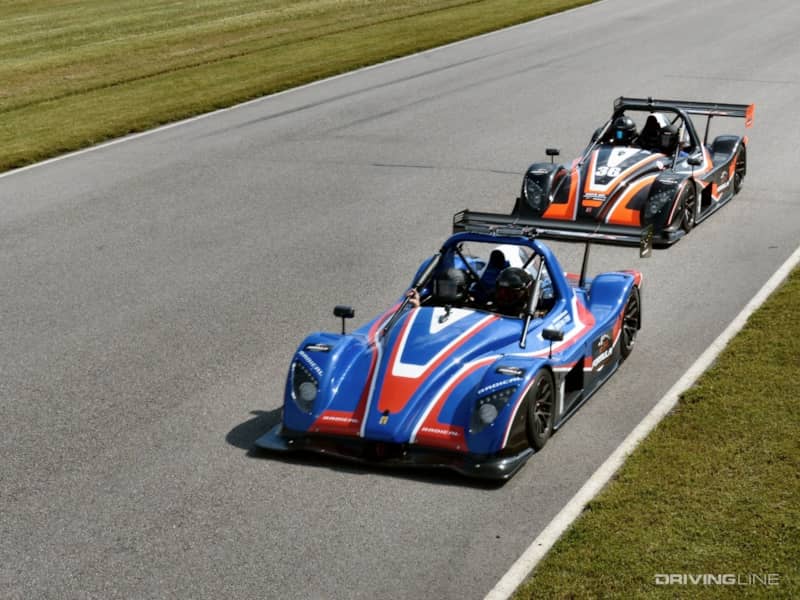 The program is also giving British-based Radical a boost in America, says FE's chief engineer (on loan from Radical HQ) Rhys Terry, where the racecar company has a much lower profile compared to European and Asian markets. Should you become enamored with the SR1 ($70,000) or the SR3 (north of $100k), Radical will be happy to either sell you one or have Heffring hook you up with an arrive-and-drive arrangement at any of VIR's on-track events.
Whether a day at Formula Experiences convinces you to take the next step in your racing career, pushes you to reserve your own Radical at your next HPDE or simply serves as an unforgettable 24 hours, it's clear that Heffring's vision is a welcome one on the current motorsports landscape. This well-balanced mix of beginner-friendly fun and on-track adventure is something you'll have a hard time duplicating anywhere else.
Want to have the track experience on a budget? Try autocross!