I Went to My First King of the Hammers...And Loved Every Second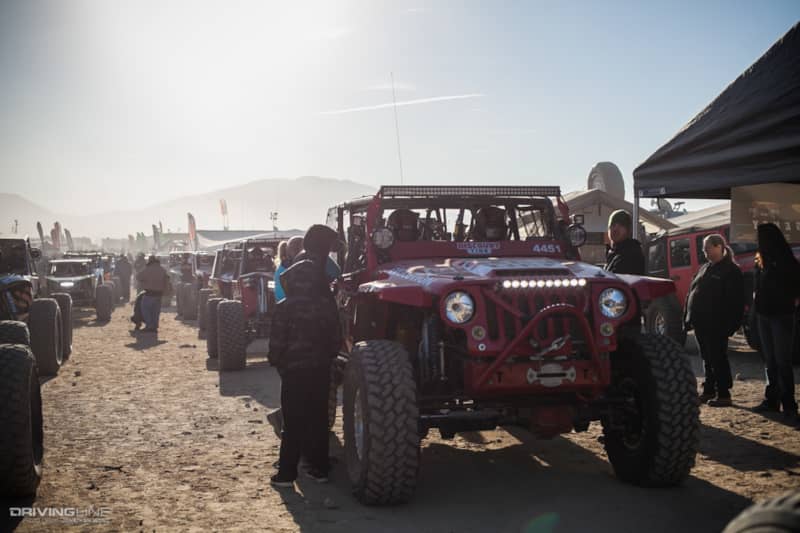 I'd only heard stories about how crazy King of the Hammers was through a handful of people. When I told them it was actually going to be my first time, they either laughed or patted me on the back, as if I should be preparing for my last meal or the time of my life. As an import enthusiast, I knew I'd be totally out of my element, but this wouldn't be my first time off-roading (I'd done a couple easy runs with local LandRover clubs a few years back). "The Burning Man of off-road!" they said was the best way to describe and prepare for it. Having never gone to that either, I knew at the very least I'd be ingesting a face full of dirt. And little did I know, everything that they told me about KOH turned out to be true, and so much more...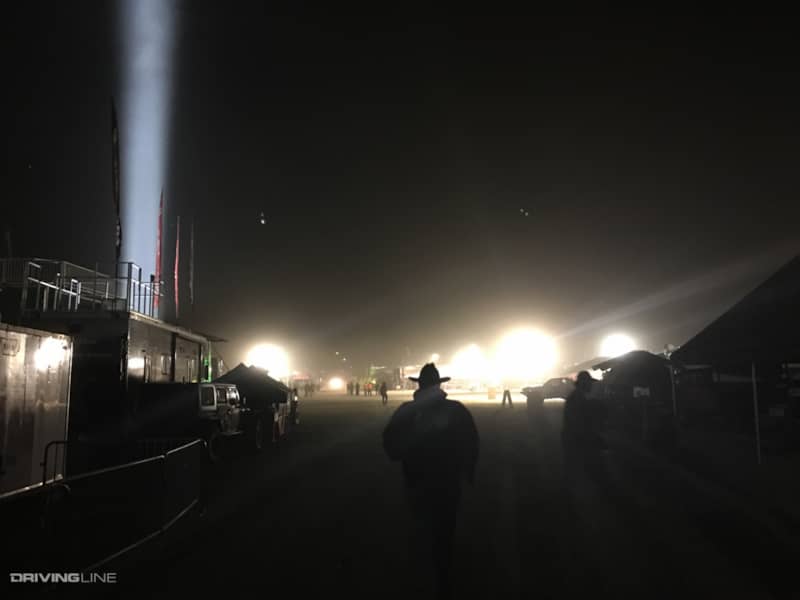 Unlike Coachella or driving to Vegas, getting to Hammertown didn't take as long as I expected, even though everyone says it's far away. The part that dragged on was the local driving after exiting the highway, and once you dip off onto the dirt, it's a small trek getting into the belly of the beast.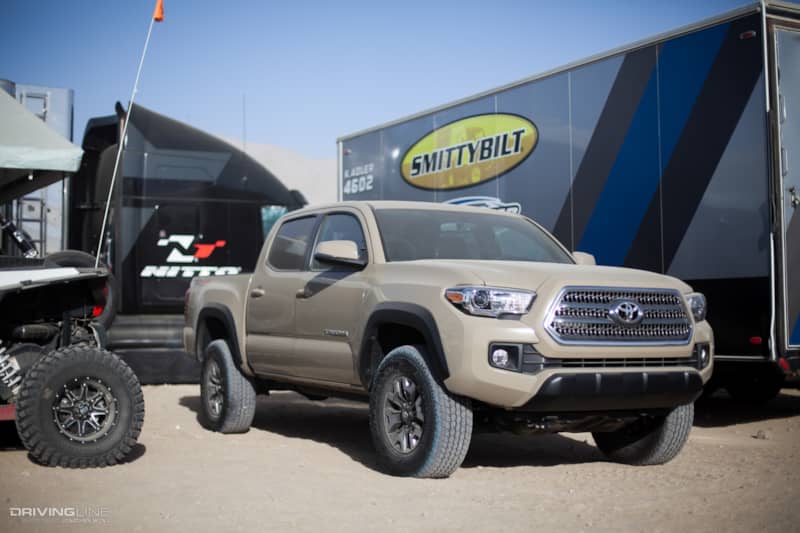 Good thing I secured this Taco, having read about its off-road capabilities in a recent story by Ali (shameless plug). Same exact vehicle, too! Though KOH is largely Jeep infested, there were a handful of imports in the camp and being the new model it drew people in for a closer look consistently. Solid ride if you ask me.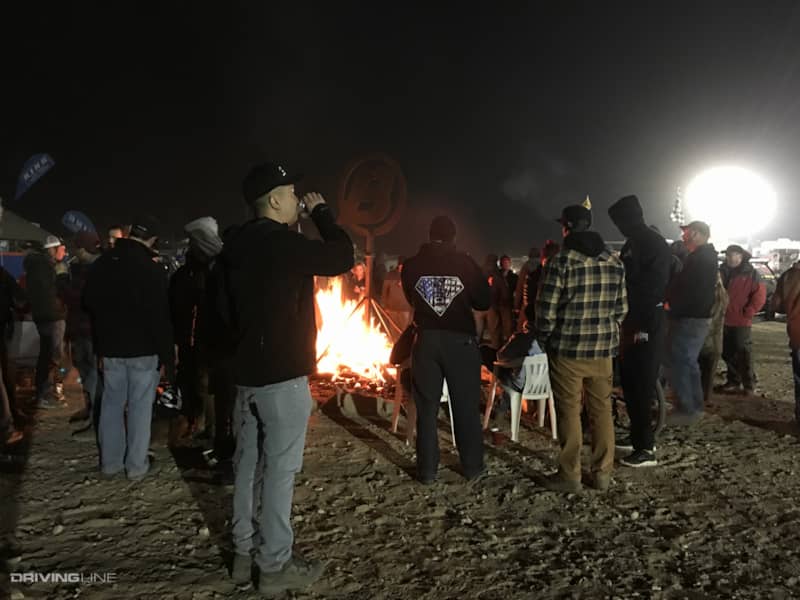 Situated at a higher elevation than LA, Hammertown is cold freezing at night. It's nearly pitch black with the exception of the only light sources being a giant bonfire by the Jumbotron and a skylight aimed high into the dark. Except for random head/tailights here and there, off in the distance, it's best to stay within your camping area and pound a few beers while shooting the shit with the homies. Wandering around is fun, too. But best get your bearings straight.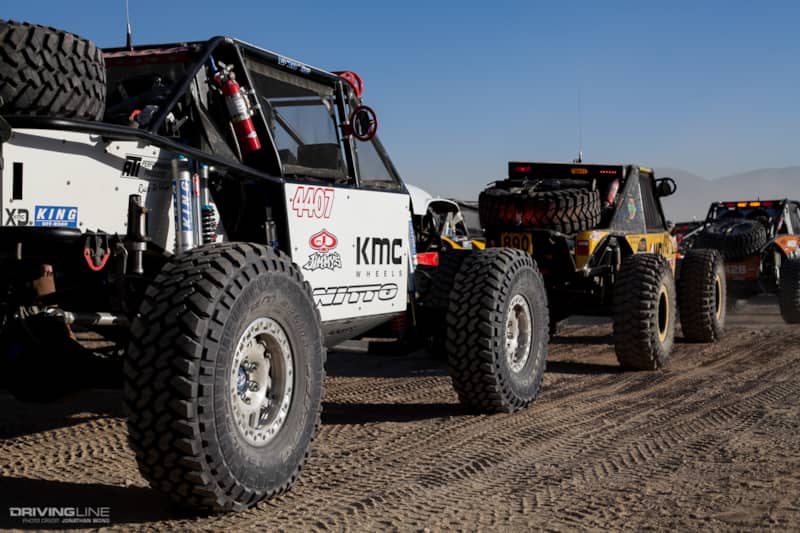 Don't bother sleeping in. The sound of rigs prepping for the big race will have you up early. If you thought it was freezing at night, in the morning it's even worse, doesn't matter if you're standing in the sun. My hands didn't thaw out until late morning.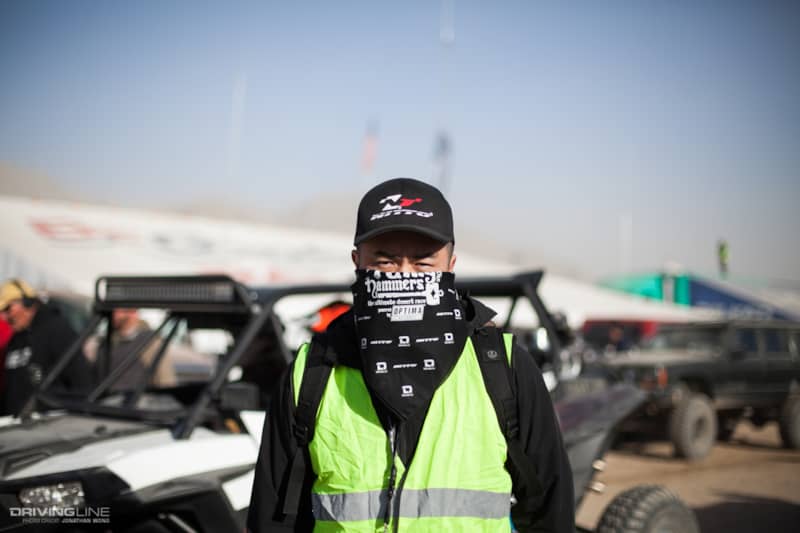 Invest in a dust mask of some sort. Did you get one of these Driving Line/Nitto Tire KOH bandanas? Easily the perfect accessory and souvenir to take home from KOH.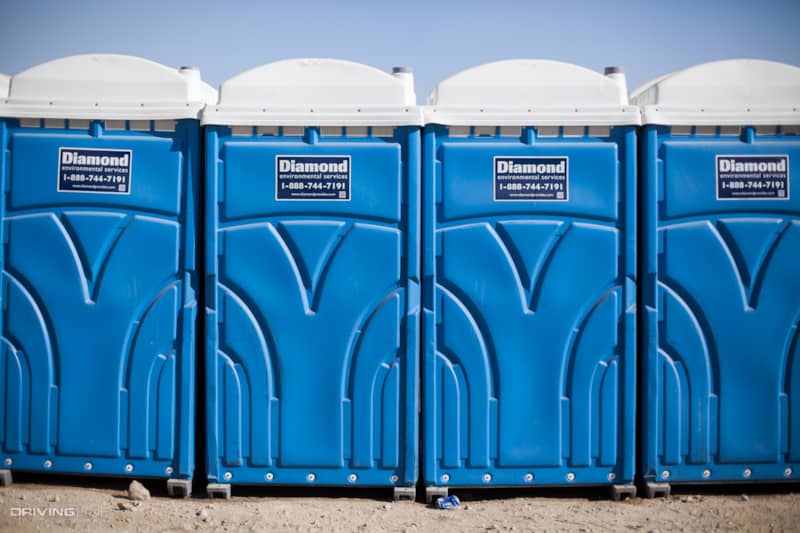 Picking the right Portapotty is a game of chance. Good thing it's wintertime versus the dead of summer or I'd be miserable. Hand sanitizer and baby wipes were my best friends. Want another tip? Don't eat the breakfast burrito unless you want mad bubble guts and/or want to use the Portapotties in a bad way.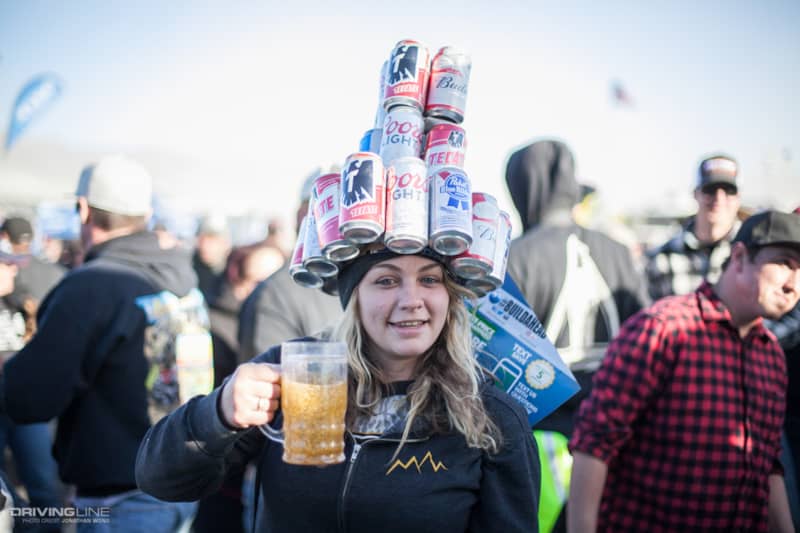 The official beverage (unofficially) of KOH is Bud Light, followed very closely by shots of Fireball. These cans were in every hand I saw, protected by a koozie, often times double fisted. This girl made a hat out of beer cans. A hat! And she also carried a mug full of brew. Amazing. I'd pass booths and people would look up and say, "Beer time?" Did I already say Hammertown was an amazing place? (No, I didn't drink them.)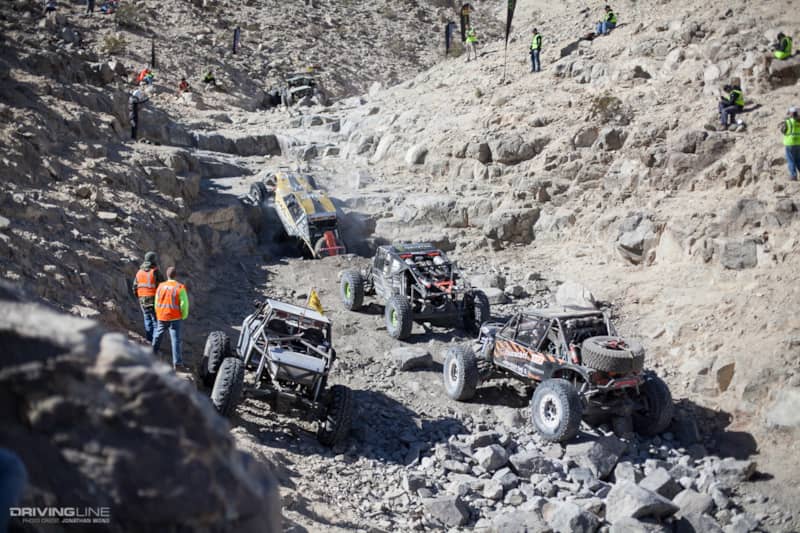 Cruising vendor and motorhome row(s) gets old fast. You're obviously at KOH to see some action but the two closest areas to see decent action is Back Door and Chocolate Thunder; even then you need to time it right so you can see a solid pack roll through. Just my luck, I got to Back Door in time to see a few big names come through, like Erik Miller, Raul Gomez and the Campbell clan, to name a few. A few broke, one flipped, Bailey crushed it...intense!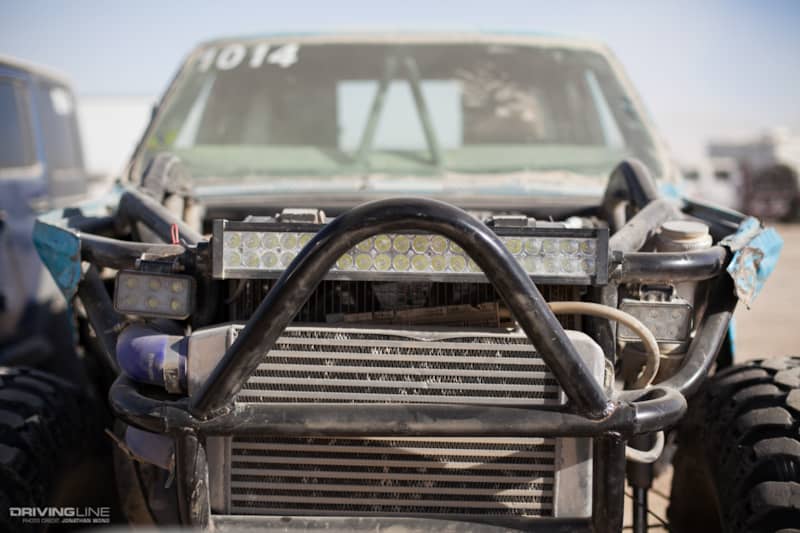 Being an import guy, I literally have zero knowledge when it comes to looking for cool shit at KOH. Jeeps are Jeeps, and trucks are trucks to me. Spotted a few cool Toyotas though.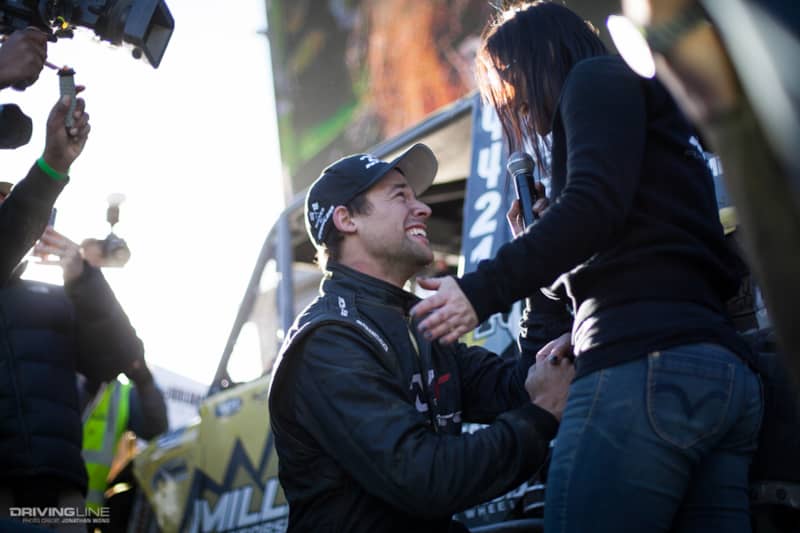 Winning is always cool, and I admire these drivers for giving it 100%, every single second. Erik Miller deserved that victory, all made sweeter when his fiancée said "yes!"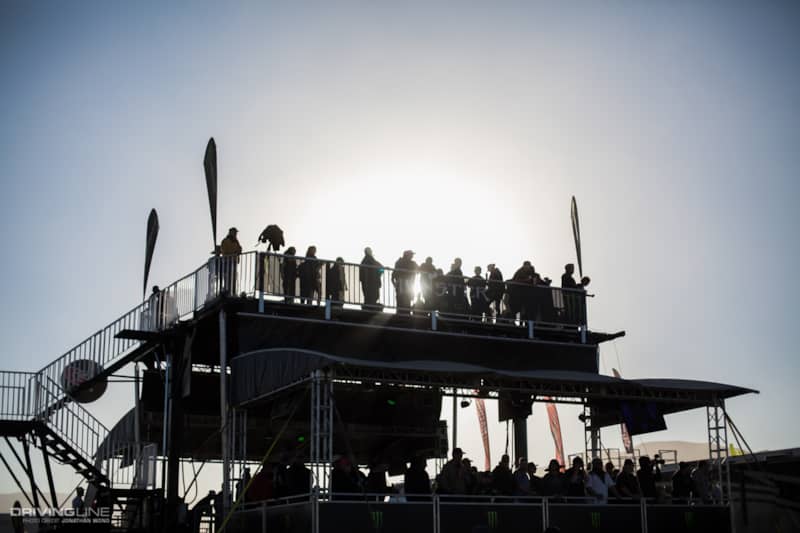 With a face (and wardrobe) covered in dirt, getting home for a warm shower was the best thing next to making it through my first KOH experience. Now I know how to prepare for the next time around!
Bonus Images