It's a Mega Race: Fast N' Loud Faces Off Against Street Outlaws
What do you get when television's most notorious builders compete against television's most experienced street racers? A pretty big race — you might even call it a Mega Race. This is exactly what the Discovery Network has cooked up to satisfy our tire-screeching fantasies this Monday at 9 p.m. It's called the "Mega Race," and it's a head-to-head showdown between the Gas Monkey Garage and Midwest Street Cars.
On the bill: Fast N' Loud's Richard Rawlings will race against Street Outlaws' Big Chief and Murder Nova on the drag strip. Then Aaron Kaufman (Fast N' Loud) is matched against Farm Truck & AZN (Street Outlaws) for a skills challenge. Held on neutral territory, the race takes place at the California Speedway in Fontana, California.
Here are all the details on the first-ever Mega Race:
DRAG RACE
Richard Rawlings vs. Big Chief & Murder Nova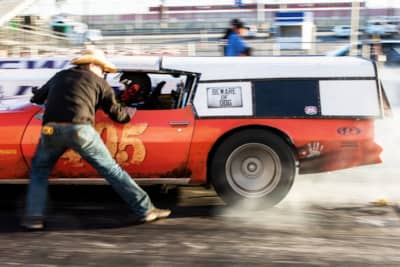 Given less than three weeks to complete their builds, the teams were also on very strict, limited budgets, so a lot of the work was quick and dirty. According to rumor, Chief and Richard butted heads about the build rules and the driver picks. Things reportedly got so bad that they almost called it off. On the other hand, the rivalry between Aaron and Farm Truck & AZN was more civil, except that Aaron struggled to get his car to California in time for the big race.
#TeamRichard: 2015 Dodge Challenger
Engine: Aluminum Bullet Dodge HEMI Specialty
Transmission: 2-speed
Boost: ScrewBlower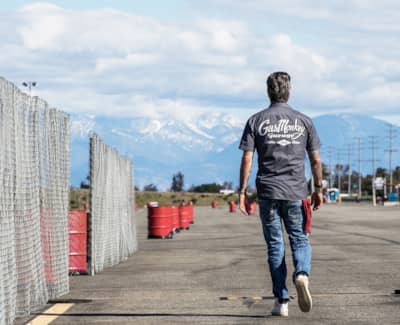 Fast N' Loud fans won't be surprised that Richard responded to the MegaRace invite with "you know me, I'm not gonna back down from a challenge." His Gas Monkey team started with a 2015 Dodge Challenger with an Aluminum Bullet Dodge HEMI Specialty. Adding a ScrewBlower boost, Richard did his best to make this American muscle into a brutal dragster. More details of the build will be revealed on Monday night when the MegaRace episode airs.
#TeamBigChief: 1970 Pontiac GTO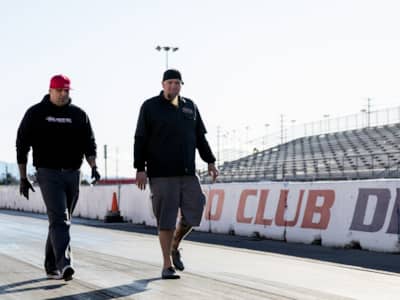 As for Big Chief, his team created an automotive homage to one of his favorite rides, the original "Crow." Fans will remember Chief narrowly escaping the dramatic crash that occurred during a taping for the show in 2015. The team pulled doors and emblems off "The Crow" and added them to this 1970 Pontiac GTO, even the grille work will look familiar. According to Murder Nova, this is an important race:
"It's about a lot of bragging rights. It's about a shop that builds cars versus a bunch of guys that race cars." The Midwest team comes to the race with no shortage of confidence.
"We saw their car and it's really cool too, but they're still gonna lose," Murder Nova explains.
SKILLS CHALLENGE
Aaron Kaufman vs. Farmtruck & AZN
Rounding out the racing activities, Aaron, Farmtruck and AZN will have to do more than just make their cars go straight. While the match up between these guys is a serious competition, this is certainly a more friendly competition.
"I've got nothing but a lot of respect for those guys," Aaron says. But that doesn't mean he doesn't want to win.
#TeamAK: 1995 BMW M3 E36
Engine: GM LS1
Tranni : Tremec T56 Magnum
Boost: SLP Blower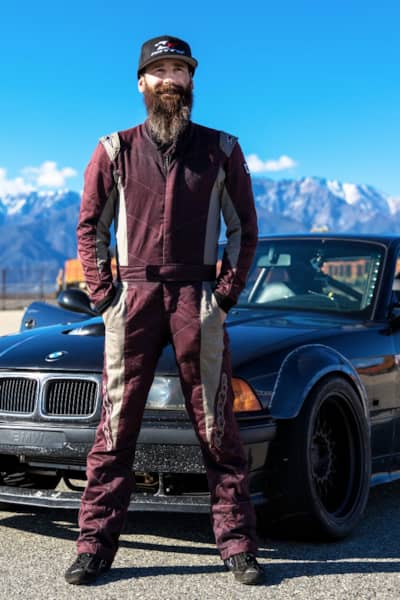 Starting with a 1995 BMW E36 M3, Aaron popped in a 20-year-old LS1 engine, which, as he recognizes, will make some BMW fans weep — but he didn't stop there. He also boosted this M-car with an SLP Blower, just in case. Aaron's BMW runs on Nitto NT01 road course tires for killer performance. Overall, Kaufman gutted 835 pounds out of the vehicle's interior, along with some crazy body work — like taking an E46 front fender and turning it around backwards and riveting it back on. The result? A car that's "kind of ugly, but really fast." Overall, Aaron calls her "just a pissed off little car."
#TeamFnA: "Farm Bird" 1976 Pontiac Firebird Trans Am
Engine: 455 Pontiac V8
Trans: BorgWarner
Boost: 2-stage Nitrous Express System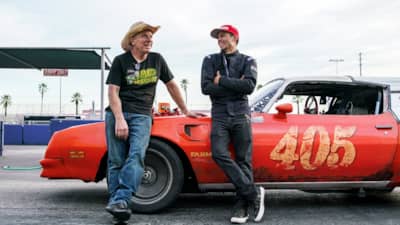 There's no doubt that building a race car took the Street Outlaws team out of their element.
"I don't even know if we are car guys," AZN says. "We're just obsessed with the thrill of driving the car." But for this project, these Oklahoma boys stuck to what they know and love the best, according to Farmtruck. So they started with an American classic, the 1976 Pontiac Firebird Trans Am. After pairing the 455 Pontiac V8 with some 2-stage Nitrous, they made this pony car into a beast. In typical Farmtruck style, the "Farm Bird" comes complete with a "Beware of Dog" sign and a cow bell in the rear. Nothing is precious to these guys except the race.
"We'd cut up a Duesenberg if you let us," Farmtruck says. Wondering who wins? AZN made his predictions pretty clear:
"They're gonna have to kill us to beat us."
Mega Race airs Monday 3/27 at 9pm on Discovery.