680 Jeeps Take on 117 Miles of Trails After Record-Breaking Bridge Crossing
Why did 680 Jeeps cross the Mackinaw Bridge? To get to the other side, where 117 miles of glorious trails and some of the most challenging off-roading terrain in Michigan awaited them on Drummond Island for the 2nd Annual Jeep the Mac. The gathering entailed a weekend of festivities for loyal Jeepers that hopefully wouldn't Just Empty Every Pocket. In fact, the fee for participating was nominal at $35, which included passes to drive over the bridge, along with a round-trip ferry pass for those who chose to continue their weekend on Drummond Island. For the more daring folks, there was also a pass for free entrance to the Turtle Ridge Off-Road Park.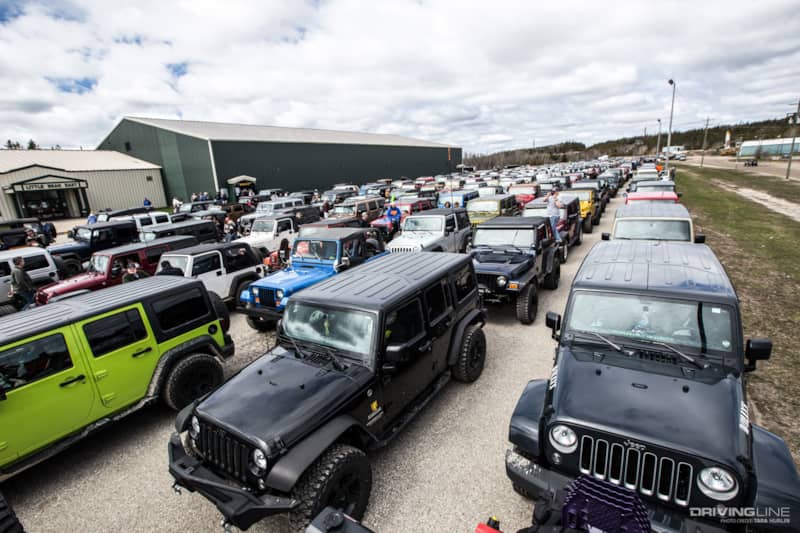 Jeeps spanning all production years and models arrived in rows, and then proud owners hopped out of their 4x4s to gather for a meet-and-greet and the mandatory driver's meeting. While a deep voice echoed over the loudspeaker, the herd of patiently waiting rigs posed a distraction for my wandering eyes. I was awestruck.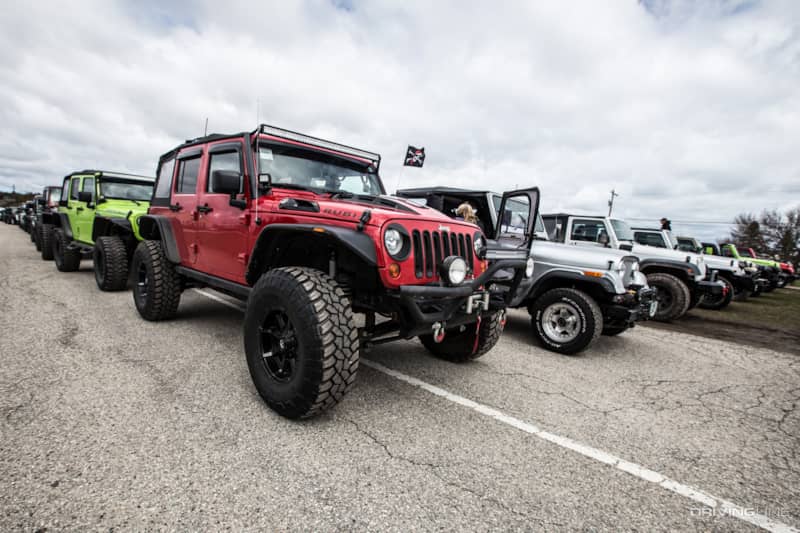 This angry Jeep JK parked on the outskirts of the lineup was fully equipped with plenty of body armor and ready to tear through terrain with 35-inch Nitto Mud Grapplers.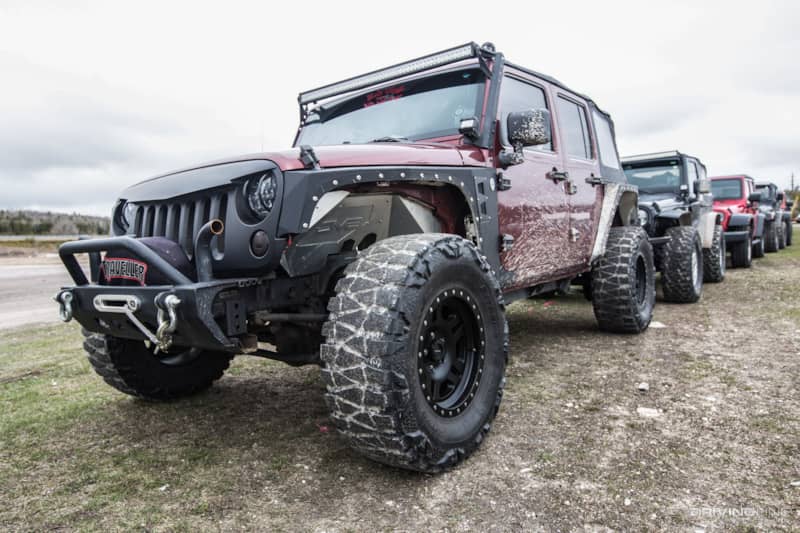 I may not have Just Emptied Every Pocket to join in the Jeep celebrations; however, when there are hundreds of rigs modified to individual owners' personal tastes, needs and specifications, it's easy to walk away with new ideas for your own build. Some rigs had more personal touches than others. One that stood out above the rest for its uniqueness factor was Jessica Thurman's 2006 Jeep TJ, decorated with a solid metal breast cancer awareness ribbon for a push bar and fabricated by Trudeau's Metal Work of Grayling, Michigan. #SaveTheTatas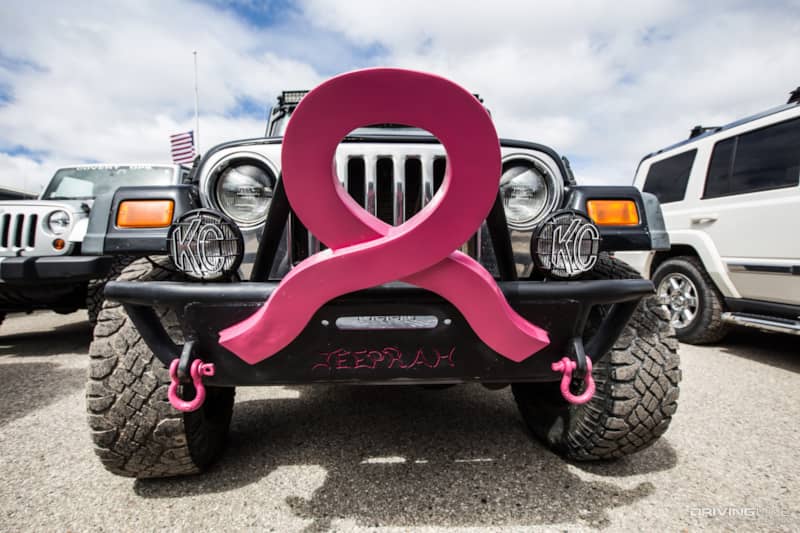 This time-honored early-1950s Willys Army vehicle made a presence for the bridge crossing and worked as a reminder of Jeep's significance in American history.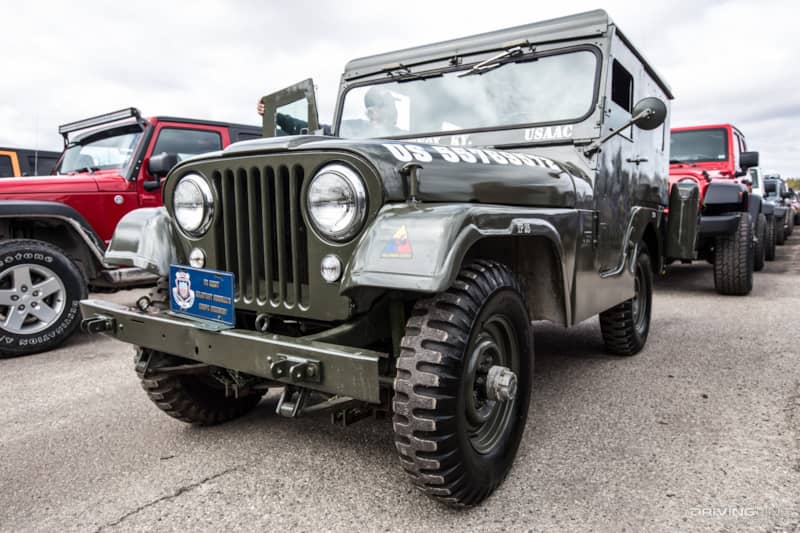 The crowd's light and cheery vibe was met with a side of excitement and anticipation before crossing the mighty 26,372-foot-long Mackinaw Bridge, the longest suspension bridge in the Western Hemisphere, with two towers between anchorages and the only road connecting Michigan's upper and lower hemispheres.
The massive group of Jeepers crossed the bridge in a single file line, looped back around and then crossed again, exchanging meaningful waves with fellow enthusiasts who were making their first drive over in the opposite lane.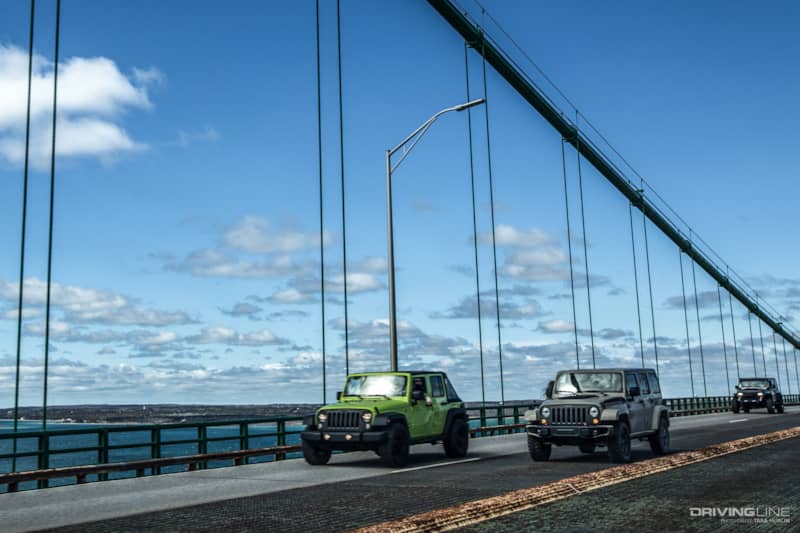 After the crossing, some Jeepers stayed behind to socialize while others, such as myself, opted to get a head start on the trails. The ferry to Drummond Island was a quick 45-minute drive. It is a dorkishly heart-stirring experience to be in your Jeep, on a boat heading with hundreds of fellow Jeepers towards over a hundred miles of amazing island off-roading.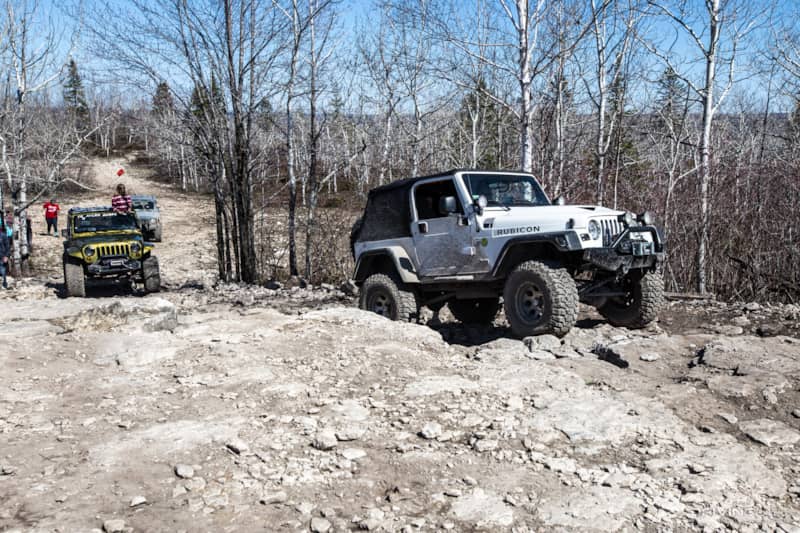 Melting glaciers, which left behind massive rock deposits, formed Drummond Island. This is apparent when exploring the trails. The expansive rocky areas were an urgent reminder to upgrade the rear sway bar and rather weak aftermarket springs on my heavyweight expedition-prepped Jeep WJ. A gas tank tuck and some skid plates wouldn't be a bad idea, either. Several trails were flooded from spring rains, but none too deep for the Jeep. Caution was used against any rocks hiding under water. After all, this is a slow and curious type of event — fast and furious, not so much.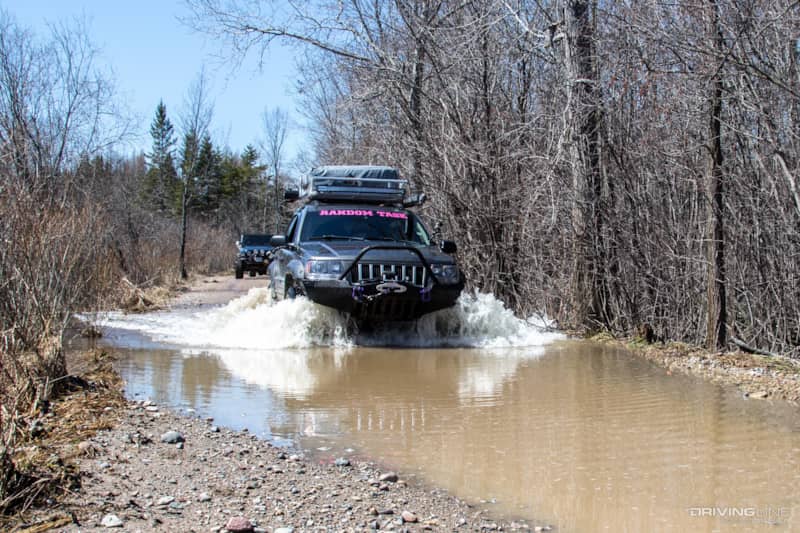 Trails were splattered with Jeeps exploring the woodlands, and the iconic Jeep wave was exchanged with a smile at every passing. Complete strangers became family that weekend.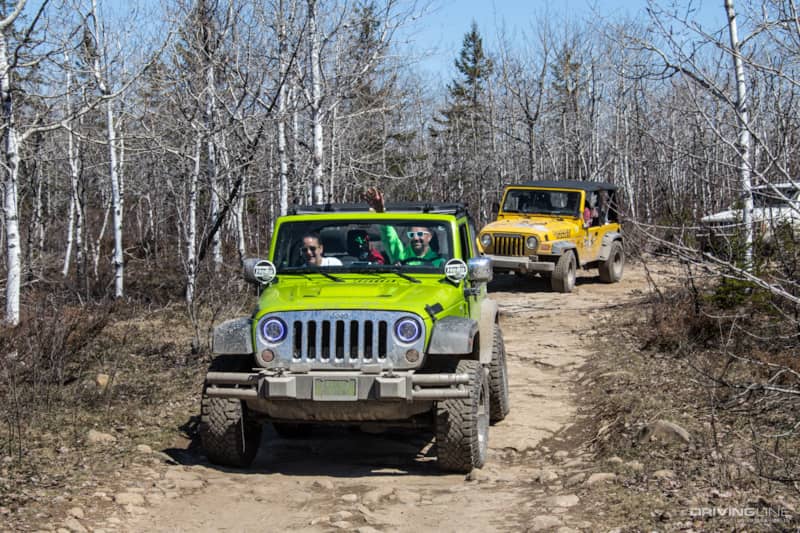 A group of Jeeps emerged from the woods as I headed to Marblehead, the easternmost point of the island, to see some rock climbing action. The scattered array of colors resembled a spilled bag of skittles, until each splashed through the mud and earned their off-roading camouflage.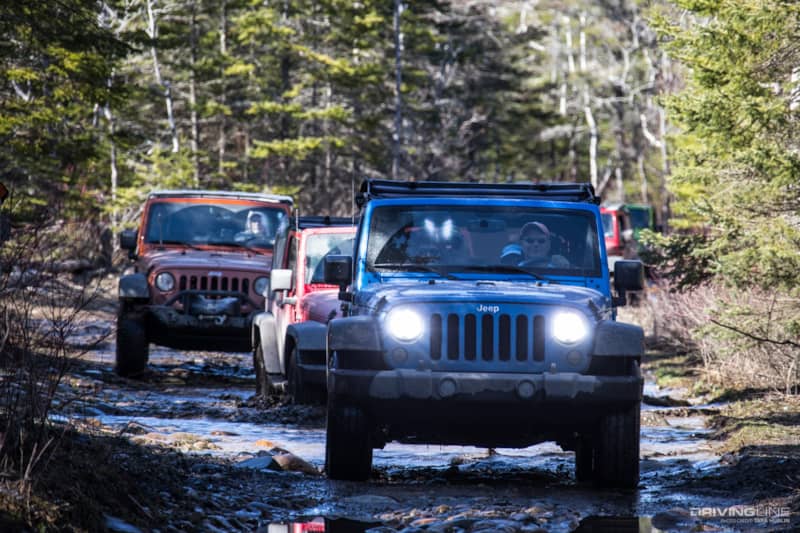 Helpful guidance and spotting were necessary for some of the larger ledges. The opened steps on Marblehead can be treacherous, and no proud Jeep owner wants to wreck their rig, especially when the trail is a slow and twisty 30-mile maze of rock, water and mud just to get back to base camp.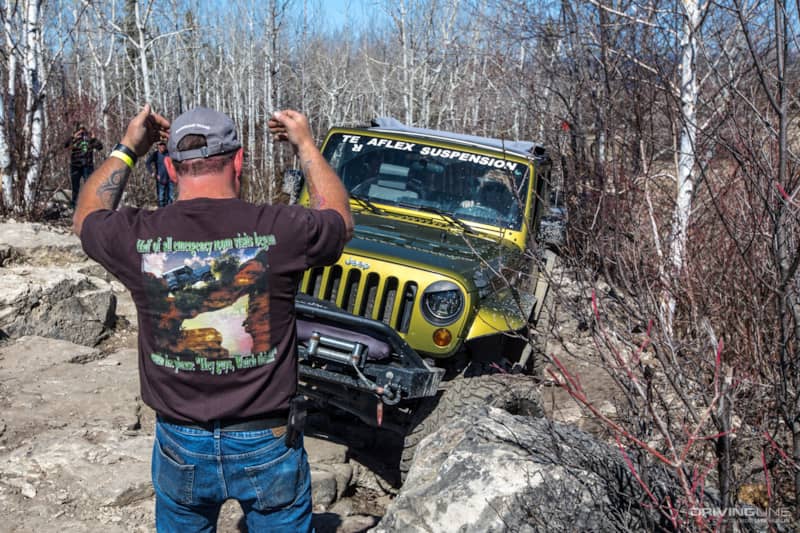 Who said going downhill was easier? Whether heading up or down the rock mounds, navigating the best line according to driver skill and rig setup is a challenge.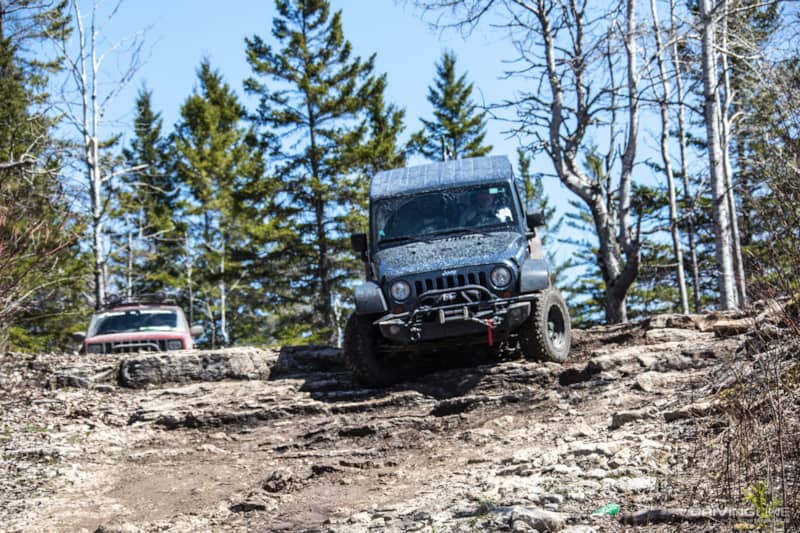 It was a weekend for fellow Jeeples to bond with each other, their rigs and nature. It's an event to reminisce about for years to come, and the numbers have already grown since its first year in 2016. These Michiganders are on to something, and it didn't take long for surrounding states, including Canada, to catch wind of the annual festivities.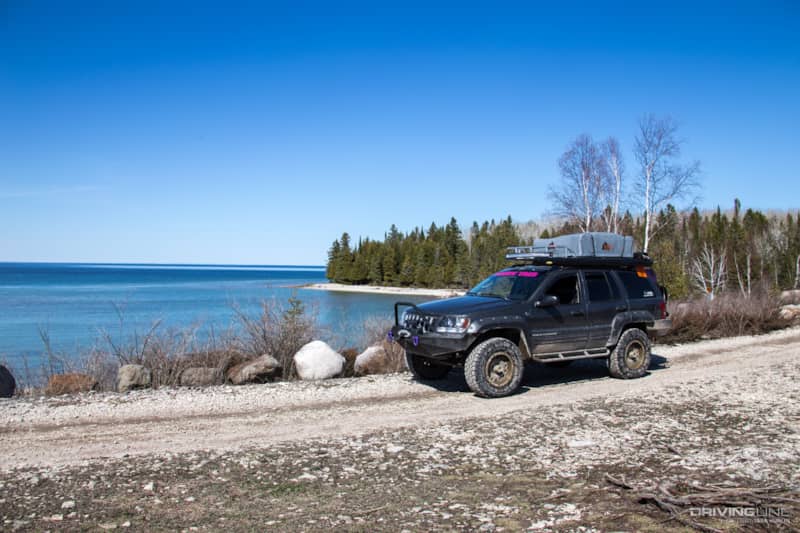 Gorgeous views, endless trails and Jeep love: It's a Jeep the Mac thing. Unless you've been there, you wouldn't understand.
But maybe you will once you creep on through the photo gallery below.