KOH Prep W/Erik Miller: 10 Pre-Race Rituals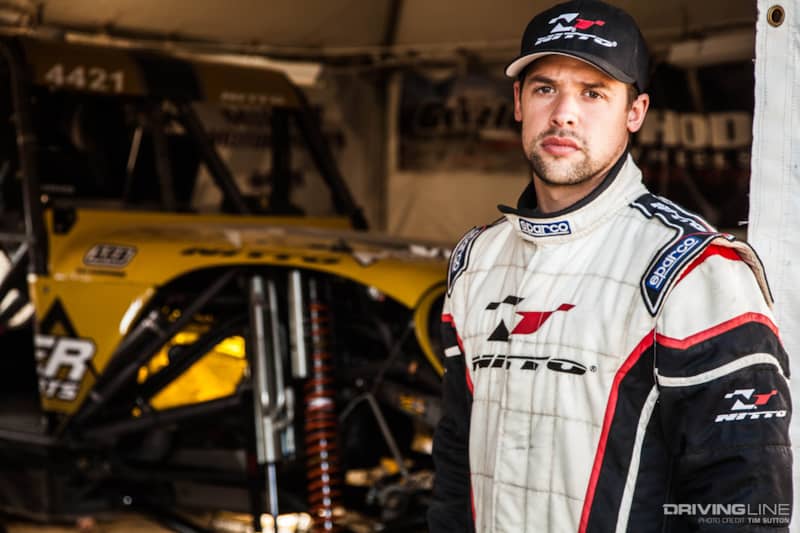 Rounding out our series of King of the Hammer driver's top 10 pre-race preparations and rituals, we spoke to Erik Miller of Miller Motorsports to find out what he does to prepare for KOH. Erik won KOH in 2012 and finished out the 2015 season with a podium spot in the 4Wheel Parts Nitto National Championship. Miller Motorsports is based out of Cumberland, Maryland, and prides itself on pushing the limits of a solid-axle car.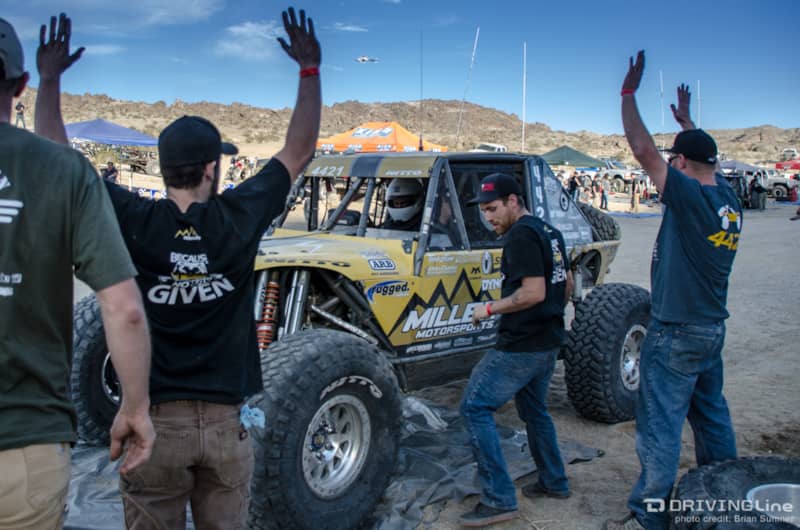 1) "Every year I coordinate a team that I can count on with the same people back on board year after year. There is a solid 12 people that attend KOH every year with me."
2) "We prepare to take care of those people out in the desert for a week or a week and a half by bringing food. We bring most of what we will need, so we aren't out there running to town every day for supplies."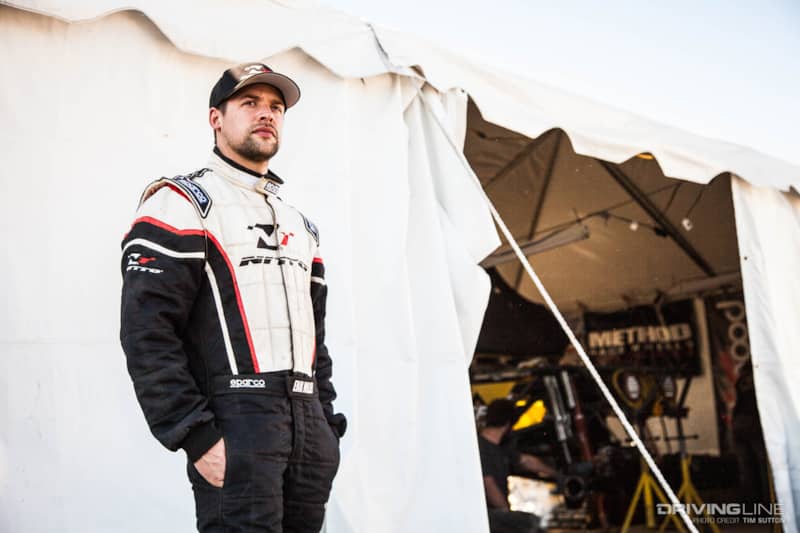 3) "Personally, you have to worry about yourself as well. I get in the best shape, both mentally and physically, as I can. You have to be in good shape to do this race."
4) "Travel plans are important, especially coming from the East Coast. Our plans are multi-layered. We prep two trucks and trailers to make the trip and figure out the logistics of getting them from Maryland to California. We also coordinate rental cars and flights for our crew if needed. What we didn't plan on was getting 36 inches of snow as we were ready to leave."
5) "Every year we continue to build on top of relationships with our existing partners. We align ourselves with companies that have the best products and service and I am proud that we haven't jumped around much since I started racing in Ultra4." Erik goes on to explain about his sponsorship relations. "We are constantly developing parts to be at the forefront of the sport, constantly innovating and relaying feedback to our partners."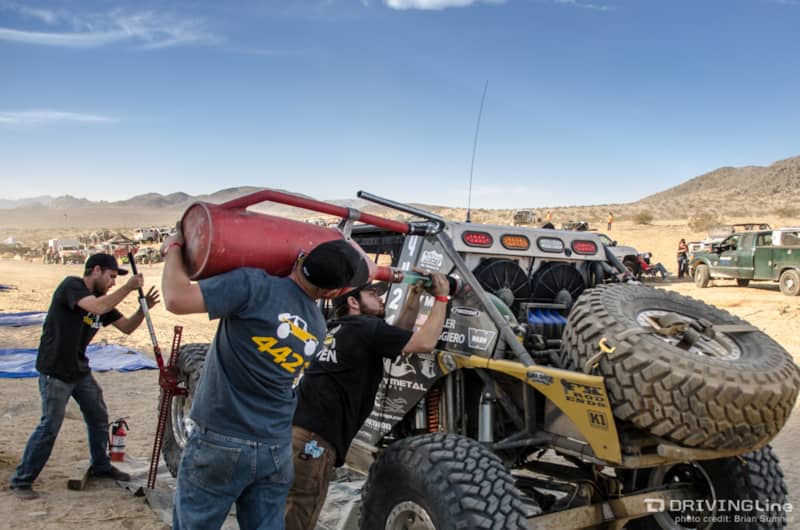 6) "Pits are important and we plan out our pits for two race days." Erik will be racing in both the UTV and main race during KOH week. "There is a lot to it – tools and logistics. We basically work a pit all week long out there in our tent and we have to figure out how to move a full shop from Maryland to Hammertown."
7) "Pre-running. We strive to make sure we are well-versed in the course and we usually run a couple hundred miles. We make notes similar to the rally racing style and run all the possible lines in the rocks. We will shock tune the racecar once and use it to pre-run in since the pre-runner is currently torn down." Erik was one of the few to pioneer the dedicated pre-runner since the 2011 Stampede race to save wear on the racecar. Erik noted "We don't need to make any more changes to our car and it will be a mild pre-run, more of a break-in. I still fully believe in a dedicated pre-runner."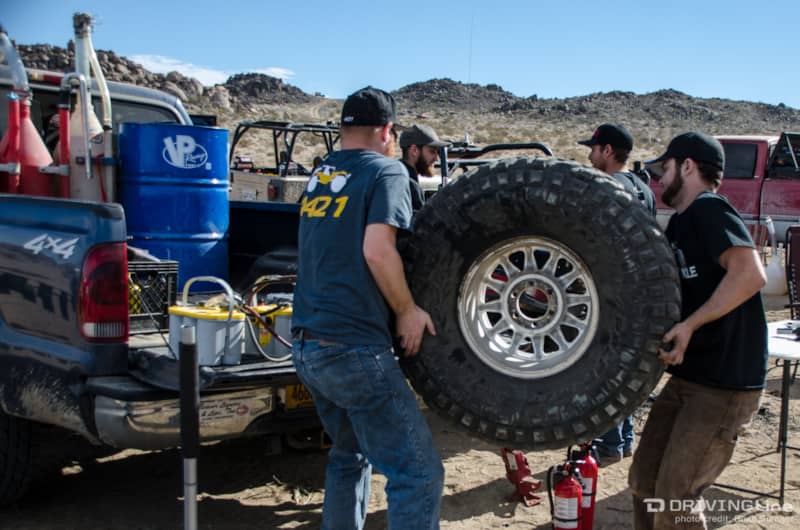 8) "Vehicles are another big area because of everything that goes into multiple racecars, pit trucks, and an extra UTV. We even rent an extra truck to use for pitting while we are out there. Vehicle logistics is big, getting all the fuel we will need out in the desert. We bring about 300 gallons of fuel and we will also have race fuel delivered to us out there."
9) "We have to make sure our lives outside of racing are taken care of in order to be gone for two weeks. We all have pets and animals that somebody has to take care of. I am able to take my dog, but the chickens and cows and other team member's pets all have to be looked after while we are away. My grandparents and my Dad are able to look after mine, which is a big responsibility in itself."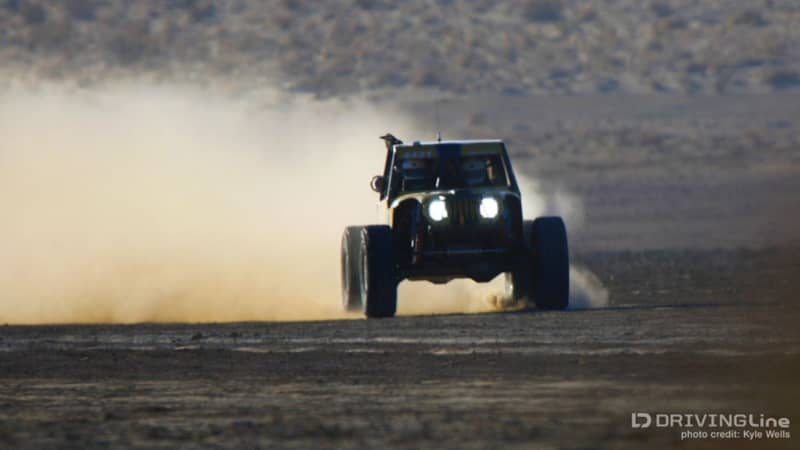 10) "Social media is a huge part of what we do. We get the word out to keep our fans informed and make sure everyone knows what we are doing and to market our race team and perform for our sponsors. It is such a great tool these days."
Don't forget to check back soon, as we start our live coverage of the KOH week on Monday!