Lean, Mean, and Ready to Scream: A Refined '69 Chevy Camaro Restomod Built to Carve Corners.
Hot rod, muscle car, and custom-loving fiends alike in the Phoenix, Arizona vicinity know Dean Livermore's name all too well as he owns Hot Rods by Dean, which has proven to be the go-to shop in the region. With 60 years of combined experience between Dean and his team of talented fabricators and builders, there's no doubt that these guys can handle any job on any car.
Shop Specialty
Fortunately for Bryan Oates, also a Phoenix native, he didn't have to take his project car far to have it checked into HRBD for a full overhaul and more. And luckily for the guys at the shop, Bryan's car just happened to be one of their collective favorite platforms to get down on—a 1969 Camaro. In the world of classic American muscle cars, it doesn't get much sweeter than this.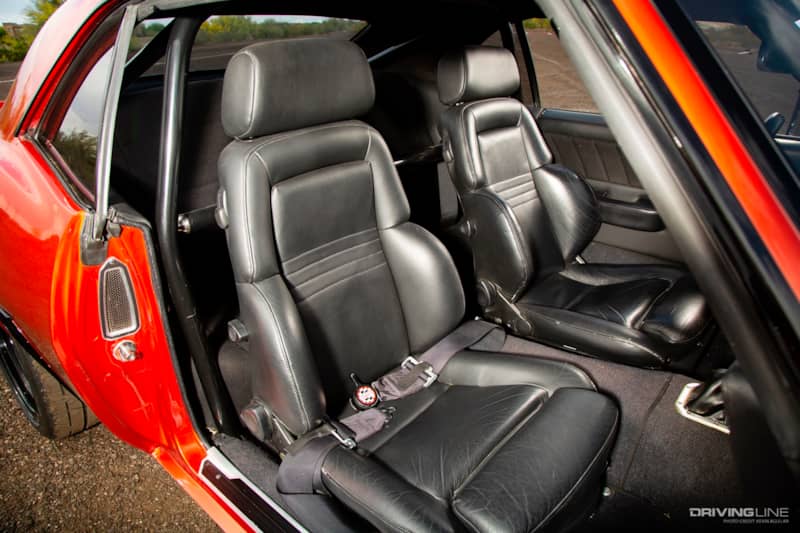 Laying it Down
Starting with the suspension system, Bryan wanted much more excitement from his '69, and Dean knew exactly where to start. Having worked with Detroit Speed & Engineering chassis components in the past, Dean utilizes DSE spindles, coil-overs, sway bars, and rear 4-links whenever possible.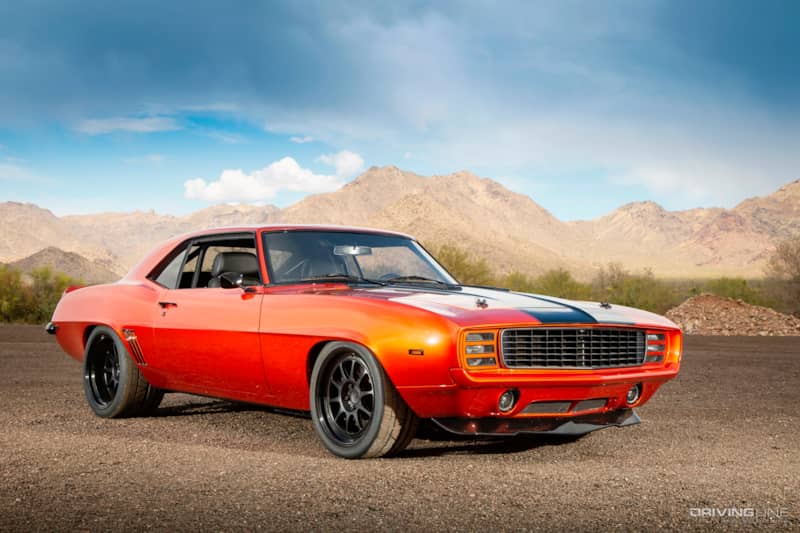 The ride quality and handling these products deliver when brought together greatly increases overall performance and the exact level of excitement Bryan was looking for. As an added bonus, DSE's coil-over units allow for easy ride height and spring rate adjustments, so dialing in a more aggressive stance and feel will always be well within reach.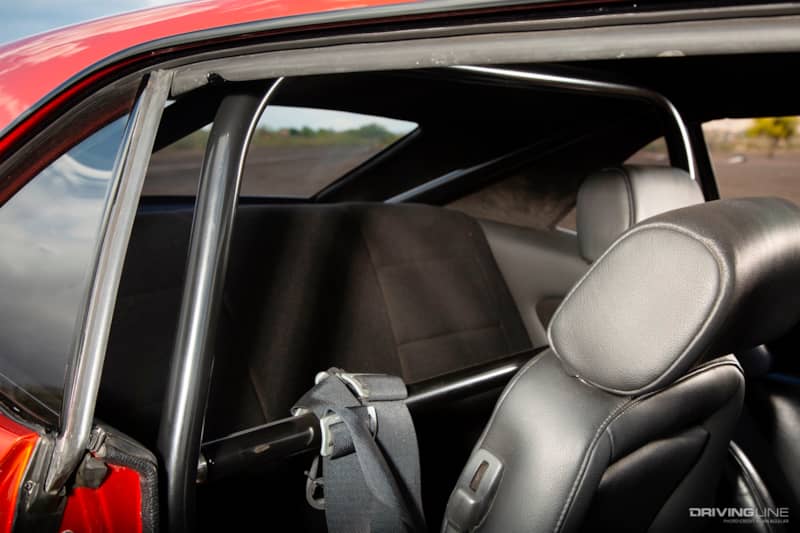 The Wheelhouse
To finish off the chassis setup, a set of staggered 18x9 and 19x12-inch Formula 43 Rad 10 wheels were selected. Covering the performance-minded wheels is fresh set of 275/35ZR18 and 325/30ZR19 Nitto INVO tires that have large outer tread blocks to increase contact with the pavement. Ultimately, the INVO tires match the Camaro's newfound nimbleness and raw power output that was in the works.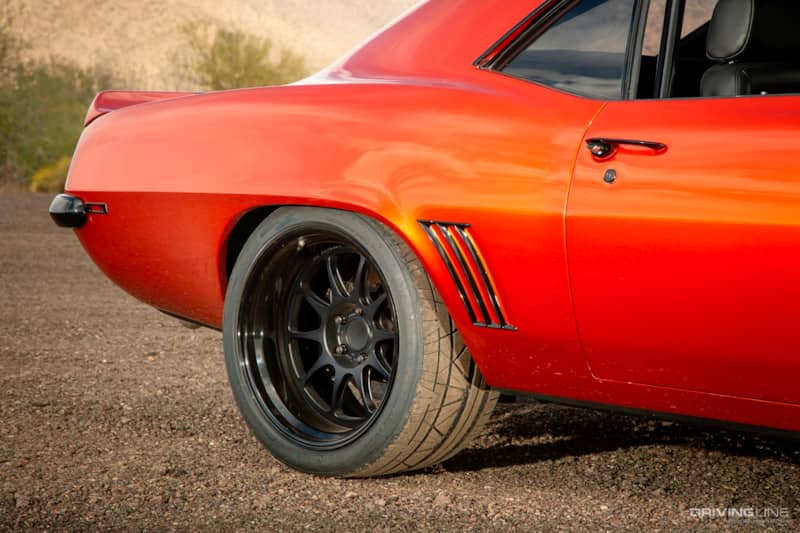 Great Crate
Wanting to capitalize on the car's ultra responsive suspension setup, Dean thought it was wise to invest in a late-model GM LS7 crate engine for plenty of power and quick throttle response. To up the ante, a TREMEC T-56 with a Hayes clutch was put into place, as well as a Billet Specialties front drive pulley system. To add more teeth to the LS7's bite, HRBD cooked up a set of custom headers as well as a one-off 2.5-inch exhaust system was attached to the rumbling Magnaflow mufflers.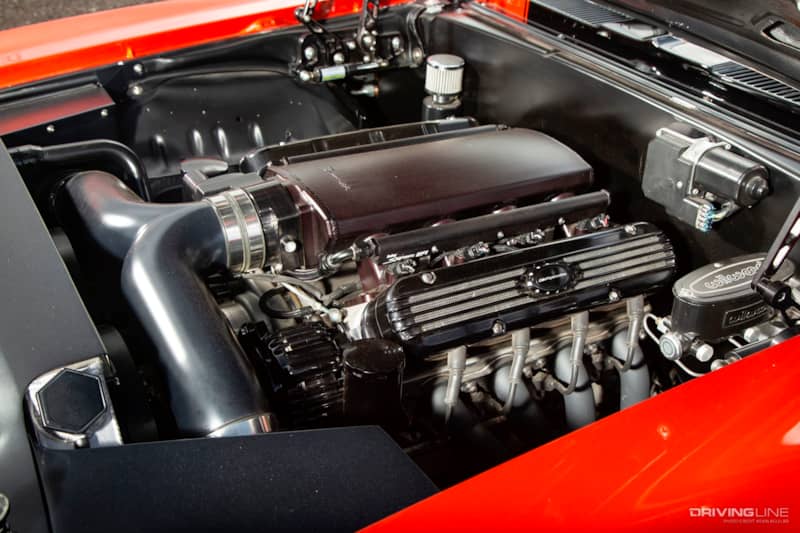 Modernized Classic
With the Camaro's speed and handling well taken care of, Dean and crew then looked to see what they could do with the exterior to give it a classic yet updated appearance, while attempting to match the car's rising level of performance. After the necessary bodywork was completed by HRBD, a custom front pan design was implemented. An RS/SS grille was also thrown into the mix, which further gives a stylized spin to the '69's elevated yet familiar front end.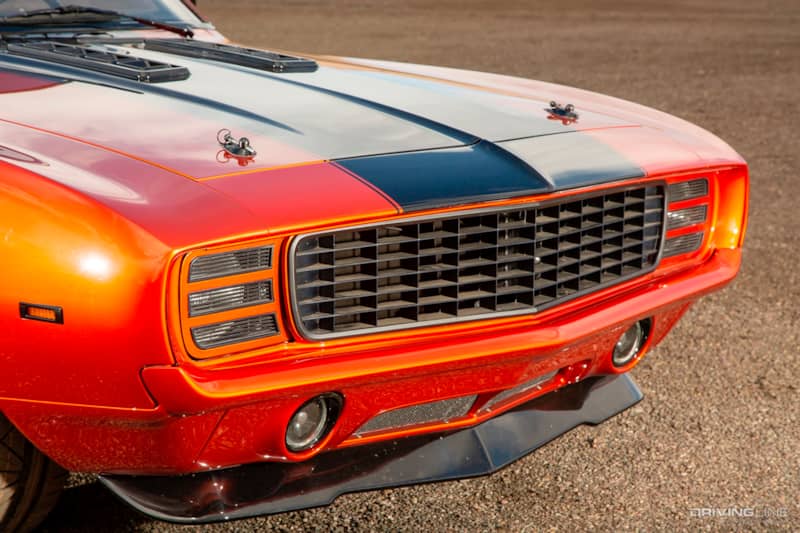 While there are some great stock colors that would've given the car a classic, timeless look, Dean and his in-house paint department landed on a specific orange color for this '69. PPG Prowler Orange was chosen for its darker, deeper "sunset" quality over a standard bright orange hue. To break up the monotony, a center black paint stripe and other details were given a blackened treatment.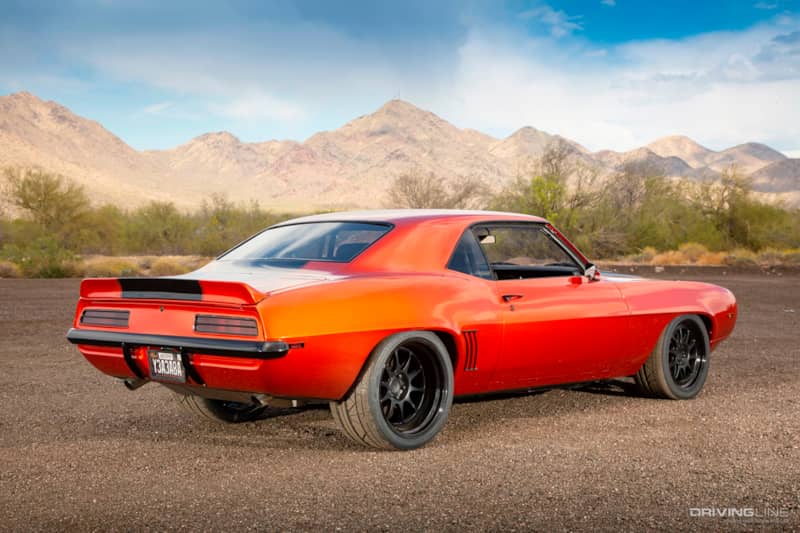 Inner Strengths
Setting their sights on the cabin, the HRBD team wanted to create a clean yet cool interior that would feature a pair of 2002 Firebird seats at center stage. The seats were covered in black vinyl upholstery, as were the door panels and dash.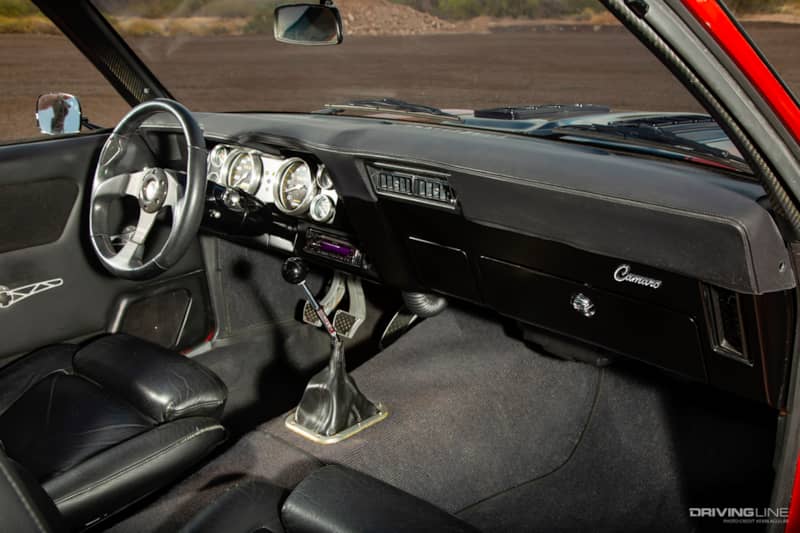 Quality accessories were peppered throughout the interior, including a Momo steering wheel, Auto Meter gauges, plush German square weave carpet, G-Force seat belts, as well as a full Vintage Air A/C system and a steel roll bar for good measure. The Camaro's confines hits all the marks that would be expected from this modern-flavored '69.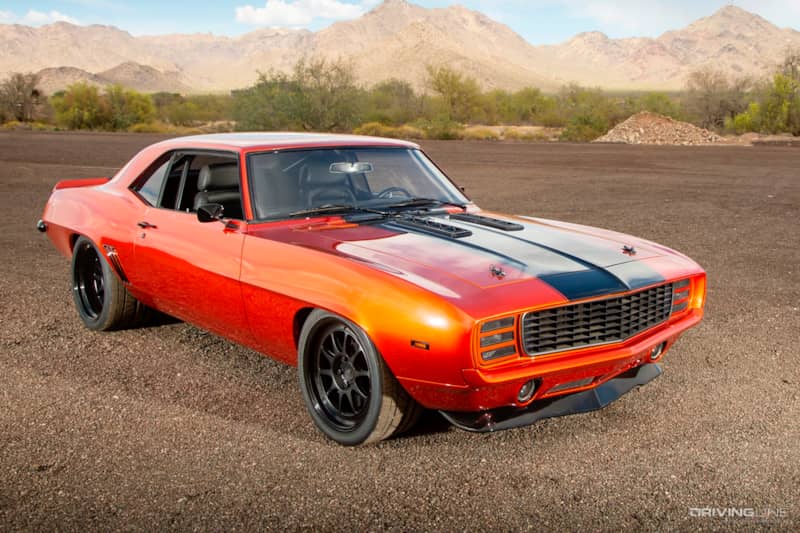 Refined Aggression
In the end, Bryan was delivered a Camaro that got his blood pumping before he even sat behind the wheel, which is the effect Hot Rods by Dean has perfected with their work over the years. While the car is lean, mean, and ready to scream, Bryan might feel the need to baby it a bit more often than not, which is totally understandable.
**** Story by John Mata Jr. / Builder: @hotrodsbydean ****
More From

Driving Line
https://www.drivingline.com/articles/helleanor-a-wicked-68-mustang-built-with-influence-from-gone-in-60-seconds-movie/
https://www.drivingline.com/articles/second-chance-camaro-light-blue/
https://www.drivingline.com/articles/the-zl1500-an-850hp-lt4-supercharged-drag-strip-killing-pickup/
https://www.drivingline.com/articles/second-to-none-mach-1-sunning-69-mustang-with-a-dohc-46l-v8/
https://www.drivingline.com/articles/challenge-accepted-18-dodge-challenger-show-car-and-daily-driver/