Long Live The LJ: Is This the Perfect Wrangler?
When it comes to Jeep Wranglers, few, if any, are as coveted as the 2004 to 2006 Jeep Wrangler Unlimited. Known widely as the LJ, the two-door platform boasted 10 more inches of wheelbase over the standard TJ-era Wrangler (1997 to 2006). While the overall stretch was 15 inches, the combination of the wheelbase bump to 103-inches, along with the added cargo room, made it a wheeler's dream. These days, the Unlimited badge is worn exclusively by Jeeps fit with two additional doors. The much larger and heavier JK and JL Wranglers are a far cry from the seemingly basic and much smaller LJ that originally wore the moniker.
Sadly, the LJ is becoming increasingly harder to locate for sale. Finding one on the trail is a rare treat as well. Even more so is finding one that has preserved so much of what truly made the LJ platform a standout in the first place. Luckily, we found one such build on a trip through Clemson, South Carolina.
Built with the help of Jeep build guru Cole Conner, Greg Bradsher's 2006 Jeep Wrangler Unlimited is a stunning showcase of preservation and off-road appointments. Fit with Dana 44 axles plucked from a Jeep Wrangler JK, 37-inch Nitto Trail Grapplers, and an assortment of lightweight and usable armor and upgrades, it's a great example of just why this platform is cherished by the Jeep community.
Old Faithful
It's one of the longest running and most reliable powerplants ever placed under the hood of the Jeep- the 4.0L inline-six. Aside from adding a little pep to the torque-rich six cylinder via a K&N intake, the engine remains mostly stock. It was however moved up an inch thanks to a motor mount lift. This was done in conjunction with a 1-inch body lift.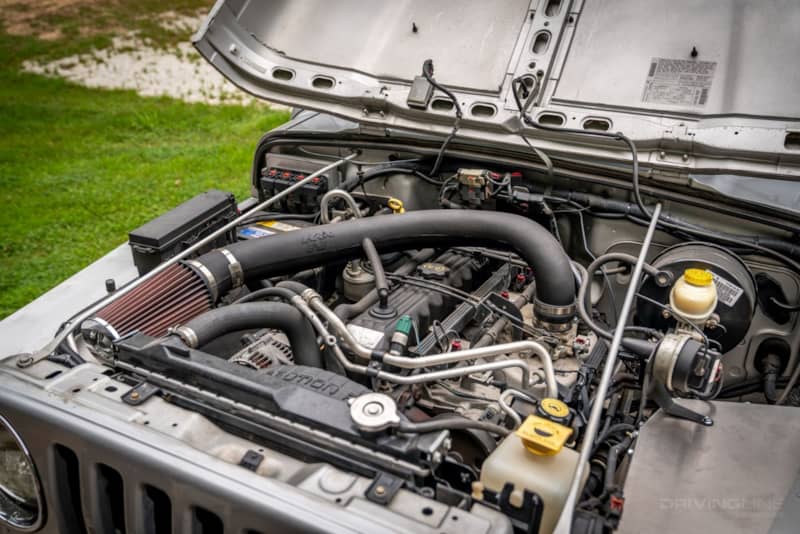 Belly Rub
Well protected by the TeraFlex long arm belly pan is the original 42RLE automatic transmission and NP231 transfer case. A slip-yoke eliminator kit works with a Tom Woods rear driveline boasting a 1350 series CV driveshaft. While the rear driveline uses 2.5-inch diameter tubing, the front was built with a 2-inch O.D. and matched with a 1310 CV at the T-case.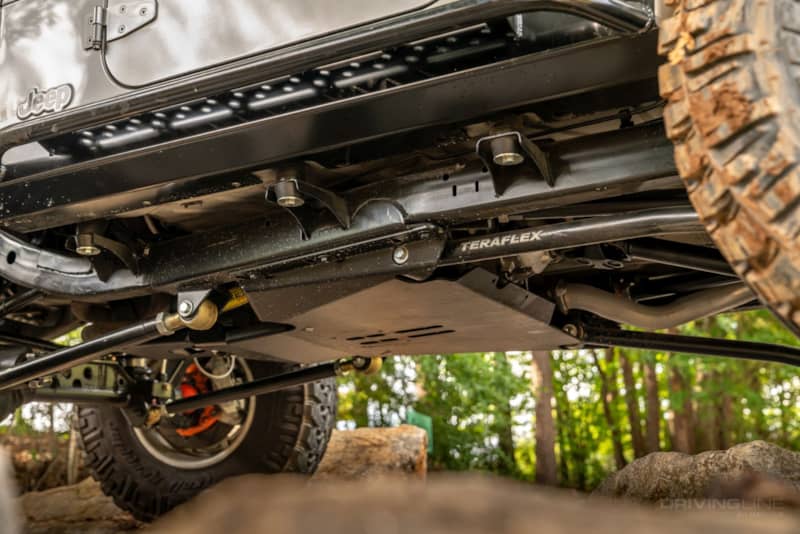 Rubi Front
Replacing the original Dana 30 front axle is a much superior (and wider) housing that was plucked from a 2012 Jeep Wrangler Rubicon. The high-pinion Dana 44 is outfitted with an Artec JK to TJ axle bracket kit, RCV Performance axleshafts, Mopar Tru-Lok selectable locker, and 5.13 gears. Steering duties are handled by a Barnes 4WD aluminum tie-rod kit, a Chris Durham Motorsports aluminum draglink, and Reid Racing steering knuckles.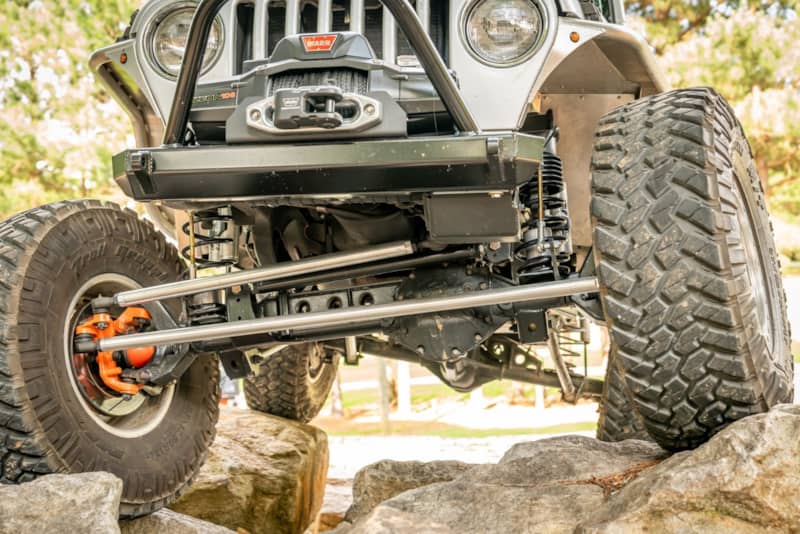 Rubi Two
Out back, you'll find the matching Rubicon rear axle sporting the Artec conversion truss, Tru-Lok, and 5.13 gears. In addition to running the stronger JK series axles, a TeraFlex Big Brake kit was also installed to drastically increase the stopping power. To protect the low-hanging fuel tank, a gas tank skidplate from GenRight was bolted in place.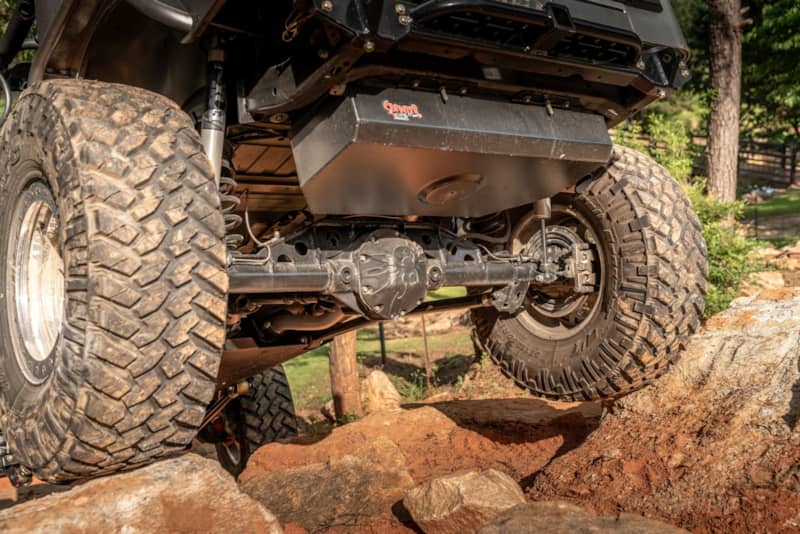 Trail Grappling
Since this Jeep does not run a spare tire, Greg needed to make sure he picked a tire that would be durable enough for the southeastern trails he frequents. That's why we opted for a Nitto Trail Grappler. These 37x12.50R17 mud-terrain radials were paired with a 17x8.5 Trail Ready beadlock wheel. While the beadlock provides the LJ with the safety to run single-digit trail pressure, the Nitto's heavy-duty sidewall gives Greg the durability that he needs to ensure he can get to the trail and home without a flat.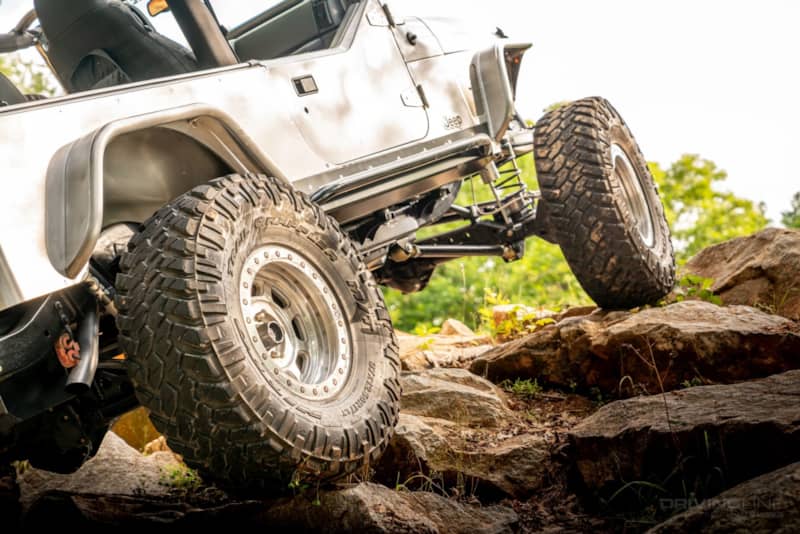 Suspension
Helping to balance the low center of gravity with ample travel are set of 3.5-inch Metal Cloak springs at all four corners. Dampening the ride are Fox 2.0 reservoir series shocks up front and Fox 2.0 IFP shocks out back. While the low lift and wide stance make this LJ extremely stable, an Antirock sway bar was attached up front to reduce body roll on-road and off.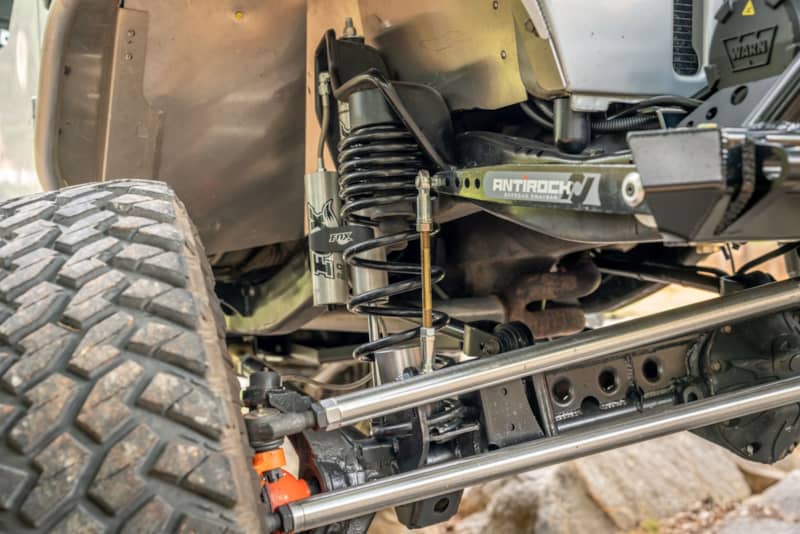 Armor Up
Giving the LJ plenty of room to cycle those 37s are GenRight aluminum fenders and corner guards. These work with GenRight's steel mini-boat side rocker guards, which add a touch of additional clearance and protection to the tub.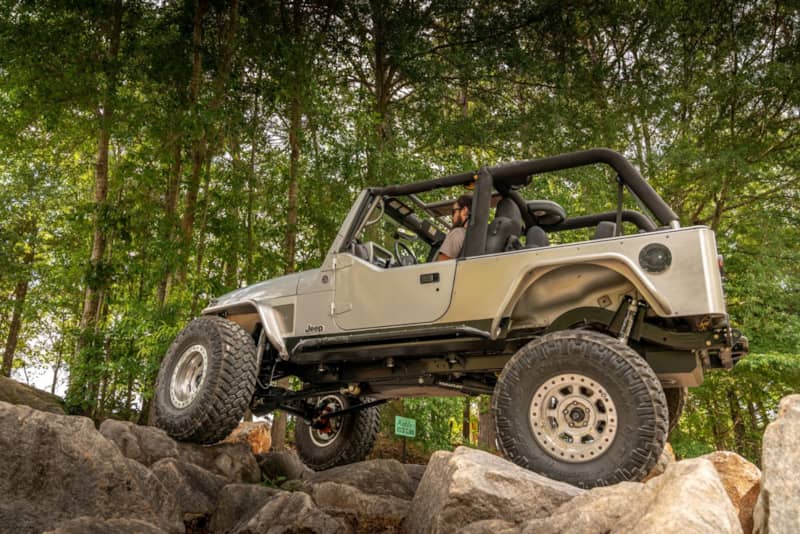 Recovery Gear
A GenRight stubby series front bumper increases the approach angle of the Jeep, while also creating a home for the Warn Zeon 10-S winch. The additional skidplate protects the stock steering gearbox from colliding with the terrain ahead.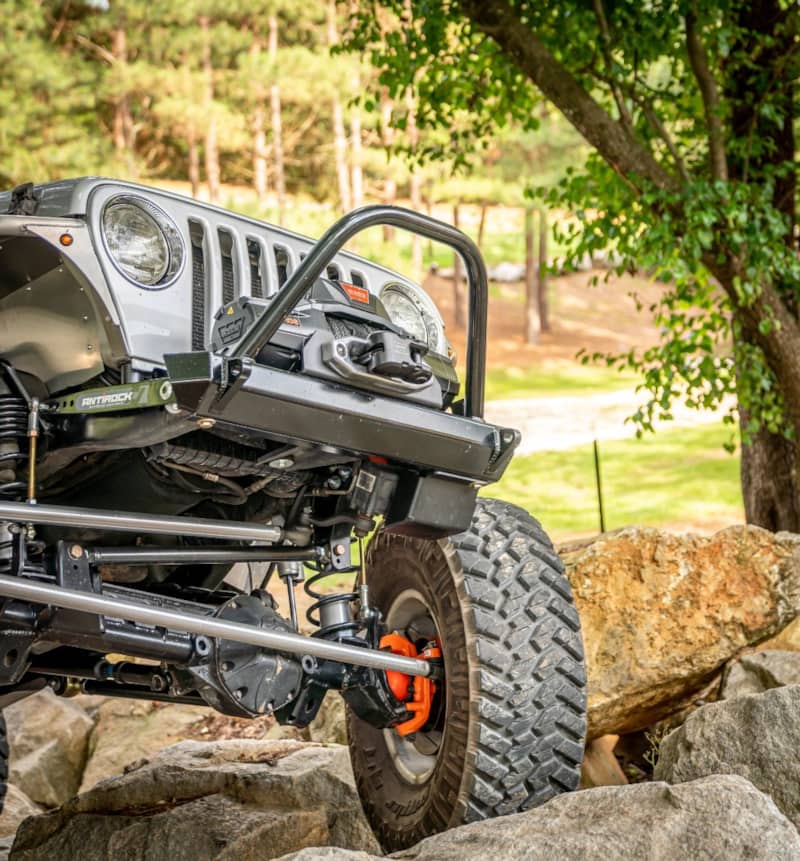 Width Matters
The JK axles are nearly a full 5 inches wider than what came in the LJ originally. Couple this with the 3.5 inches of backspacing and you have the makings a very wide Jeep. This added width makes for an incredible stable Wrangler.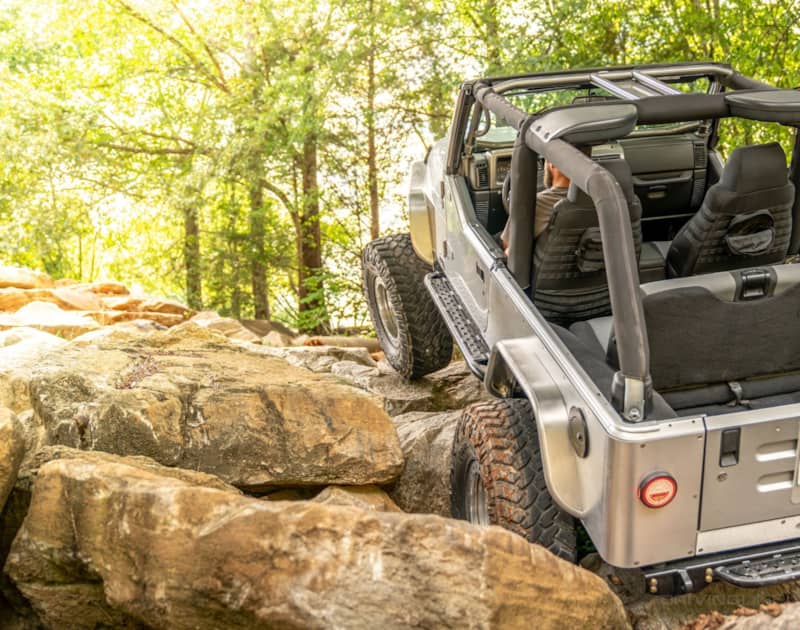 Interior
Inside you'll find a very clean and fairly stock interior. In place of the original stereo head unit is a GenRight Bluetooth radio head along with the switches for the differential lockers. Adding occupant protection is a bolt-in cage from Rock Hard 4x4.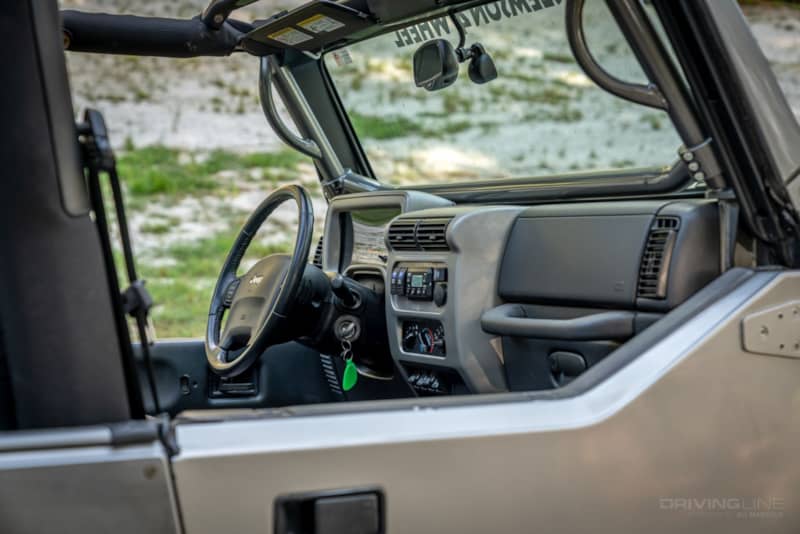 Clean Balance
We will be the first to admit that we are LJ fanboys. Despite how heavily modified the Jeep is, we love that it retains the core features that make the LJ such a standout. It is an excellent balance of low enough to be stable, but tall enough not to drag continuously through the rocks.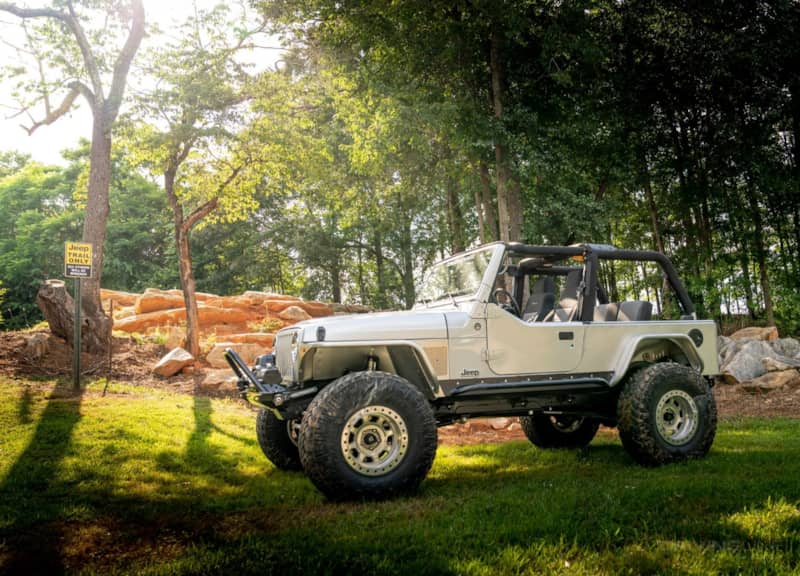 Fun Fact
There were a little over 46,000 Jeep Wrangler Unlimited platforms built from 2004 to 2006. Of those, less than 13,000 were Rubicons. Something to keep in mind the next time you get sticker shock when seeing the used asking prices online.