5 Must-Run Trails in Moab
If you are heading to the 2017 Easter Jeep Safari for the first time and didn't sign up for an official trail ride with the Red Rock 4-Wheelers, you might be a touch lost when you arrive in town. While we highly recommend going out with an official group run for first-time Moab 'wheelers, there are a few trails you should definitely experience before you leave.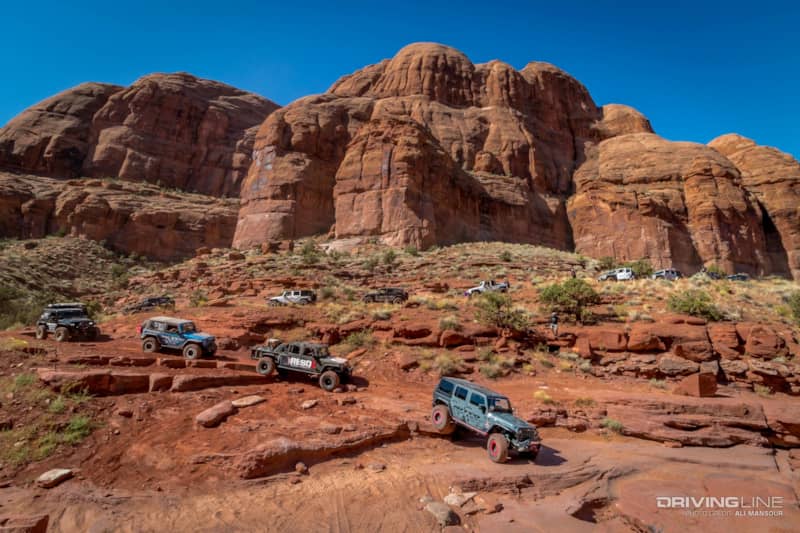 They only represent a small portion of the mass array of named trails found in and around Moab, but here are five of our favorites, in no particular order, to help you narrow down your list.
(Difficulty ratings are from Red Rock 4-Wheelers and based on a 1-10 scale, with 10 being the most difficult.)
1. HELL'S REVENGE
Difficulty Rating: 6
It's a fun trail with a scary name. Hell's Revenge is a great way to get a taste of Moab's red rock 'wheeling. The trail consists of fins, steep 'climbs, and Moab's famous slickrock. A stock 4x4 can make it, but you will have to bypass some of the more difficult and famous obstacles such as Hell's Gate, Escalator, or one of the many hot tubs. Traffic depending, expect to spend a few hours on the trail.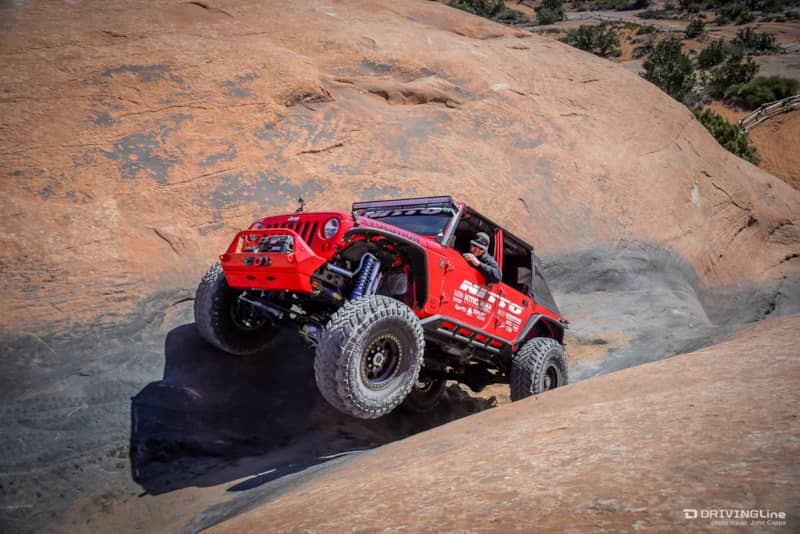 GPS Coordinates: 38, 34', 31"/Lon: 109, 31', 19"
2. A GREAT DAY
Difficulty Rating: 5-7
While A Great Day isn't the name of the trail, it is what you get when you start out on Poison Spyder Mesa and end on Gold Bar Rim. Since Poison Spider Mesa, Golden Spike, and Gold Bar Rim all connect, you can work your way through the moderate trail system for a solid day of 'wheeling. The trail trifecta requires an extended time commitment, but you will get to 'wheel famous spots such as Golden Crack and Double Whammy. A consistent amount of small to large ledges, along with a series of fins, will keep your eyes sharply glued to the tracks ahead. In total, there are just enough obstacles along the way to keep you hardcore guys entertained, but enough scenery and bypasses that less modified rigs can enjoy the trip.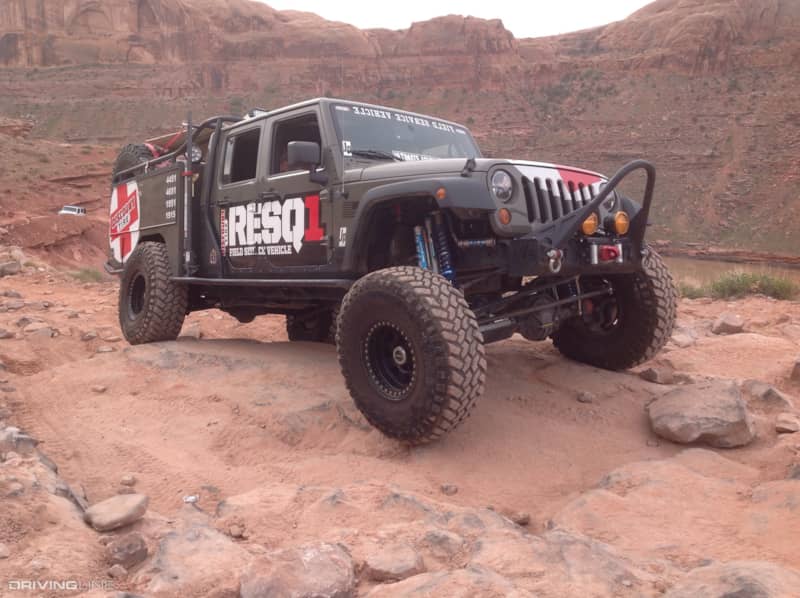 (Photo: Discount Tire)
GPS Coordinates: 38, 32', 1"/Lon: 109, 36', 24"
3. MOAB RIM
Difficulty Rating: 7
Want to see the town of Moab and a grand view of the Colorado River? Well, Moab Rim is the place to be. It's one of the more nerve-racking trails as you are forced to tackle an off-camber section that pitches you towards the Colorado River and a nearly thousand-foot drop. Thankfully, most of the challenge is mental. Once you shake your nerves, you will enjoy the views and 'wheeling to be had. We say do it at least once so you can have that notch under your belt.
GPS Coordinates: 38, 33', 34"/Lon: 109, 34', 56"
4. KANE CREEK CANYON
Difficulty Rating: 6
If you are looking for a great trail that can be tackled with a fullsize truck, then Kane Creek Canyon is perfect. The 20-mile-long trail stays true to its name and snakes along a creek bed and passes you through dozens of creek crossings. Don't be surprised if you find a little mud (or snow depending on the time of year). Towards the end of the trail, the elevation will rise and, so will the trail difficulty. It's still a good idea to have at least one locking differential and a small lift.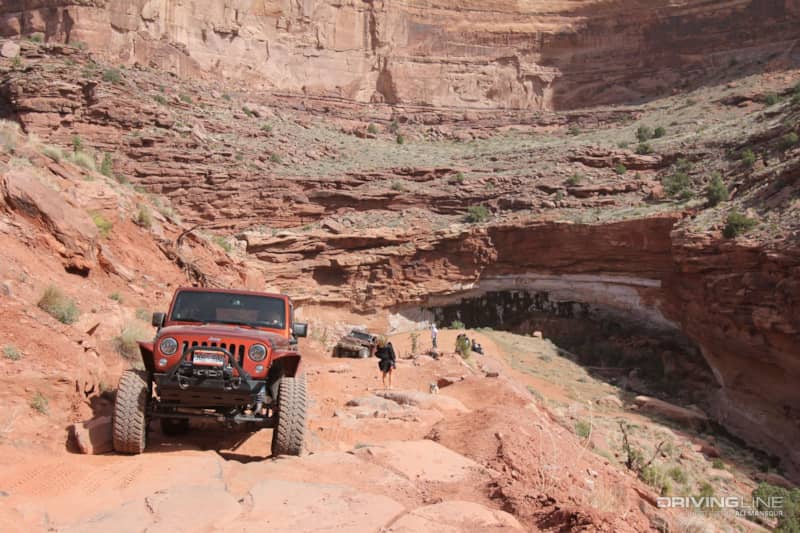 GPS Coordinates: 38, 27', 58"/Lon: 109, 36', 2"
5. PRITCHETT CANYON
Difficulty Rating: 9
Are you ready for the tough stuff? Well, Pritchett Canyon is the place to go. This rocky and off-camber trail is one of the Moab's most challenging and requires 'wheeling knowhow and a well-equipped 4x4. Here, you'll find the infamous Rocker Knocker and Yellow Hill. The more difficult obstacles have bypasses and/or winch points, so you can safely make it through, but body damage is likely.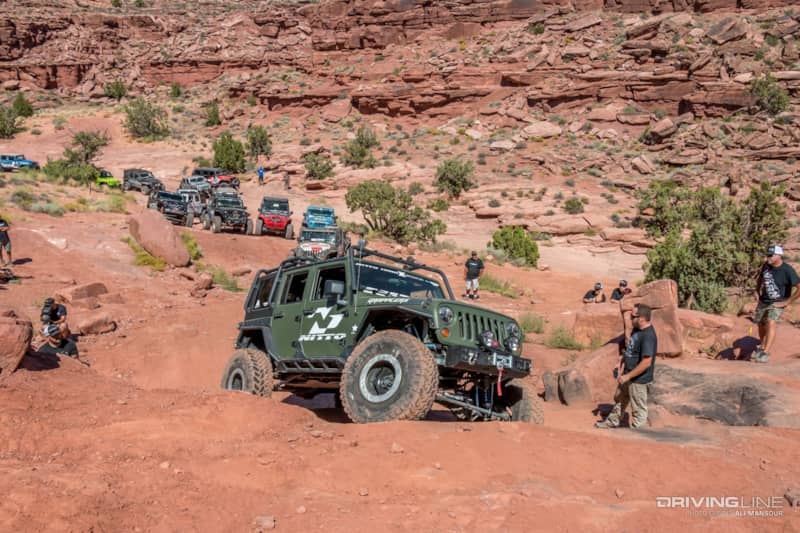 GPS Coordinates: 38, 32', 8"/Lon: 109, 35', 55"
New to off-roading but want to join in on the fun? Take a look at our Off-Roading for Dummies checklist.
--
(Editor's Note: Article updated on 2/27/17 for 2017 Easter Jeep Safari.)