Nitto Mud Grappler Long Term Review
Massive lugs, an over-the-top sidewall design, and an unforgettable roar on the highway, the Nitto Mud Grappler is a no compromise tire that fits its "Extreme Terrain" category listing perfectly. From diesel pullers to dedicated rock crawlers, the Mud Grappler has long been known for its ability to latch onto practically any terrain. Designed with large tread voids and an extremely unique tread stagger, the Mud Grappler is anything but conventional. It's one of the reasons why we picked it for our 2001 S-10 project truck nearly four years ago.
While we had experience with the Mud Grappler in smaller sizes, this would be our first go with its tallest offering—the 40x13.50R17. In this article, we're going to breakdown everything we've learned about this tire over the years. We'll also peel back the layers on why one of Nitto's oldest tire offerings continues to be a staple in both the truck and off-road world.
Tread Pattern
One of the easiest ways to tell if a tire is going to work well in the dirt is by how much space is resting between the lugs. The Mud Grappler not only has huge tread blocks, but a tremendous amount of stagger between each block. This means it can eject debris between the tread quickly, thus keeping the tire cleared out and fighting for traction.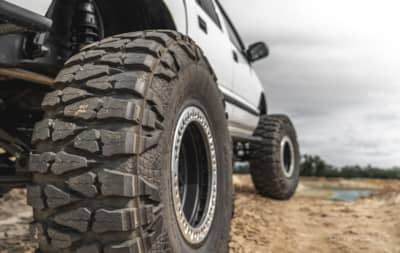 Sidewall
A major consideration for us was sidewall strength. We knew we'd be off-roading at single digit air pressure and pushing the rubber against rough terrain on a regular basis. On our fairly lightweight S-10, we frequently drop our load-range D Mud Grapplers down to 7 psi on the trail. This low pressure allows the tire to conform to the terrain and makes for a great ride. With massive side lugs, you have a sidewall that helps keep you moving. It's also worth noting that you do have the option of running a plain sidewall (show here) outwards or the more aggressive textured sidewall out as we did.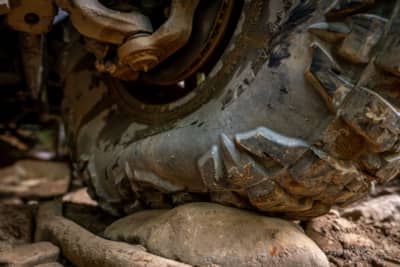 Road Noise
If you are someone who loves the roar of an aggressive tire, the Mud Grappler is for you. Anything over 20-30 miles per hour will produce a noticeable hum from the tires thanks to the massive spacing from the tread blocks. It's not obnoxious by any stretch, but your neighbors will hear you coming. We like to drive our S-10 to the trail head and recently did a 1,000-mile round trip from eastern North Carolina to Windrock Park in Tennessee. Despite the tires not being balanced, they continue to roll true and without a shake or hop.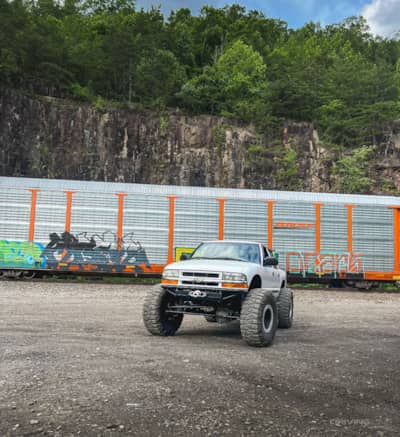 Sipes
One thing the Mud Grappler tire has that many tires in this aggressive arena do not is a huge helping of sipes. Theses are the small grooves running through the middle of the lugs. It may seem like a minor attribute, but they made a significant difference in wet weather. Though the tire may look aggressive, it's actually one of the most sure-footed we've ever tested in wet weather.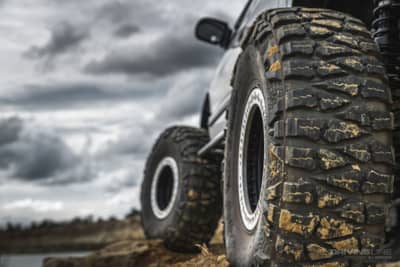 Rock'N Grip 
Our truck is low on horsepower, but high on gearing. With our four-speed Atlas transfer case and 5.38 differential gears, we can easily crawl over rocks, which is more or less what this truck is built for. With the tires down in the single digits, we've found they bit on the boulders incredibly well. Even side-hilling, we've found the lateral traction great in off-camber situations.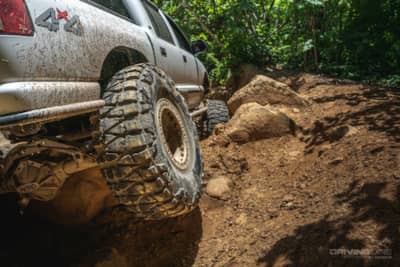 Locked Up
If you are going with a Mud Grappler, and hardcore wheeling is your intention, we highly recommend pairing it with a beadlock. This is partly due to the thick sidewall and high load ratings offered with the Mud Grappler. We're running a 17x9 KMC Machete beadlock, which works great to keep the bead in place while trail riding with low pressure.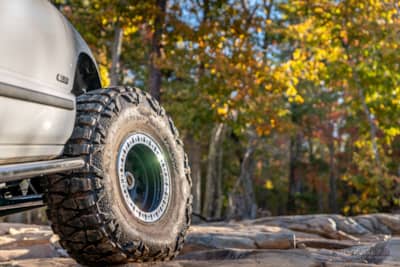 Mud
If a tire has mud in the name, it better work well in that arena. The clay we have in the southeast is the great equalizer in many ways. A hard rain can turn the easiest mountain trail into a nearly impassable slip-and-slide. We like that it doesn't take much tire speed to clean out the tread, which means you can take a more controlled approach on the trail.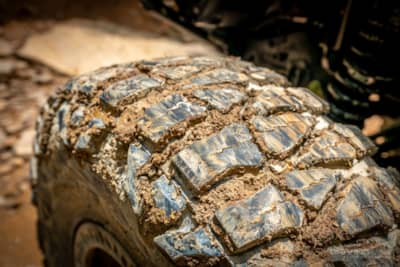 Sand
We are situated in a coastal town that allows you to drive on the sand. We'll be the first to admit that we prefer a less aggressive tread pattern for the type of beach driving we do. Given our tires are 40 inches tall and over a foot wide, we don't have an issue navigating the shoreline.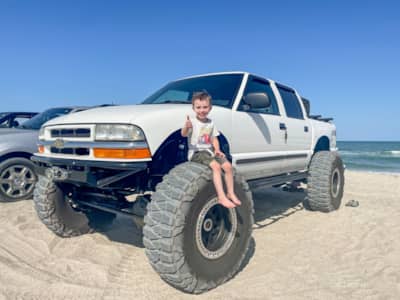 Trail Versus Mud
Given we have 40-inch Mud Grapplers on our S-10 and 40-inch Trail Grapplers on our Jeep Gladiator, we often get asked which we like better. Both tires weight the same and are each true-to-size 40's. So, there's no real difference there. We like that the Trails have a load range C sidewall as they are a little more compliant than the Mud's load range D. Both roll smooth on the highway, but the Mud is much louder. If you could get the Mud in a C load range and it rolled as quietly down the road as the Trail, it would be our first pick. However, for a daily driver, we think the Trail is a little better.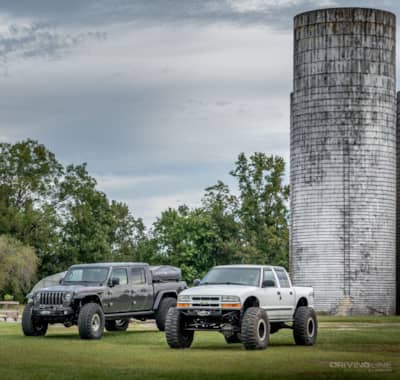 Final Thoughts
The Mud Grappler is everything you'd expect it to be on the trail. It bites, conforms, and takes abuse. Nitto offers the Mud Grappler from 15-inch to 22-inch wheel sizes and with diameters as small as 33 inches and as tall as 40 inches. These are LT tires so you don't have to worry about sidewall strength and can put them under something as light as a Jeep Wrangler or heavy as a 1-ton diesel truck. If you need serous off-road performance and don't mind being seen and heard coming down the interstate, the Mud Grappler is definitely worth checking out.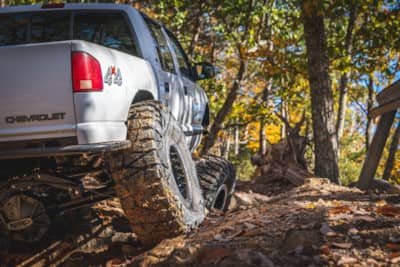 More From

Driving Line
Want to see this S-10 in action? Watch our feature video on it HERE.