Off Road in the Santa Ana Mountains
Santa Ana Mountain Off-Road Trail Guide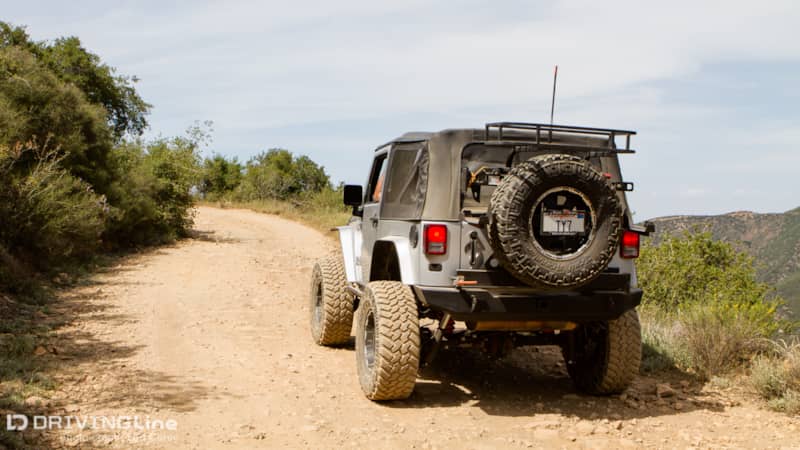 Sometimes you need to escape the noise and busyness of everyday life, even if for just a few hours. Here in Southern California we are fortunate to have three National Forests, each with an extensive network of off road trails - making it easy to escape to the wilderness for a day, or even a couple of hours, when you can't get away for a weekend off road trip.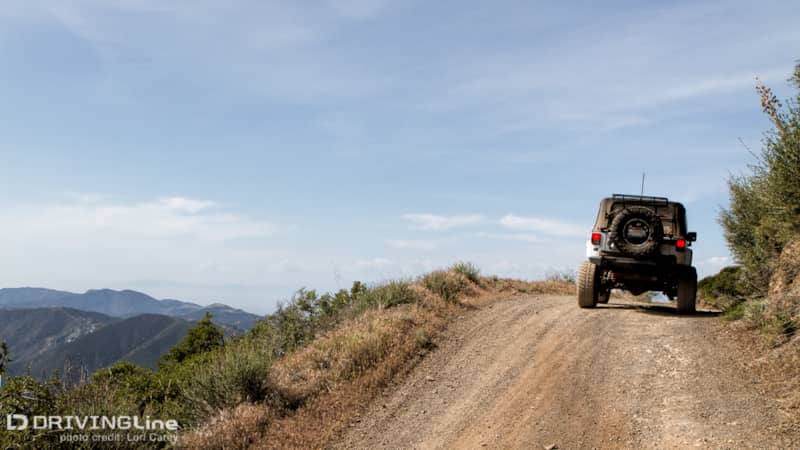 The Santa Ana Mountains are located in Cleveland National Forest, not far from the Orange County coastline. On the east side of the mountains is the desert environment of Riverside County. The mountains were named after the landmark formed by the two highest peaks; Santiago Peak (5,689 feet/1,734 m) and Modjesko Peak (5,496 feet/1,675 m) look like a saddle when viewed from most of Orange County.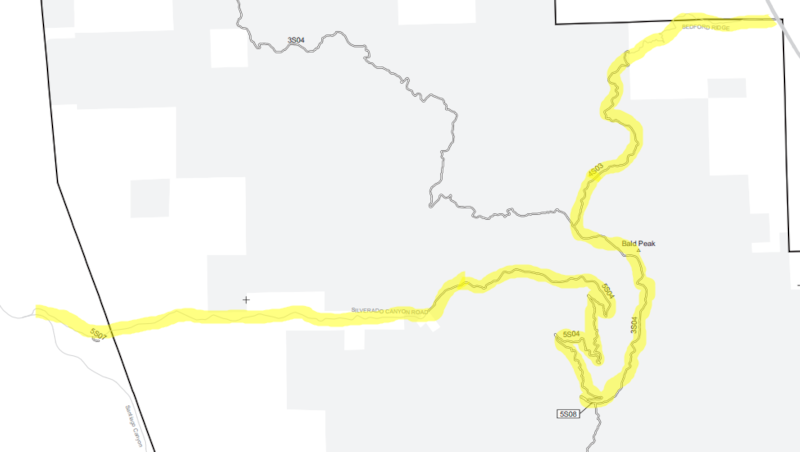 It's a lot of fun to start on the eastern side of the mountains in the coastal scrub and live oak groves and work your way up and over the mountains, into the pine trees, maybe seeing snow during the winter, and end up in the desert on the other side. Waiting at the top of the ridge are some of the most amazing views that Orange County has to offer. As you wind your way around the mountains you can see the ocean and even Catalina Island on a clear day, Mt. Baldy and the San Gabriel Mountains, San Gorgonio and San Jacinto Peaks.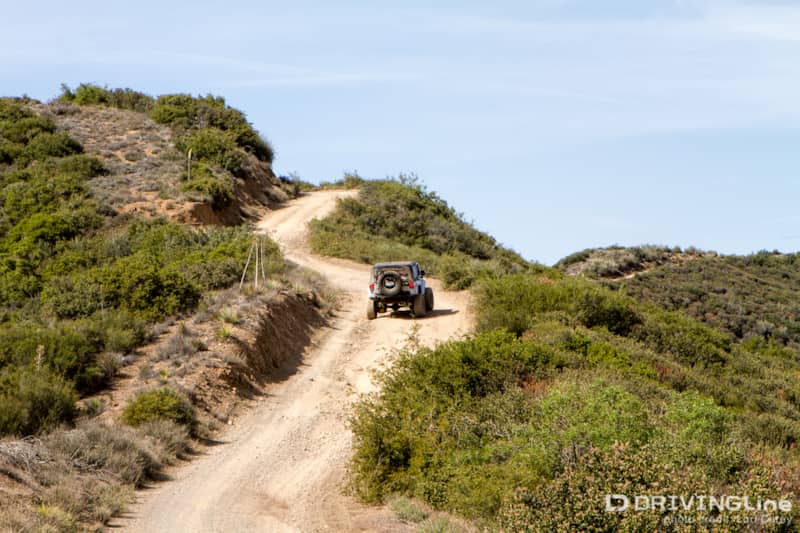 For today's trip, we decided to skip our usual route over the mountains and try something new. We planned to start on Silverado Canyon/Maple Springs and finish on Bedford Truck Trail at the 15 in Corona. Silverado Canyon Road is the paved road through the adorable canyon neighborhood of Silverado in east Orange County at the base of the Santa Ana mountains.  The town is a California Historical Landmark. Drive slowly through here, the road is extremely narrow and twisty and most residents have to park their vehicles on the street, so it can be a little tight. The end of Silverado Canyon Road is the beginning of Maple Springs (5S04) and they are sometimes referred to by either name.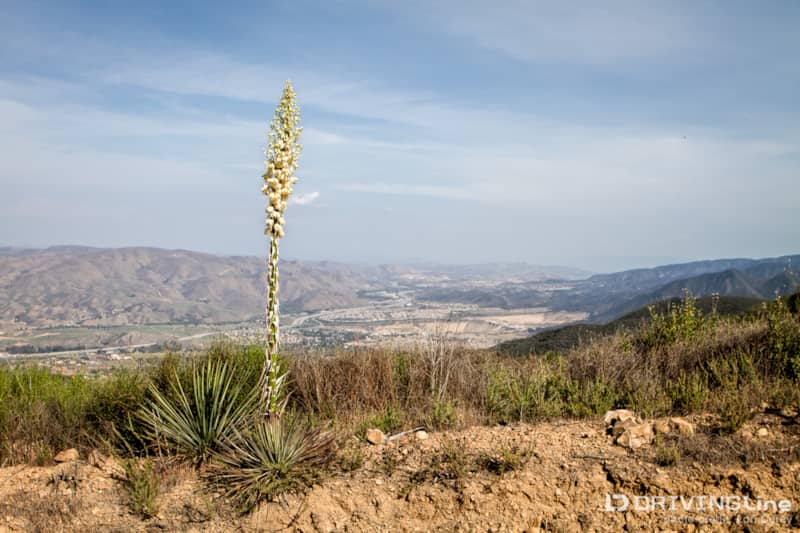 The first three miles of Maple Springs is paved and there is usually a lot of traffic, both motorized and non-motorized.  Be patient and remember your trail etiquette, it won't be long before you leave civilization behind. A seasonal creek runs along Maple Springs and crosses the road a few times. The drought has left the crossings mostly dry, but in rainy years they can get quite deep. The trail winds through oaks and sycamores, meadows and chaparral as it begins the ascent up the mountain.  Even during a severe drought, the yucca and other wildflowers were in bloom.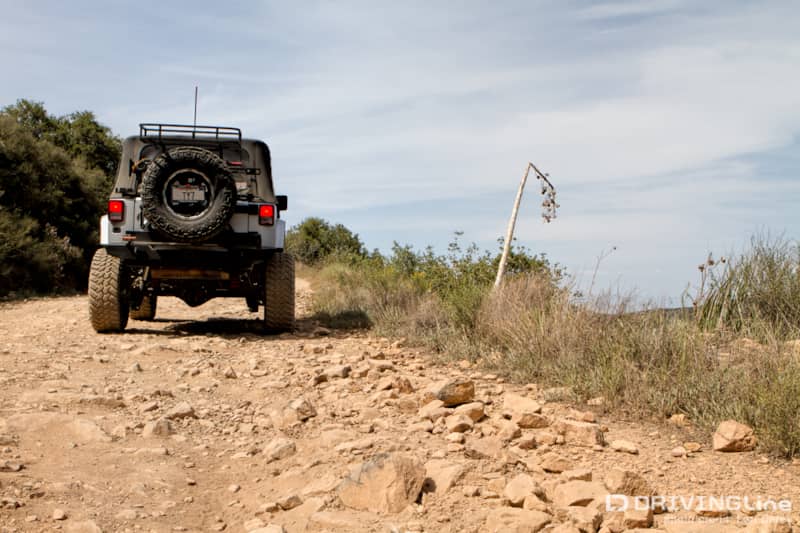 The trails are minimally-maintained dirt roads. There's no technical off-roading required, but you want a 4WD SUV with good ground clearance because they are not maintained for passenger cars. There are steep climbs and descents, fist-sized rocks, loose sand and gravel, and shelf roads with tight hairpin turns. After storms there could be rock slides and fallen trees.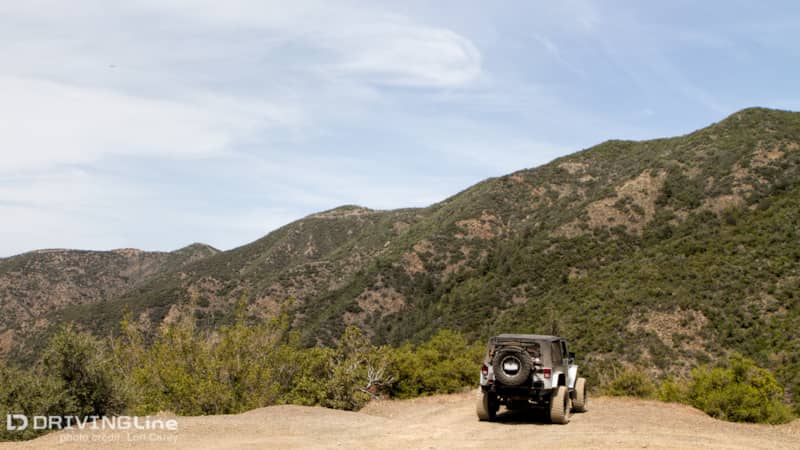 Being in the mountains is humbling; the massive size of them makes me feel small and insignificant. It's not as dramatic as being in the Sierras, but even a mile-high mountain with its tall pine trees and deep canyons is enough to remind me of my place in the universe.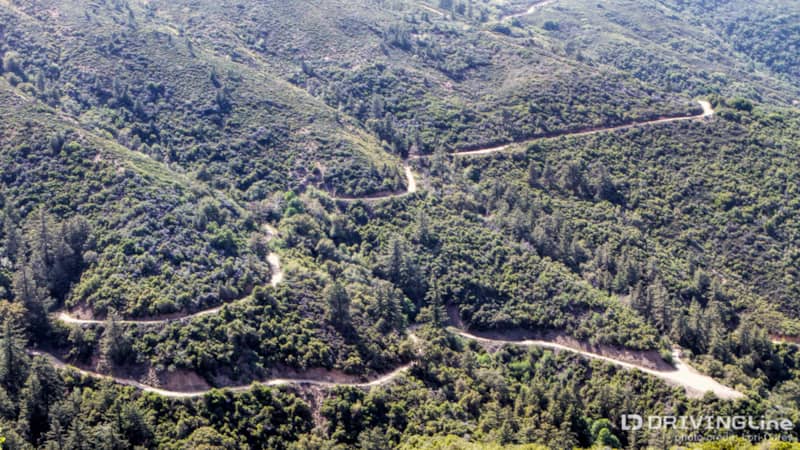 As we neared the summit I stopped to look back at how far we had come. The sandy trail is easy to spot and it always amazes me to see how the trail winds around the foothills and mountains. If you plan to enjoy a picnic lunch in some relaxing shade, make sure to stop on the western side of the mountains when you are still among the coast live oak and pine trees - the eastern side is a desert environment and has very little shade.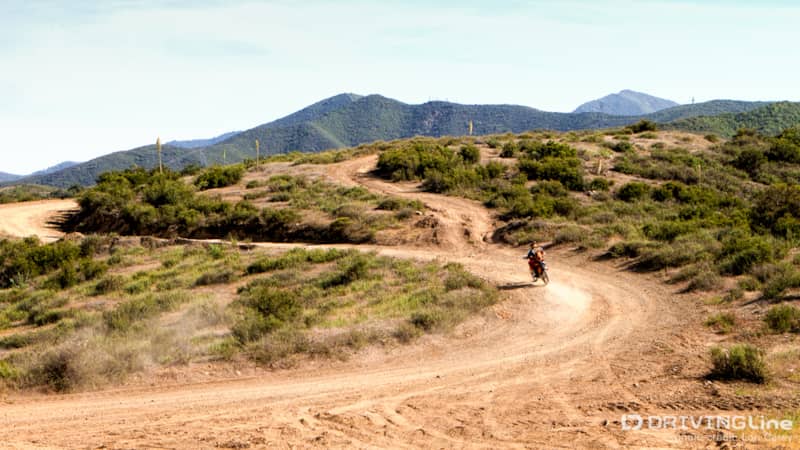 At approximately 7.5 miles we reached the intersection with North Main Divide (3S04). We stopped to enjoy the view and chat with a man who had ridden up on his motorcycle.  He was the only person we had seen on the trail since we left Silverado Canyon.  From here, North Main Divide heading right goes up to Modjeska and Santiago Peaks and can be followed back out to the Ortega Highway. Instead we took it to the left in search of Bedford Canyon Road (4S03). We only saw two other people on these trails the entire day, both on motorcycles.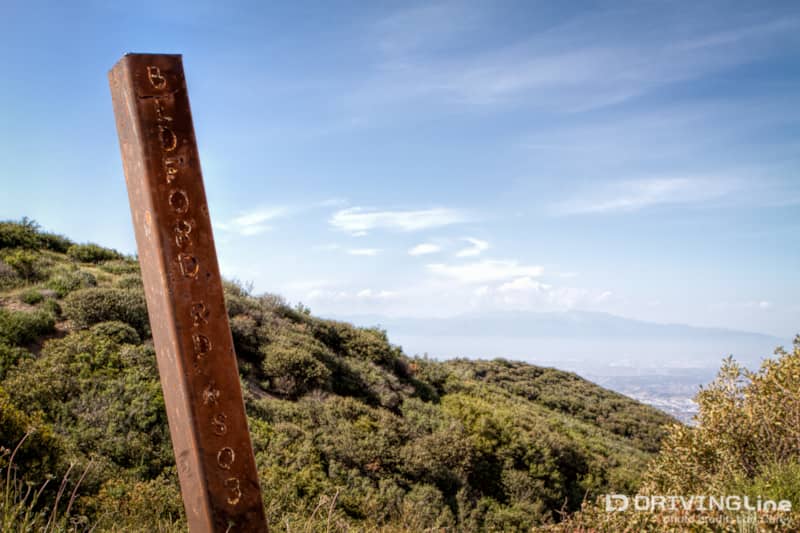 We followed 3S04 as it wandered up Bald Peak, the fourth highest peak in the Santa Ana range at 3,947 feet (1,203 m) until we found the turn for Bedford Road.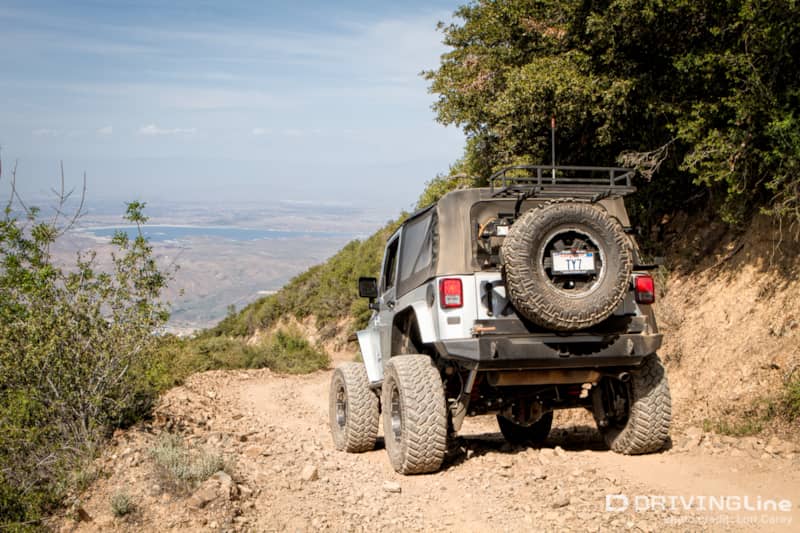 As we began to wind our way back down the mountains we could see Lake Mathews off in the distance.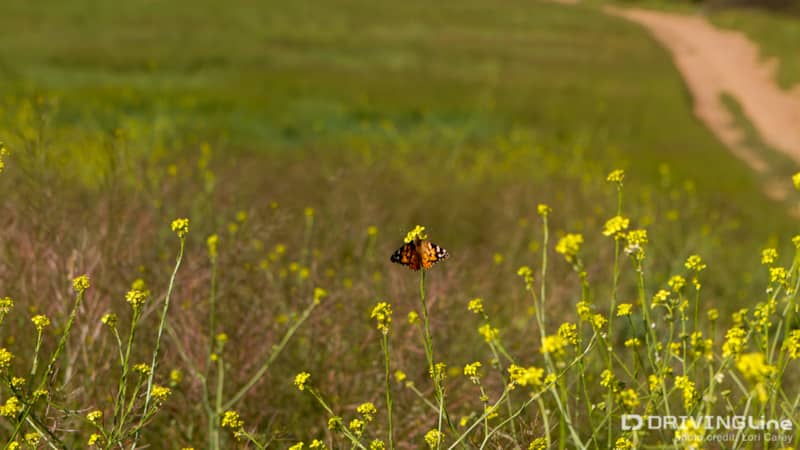 The trail ends near the Eagle Golf Course in Corona where we found a path through a field to take us to the highway. On our way we noticed thousands of butterflies, I had to stop and get out before I could believe it.  I later learned that I was lucky enough to witness the butterflies gathering to fly en masse in what is called a dispersal. There were so many butterfly swarms in Corona that they were causing traffic problems! These trails are subject to closure during wet weather, during animal nesting season, and after wildfires. Always check to make sure the gates are open before you head out, either by calling the Trabuco Ranger Station at 951-736-1811 or checking  the conditions page of the Cleveland Forest USDA website. This is very remote and rugged terrain. If you break down (or worse), emergency services will have an extremely difficult time getting to you. Even if just heading out for a day trip, start out with a full tank of gas and make sure to bring plenty of water, extra food, some warm clothes and your standard emergency gear. Visit more of DrivingLine's trail guides for other trips and beginner's basics.