Off-Road Racing Paves the Way: Drivers Who Made it Big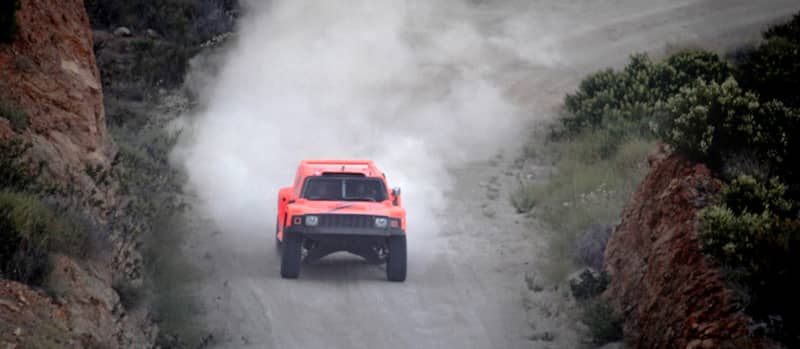 The road to NASCAR, just like the road to Indy, isn't always paved. In fact, some of the roads to the pinnacles of auto racing success are filled with dirt, rocks, sand and mud. NASCAR, as most people are aware, has its roots in dirt racing. The original races in Daytona were held on Daytona Beach in a course that was partially paved and partially - well, "other terrain." But NASCAR moved away from its roots and went 100% asphalt, until this year, of course, when they held the first ever Camping World Truck Race at Eldora Speedway in Rossburg, Ohio. The owner of that particular race track is a fellow who is very familiar with racing on dirt, as well as NASCAR. His name is Tony Stewart.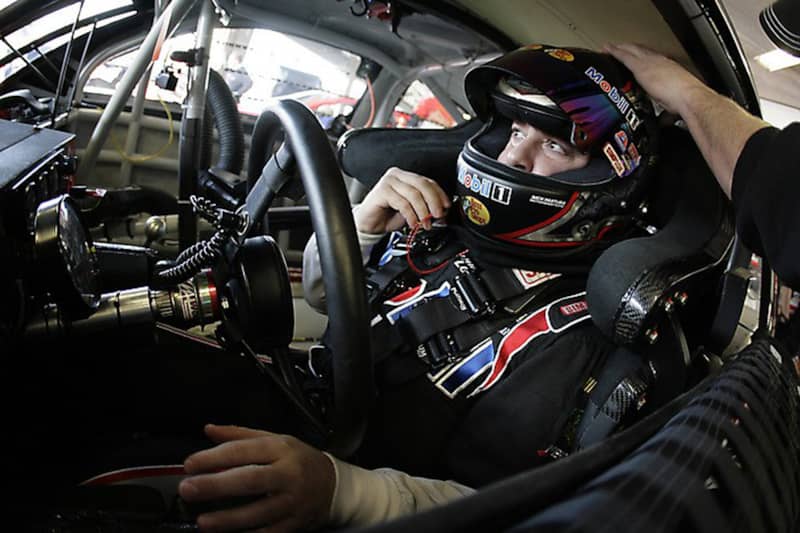 Photo courtesy of Stewart-Hass Racing
Tony Stewart
Tony is the only driver in history to win a championship in both NASCAR and IndyCar. As experienced in the dirt as he is on asphalt, he was the first driver to win USAC's Triple Crown (Silver Crown, Sprints, and Midgets) in the same season (1995). J.J. Yeley also achieved this feat in 2003. Stewart has made many appearances on dirt tracks (aside from his own), but his 2013 season ended when he suffered multiple breaks to his right leg in a Sprint Car accident at Southern Iowa Speedway. He has also competed regularly on dirt races in the Chili Bowl Midget Nationals and USAC's Turkey Night Grand Prix.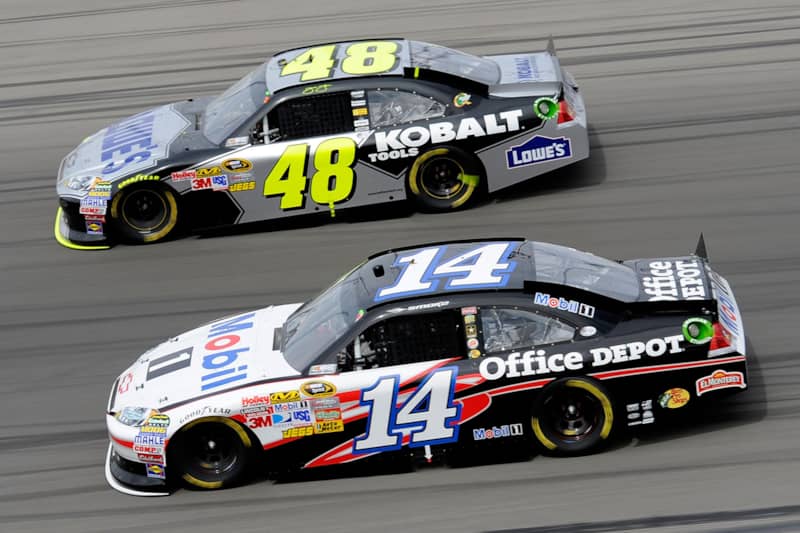 Photo courtesy of Hendrick Motorsports
Jimmie Johnson
But he isn't the only recent NASCAR champion to have played in the mud while growing up. Jimmie Johnson scored his major-league racing debut in off-road truck racing, running in such series as SCORE International and Mickey Thompson Entertainment Group (MTEG), Johnson moved on to the ASA series, eventually moving on to NASCAR, racing for Rick Hendrick and going on to win five consecutive Sprint Cup championships.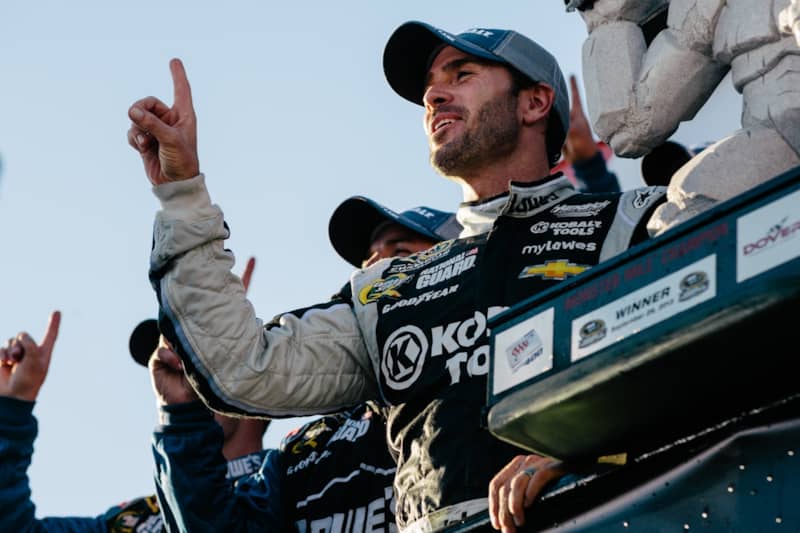 Photo courtesy of Hendrick Motorsports
Robby Gordon
Robby Gordon may not be the most successful NASCAR driver with his surname, but he has been amazingly successful at off road racing, having notched three wins in the Baja 1000, and won his fourth Baja 500 in June of this year. He is also the first American to win a stage of the Dakar Rally, and has won a total of six stages over his career to date. Although he has only won three NASCAR events, he is considered a road course specialist and achieved two of his victories on the series' two road courses (Sonoma and Watkins Glen) in 2003.
Photo courtesy of Robby Gordon Racing
Walker Evans
Walker Evans also made it into NASCAR and owned his own Craftsman (now Camping World) Truck Series team. Before moving to the smoother surfaces of NASCAR, Evans won the Baja 1000 six times. His first five Baja 1000 victories came in vehicles that he built specifically for the purpose of desert racing, whereas his sixth overall victory came in a Trophy Truck, making him the first person to ever win the race in a truck. He also has 136 more victories to his name and 21 assorted off-road championships. Now in his mid-70s, Walker Evans still competes successfully in RCAA rock crawling.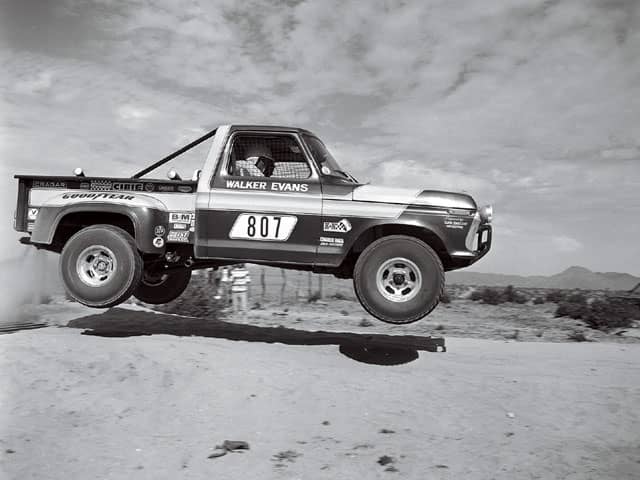 Brendan Gaughan
Although "The Legend," as Evans is known in off road racing, never fared well on NASCAR's flat surfaces, he hired one of his off-road racing protégés, Brendan Gaughan, to take the wheel after the 2001 season. Gaughan, who won the Class 10 SNORE championship in 1991, 1992, and 1993, went on to win eight races over his NASCAR Truck career, including four wins in 2003, when he was the points leader going into the final race. Gaughan was also the CTS Rookie of the Year in 2002 and won two races that season. Gaughan will be moving up to NASCAR's Nationwide Series in 2014, driving for Richard Childress Racing.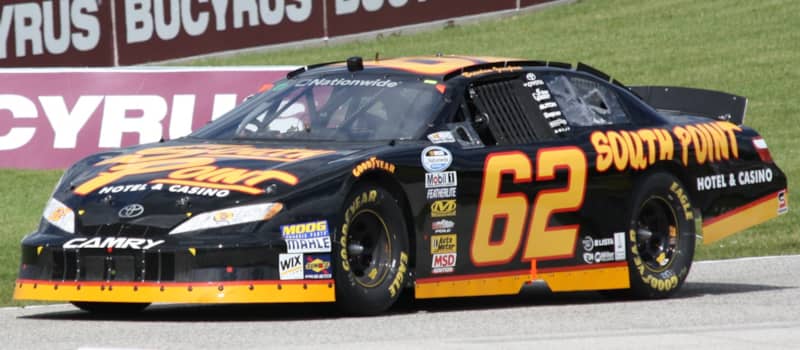 Evan Evans
Another protégé of Evans' is his son Evan. Evan Evans still races some off-road events, including the Baja 1000. Evans finished second to Scott Taylor four consecutive years in CORR's Pro-2 division. In 1989, Evan was paralyzed from the chest down after a motorcycle accident, but he never quit living and he never quit racing. He has stated, "If you have the will to do something, you can get it done. I race the same as anyone else does; I just don't use my feet. And I never give up." Today, Evan is a spokesperson for the GM Mobility Program for Persons with Disabilities, and a member of the Chevy Thunder off-road motorsports team.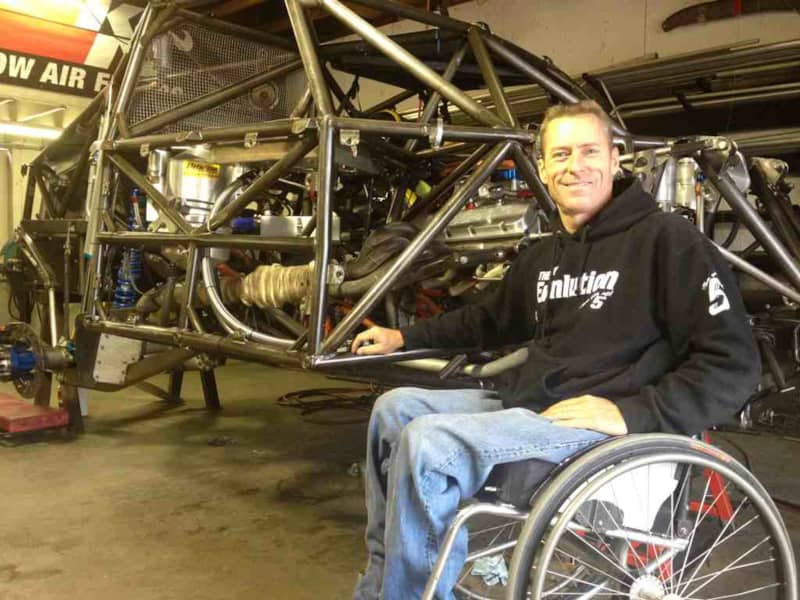 Unser Family
It would be wrong to mention off-road racing without bringing up the Unsers. Louis Unser, the eldest of three racing brothers, won the inaugural Pikes Peak and his brothers Bobby and Al Unser Senior (along with Bobby's son, Robby) brought home more than a dozen titles to the race over the years. Despite their success on paved race tracks, the family never forgot its off-roading roots. The Unsers went from being the First Family of the Pikes Peak Hill Climb to winning the Indy 500 nine times (Al with a record-tying four wins, Bobby with three plus a pair of victories by Al's son, "Little Al"). Their sons also went on to become great racers in both the dirt and on the pavement/bricks; Bobby's son, Robby, has carried on the family tradition of winning at Pike's Peak, as well as many other off-road venues.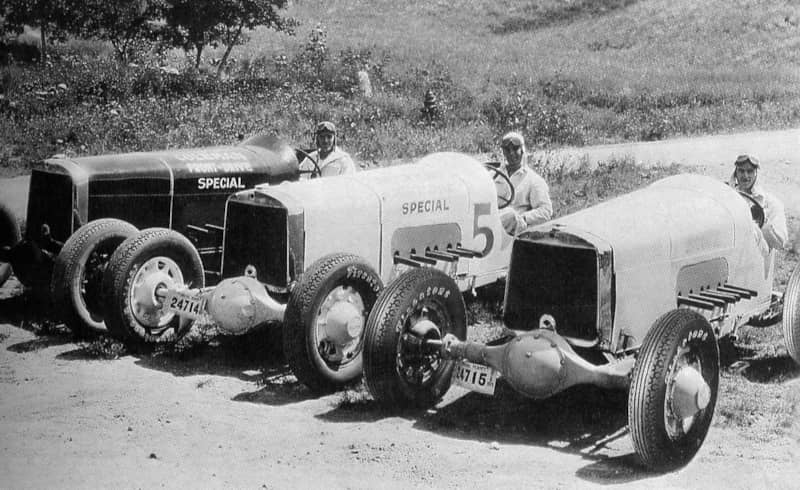 Parnelli Jones
Two months before winning the Pikes Peak Hill Climb, Parnelli Jones won the 1963 Indy 500. Years later, he would go on to win the Baja 1000 twice (called the Mexican 1000 at the time) and the Baja 500 twice while driving Ford Broncos. After retiring from "big-time" racing, Jones continued to race off-road for many years and now works with his sons Page and P.J. on their careers.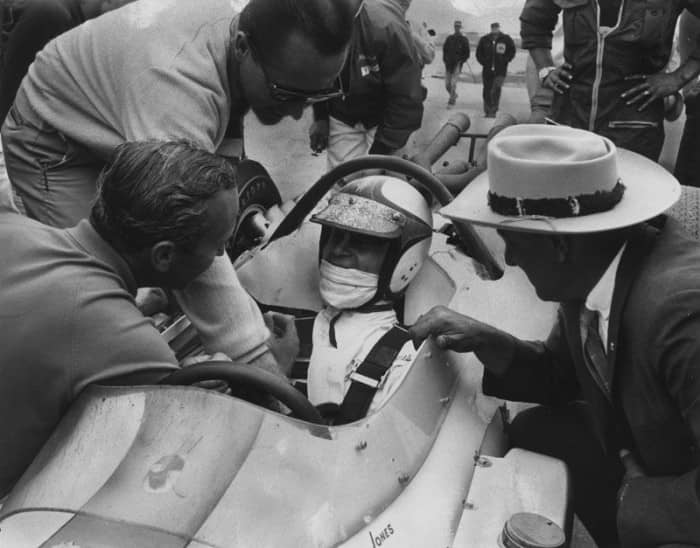 Rod Millen
But winning at Daytona, Talladega and Indianapolis are not the only ways to mark success in racing. New Zealander Rod Millen has been a top off-road racer, having dominated the Pikes Peak Hill Climb in the late 1990s and finishing as high as second in the Baja 1000. Millen holds the all-time record on the pre-paved version of Pike's Peak; the record held for 13 years before portions of the course were paved and the record was finally broken. Millen has also competed in Formula D drifting events, alongside his son Rhys Millen, as well as remaining a top driver in off-road rallies around the globe.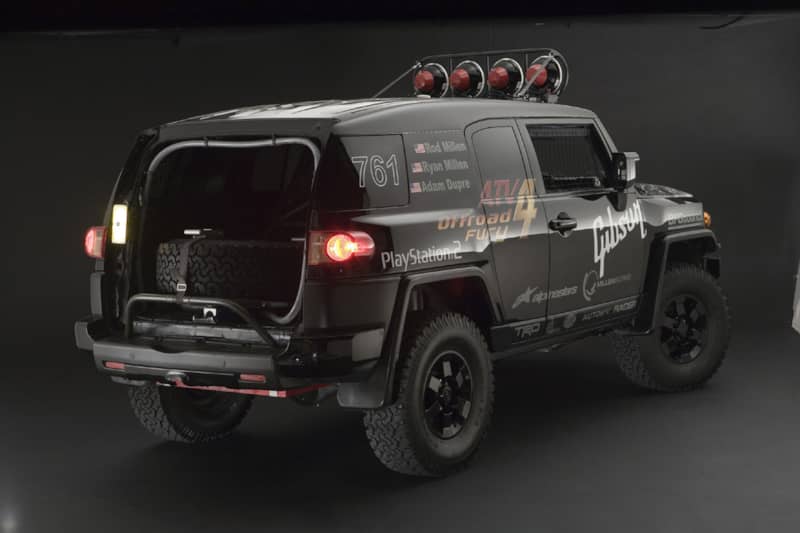 Photo courtesy of Toyota
Ivan 'Ironman' Stewart
Aside from Walker Evans, Ironman Ivan Stewart is probably the best off-road truck racer in history, having won three Baja 1000s and a record 17 Baja 500s along with a plethora of other races and championships. To the general public, Stewart's name has become synonymous with off-road racing and his record, including 42 victories and 11 series championships during his long tenure with Toyota, is the main reason that Toyota was able to gain a strong foothold in American auto and truck racing. In 1989,Leland Corporation released the video game Ivan 'Ironman' Stewart's Super Off Road on most video game platforms; this pu Stewart's name, and the sport of off-road racing, in front of the American public which had largely ignored the sport to that point. In 2008, Toyota Racing Development released a limited edition Ivan Ironman Stewart Signature Series truck.

Photo courtesy of Toyota
Mickey Thompson
One of the greatest off-road drivers also turned out to be one of the most powerful forces in racing history. Mickey Thompson was one of the best off roaders and also became one of its top promoters (along with becoming one of the biggest brands in off-road parts). Thompson was also a race car owner who brought as many as five cars to race in the Indy 500 during a single year. His innovations in Indy racing caused competitors to complain and the rules committee to make changes to their rulebooks.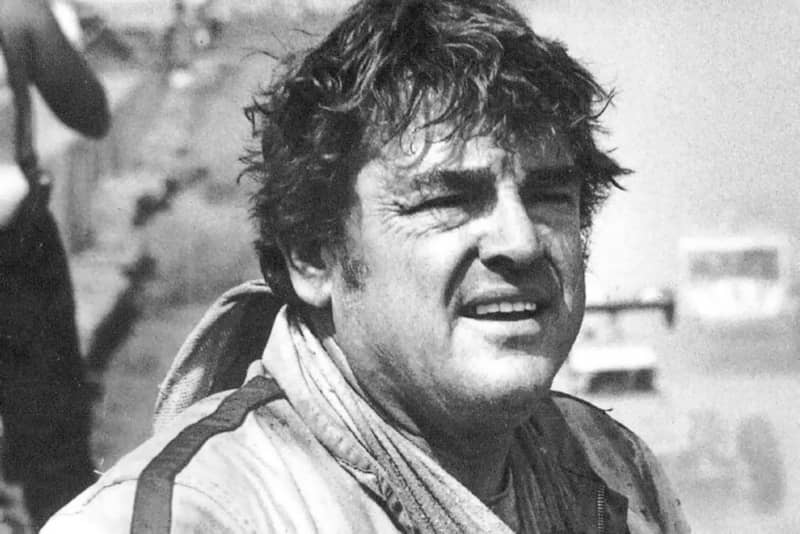 In 1973, Thompson founded the SCORE International Rally Series. This desert racing series sanctions several of the world's biggest and best desert races, including the Baja 500 and the Baja 1000. Thompson grew weary of being seen, as he put it, "by nothing but cacti and jackrabbits" and determined that the best way to bring people out to see off-road racing was to bring the off-road indoors to where the people are. Thus, he founded the Mickey Thompson Entertainment Group (MTEG), the original off-road indoor stadium racing series. Although MTEG went bankrupt eight years after Mickey and his wife were murdered by a former business partner, stadium truck racing is still going strong today in series such as Stadium Super Trucks. Aside from all of these amazing accomplishments, Thompson has arguably set more speed and endurance records than anyone else in history. Moreover, his innovations have changed the face of racing; not only off-road racing, but Indy, drag racing and land speed racing as well. While off-road racing remains less mainstream then some of its fellow paved racing series, the legends that have both risen through and returned to its ranks prove it to be not only great training grounds, but also a whole lot of fun! To learn more about mud's masters, check out the Off Road Motorsports Hall of Fame. - John McCabe