On the Trail, Episode 3: Alabama Hills
Story By Jason Mulligan
Photos By
In our latest On the Trail video, we chose to venture north to the Alabama Hills, a popular recreational area located west of Lone Pine in Inyo County, California for an overland adventure. Why is it popular you ask? Well, a number of blockbuster movies were made in the area (Gladiator, Django Unchained, and Iron Man to name a few), not to mention the incredible vistas and a mine that you can actually drive inside. Sounds like fun, right? We thought so, too.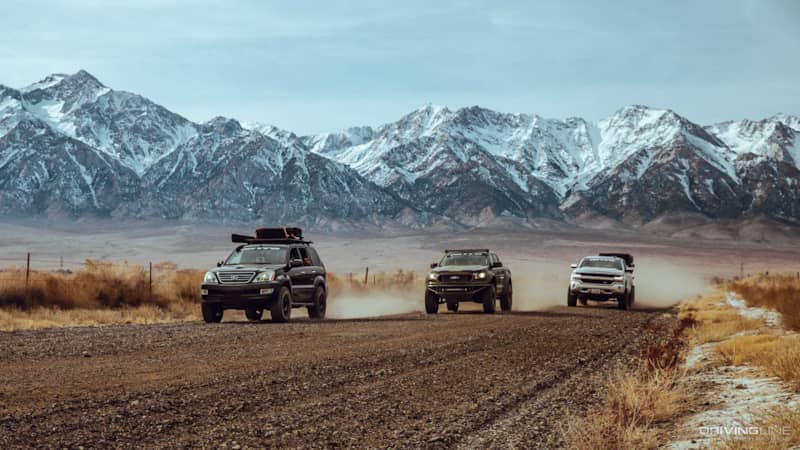 Joining us on our journey through the rounded rock formations and eroded hills are Theresa Contreras and Sara Morosan, owners of LGE-CTS Motorsports, to not only photograph their Baja-inspired 2019 Ford Ranger but also to enjoy the sights and scenery of the beautiful off-road trails along the way. We talked with them after the shoot and wanted to share some of their personal experiences from the trip. But first, an informal introduction of the two sisters:
How did you both get into the world of off-roading?
Theresa: We pretty much grew up off-roading. I had my first 3-wheeler at two-and-a-half years old. We would go all over SoCal and Baja. Our parents took me to Pismo, and we would camp on the beach, sleeping in the back of their El Camino. Then they would ride dirt bikes at Bell Mountain in Stoddard Wells and go to Glamis. Then a few years later they got into rock crawling in Broncos and Jeeps. They enjoyed it all, and so do we still! 
Sara: Our parents used to take us out all the time. I fell in love with going slow and Theresa likes to go fast!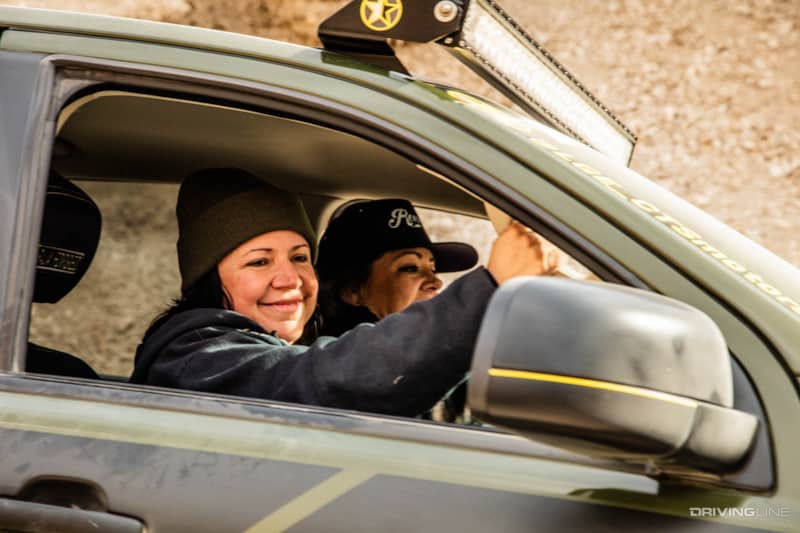 Do you have any memories growing up off-roading that stand out?
Sara: I will always remember one Colorado trip when the weather turned bad and the trail got pretty scary. I was riding with my dad in our Jeep and my sister and her husband Jason were in their '68 Bronco. There was a really tight area that had a super crazy drop off of like 50 or 100ft (I could be exaggerating, but's that what I remember). They made me get out of the Jeep and walk down with one of the Moms and I had to watch my Dad come down first. But when my sister and Jason came down it was a whole 'nother story. The Bronco was wider than the Jeeps so some of the tire was hanging off the side. Jason was driving and my sister was hanging out the window on the driver side to keep the weight on that side. They finally made it, but it was crazy to watch. I'm pretty sure I was crying the whole time. I learned so much that trip. I will always remember that trip.
Theresa: Trauma wise no, lol! But man, we could be here for days telling stories! I remember riding my 3-wheeler 185S up Oldsmobile Hill in Glamis at 11. I would get on anything they would let me ride or drive, then go as fast as I could! 
What are the differences you see between off-roading and overlanding?
Sara: When we go off-roading we usually have a home base we come back to every night and we wheel way harder. When we overland, it's more about the adventure and seeing the sights, don't get me wrong, both are amazing views and experience, but overlanding we don't go as hard, it's about the adventure and the history of the trail. Our rigs are packed with everything we need and it's a completely different set up.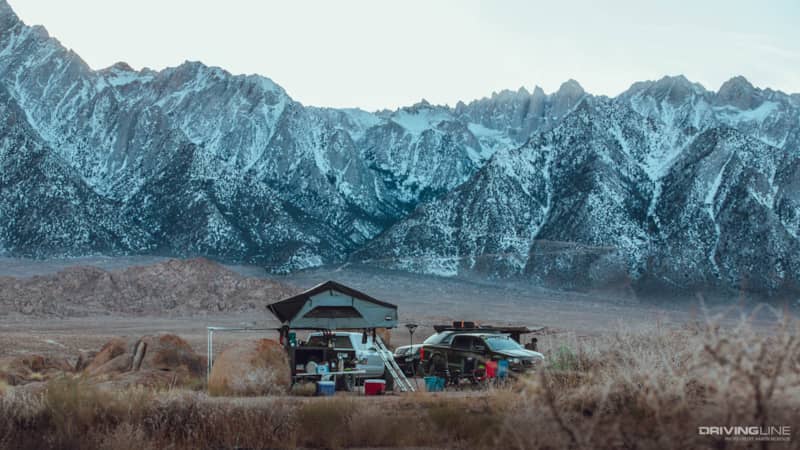 OK, enough about you two, let's talk about the video. What was the most challenging portion of the Alabama Hills trails?
Theresa: Well, I embrace challenges! On this outing, when we went up to the first mine to take some photos, the side drops off into a ravine. So, I had my sister jump out and spot me. Those kinds of things just raise my awareness to make sure to slow down and thoroughly assess the situation and ask for help if needed!  
Sara: The cold! Froze our butts off at night!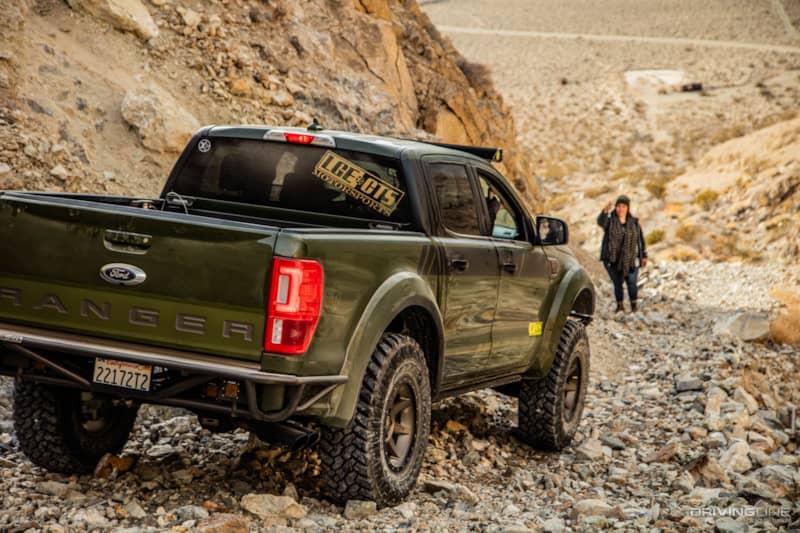 How does off-roading in the Alabama Hills area compare to your local desert and mountain terrain? 
Sara: The trails were a little more mild, but so pretty! 
Favorite fun moments from the trip?
Sara: One of the photographers on the shoot, Tim Sutton; we knew we had met him before but couldn't figure out from where. Theresa kept insisting that she knew him. Later that week she found a video on her phone of her and Tim at a karaoke bar singing together. But everyone we were with were all fun to hang out with, so it made the trip fun all together. 
Theresa: Hanging out with everyone! I mean isn't that the point, too? To come together with people who enjoy doing the same things as you do. Hanging around the fire, seeing the sunrise and enjoying some coffee and bacon in the middle of beautiful scenery.  
You brought out the Baja Forged 2019 Ford Ranger that was built for SEMA a couple years ago. What tires are on the Ranger, and how did they perform on the trails and highway on the trip?
Sara: We're running Nitto Trail Grapplers, they have done an amazing job. I was super impressed with how they handled both on the highway getting there and off-road once we arrived.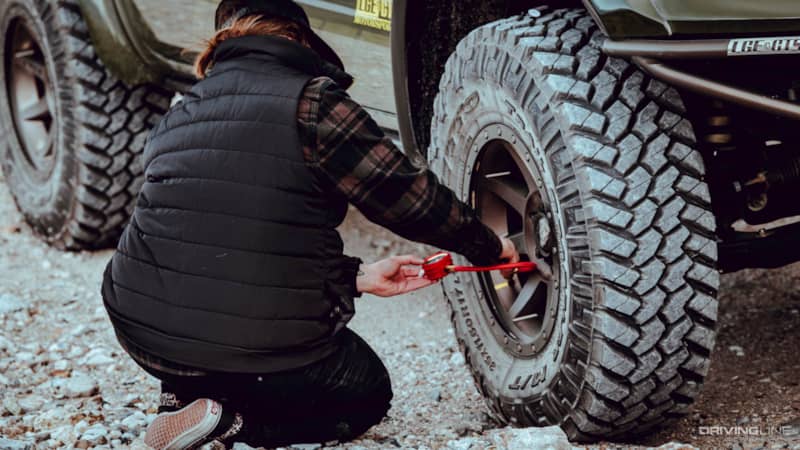 Have you ever driven into a cave or mine before?
Sara: Yes, I have, but they still freak me out. So, Theresa has to drive, and I walked. 
Theresa: I have...but not that far!! It was pretty RAD! A kind of fun, spooky, adventurous drive for sure.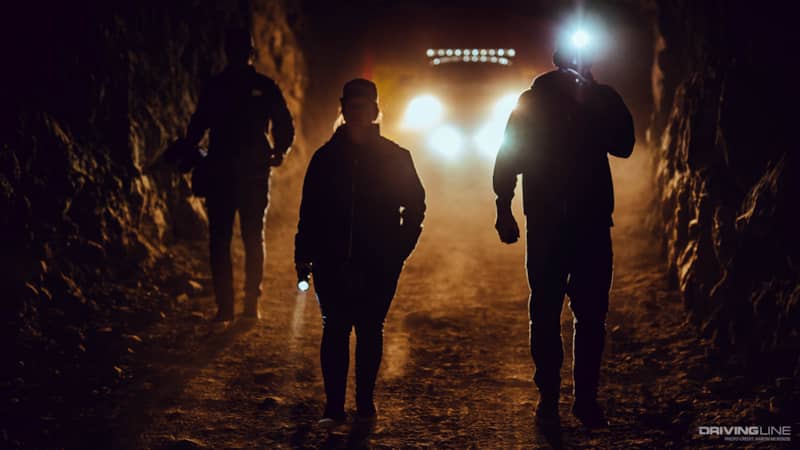 What thoughts or worries were going through your heads driving into the mine?
Sara: What animals or crazy people are in here? Is there room for Theresa to turn around? Is she going to hit? 
Theresa: We were wondering if the light bar was gonna hit, lol, but mostly I think it was the unknown that kept us both giggling and freaked out! I like doing things like that, but there is still that fear factor! Fun stuff! 
And finally, how many turns did it take to turn around in that canyon?
Sara: Lol! I want to say 5, but I don't remember.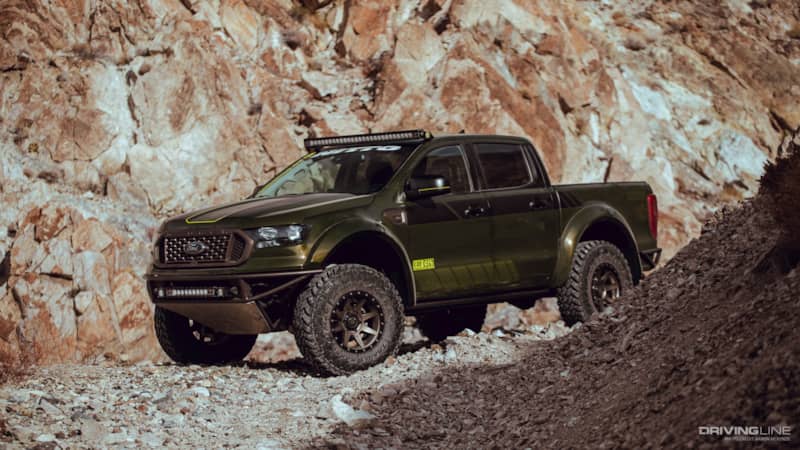 Which did you enjoy more on this trip; the sights and scenery or off-roading?
Sara: The sights and the history of the Alabama Hills area are crazy! I love being somewhere where that is a part of history and to even imagine what those people went through. It has crazy history with movies and the Japanese internment camp and so much more! Plus, the scenery definitely did not suck! It was absolutely beautiful there…and did I mention the cold!?
Theresa: To me, it's always both! The whole joy of off-roading is that it connects you to the outdoors. People think we don't care about taking care of the land, but off-roaders are some of the most caring people when it comes to making sure they "pack in, pack out" leaving no trace of being there for the next person to enjoy it!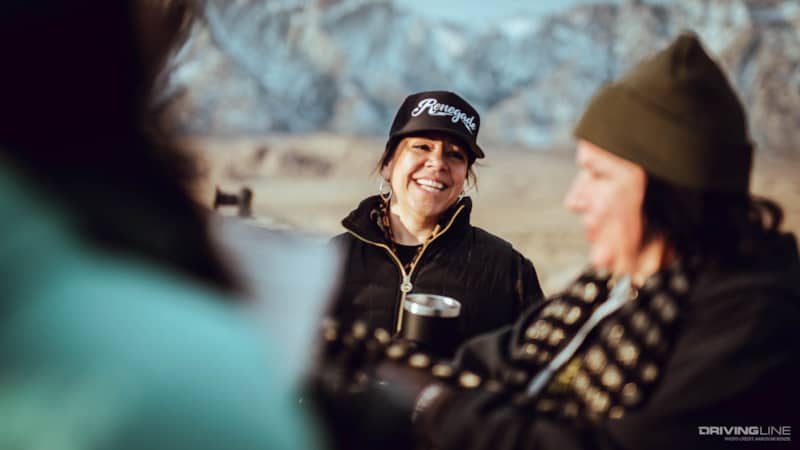 But...man do I love driving, mostly off-road too! There's something about getting on an open road that is less traveled, like you're connecting to everything around you more. 
Click here to watch the entire On the Trail: Alabama Hills Episode.