Overland-Ready Toyota Tundra
It's the nature of the beast. Project trucks are never complete. Instead, they are constantly evolving, adapting, and updating to fit the latest trends. Case in point, Tim Grachen's 2012 Toyota Tundra. We've been following this build for a few years, watching the transformation as this truck goes from your average street truck into a trail-ready monster. To most, they'll choose a project theme and build towards it. Not Tim.
The front of the Tundra is all business. In place of the stock grille is a mesh unit from Forged Industries. The OE headlights were upgraded to a custom set from Cali Retrofit with FXR projectors and TRS HIDs. To add even more nighttime glow, three 4.5-inch Vision X cannon LED lights were installed. Gone is the front bumper and in its place is a Iron Cross HD bumper that was Rhinolined to match the silver color of the truck. Recovery points and a Rugged Ridge winch capped off by a Factor 55 prolink and hawse fairlead round out the heavy-duty nose.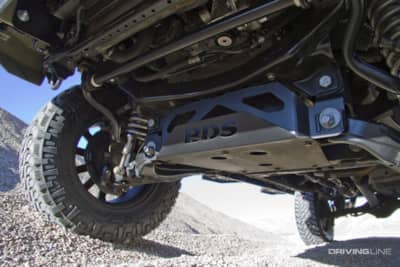 The suspension was upgraded with a seven-inch high-clearance suspension lift from BDS Suspension. The kit features laser-cut crossmembers, full belly skid, diff relocation and some massive replacement steering knuckles to correct the suspension geometry.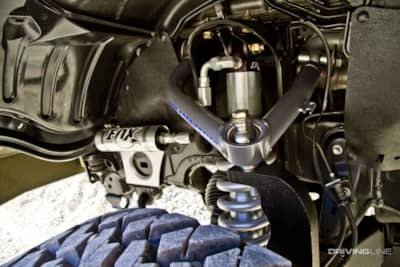 The struts were upgraded to FOX factory series 2.5 remote reservoir coilovers and the factory stamped upper control arms were pitched in favor of a tubular 4130 chromoly set with 1'' uniballs from Total Chaos Fab. This setup offers a plush ride on-road with the capability to soak up the rough stuff when you hit the trail.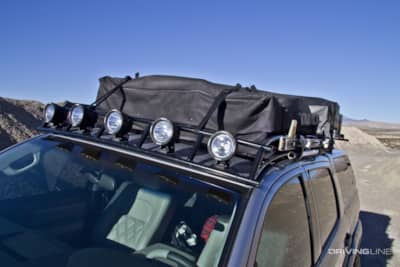 The roof of this Tundra is ready for an adventure with ample storage for gear and accessories. It all started with a NBQ Motorsports roof rack hugging the cab contours. Five Vision X 4.5-inch Cannon LEDs were fitted to shell out more than 10,000 lumens of night piercing light, along with a Hi-Lift xtreme jack, a CVT roll out canopy and rooftop tent.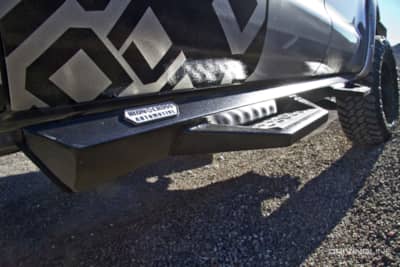 Adding some style, protection and easy access to the cab, are a set of Iron Cross HD steps.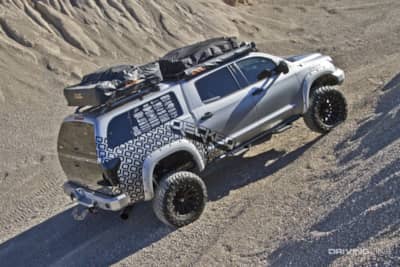 Decked out in "Decked" logos, the rear of this Tundra featured ample gear and storage for a long trip overlanding. The SnugTop XTR fiberglass shell gave additional dry bed storage while the Decked system gave a place to store everything. Up top, you'll find a Yakima rack mounted a Cascadia Vehicle Rooftop (CVT) Tent. Spyder Auto smoked taillights were fitted along with a Spyder Industries recover hook. Capping off the rear of this truck was a matching rear Iron Cross bumper with Vision X backup lights.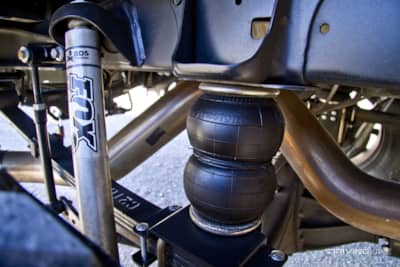 With the added weight of camping gear, bed cap and storage, a set of Firestone airbags were mounted to help carry the load. The bags run off a VIAIR compressor also feeding air to run tools and air up tires. FOX 2.0 shocks offer a smooth ride and improved dampening in any terrain. A Hellwig heavy duty rear sway bar was also installed to help keep this beast under control around the corners.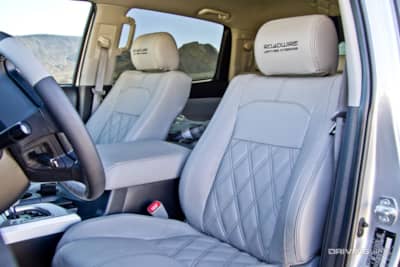 Inside the cab, Roadwire leather and suede seats were installed and the dash was fitted with US Speedo stainless steel gauges. A Kenwood/Vibe Audio sound system was installed to bump the tunes down the trail as well as a Bully Dog GT monitor on the dash to give live updates on the engine's vitals.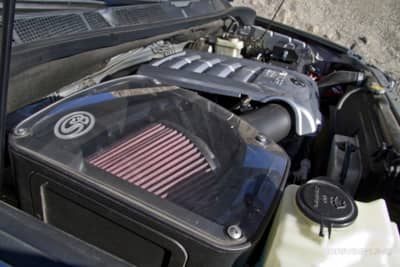 Under the hood, the stock 5.7L V-8 got some help from a Bully Dog custom tune, S&B cold-air intake, Doug Thorley short-tube headers leading back to a Gibson cat-back exhaust. A pair of Odyssey extreme series batteries were mounted supplying power to a sPOD controller under the hood to run all the Vision X lights.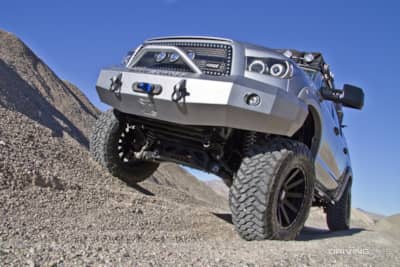 This truck is the full package, ready for an adventure with all the gear needed to get there, enjoy the destination, and get back home safely. The 37-inch Nitto Trail Grapplers mounted on 20-inch XD Heists have been trouble free and proven durable on all of Grachen's adventures.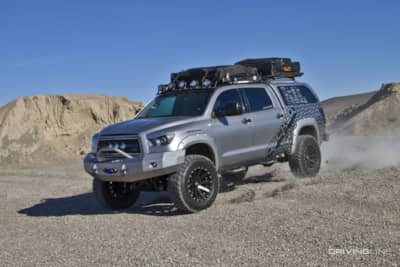 Since purchasing the Tundra, the truck hasn't remained in one piece for very long. Each year, it gets adapted to take on a new theme. This past year, the truck took on its latest transformation from this modern overland rig into an equally cool Baja-ready chase truck. We shot this just before the transition took place. We'll have an updated feature on the completely redesigned setup coming to you soon!