Overlanding Olympiad Nissan Titan
In 2020 Nissan introduced the next generation of their Titan truck. And if you got at least a B in Greek History; you'd know that the descendants of the Titans were the first Olympians. So the next logical step to help market the platform was to look towards the aftermarket to create a stronger and even more athletic version of the freshly redesigned truck for the SEMA show. One company that Nissan partnered with to outfit the new Titan was Fluid Peak Collective with the goal of creating a more than capable rig built to go anywhere, while never sacrificing its capabilities.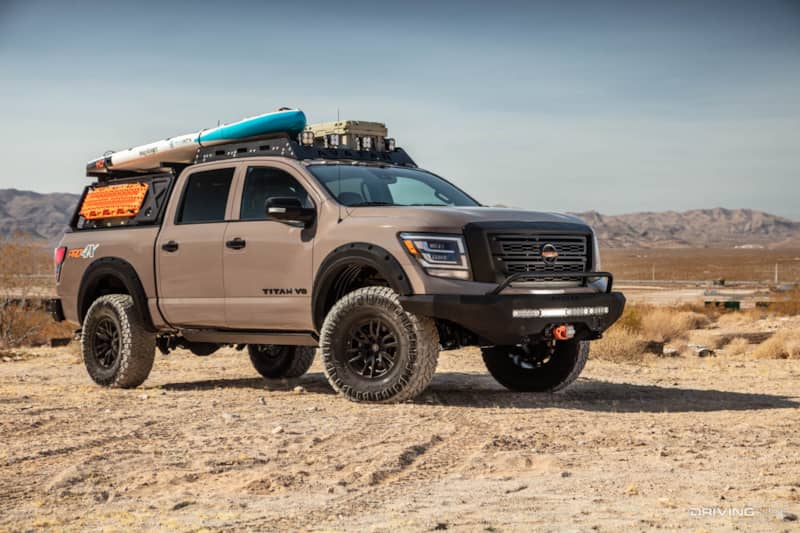 Earthbound
B&S Customizing next took the Titan to task ensuring that any terrain, weather, and obstacles could be overcome easily. This started with a solid suspension foundation consisting of helper bags and a Big Wig anti-sway bar from Hellwig. Providing the 4-inch lift and increased travel is a set of smooth-bodied 2.5-inch Radflo coilovers in the front and shocks in the rear of the Titan.
A set of 17x9-inch Icon Alloys Vector 6 wheels were combined with 35x12.50R17 Nitto Ridge Grappler tires that provide on-road performance with a rugged and aggressive grip improving the truck's traction and capabilities even more.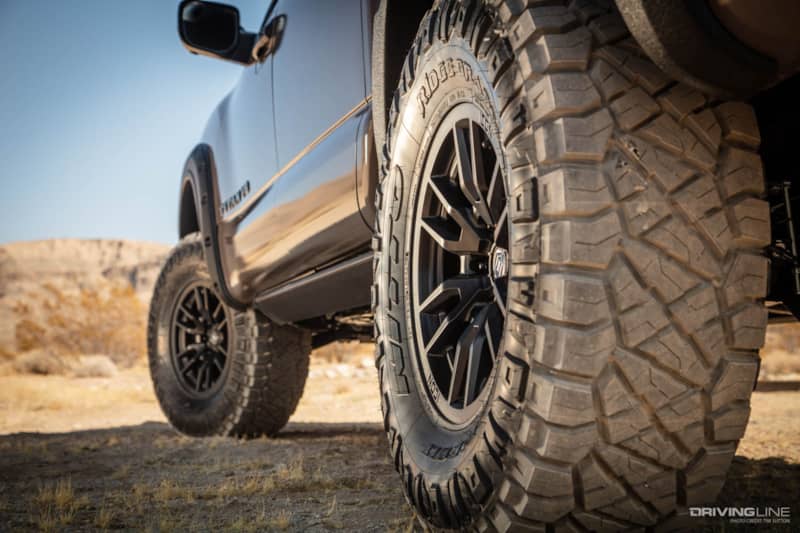 The refreshed Nissan 5.6L V8 engine already came in at a powerful 400hp, but that wasn't enough for B&S Customizing. To add even more horses; a Harrop Supercharger was installed increasing the power by over 40%.
Rugged Storage
Being able to venture into the mountains, desert or snow requires a more than capable setup carrying everything that you need for your adventure and the recovery gear in case you happen to get stuck in tough terrain. The bed of the Titan was converted into a stout storage section with a bed rack and GearPod XL from Leitner Designs.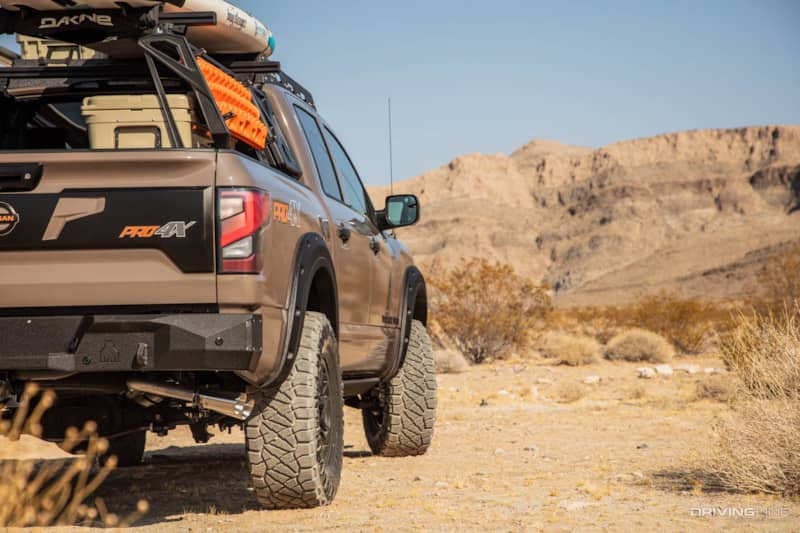 The recovery gear includes a set of MaxTrax Xtreme recovery boards for simple situations, and a Warn 10S winch with Factor 55 hook just in case there is an extreme need to get un-stuck.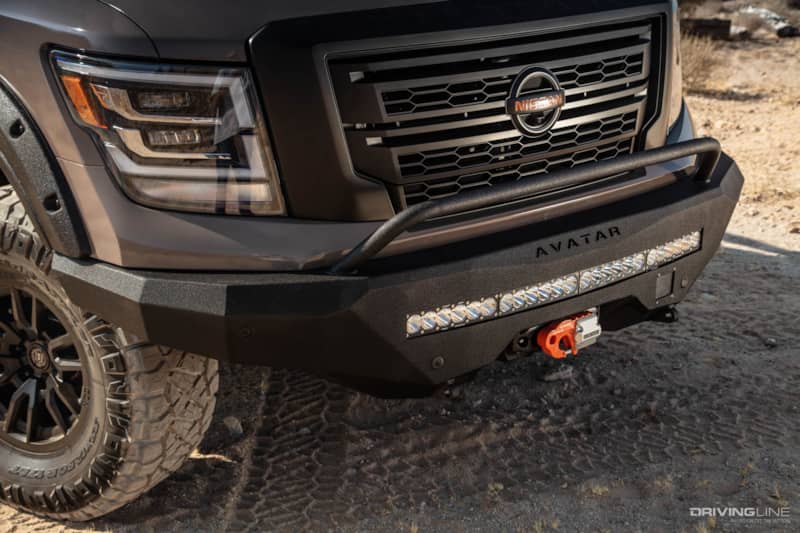 Getting all of the emergency gear mounted up and out of the way allowed for a Decked storage setup in the floor of the bed. Mounted across the top of the Leitner bed rack is a set of BOTE HD Bug Slinger paddleboards. Securing the boards in the front is an Avatar Metal Works roof rack outfitted with cases from Roam Adventure for even more storage and a couple of sets of LED pod lights from Baja Designs controlled by a Switch Pod setup and Optima battery.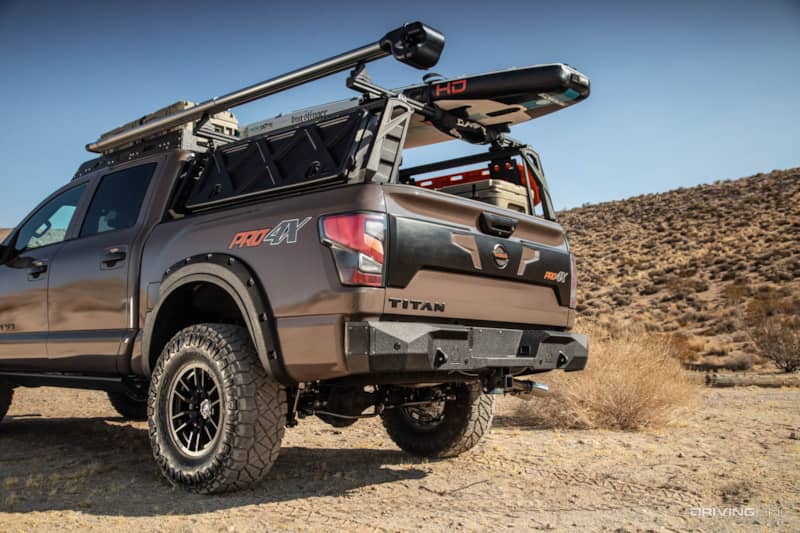 Complimenting the tough roof rack and bright lights is a 40-inch light bar mounted up alongside the winch to a full Avatar Metal Works front bumper. A rear bumper was mounted up as well as full skid plates to protect the Titan. The entire package created first by Nissan and then outfitted by B&S Customizing for Fluid Peak Collective allows anyone to hop in the chariot-like Titan, trek over any trail, pull right up to the shoreline, and paddle out to continue their adventure.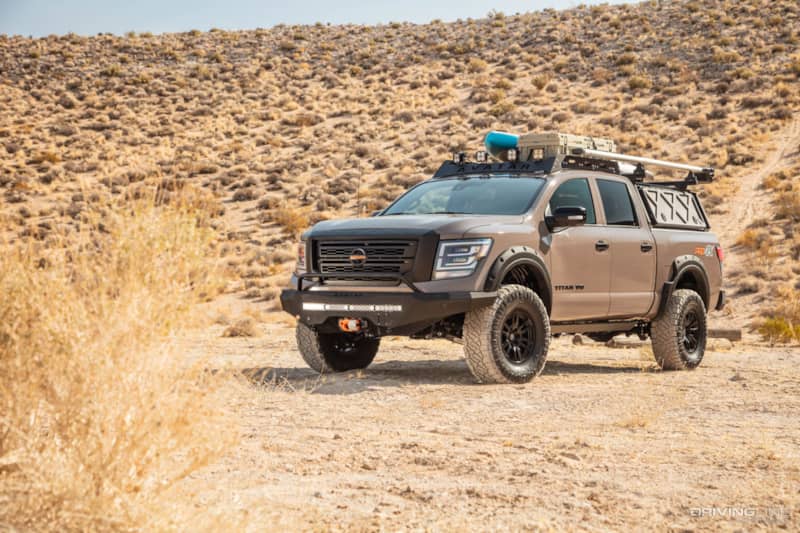 HARD FACTS
| | |
| --- | --- |
| VEHICLE | 2020 Nissan Titan Pro 4X |
| OWNER/BUILDER | Fluid Peak Collective/B&S Customizing |
| ENGINE | 5.6L V8, Harrop FDFI2300 Supercharger, Cat-Back Stainless Exhaust System |
| SUSPENSION | Radflo 4-inch Suspension Lift with 2.5-inch Smooth Body Coilovers and Shocks, Hellwig Big Wig Sway Bar, Hellwig Air Helper Bags |
| WHEELS | 17x9-inch Icon Alloys Vector 6 |
| TIRES | 35x12.50R17 Nitto Ridge Grappler |
| BODY | Avatar Metal Works Front and Rear Bumpers, Roof Rack and Skid Plates, Leitner Design ACS Forged Bed Rack and GearPod XL, Decked Bed Storage, AMP Research Power Steps |
| LIGHTS | Baja Designs OnX6 40-inch LED Light Bar and (4) XL80 Pro LED Lights, Optima Yellow Top Battery, Switch Pro SP9100 |
| GEAR | WARN Industries VR10S Winch, Epic Hyperlink, Factor 55 Ultra Hook and Recovery Kit, Road Adventures Rugged Cases, MaxTrax Extreme Recovery Boards, BOTE HD BugSlinger Paddle Boards |