Pride of Completion: Jamison's Restomod Mustang
Listening to the throaty growl of the bored out 302 and watching the menacing satin black body glide backward into its place in the line of shiny show cars, you could tell something special was happening. Down slides the window and a hand reaches out to open the matte-black powder coated handle with a mumbled apology, "Inside handle's the only thing that's not attached yet."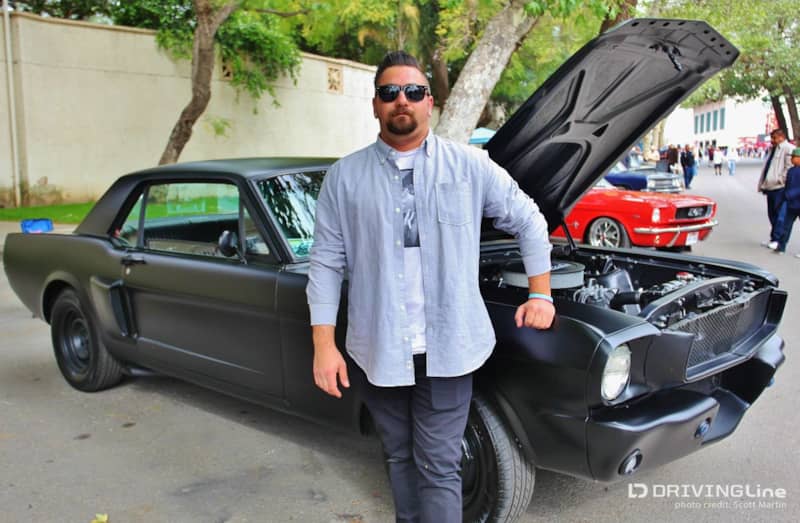 Out steps a young man with dark glasses, a goatee, with long hair on top and shaved on the sides. Although serious and reserved, you could tell he was very excited… this is the first car show for Jamison Martin and his newly-running 1965 Restomod Mustang (full gallery below).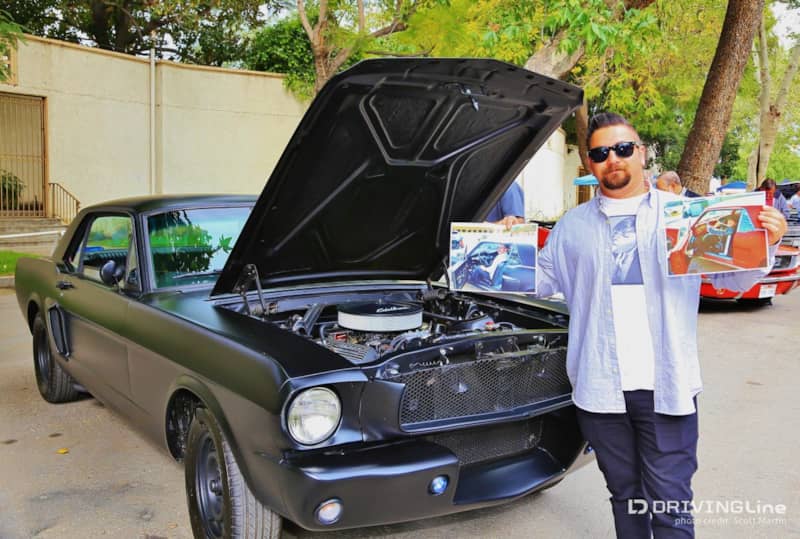 It's a long story, but as he explains holding up two 8x10 color glossy's, the first is of him at the age of 14 smiling at the camera and sitting in the Coupe when he and his father first picked it up in Culver City. In the second, he's sitting in the same position when the Mustang finally came back to the house in drivable condition ten years later. The photos are a time capsule showing how long some car projects can take to finish from beginning to end.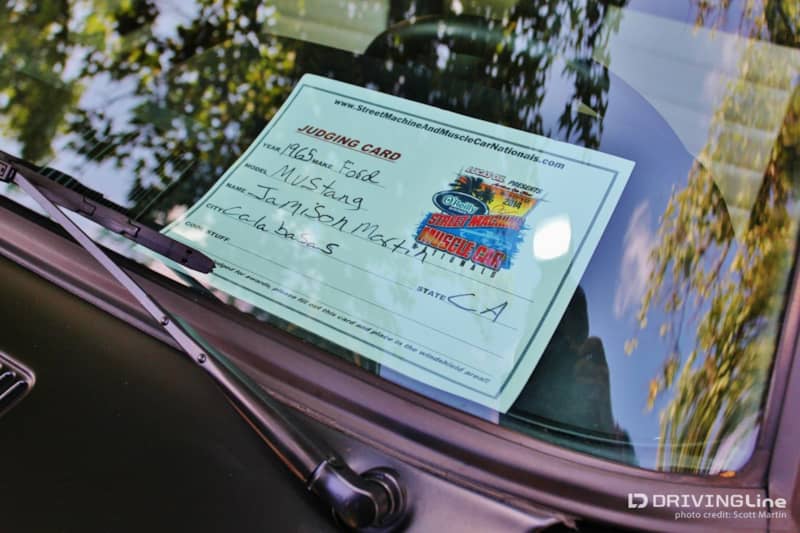 The ten year saga really reflects the trials and tribulations of life… the excitement of getting your first car and all the dreams that go with it, and the disappointment of finding out that the body shop has flaked out and left your car in the corner while they work on every other project for two years. The Mustang literally had to be towed out of four different body and mechanics' to be brought to new locations until the professionals at Mustangs Etc. in Van Nuys finally fixed all that the other shops messed up and completed everything else in the correct way. Not that there's ever an "end", because as we all know, a custom car is never truly finished.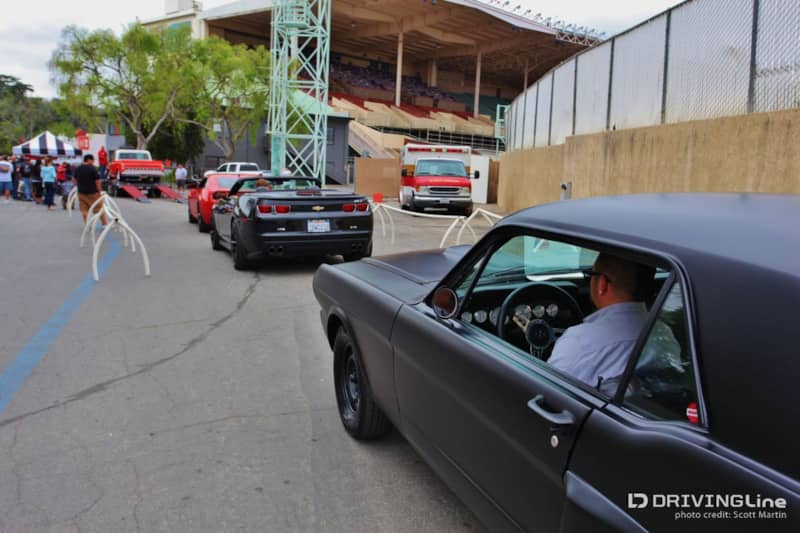 The Inaugural O'Reilly Street Machine and Muscle Car Nationals in Pomona, California was definitely a great place for a first showing. The huge Fairplex looked like it was filled to capacity and there were amazing hot rods, gassers, dragsters, and customized street machines everywhere… along all the walkways, inside the buildings and lining the makeshift thoroughfares.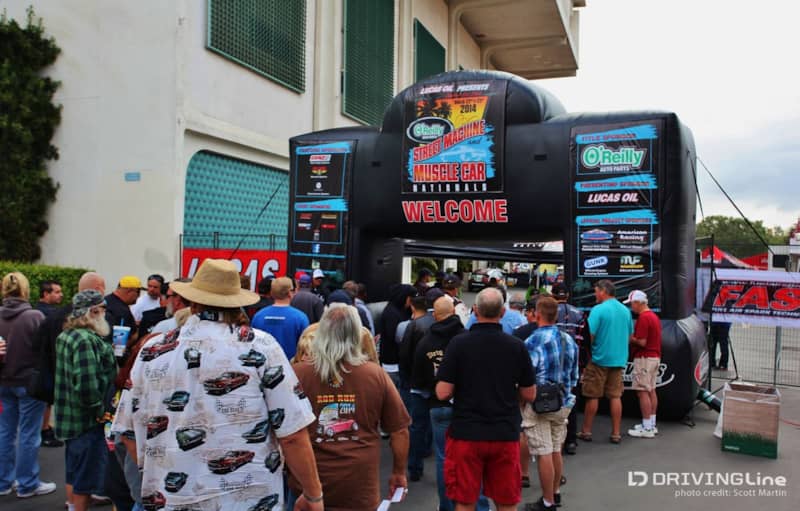 A constant procession of great-sounding vehicles were cruising around at 5 mph and there was something to do every minute including the Chip Foose Experience, Showcar Alley, a Dyno Challenge, Live Music, Autocross Rally, Mickey Thompson Tire Burnout Contest and even a Miss Street Machine Beauty Contest.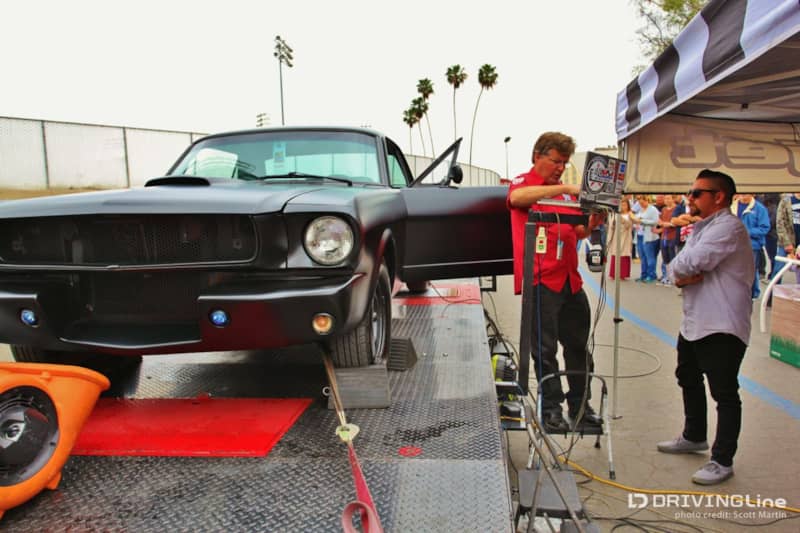 One thing Jamison was able to take advantage of on the first day was the Dyno Challenge. It was exciting to finally see what the horsepower would be… he had no idea. It was a little disappointing, though, because it turned out the carburetor was running way too rich so they couldn't get a good reading. He was going to do the Tire Burnout contest but with those results, it was possible to do real damage to the engine or cause a fire, so he decided to pass… bummer!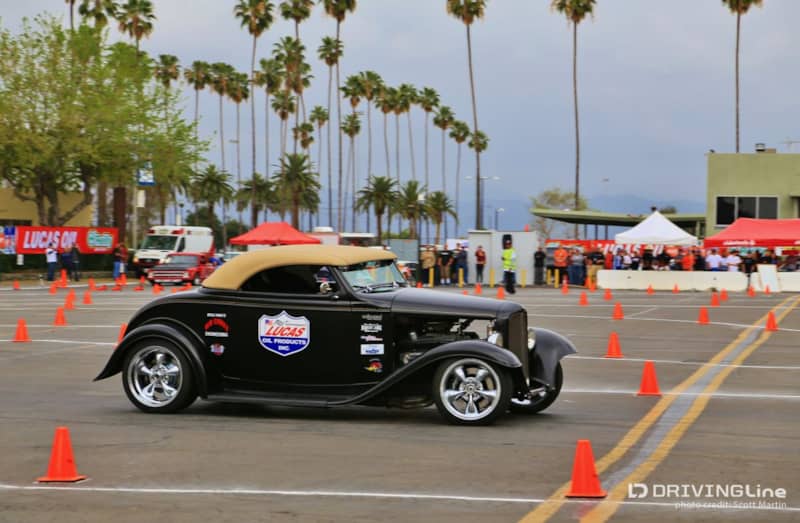 Also the timed Autocross looked like a lot of fun, but the car is a base early-build 1965 model without air conditioning and with manual steering, so there was no way to do the type of turning needed in that type of tight course… bummer again!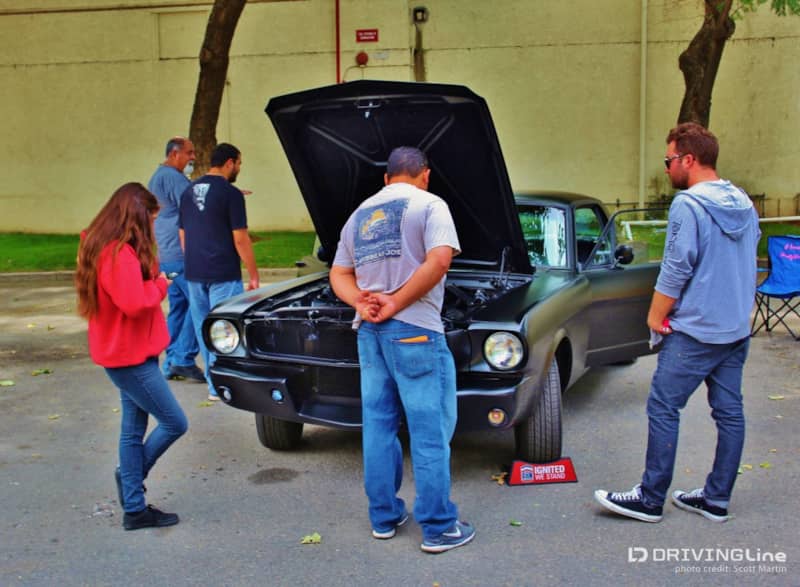 Although Jamison and the Restomod did not win any awards at the show, he definitely received a lot of verification of the build. So many people were very supportive in mentioning all the different aspects and details that they liked about the car. One standout was the paint job, a special one-step process Satin Black finish.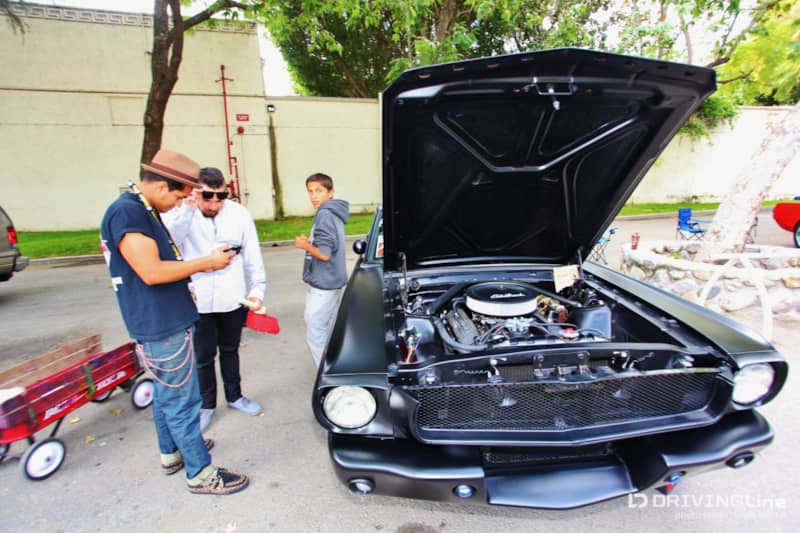 People were also impressed that all chrome on the vehicle had been powder-coated matte-black to match the exterior and interior paint. Jamison received a lot of positive comments about the body modifications including the side air scoops which are similar to the CS or California Special Mustang series, plus the front valence which is molded to mirror the Shelby GT models. Other favorites included the interior which is also finished in Satin Black with black and crème reproduction Pony seating and custom instrument cluster plus tilt column steering wheel.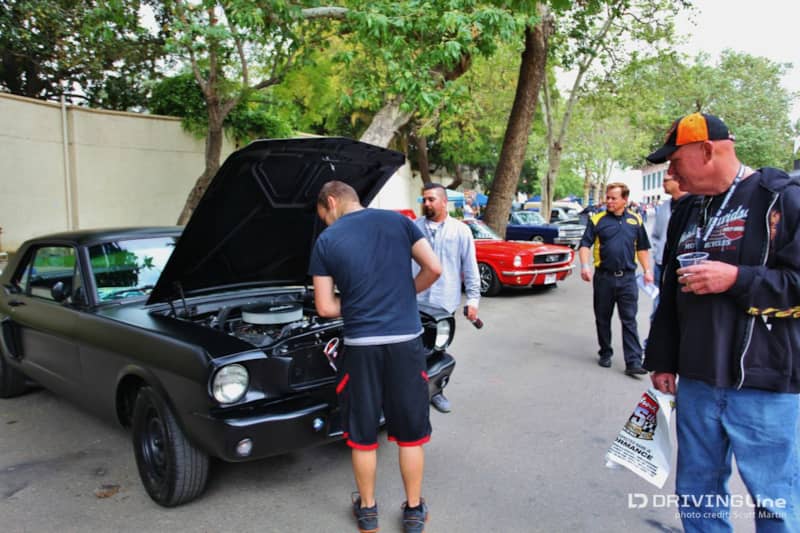 With the hood up at all times, that was what first caught everyone's attention, because, while not flashy with chrome, the whole setup is super clean between the 302 Ford-racing valve covers and Edelbrock air cleaner with a 650 cfm Edelbrock carburetor beneath it linked to Edelbrock intake manifolds. Ceramic coated Hooker Headers end in 3 inch pipes that are connected through custom made x-pipe to same-side-in, same-side-out Dynamax mufflers leading to a ceramic black coated 2 1/2 inch oval pipe outlet between the door and rear tire… All creating a great semi-racing sound that roars when you want it and purrs (like a Lion) the rest of the time.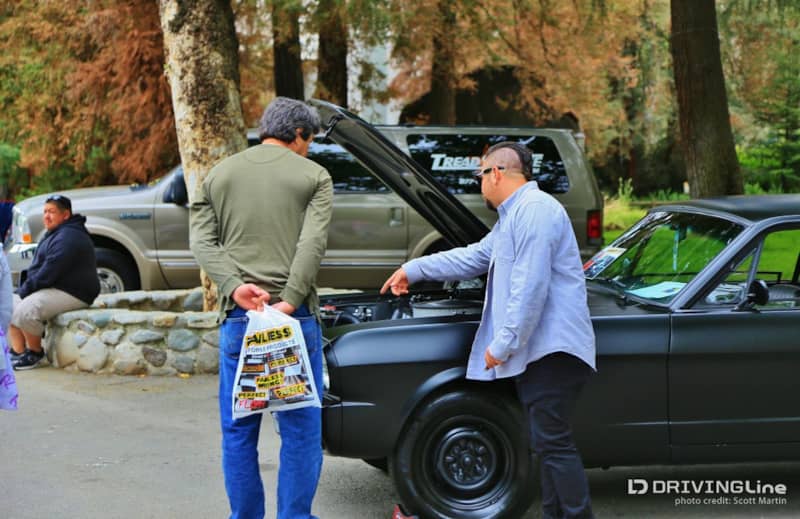 When Jamison first got it in 2003, the Mustang wasn't running, but it had a 289 and the plan was to rebuild the engine to a 302 anyway. The body was really straight and all the parts were there, even though many were in boxes. You could tell from under the seats that the car was originally Twilight Turquoise Metallic and it had a vinyl top, but then it was painted some type of orange color inside and out, some of it obviously with spray cans. In an interview with now-24-year-old-Jamison, he laid out the original plans for the 1965 Mustang Coupe, saying, "I could picture in my mind even at that young age how it would look in flat black, and that was before everyone was doing matte black paint jobs. It's just a bummer that the car took so long to get running after the body and paint was finished! At least the Black Satin paint is really unique and a lot of work was put into making the body perfect by B&E Customs in Chatsworth before they finished it with their specially developed one-step process."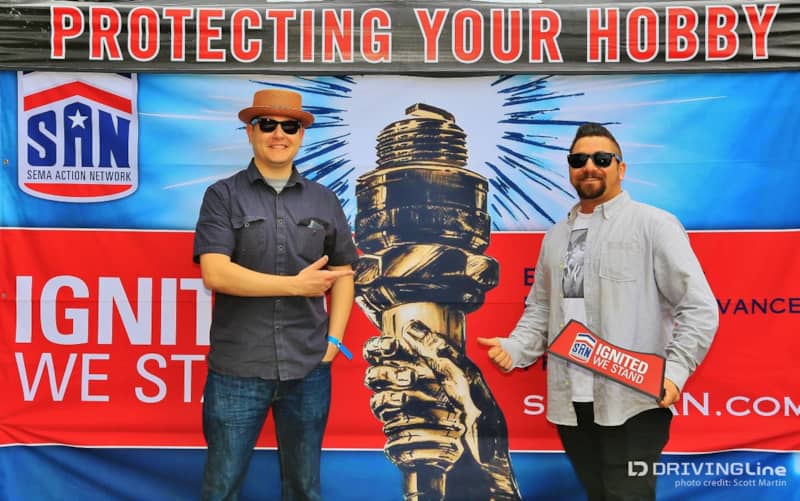 Special thanks to Colby Martin and Bryan Harrison of SEMA and SAN (SEMA Action Network) for making it possible to exhibit the vehicle and participate in all the weekend activities. Even Jamison's brother Chase got to come out and join in the festivities on Sunday and help get the Mustang back home to Calabasas.
We're sure Jamison will be out on the streets and attending plenty of car shows in the future! Remember taking your first build to a show? Leave a comment of what, where, and when!