Project Slate: Lifted Heavy-Duty 2013 RAM 3500 Cummins Diesel
When a freshly redesigned truck platform comes out, especially one as popular as the RAM Cummins diesel truck; it is always a race for companies to develop new products and be the first to the market with their new parts. BDS Suspension utilized their 2013 RAM 3500, dubbed Project Slate, for this purpose. The truck's factory suspension was taken apart in order to R&D their leveling and suspension lift kits for the heavy-duty RAM.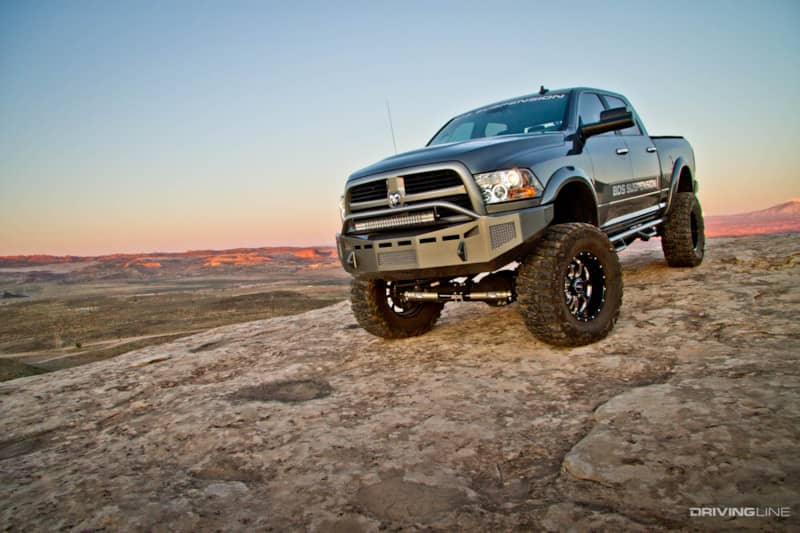 But they also looked to do more than just use it to develop new products and go beyond simply displaying the built truck at the SEMA show with an 8-inch lift and FOX shocks. They wanted the truck setup for work and play use. After its debut at SEMA, they hit the dirt and the highway all over the country for shows and off-road fun putting double the average mileage on it in just the first couple of years.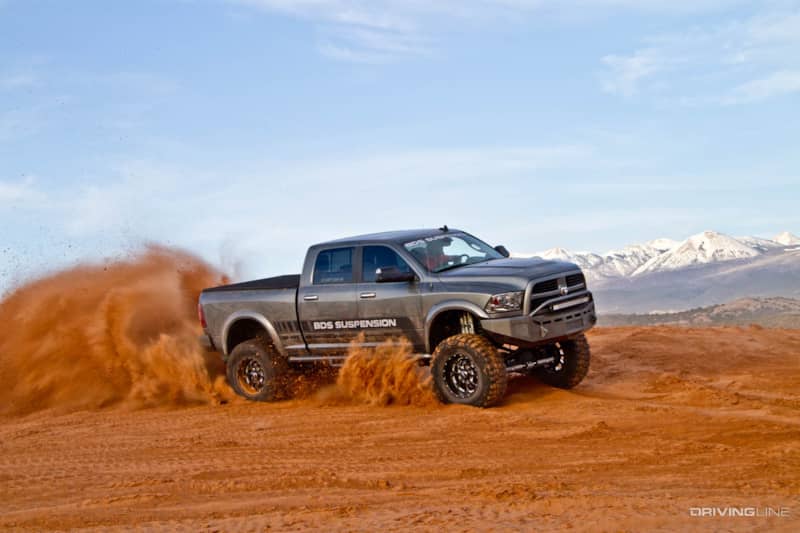 Test & Tow Rig
The Project Slate RAM truck was the guinea pig used to develop BDS' line of suspension lifts and levels for the new platform. For its final elevation; they went with their largest, an 8-inch 4-Link suspension system complete with dual FOX 2.0 remote reservoir shocks, and dual steering stabilizers.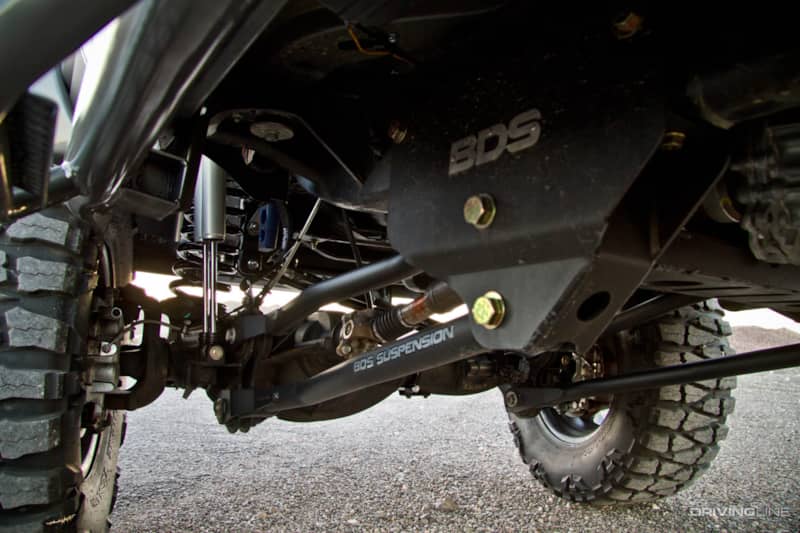 In order to help tow the company display around the country; a set of Air Lift helper bags were installed on the rear axle as well as a set of FOX shocks.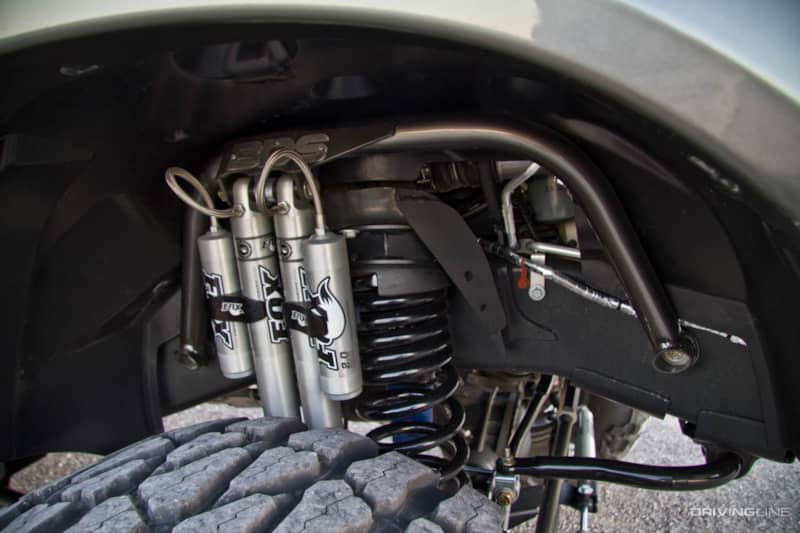 With an 8-inch lift, a massive set of wheels and tires were needed to fill up the Bushwacker fender flares. Big and fat 40x15.50R20 Nitto Mud Grappler tires were mounted up to a set of 20x10-inch SOTA Novakane wheels. A little bit of clearance trimming was needed, but thanks to the BDS lift and upgraded steering, the truck can handle itself hauling on the highway and rips through the desert dirt.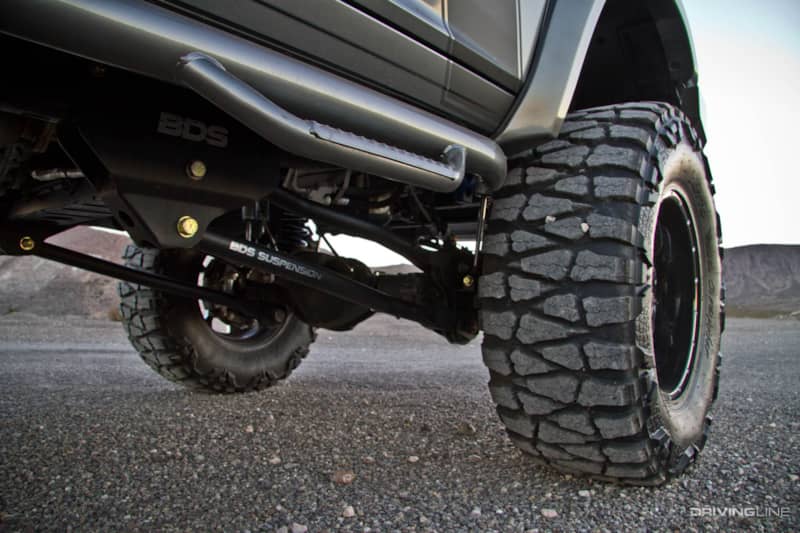 To help with towing capabilities and increase the fun factor; a Bully Dog ECM unlock was done and a Diesel GT tuner was installed; as well as a 5-inch Diamond Eye exhaust system from the DPF back, all combining to crank up the power and torque on the Cummins 6.7L diesel powered truck.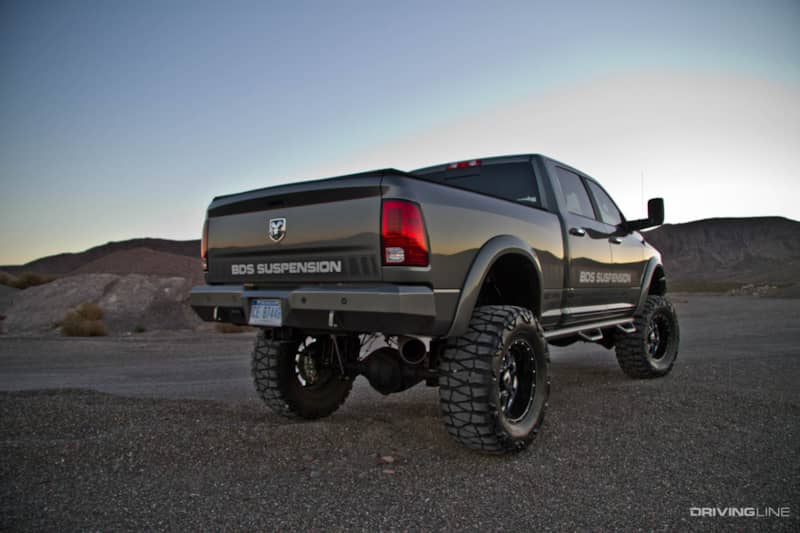 Heavy Duty Styling
Having a beefed-up suspension setup and 40-inch Nitto Mud Grappler tires; the body styling of the truck would need to match the tough look as well. A set of Fusion bumpers were color-matched to the factory Granite Crystal Metallic tones and mounted up with a Rigid 30-inch LED light bar on the front of the truck.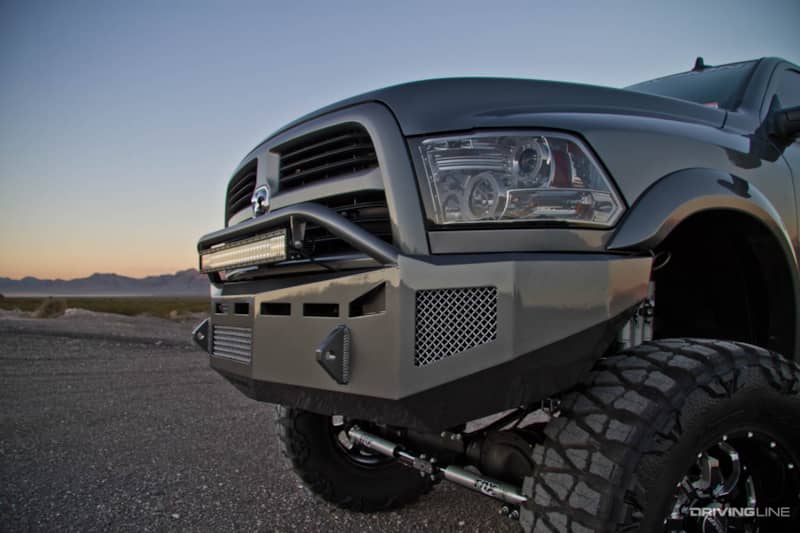 A few other accessories were bolted on to complete the modifications package. An Extang Trifecta tonneau cover sits atop a Reflex sprayed bed liner while a pair of Spyder LED taillights and smoked projector headlights were swapped in. Coming in handy when hopping in the RAM truck to hit the road is a full-length set of nFab steps.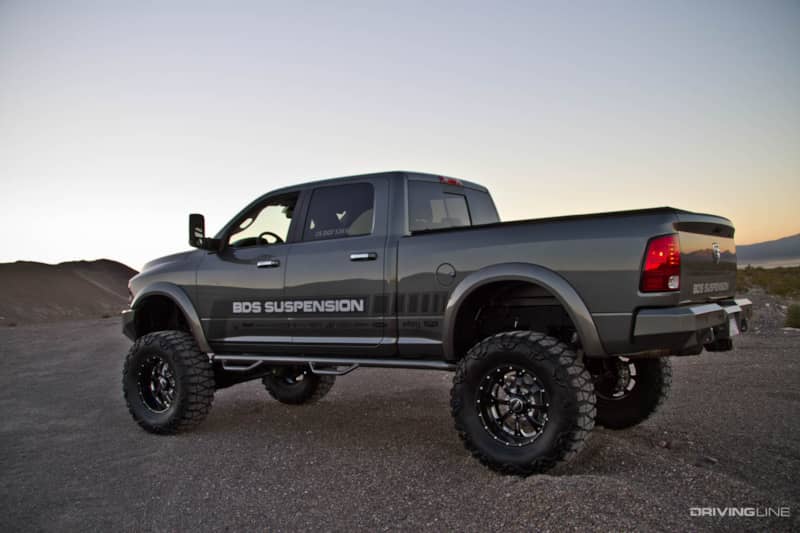 The RAM 3500 diesel has since served BDS Suspension well, being used for work and on display at shows as well as getting plenty of playtime on the weekends.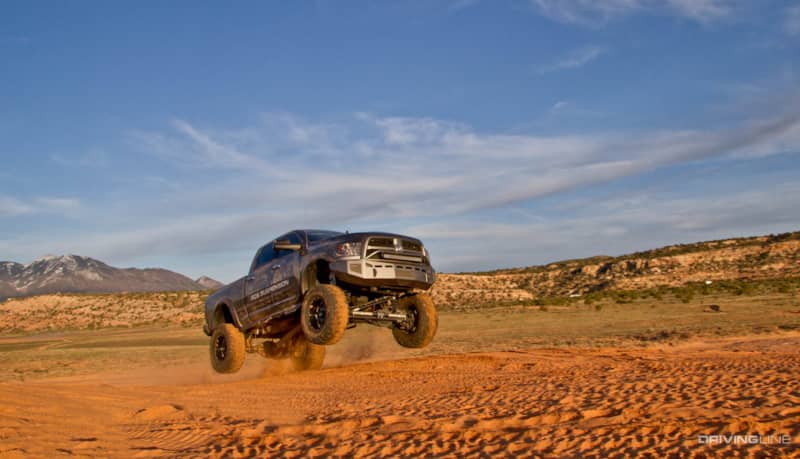 Photos Courtesy of BDS Suspension
HARD FACTS
VEHICLE
2013 RAM 3500
OWNER/BUILDER
BDS Suspension
ENGINE
6.7L Cummins Diesel, Bully Dog Diesel GT Programmer, Diamond Eye 5-inch Stainless Exhaust
FRONT SUSPENSION
8-inch BDS Suspension 4-Link, Dual

 

2.0 Shocks with BDS Shock Hoop, Dual FOX Steering Stabilizers
REAR SUSPENSION
8-inch BDS Suspension 4-Link, FOX 2.0 Shocks, Air Lift Helper Bags, Nitro Gear Diff Cover
WHEELS
20x10-inch SOTA Novakane
TIRES
40x15.50R20 Nitto Mud Grappler
BODY
Fusion color matched Bumpers, Bushwacker color matched Fender Flares, nFab Nerf Steps, Extang Trifecta Tonneau Cover, Reflex Spray-In Bedliner
LIGHTS
30-inch Rigid LED Lightbar, Spyder Smoked Headlights, LED Taillights