Racing Among Kings: Mel Wade's KOH 2017 Recap
King of The Hammers is an experience like no other. Thousands of spectators flock to a dry lakebed in Southern California to watch some of the greatest off-road racers in the world compete on a wide range of terrain. From serious rock crawling to wide open desert racing, these teams battle against each other, themselves and the harshness of some of the world's most difficult trails. This is all in effort to be named grab the coveted title of King of The Hammers.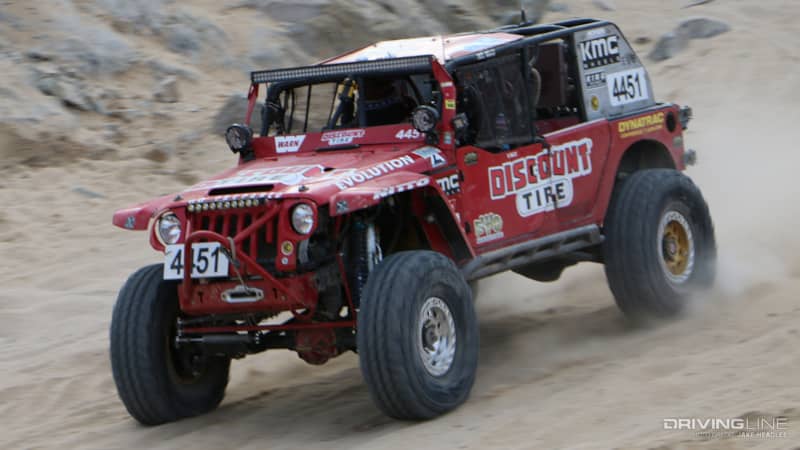 Mel Wade, owner of Off Road Evolution and EVO Manufacturing, loves KOH, but he doesn't go out to take first place. For him, the race is about the ultimate test of himself, his 2007 Jeep Wrangler Unlimited and the components his company manufactures. We followed along this year as he took the reins of his JK once again in the top-level 4400 class.
Racers have 14 hours to finish the race. Last year's KOH was a tough one by many accounts, and a few mechanical issues caused Wade to time out. So this year, he was looking for redemption. Wade's goal for 2017 was simple: Run a clean race and finish. Unfortunately, only half of that came true.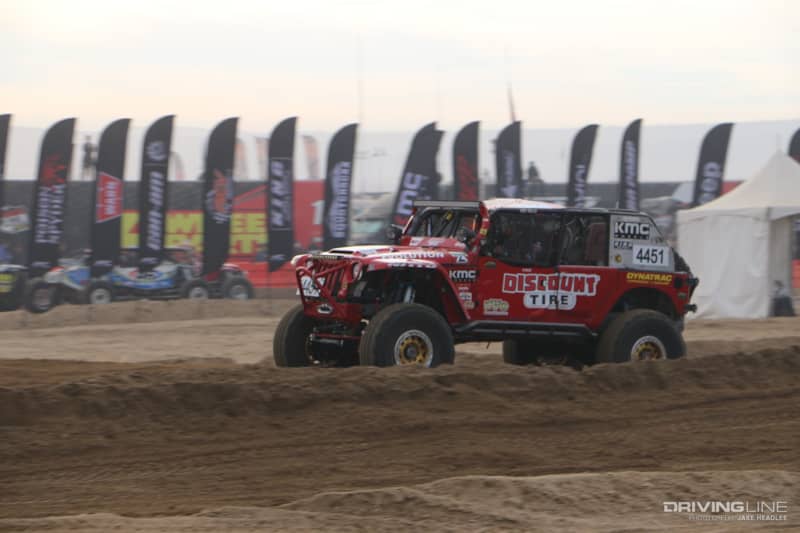 Wade and his Discount Tire sponsored Jeep ran a clean first lap in just about two hours. Rolling in through main pit, they noticed the transmission pan was leaking. After about an hour in the pit, the pan was replaced and they were back on course. Lap 2 went well, save for a little damage to the rig. When the rig reached the next remote pit, they found there was still a transmission fluid leak. The pan was resealed, but it turned out that the pan wasn't the source of the leak. The flange that holds the adapter plate to the transmission was leaking. After a quick tighten-up of the flange, they were back at it.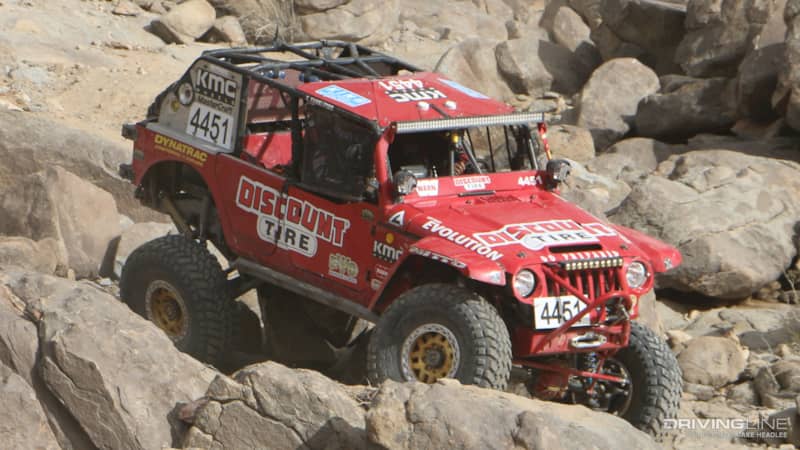 The balance of Lap 2 went smoothly. Wade stopped in main pit just long enough for a fuel top off and was soon back in the race. Lap 3 took him to Spooner Canyon, a technical trail rated a 5+ by the Victor Valley 4 Wheelers (the folks who maintain all the Johnson Valley trails known as The Hammers). Spooner Canyon was loaded up with a traffic jam, a regular occurrence on the big trails. Racers must move more slowly through there because of the intensity of the trail, and when someone breaks, things get seriously clogged up. Sometimes though, other racers can take alternative lines, which Wade felt comfortable doing.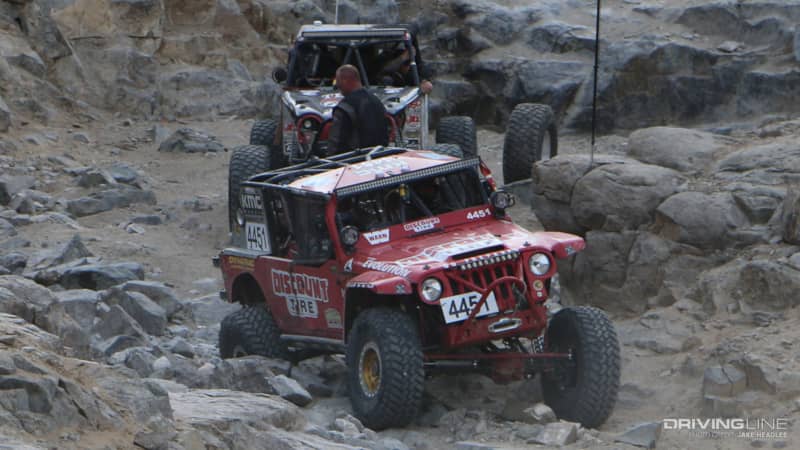 The race Jeep's rear sway bar had broken earlier in the race. When creeping along an alternative line to go around other race cars on Spooner Canyon, Wade flexed out the Jeep, which resulted in a chance encounter between a suspension link and the oil filter. The link cut the filter, and it began squirting oil.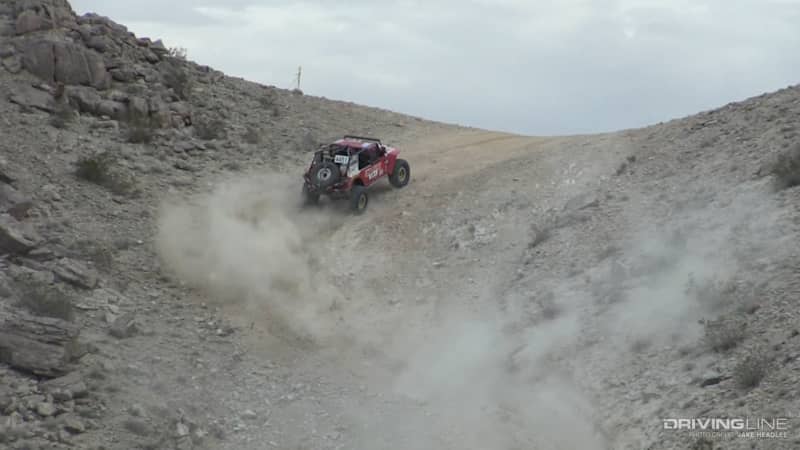 KOH is what is known as a "no chase race" — meaning that pit crews cannot follow the race vehicle through the entire course. Racers have to make it to pit areas themselves, either by their race vehicle or by walking. Wade hiked 3 miles to get a new filter and oil, then hiked 3 miles back to his Jeep. The process took an extra three hours out of his allotted time. By the time he got back to the Jeep, it was approximately 9:00 p.m. — time ran out at 10:00 p.m. With the distance left to travel, Wade decided to conclude his race then.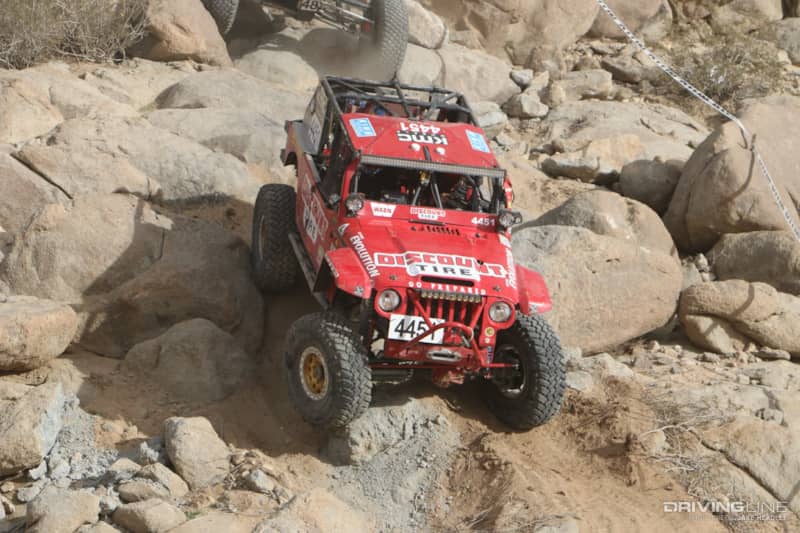 Even after a disappointing end to his race, Wade isn't deterred. He is happy with how his Jeep performed and grateful for his support crew and their diligence. The day after the race, Wade took his crew out to go have some fun in the desert to thank them for their hard work. The race Jeep was working well again — crawling, jumping and doing what Jeeps do, putting a grin on your face.
Check out more action in Wade's race highlight video and the photo gallery below.
Wade took on another famous off-road race in EVO1... and totally dominated.