Road Test Review: The 2023 GMC Canyon Denali Attempts All-New Luxury In A Mid-Size Pickup Package
Mid-size truck fans are facing an onslaught of all-new pickups that have recently debuted, or are about to hit the market, in a very short span of time. With fresh versions of the Nissan Frontier and Chevrolet Colorado already on tap, and with the redesigned Ford Ranger and Toyota Tacoma set to arrive in showrooms within the next 12 months, there's never been a better time to shop for a sub-ginormous pickup.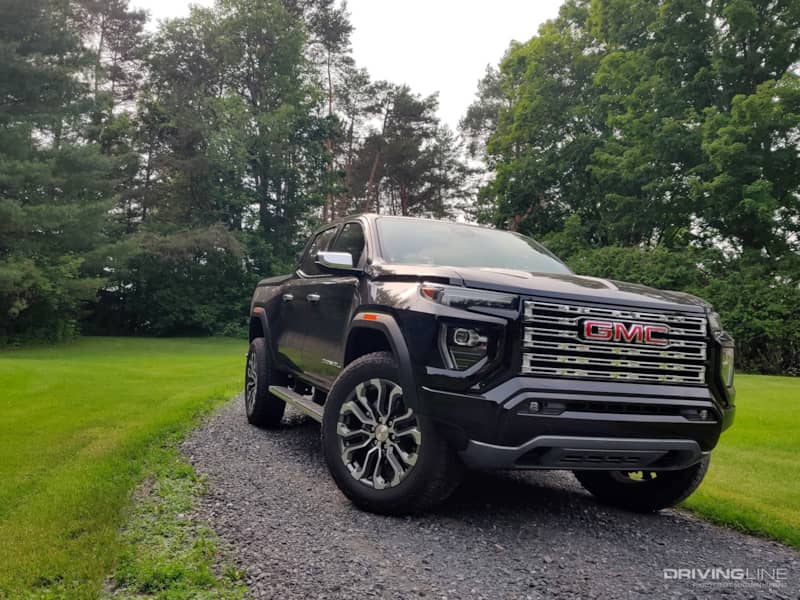 Into this fray steps the 2023 GMC Canyon Denali, the latest—and still only—take on what a luxury truck should look like outside of the full-size set. Although the previous-gen Canyon Denali was a little lackluster at re-purposing its larger Sierra sibling's high-end interior trappings, the new model hits after GMC's scramble to address criticism that its largest premium pickups were decidedly less-than in the face of the competition.
With a new engine, dramatic looks, and revamped feature set on the table, the GMC Canyon Denali has a lot to prove—especially if it hopes to hold off the full slate of competitors keen on crowding it out of the market.
Fresh Mug, Medium Interior
The Canyon makes a big first impression for 2023, regardless of which model you order. That's because GMC made the decision to embiggen the pickup in nearly every dimension as compared to its Colorado platform-mate, a choice that sees the Canyon riding taller and looking wider than its Chevrolet sibling. This is true for both street-focused trucks and off-road editions, giving the entire Canyon line-up a pre-runner feel with boxed-out fenders and a stilt-walking suspension setup.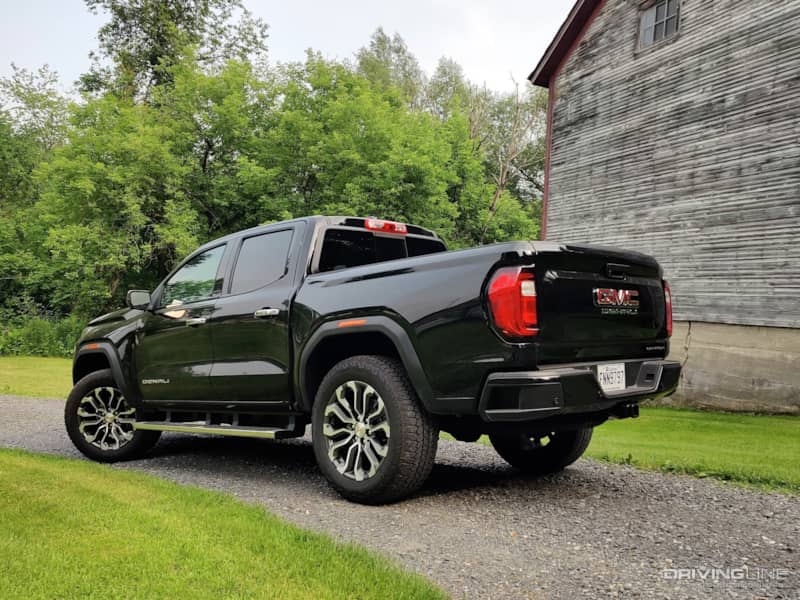 The GMC Canyon Denali adds to this differentiation by way of its extroverted chrome grille, 20-inch rims, and additional brightwork scattered across its trim. Inside, the Denali aims higher than both Chevrolet and all other mid-size GMC models, introducing wood trim on the dashboard, a large digital gauge cluster (paired with a head-up display), and of course the expected leather on every seating surface.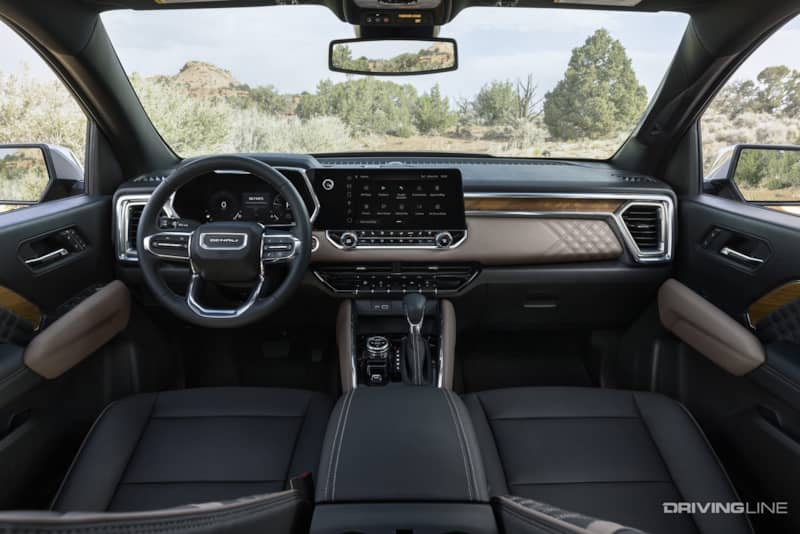 Don't get me wrong—the Denali's interior is absolutely fine, and in fact compares well against dated cabins offered by the Tacoma and the Ranger. Does it impress when compared against the larger truck with which it shares its badge? Not exactly, as it's still possible to find (with the eye, and by touch) areas of the interior where affordable plastics intrude to remind you of the Canyon's roots.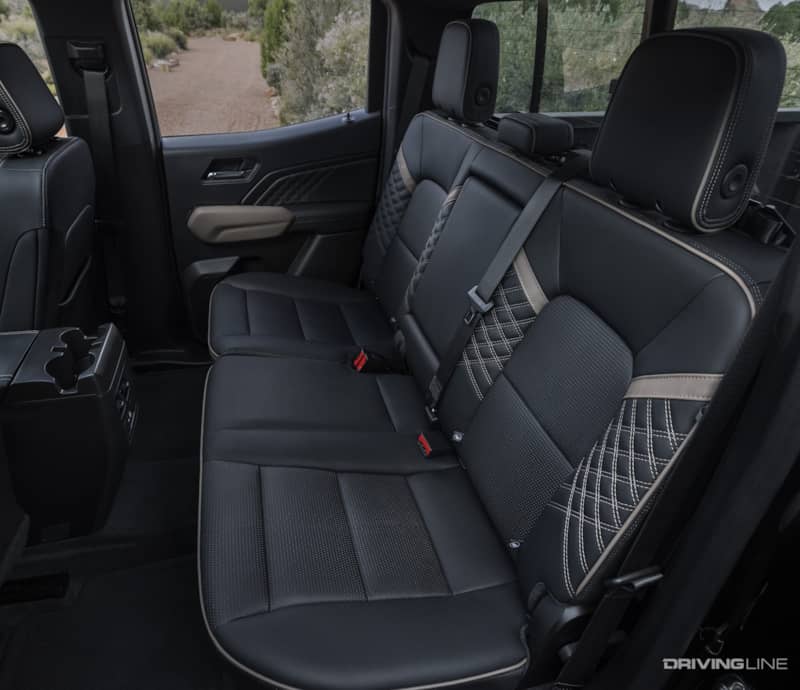 It's also important to be reminded of what the Denali doesn't give customers: a choice of either cab size (they're all four-door models) or bed lengths (you're stuck with the shortest five-foot option). While most buyers will be ok with the bigger passenger compartment, it's a shame that they'll be forced to futz around with bed extenders or tow a utility trailer if they actually want to do pickup stuff with its shrunken cargo area.
More Power, Similar Speed
GMC's made sweeping changes under the hood of the Canyon, wiping out the older generation's choice between four-cylinder and V6 models and instead introducing a single turbocharged four-cylinder as standard. This engine, which also pulls duty in the Chevrolet Colorado, comes exclusively in a top-tier tune that delivers 310 hp and 430 lb-ft of torque from its 2.7L of displacement (avoiding the weaker entry-level spec available with the Bowtie-wearing truck).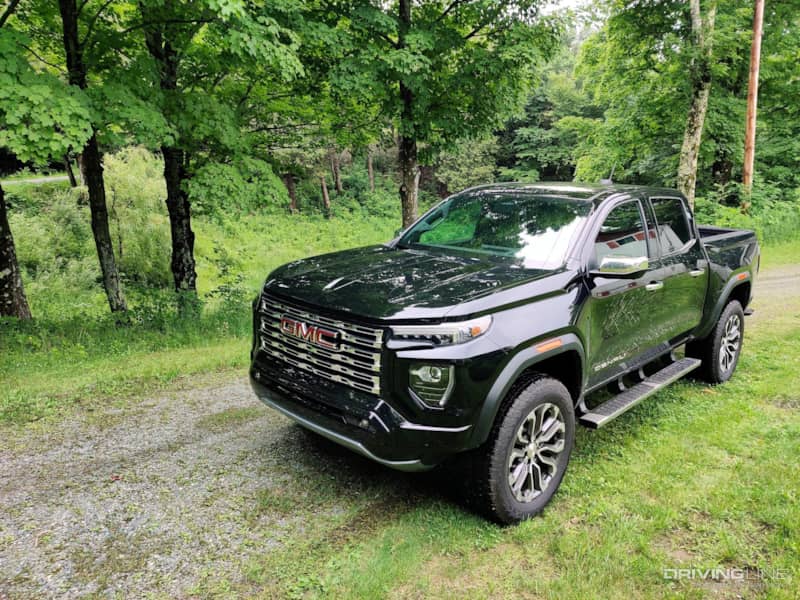 Paired with a 10-speed automatic transmission, the engine does everything you ask of it without complaint, although don't look for the overwhelming acceleration that its torque figures seem to suggest is lurking under your right foot. The Canyon Denali is admirably quick but it never feels particularly sporty, saving that grunt for towing or hauling should the situation arise. Surprisingly, the engine isn't all that smooth at idle, rumbling through the floorboards while you sit at the stoplight in a distinctly non-luxurious fashion. Perhaps the worst aspect of this setup, however, is its fuel mileage. I saw 19-mpg in combined driving, with most of that spent at highway speeds, and that's equal to, or in some cases worse than, the real world efficiency delivered by V8-powered full-size trucks.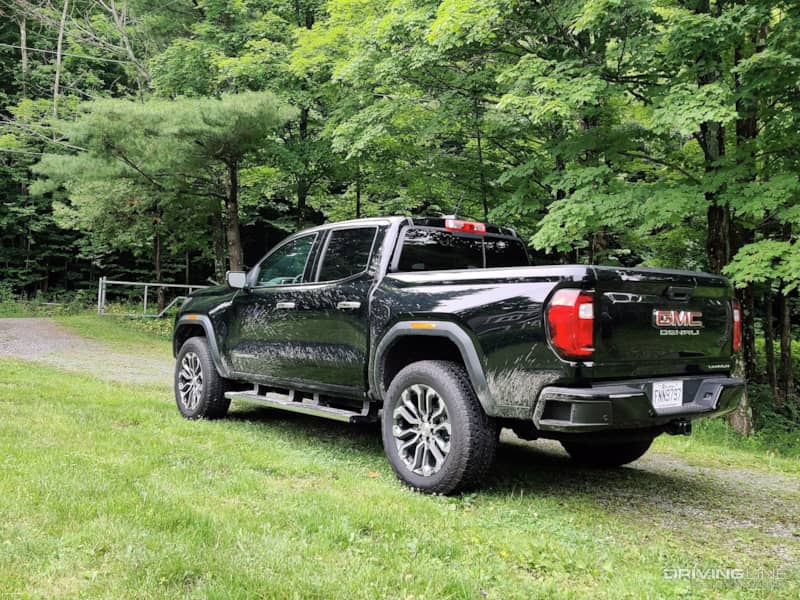 The Canyon Denali rides tall, and features low-range four-wheel drive, but it's not a hardcore off-roader like the AT4X that sits just above it on the pickup's price scale. At the same time it's not exactly a pure street machine, as it lacks the Sierra Denali's magnetic ride control suspension, which I suspect could have erased some of the boom and flutter exhibited by its springs and shocks over rough road (and improved on the corner tilt the truck exhibited at higher speeds). It's puzzling to me that GMC is holding back on giving the Canyon Denali an adaptive suspension, as it would elevate the pickup's ride over and above every other rival. It's an even stranger decision considering that the Canyon AT4X gets its own high-tech DSSV shocks (shared with the Colorado ZR2).
Paying The Price
The GMC Canyon stats at just over $38,000, relying on its higher level of standard gear to justify the price spike versus a base model Chevrolet Colorado. The Canyon Denali inflates its window sticker to $52,500—a considerable boost, but still $4,500 less than what you'd pay for the rough-and-tumble AT4X. For comparison's sake, $38k will also get you in the door at the bottom of the Sierra line-up, and $50,000 trim level will put you mid-pack with most full-size badges.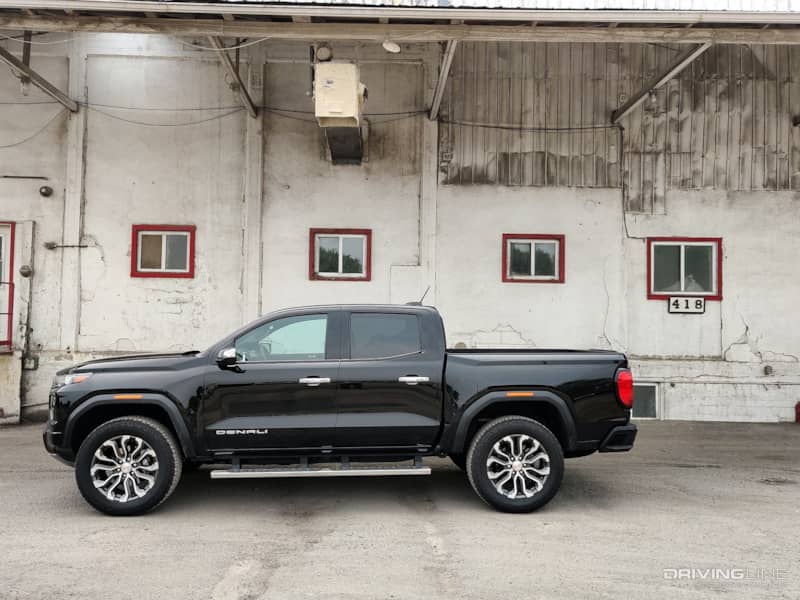 If the GMC Canyon Denali offered a game-changing interior, or the latest and greatest tech features (such as Super Cruise or MagneRide), it might make its price tag a little easier to swallow. As it stands, the Denali is a good all-around pickup that feels more upscale than its peers(*), but doesn't do enough to lose that particular asterisk when compared against true luxury fare. Other than its fuel mileage, forced short-bed configuration, and unusual shake-shake-shake at a stoplight, you likely won't be disappointed by what the Canyon Denali has to offer, but it's hard to imagine anyone raising eyebrows at what this range-topper brings to the table.