Road to AMBR with Blue Steel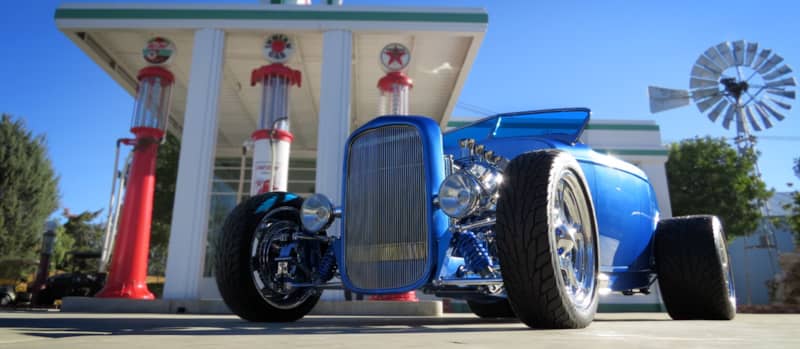 For those of you who haven't heard of AMBR before, it stands for "America's Most Beautiful Roadster" and is an award that is given out every year since 1950 during the Grand National Roadster Show. Most often a 1932 Ford, the AMBR car reflects the tastes of the era, but regardless of style it is judged on every single aspect down to its smallest bolt. Very few set out with intentions of an AMBR build - the time, money, and skill these roadsters take is tremendous. Only the top of the top are granted the title of the "most beautiful" roadster (keep an eye out for some past winners that we'll be sharing here on Driving Line this coming month).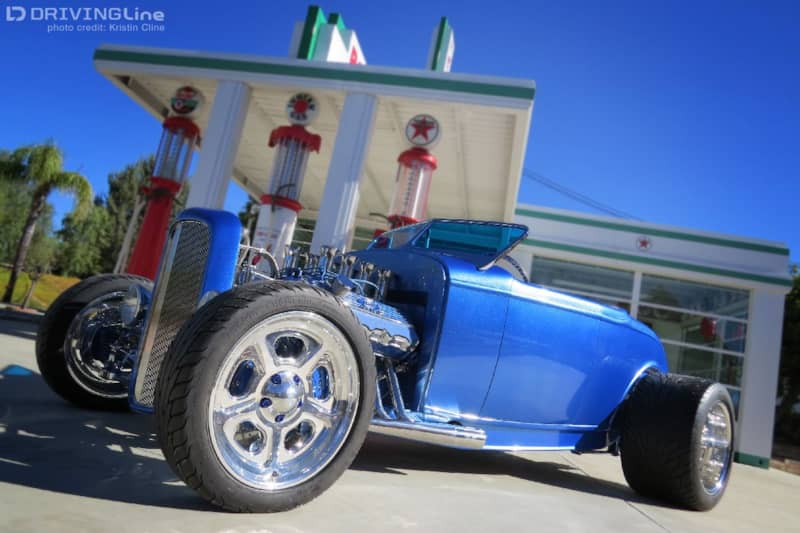 The story of "Blue Steel" doesn't begin with AMBR intentions, Doug Dwyer had an entirely different plan up his sleeve. A car guy who grew up in the hotbed of car culture, Southern California, Doug's had gas running through his veins since he can remember - in fact, one of his first jobs was working for Carroll Shelby. He's had a plethora of cars in his day, as well as taking part in various motorsports - but the one thing Doug hadn't done was build a '32 roadster.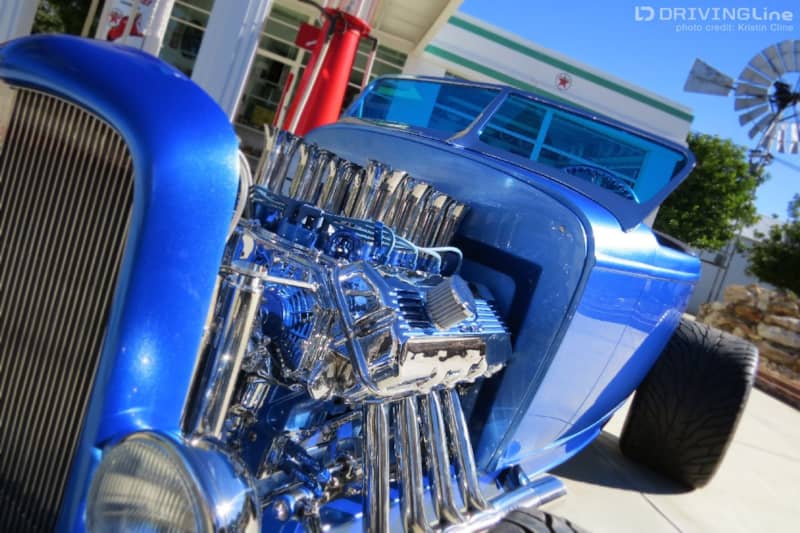 "Blue Steel" began as a part of a TV show concept Doug was involved in, which after months of planning got taken off the table. With the steel shell of a '32 Ford from RodBods in wait, Doug began daydreaming about what he'd like to turn it into next. Wanting a Shelby Cobra since the early days when he worked for him, and knowing he'd never be able to afford one, Doug envisioned a Cobra-themed roadster and started the beginning steps of that build. Years passed, and life happened, and the roadster saw less and less progress. Sooner or later, Doug began talking to friend Larry Maddox and the two decided to pair up and finish the project together. Basing their build after a blue showcar they'd seen somewhere, steady work began bringing their vision to reality.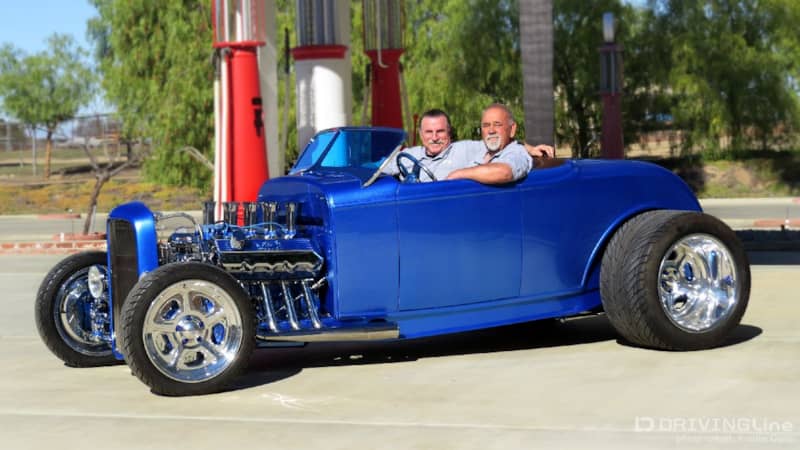 The "while I'm at it" conundrum reared its pretty head, and what started as a show-quality build only got loftier as they progressed. The legendary 427 SOHC Ford engine that Randy Davidson was building for the car got the chrome treatment. Known as a "cammer", this Ford performance engine is drooled at by enthusiasts far and wide – many would mark it as their single most favored Ford engine.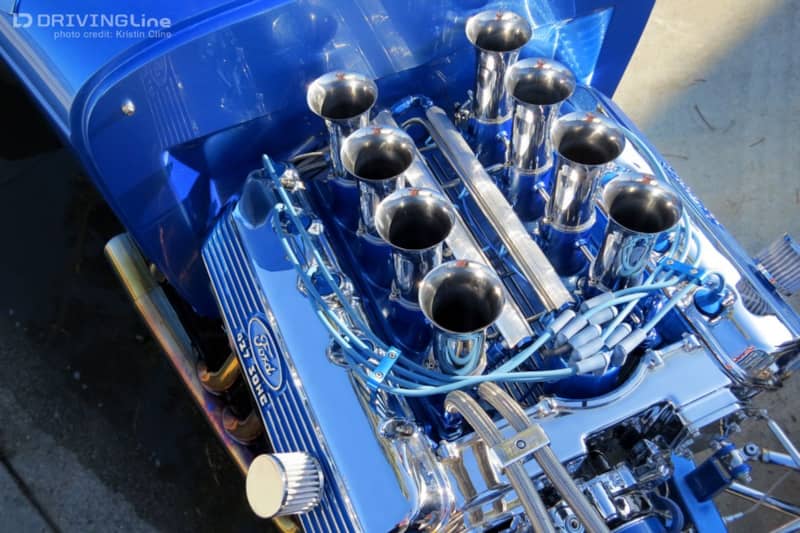 The body and all other imaginable parts were coated in a custom-mixed blue by Mark Perinsky. Aftermarket parts were customized around every turn. For example, the ARP 12-point chrome fasteners used throughout didn't come in the sizes needed for some suspension components, so those were custom made.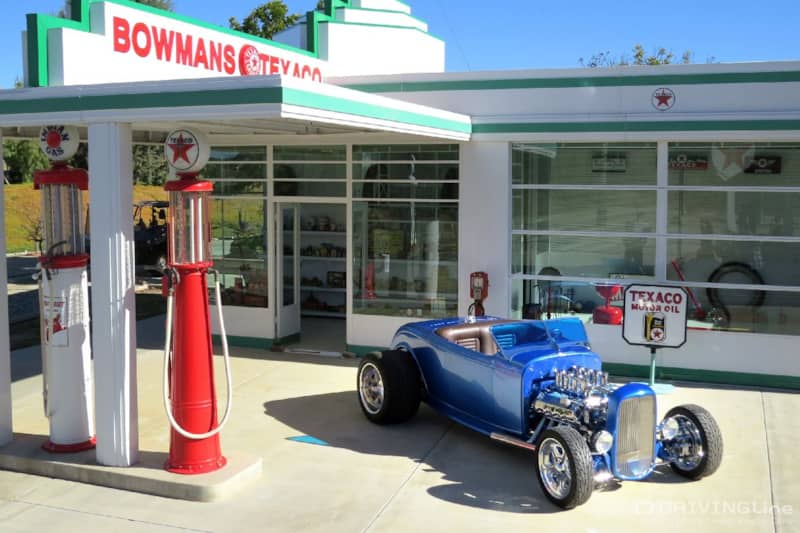 The blue-coated and chrome Duvall style windshield went through numerous iterations before getting it right. Inside, a brown leather interior by Armandos Upholstery alongside Lokar pedals and parts and a computerized gauge set by RacePak Instruments.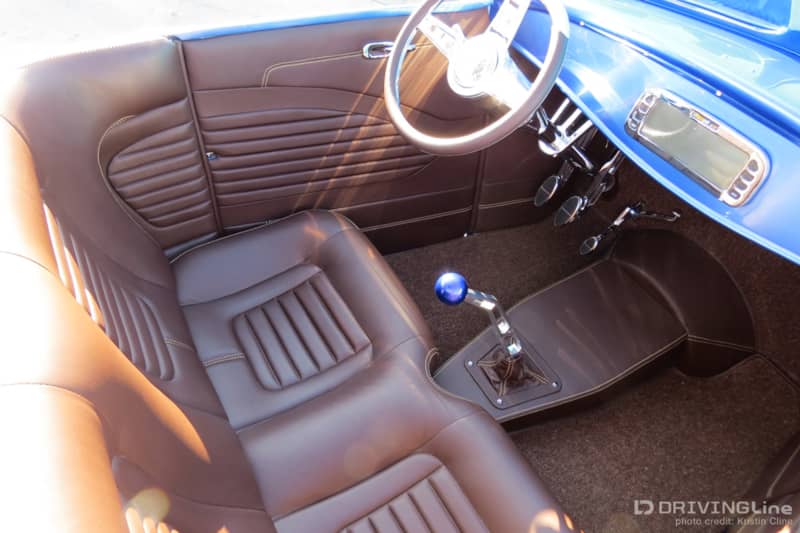 All-in-all Doug and Larry worked together for about a year and a half crafting "Blue Steel" to perfection. Getting the roadster completed just in time to head to SEMA this year representing Centerforce clutch, which pairs the 427 to a Tremec T-5. Running into Doug during the SEMA show, his face seemed to be lit up from within – beaming from the accomplishment of completing and finishing this long-coming project. "While we're at it" turned a great car into an amazing car and the pair was being barraged with questions about whether they had plans to enter "Blue Steel" as an AMBR contender.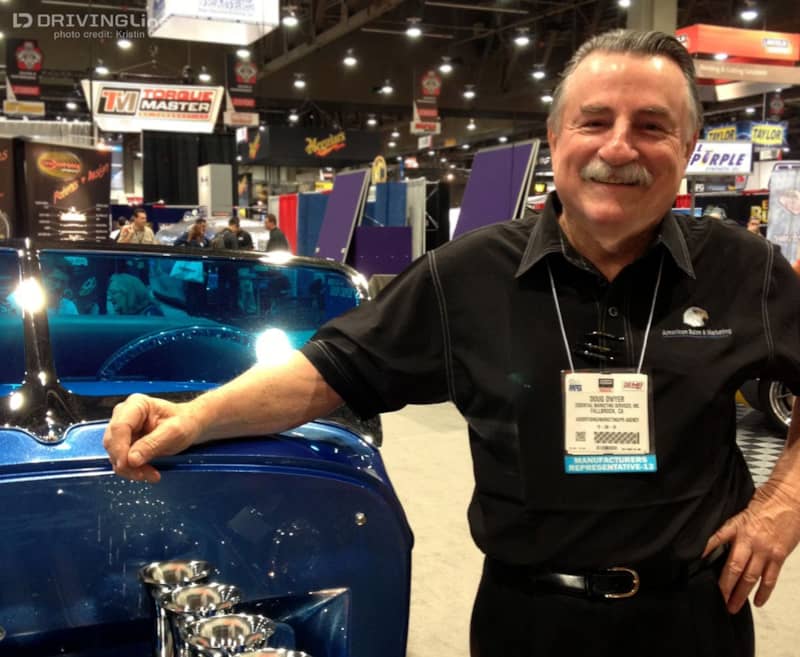 Since they had done all this work…why not?! So with two months to prepare, the team's been back in the garage getting Blue Steel ready for AMBR. The cars chosen for AMBR must be perfect in every way, including engine and drivability. So one task they've been working on is tuning the cammer to run at its finest. Taking it to the dyno pros at Westech Performance Group, the chassis was tuned to bring out its best qualities. Usually a Hillborn 8-stack set-up like "Blue Steel" has takes some work to get everything in sync, but Randy had built such a fine engine that there was only very small adjustments for  Eric at Westech to do.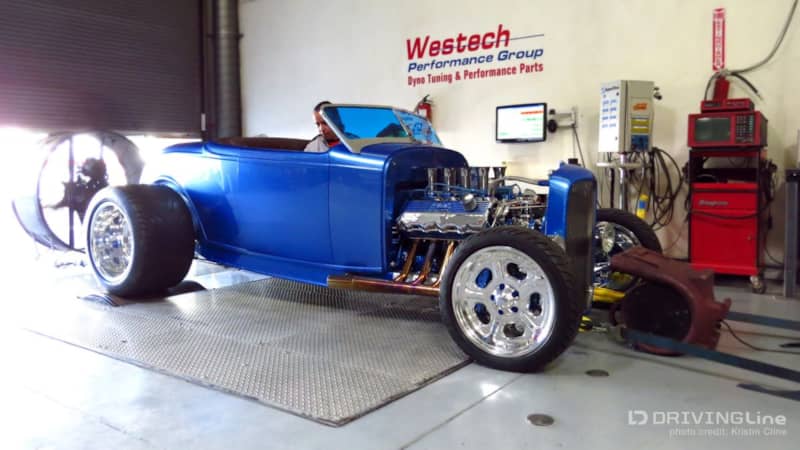 "Blue Steel" pulled approximately 400 horses on the dyno, with 390 torque to the wheels. Other than some extra parts that aftermarket parts companies are custom making, such as K&N air filters for the stacks and a one-off Magnaflow exhaust system, it's all about going over everything on the car with a fine tooth comb and making sure "Blue Steel" is ready for judging during the Grand National Roadster Show in Pomona, January 24-26th.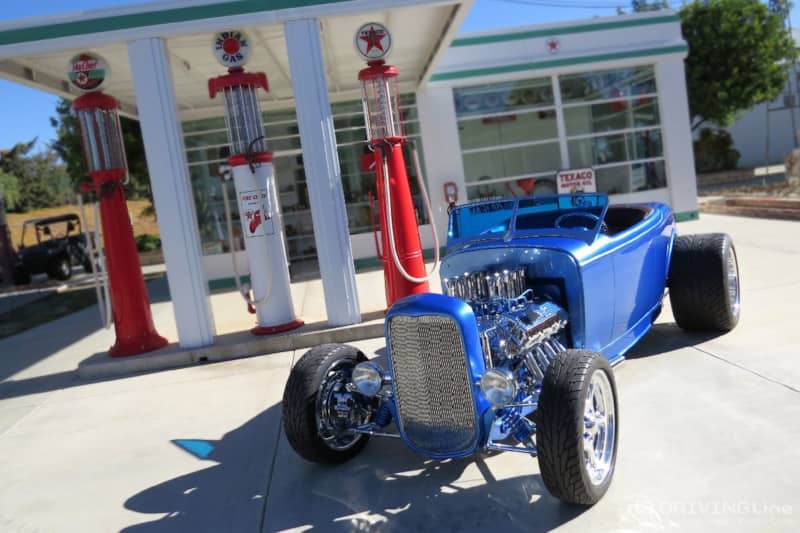 One last thing the team needed to do was show the car off to a few friends. Heading to Art Chrisman's shop, "Blue Steel" powered down the driveway and parked amongst a group of old hot rodders. Guys came over and checked it out, with Art giving it a solid 5-minute look over and nod of approval - and that beaming smile was back on Doug's face…even Larry was cracking a grin.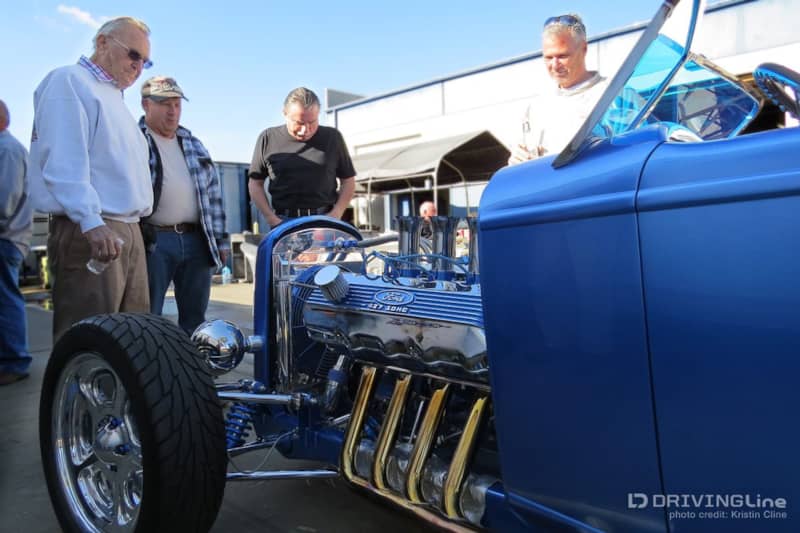 Driving Line will be following "Blue Steel" in its journey through the AMBR competition, be sure to check back to see how the team does next month! -Kristin Cline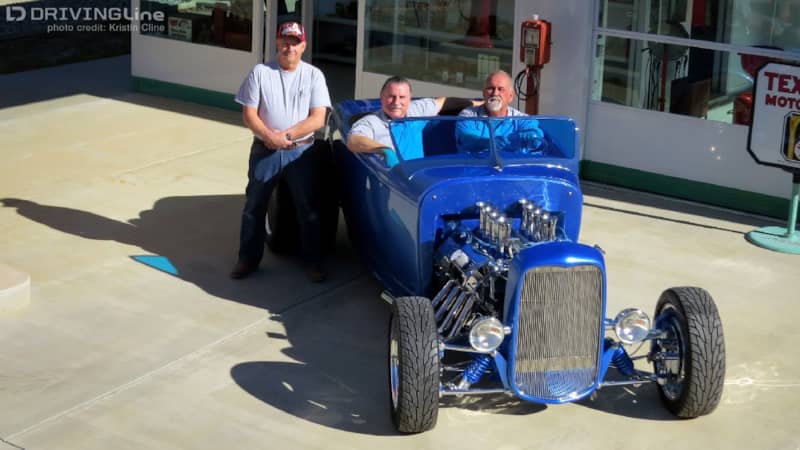 Blue Steel gives special thanks to… "Fat Jack" Robinson Hot Rods Baer Brakes Magnaflow Exhaust Products and Mufflers Centerforce Clutch and Flywheel Bilstien Shocks and Coils MSD Ignition, starter and alternator RacePak Instruments Techna-Fit Hoses and Fittings Mickey Thompson Tires and Wheels Optima Batteries ARP Fasteners Royal Purple Lubricants Lokar Pedals and Parts Mattson Radiator Currie Rear Ends Holley Computer D&S Plating Embee Performance Powder Coating Ogden Plating Kugel Components Dooley Enterprises Dan Fink Grills Armandos Upholstery Shelby Auto Glass Car Builders… Randy Davidson: engine, metal fabrication and wiring Mark Perinsky: paint and metal fabrication David Jacques: detail, polish and paint Larry Maddox Motorsports Owners: Doug Dwyer and Larry Maddox