SEMA Show 2015: The Odd & the Awesome
In a sea of heavily modified vehicles, the caliber of which you find at the SEMA Show no less, it can be difficult to stand out. Thankfully, each show there are always a few that manage to be just outlandish enough to cause you to stop and take notice.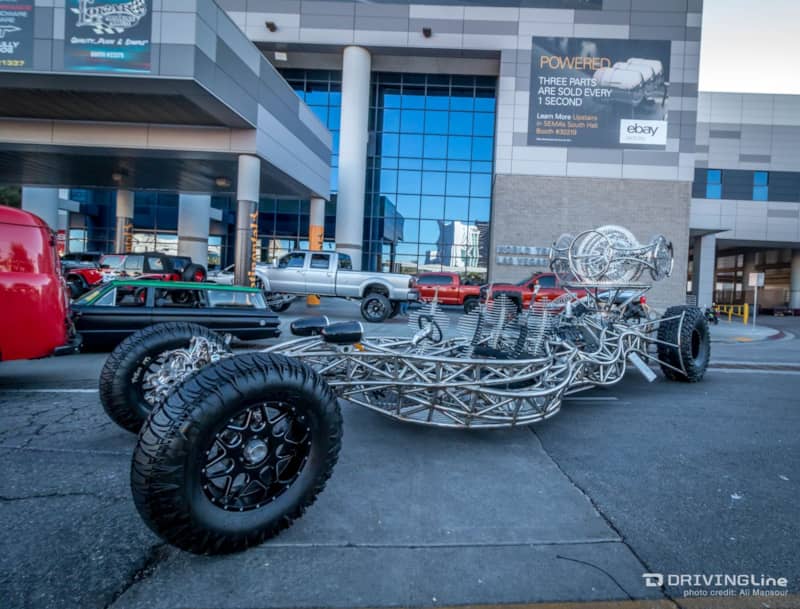 Sometimes, these unique rides aren't quite functional in the traditional sense, but the creations are still very impressive. Here's a look into a few of this year's standouts.
Valyrian Steel
The call it the Valyrian Steel. It's the brainchild of Henry Chang and his team at Playaworks in Las Vegas. The vehicle was built for a friend of Changs, who wanted something especially unique to take to the annual Burning Man event.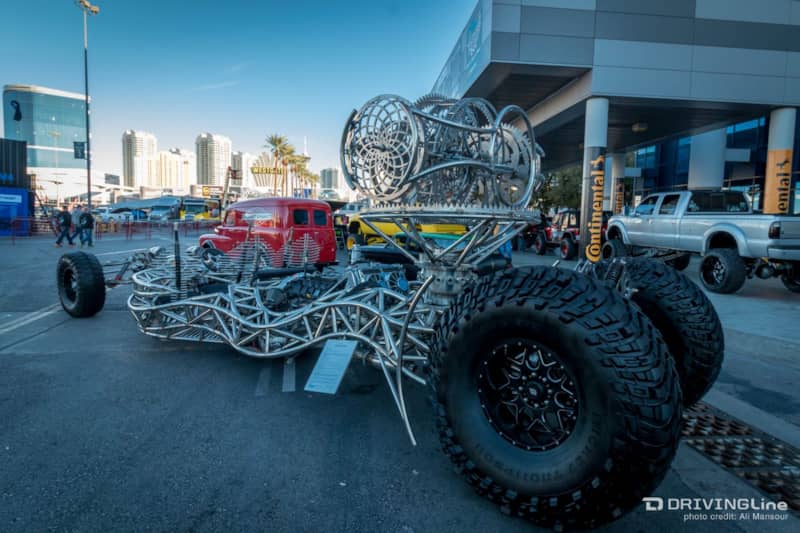 It's powered by a Ford Coyote 5.0L V-8, which is nestled between the largest amount of 304 and 316 stainless steel we've ever seen.  While we like the exposed chassis element of the vehicle, we're told that much of it will soon be covered by bodywork.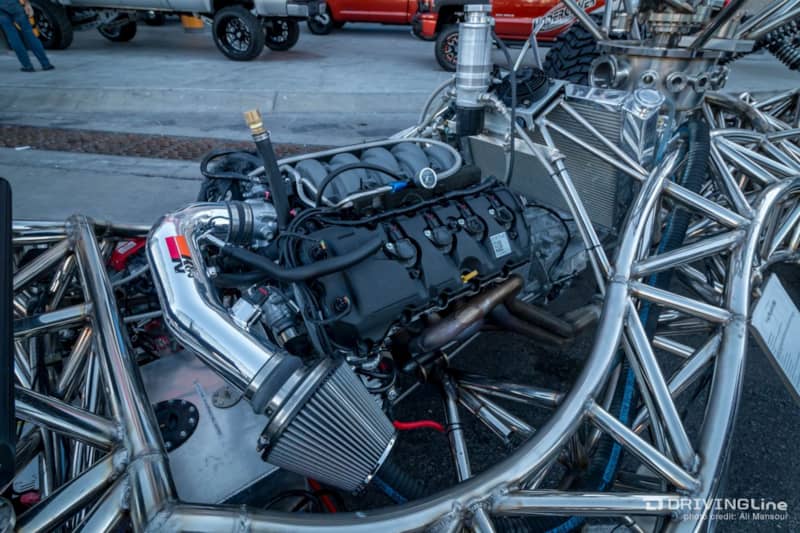 Aside from its enormous size, the most eye-catching element of the rig was the kinetic sculpture on the back. It's actually a fully function moving piece of art. And no, despite its looks, the Valyrian Steel did not appear in Mad Max.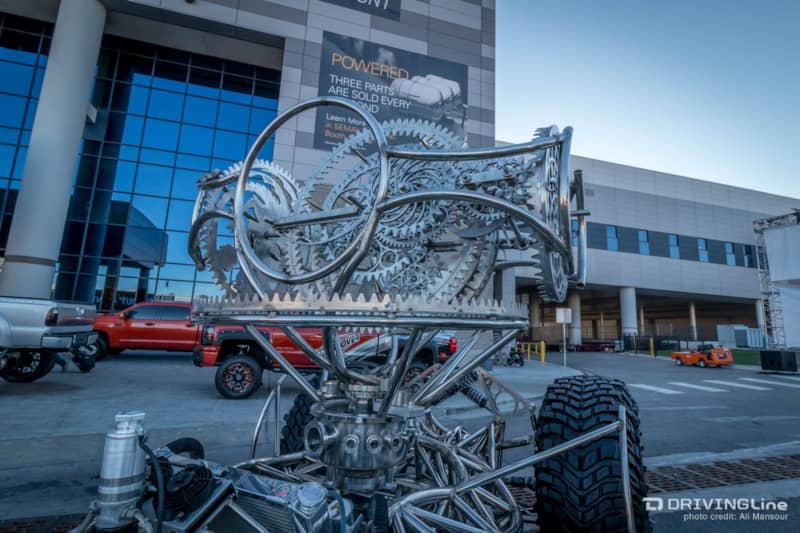 Forte Koup Mud Bogger
The next vehicle that got us scratching our heads was from KIA of all people. It's called the Forte Koup Mud Bogger and it draws inspiration from one of the original off-road pastimes. The one-of-a-kind KIA is adorned with 28-inch-tall tires, modified fenders, and Rigid LED lightbar.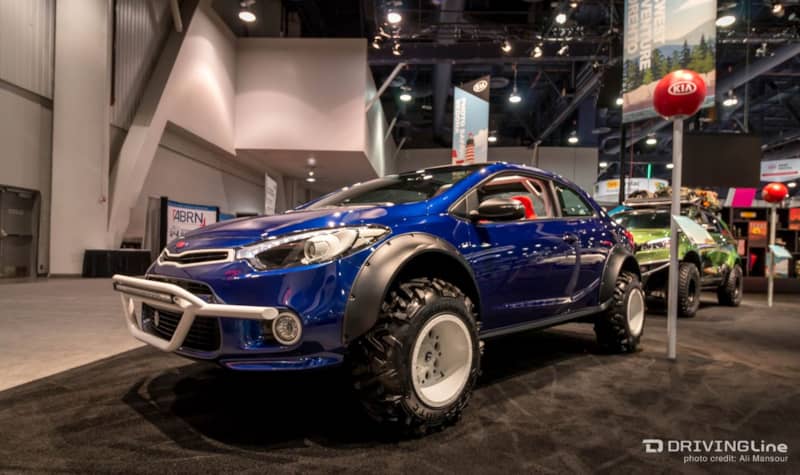 Inside, the Forte has been completely gutted. There is custom 'cage to keep occupants safe, along with a set of Sparco EVO II race seats. In place of carpet you'll find Line-X, which will definitely make it easier after an afternoon spent in wet dirt.
Jeep Wrangler JK With Independent Suspension
After so much speculation about the next generation Jeep Wrangler being fit with an independent suspension system, show goers got a good idea of what that might look like. This fully independent JK was created by Amanda Products, and is the first completely IFS/IRS Jeep suspension of its kind.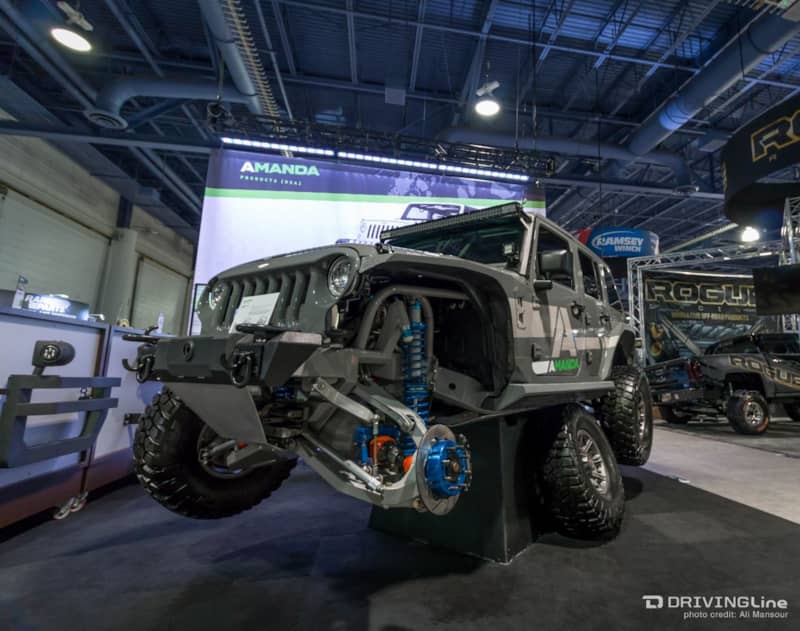 It offers 16 inches of vertical wheel travel, while maintaining the factory track width and right height of the Jeep. This could be a game changer for those looking to go fast off-road.
Rhino XT
Speaking of the Jeep Wrangler, underneath this Tactical Green exterior is actually a Wrangler Unlimited chassis and powertrain. The Rhino XT from US Specialty Vehicles is a blend of Hummer styling with the practical JK underpinnings. With a starting price of 65K, it's not over-the-top in the price category, but it's not for everybody.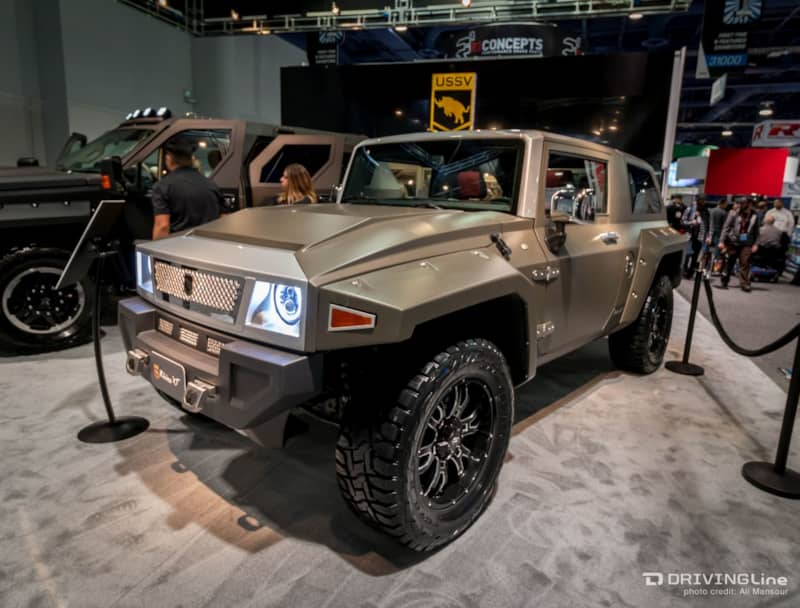 Mad Max-Inspired Build
LED lights are all the rage in the off-road sector and there are plenty of players in the market. To make its LED lightbars stand out from the back, the crew at Sen Lips some of its wares on this Mad Max-inspired car.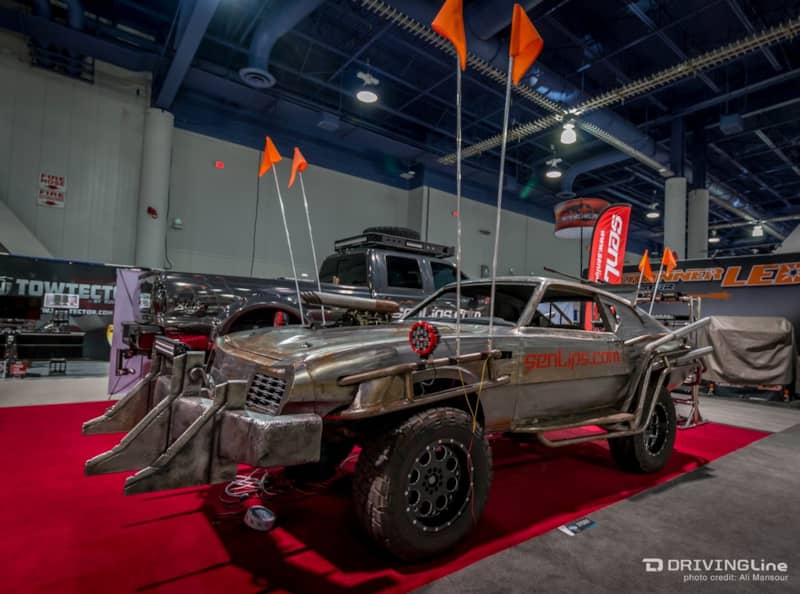 1954 Chevy "Special" Bus
Bones Fab's 1954 Chevy bus had just the right amount of patina and flare. It is powered by a 12-valve Cummins diesel engine and rides on 19.5-inch wheels. The occupants stay cool inside thanks to a Vintage Air Conditioning system and the low stance is achieved thanks to a Ride Tech air suspension.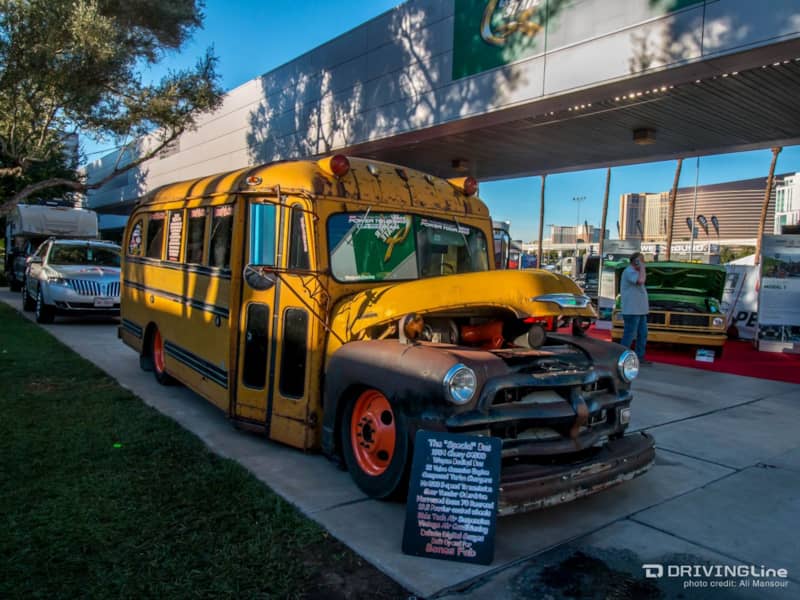 Hellcat V8 Custom JK
What has six wheels, a truck bed, and a Hellcat V-8? According to Wild Boar, its custom JK is currently the only one. We knew it was only a matter of time before someone shoehorned in the 700-plus-horsepower engine into a JK. We just didn't figure it would take six tires to handle all of the power!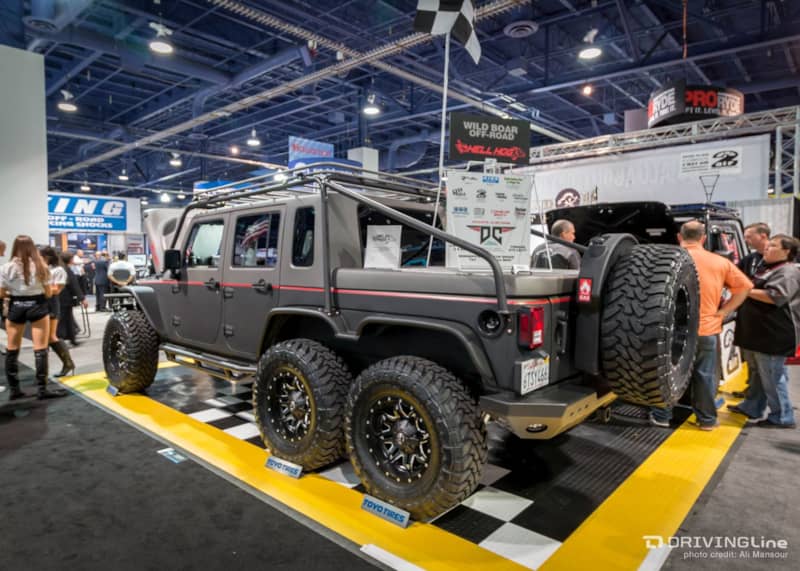 2015 F-250
This 2015 F-250 in Fab Fours booth got plenty of people talking. While the no-lift and 40-inch-tall tire combo offered the truck a unique stance, it was the windshield covering that got the most attention. We were lucky to get an exclusive photo shoot with this rig and will bringing you the full feature soon.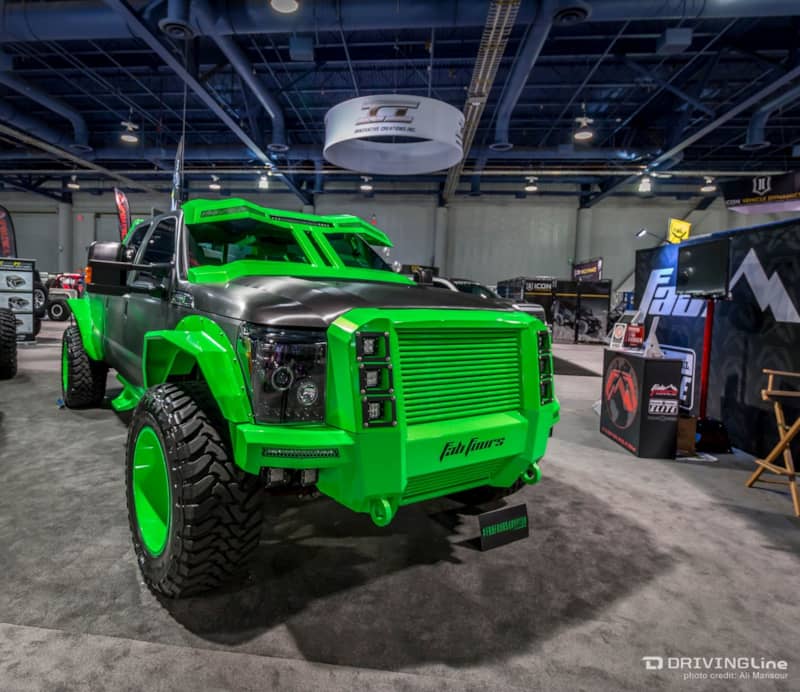 Depending on your standards of normalcy, there were plenty of vehicles that could fit into the odd and awesome category. Be sure to check out the gallery below for other honorable mentions from the show.