Shooting Star: An LS Swapped 240Z That's Burning Brightly
The origin stories of nearly every instantly recognizable build throughout the automotive landscape includes a little luck, some good timing and a whole lot of hard work. The SOS Customz Datsun is no exception.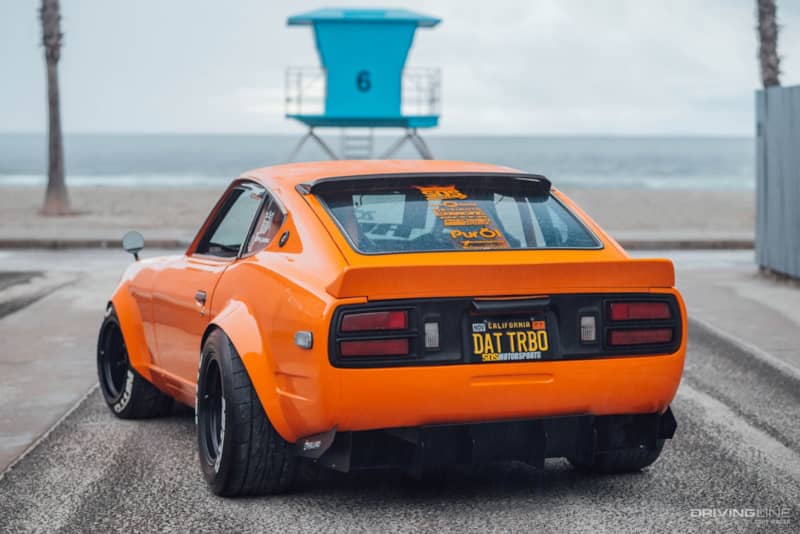 The Origins
This 240Z began its new life after the first motor gave out, leaving a rolling shell with minimal rust. Here's where the luck and timing kick in: A friend's wrecked Corvette had a powerplant looking for a new home, and the Z had just the home it needed. With the motor in and bolted to the 4L60e transmission, more power was added via the prominent On 3 Performance turbocharger paired with an HKS blow-off valve. While the turbo housing requires trimming to the Seibon hood (not pictured), it's undeniable that the placement and prominence grabs everyone's attention just as much as the Z's bright-orange exterior does.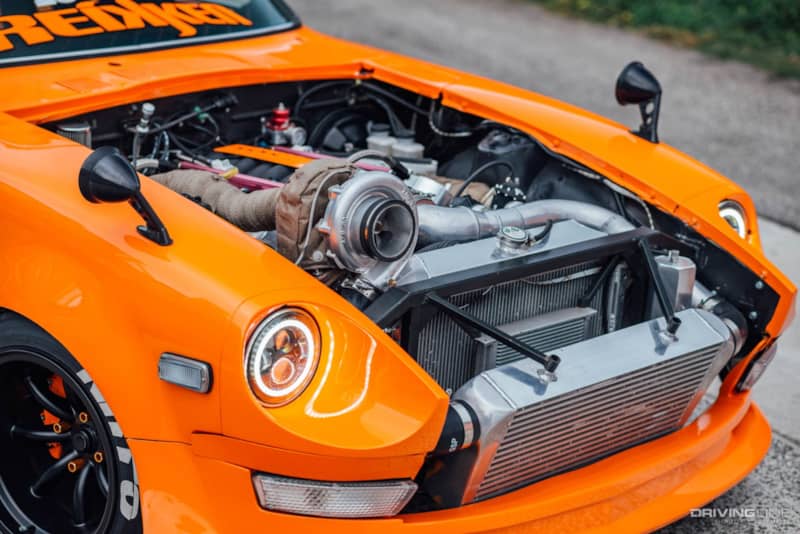 Orange All Around
Now that the shell had a heartbeat, the SOS Customz team moved to the outside of the car and did what it does best. An all-custom, all-metal widebody was formed and fitted to the chassis, allowing for some meaty Nitto tires to fit around Atara Racing wheels on all four corners. CXRacing coilovers and a Brembo big-brake kit help bring the car down to earth and to a halt—both are absolute musts when going from the factory 150hp to the current +600hp figure.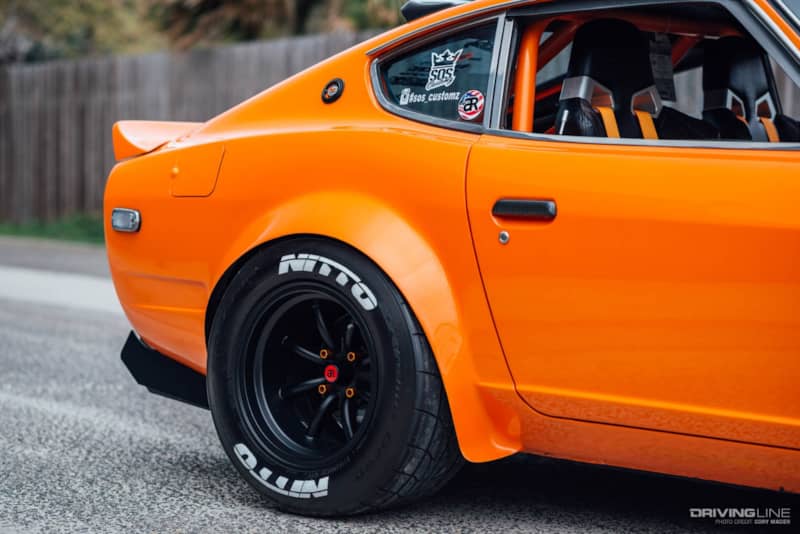 Before finishing off the exterior with the signature orange-pearl paint, the custom side-exit exhaust was routed through the passenger front quarter-panel and given a carbon-fiber heat shield to help protect the panel's finish.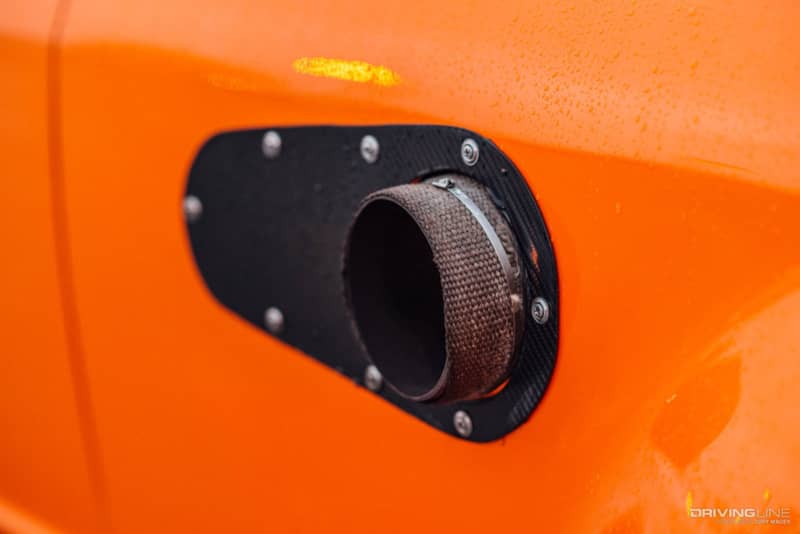 Little Custom Touches
From there, attention was moved to the 240Z's interior, where the orange-on-black colorway continues throughout the cabin. A custom aluminum dash houses a litany of functional AutoMeter gauges and switches, conjuring images of taking off in a fighter jet each time the car is started. Nearly everything else in the cockpit is an SOS Customz custom, from the dash cover and door cards to the reupholstered race bucket seats and rewrapped NRG steering wheel. The finishing touches are the Dragon Ball topping the Hurst shifter and orange FuguZ Hot Wheels car hanging from the rollcage, bringing some additional fun to the build.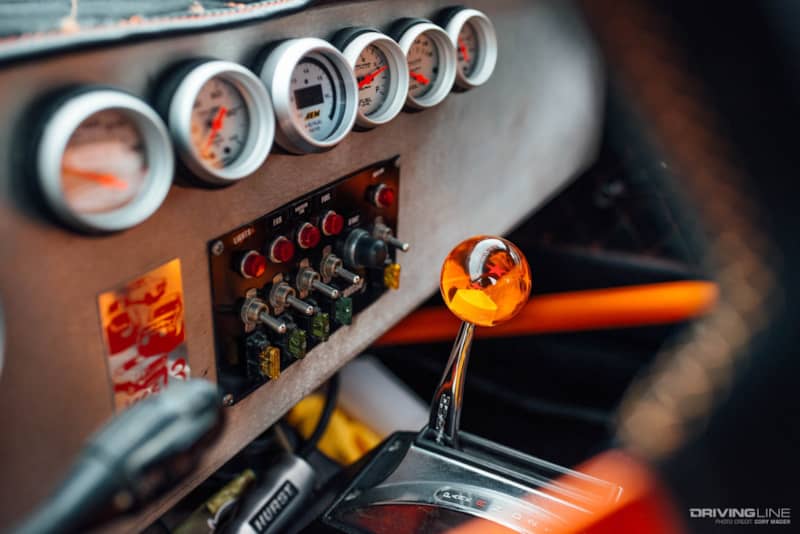 While it may seem like this Z is another show queen with an engine swap, the SOS guys tell us drag racing is in the Datsun's future; with some luck, good timing and a lot of hard work, we're sure some drag trophies will take their place alongside the car-show plaques at SOS Customz headquarters.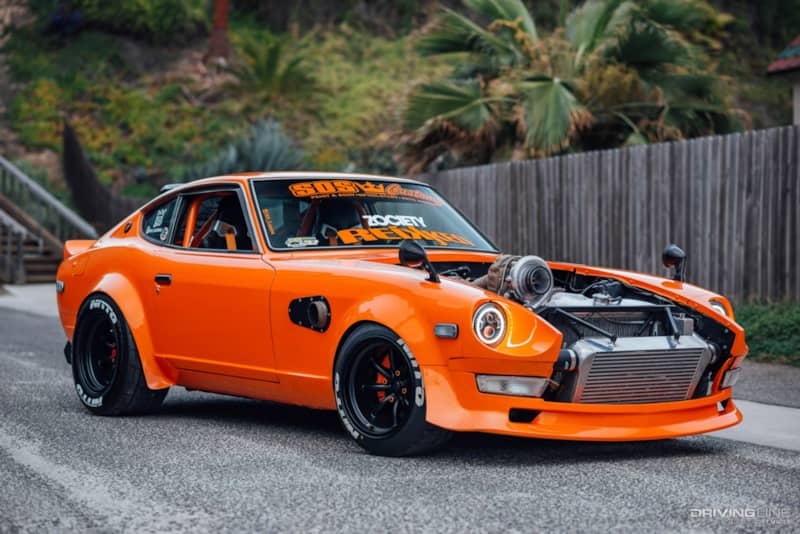 Tuning Menu: SOS Customz 1972 Datsun 240Z
| | |
| --- | --- |
| OWNER | Saul Rodriguez |
| HOMETOWN | Oceanside, CA |
| ENGINE | Chevrolet LS1; On 3 Performance Turbocharger; 80-pound fuel injectors; Custom V-mount air-air intercooler, oil cooler, header and exhaust piping; fuel cell; rear-mounted battery; Aeromotive 1000 fuel pump; HKS blow-off valve |
| SUSPENSION & SAFETY | Custom Subframe and Rollcage; CXRacing 32-way adjustable coilovers, control arms, tension rods and camber kit; DardanTuning custom-tuned ECU |
| WHEELS & TIRES | Nitto NT01 225/45R15 Front, Nitto NT555R 275/50R15 Rear; Atara Racing wheels, Brembo big-brake kit |
| INTERIOR | NRG steering wheel; SOS Customz upholstered racing seats and door cards; custom aluminum dashboard; AutoMeter gauges; Hurst shifter; Dragon Ball Z shift knob |
| EXTERIOR | SOS Customz full metal widebody, Pearlescent Orange paint; Custom projector headlights; Skillard rear diffuser; Carbon fiber roof spoiler, door handles, quarter panel exhaust plate |