Taking a 2019 Honda Ridgeline to its Off-Road Limits
It would appear that the past year has been the time that Americans finally discovered that going outside is actually a pretty fun thing to do. Overlanding and overlanding-adjacent culture has exploded, RV'ing is back in full swing, and automotive manufacturers are rushing to have some kind of player in the "adventure-ready" segment. While traditional makers like Toyota and the American Big 3 are able to capitalize on longtime 4x4 models, other brands are working within their existing lineup to equip AWD models with enough equipment or design modifications to work within the needs of today's buyers. Some traditional off-road enthusiasts, however, have been quick to call their bluff. Are these models really capable of keeping up with the usual 4x4 suspects on the trail?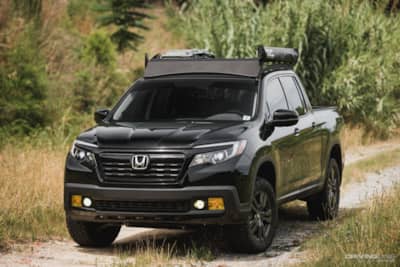 For owner Nate Mayo, the Ridgeline was the perfect vehicle for his needs. Coming from an Odyssey, he wanted a mid-size truck that offered similar comfort with increased utility. The Ranger and Tacoma felt small inside and were pricey, and the 2019 Ridgelines happened to be on clearance at the time. Soon after, Nate followed a friend down some light trails, was impressed with the AWD system, and knew he found a new hobby.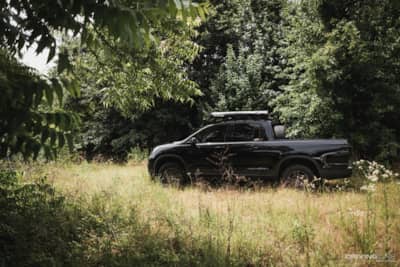 In stock form, the Ridgeline is a capable mid-size truck. Honda's AWD system, VTM-4, is front-wheel-drive based with a torque transfer unit that sends power to the rear. It offers commendable off-road performance, thanks to a pair of electro-hydraulically actuated clutch packs, one to drive each rear wheel. The clutches can be engaged separately, allowing variable amounts of torque to be sent to each rear wheel independently and responding precisely to traction needs at the rear wheels to enhance stability and propulsion tricky situations. With both rear clutch packs fully engaged, the system simulates a locked rear differential.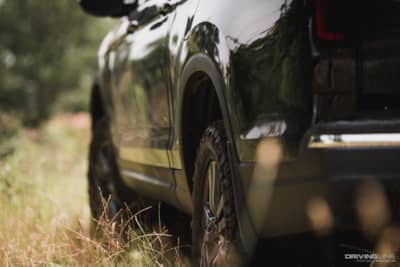 Upgraded Components = More Capable Vehicle
As Nate explored more and more trails in his native Tennessee, he found the weaknesses of the stock platform, and of many other base softroader vehicles. First, the truck needed better off-road tires. The truck needed more underbody protection, and partially related to that, the truck needed a significantly higher ride height.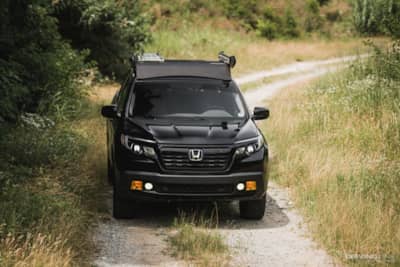 The tires were an easy fix. Nitto offered their hybrid all-terrain and mud-terrain Ridge Grappler tire in a 265/60/18, a perfect size for the AWD Honda full-size triplets (Ridgeline, Pilot, Passport). The Ridge Grappler offers the on-road comfort that Nate wanted for daily driving, but also the grip and durability he needed for the wet Appalachian trails.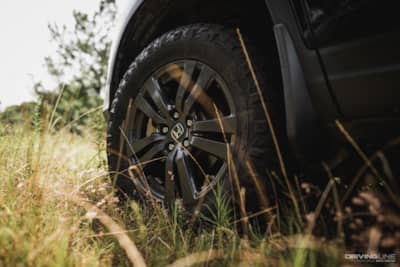 With the increased confidence of proper tires, Nate began to get a little more brave on the trails, and unfortunately found a line that was a little too aggressive that led to a punctured oil pan. After a quick repair and replacement, he looked to protect those vulnerable areas with some skid plates. Pieces from JSport and NoLo Designs offer easy-to-install protective plates for the engine, gas tank, and rear differential.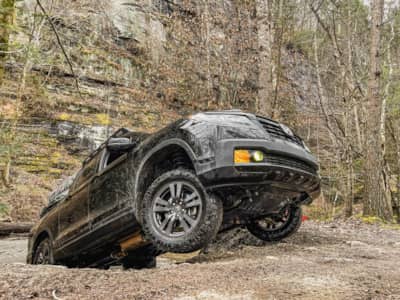 Ultimately, the largest hurdle to overcome for unibody crossover platforms will be ground clearance. The majority of these vehicles have some variety of strut spacer available in the aftermarket to lift the vehicle without compromising the factory suspension setup. These are, however, usually limited to 1-2 inches, which realistically only adds aesthetic benefits for a vehicle that's already pretty low to the ground relative to traditional 4x4 platforms.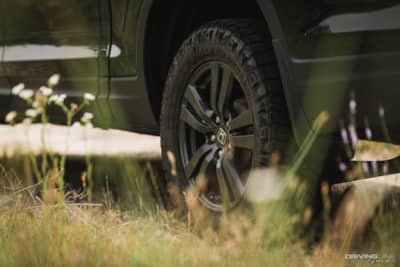 Nate's Ridgeline is currently lifted with a 3.5" lift from Traxda, the highest currently available for the platform. The kit is intended to be used with an axle relocation kit for clearance, but ultimately will work without it. Nate notes that the vehicle retained factory ride comfort but now has close to 12" of ground clearance. When compared to the author's Ridgeline with stock suspension, the difference is drastic.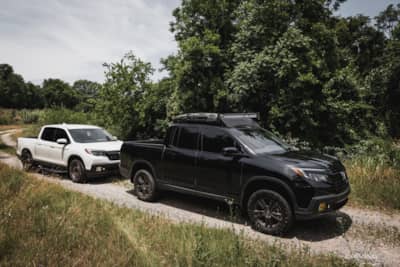 The Uncommon Off-Roader
With all of the modifications, Nate has had a blast with the Ridgeline. He's constantly getting questions from fellow wheelers asking how he "got that minivan all the way out here," and he's certainly impressed some naysayers. More importantly, it has given him opportunities to explore with his girls. He recounts his favorite memory with the truck "taking my girls camping the first time in the roof top tent. They had a blast, we drove off-road all day and ended up on the side of a mountain in north Georgia. We roasted marshmallows, told bedtime stories, and made a great memory."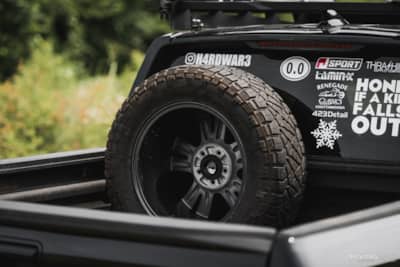 When Does a Soft-Roader Become an Off-Roader?
In the end, Nate is going to trade the Ridgeline in for a traditional body-on-frame (BOF) 4WD pickup. He has the personality that pushes him to go further and further into a hobby, and he's reached the limit for this particular platform. But he doesn't see that as a knock against the Ridgeline. No vehicle is without its compromises. Simply put, the Ridgeline, and other AWD crossovers, offer a better on-road experience than any of their mid-size BOF competitors, and also offer the opportunity to do a LOT (arguably more than most consumers will ever endeavor to do in any vehicle) off-road.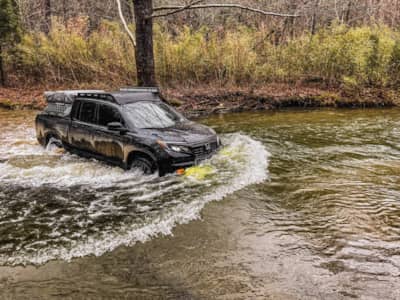 Will it be a rock crawler? Absolutely not. Is there a bigger aftermarket for the Tacoma? Absolutely. But for those that can live in that space between that extreme and the highway, the soft roader offers a compromise that'll open up a world of adventure and a lifetime of memories.