Team Nitto's Loren Healy Dominates Crandon Podiums at World Championship Weekend
Labor Day weekend has always been a favorite among race fans and competitors alike as they head to Crandon International Off Road Raceway for the World Championships. But this year, they were in for an even bigger treat as every Ultra4 class from UTV all the way up to the Unlimited guys competed for bragging rights, cash prizes, and East and North Series points. When the final checkered flag flew, it was Team Nitto who took home top honors in three classes, putting a total of nine competitors atop the boxes in six different races.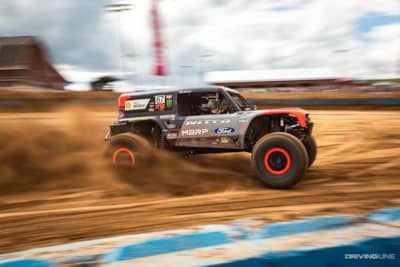 For the last two years, Ultra4 has put on somewhat of an exhibition at "The Big House," Crandon International Off Road Raceway, showing the world what Ultra4 is all about on the famed short course of Crandon, Wisconsin. But in their third appearance at the Crandon World Championships, U4 stepped it up a notch, this year bringing all five of its race classes to the iconic raceway with spectacular results.
Thursday: Qualifying
On Thursday evening, all five Ultra4 classes hit the short course for their qualifying rounds and first taste of Crandon competition. Up first was the 4900 Can-Am UTV Class, which saw Jacob Versey throw down the fastest time of 19 competitors with a time of 1 minute and 47.6 seconds. Not to be out-done by much, Levi Metzinger and James Cantrell came in at a super close second and third, awarding Versey with the pole position and first choice of starting position in the land-rush start of Friday's Crandon Classic.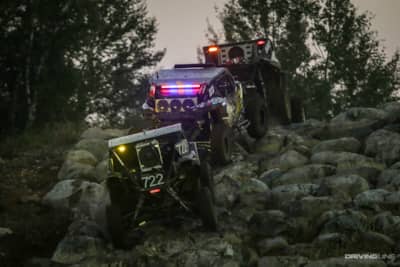 After the UTVs proved a quick watch, the EMC classes took to the course. In the 4600 Spidertrax Modified class, it was Jon Schaefer (the only 4600 competitor to run in qualifying) that secured the pole for Friday's race. John Mathews ran the fastest time in the 4500 Yukon Gear & Axle Modified Class, while Team Nitto's very own Casey Gilbert secured the pole position in the 4800 Branik Motorsports Legends Class.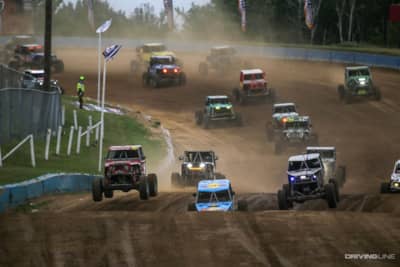 On to the big guys, Team Nitto came out swinging in the 4400 Unlimited Class, but it was fellow competitor Brian Caprara that took top honors with a run of just 1 minute and 30.1 seconds. Following closely behind Caprara was a slew of Nitto athletes, including Loren Healy in second, Erik Miller in third, Paul Horschel in fourth and Vaughn Gittin Jr. in fifth.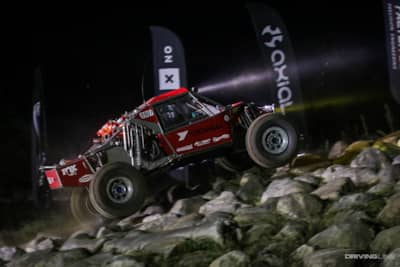 Friday: The Crandon Classic
Kicked off at 2:40pm CT, Friday saw the UTV and EMC classes compete in The Crandon Classic – a strictly short course race run as a prelim for Saturday's Rigid Rage on the Rocks race, which acted as the East and North Series final points race of the season. The 4400 Unlimited Class did not run the Crandon Classic, waiting their turn for extra race time on Sunday during the World Championships.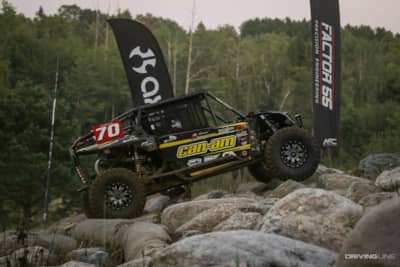 When all was said and done, the UTV Class saw Jamie McCoy take the win, while in the EMC classes, it was Jon Schaefer who took the win in the 4600 Class, Justin Hall in the 4500 Class, and Jeremy Jones in the 4800 Class. Stock Class Nitto driver Jeremy Purick took third in his class, while Legends Class Nitto driver Casey Gilbert took ninth in his.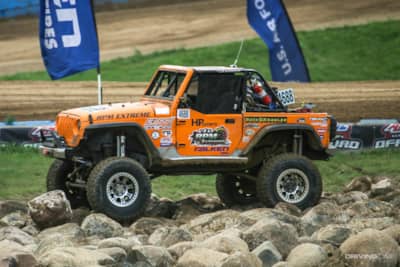 Saturday: The Rigid Rage on the Rocks
Having run just the 1.75-mile short course on Thursday, and again on repeat on Friday, all five Ultra4 classes were ready to take on the "bigger" 2.5-mile course on Saturday, which included a couple of added rock sections. Up first was was UTV Class, where James Cantrell got the holeshot, pushing ahead of pole sitter Jamie McCoy and fellow top competitor, Jacob Versey. Versey quickly took back the lead as lap one saw McCoy pull off due to mechanical issues. Back and forth, Versey and Cantrell battled until the sixth lap, where Versey was forced to pull off to the side due to a belt issue. Cantrell was able to pass easily and take the win at his first time racing at Crandon.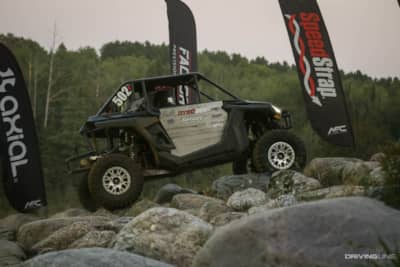 As the sun set and the course turned dark, the EMC race got started, with Modified and Legends cars running seven laps, and Stock cars running six. Brent Harrell of the Legends Class took the early lead, but it was Team Nitto driver Casey Gilbert who pushed the hardest and positioned himself in the front of the pack by lap three. Gilbert would maintain his position, finishing atop the box when the checkered flag flew. In the Modified Class, it was Justin Hall who took top honors, while Team Nitto driver Jeremy Purick was able to take the win in the Stock Class. All three class winners were new to racing at Crandon.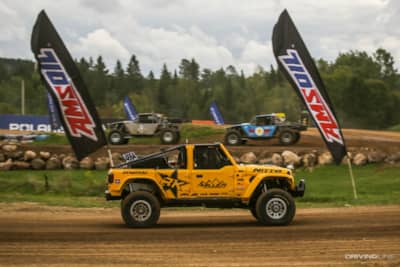 Capping off the night, the Unlimited Class was unleashed with Team Nitto chomping at the bit. Right out of the gate, Paul Horschel took the lead, with Loren Healy and Brian Caprara right on his heels. As Caprara slowed and moved back in position early on, Horschel was able to hold Healy off.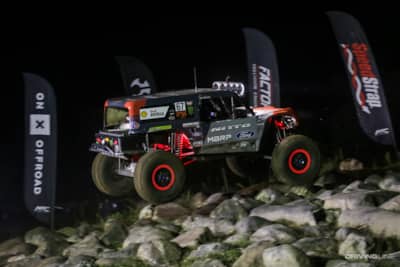 But on lap three, Healy made the pass and continued his push for first place through the remainder of the eight laps. When the checkered flag dropped, it was Healy across the line first, followed by fellow Team Nitto driver Rusty Blyler in second, and Christopher Blanton taking third.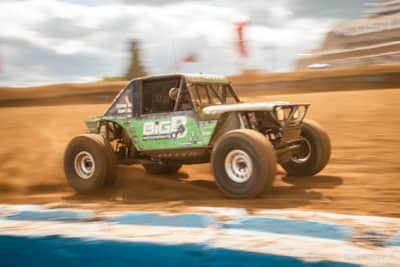 Bailey Cole, having had an engine blow up on him earlier in the week, finished fourth in a borrowed car from Brian Caprara, who finished right behind him in fifth. Healy's teammate Vaughn Gittin Jr. finished seventh, followed by Horschel in eighth. Josh Blyler's stand-in driver (his co-driver Jared Erdman) finished 17th and Erik Miller finished 20th, after experiencing mechanical failure that ended his race early on in the third lap.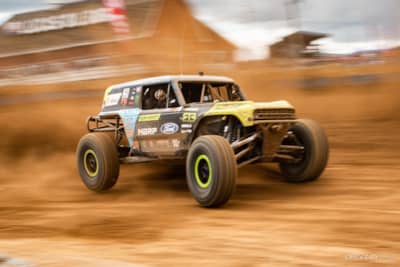 Sunday: The World Championships
Fresh off of his win on Saturday, Loren Healy lined up mid-pack for Sunday's Crandon World Championship race. While the Championship race wasn't for points, it was a chance for the Unlimited Class to show off their stuff on the smaller short course track while competing for a $10,000 first-place check and a championship ring.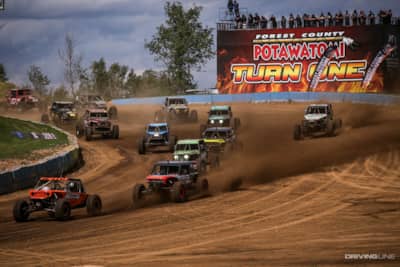 Just like on Saturday, Horschel got the holeshot, proving the fresh big block under his hood was worth the wait. But it wasn't long before Healy was able to make the pass, taking first position from Horschel before lap two started. Still, Horschel held tight, giving Healy a run for his money while staving off fellow Nitto driver and Healy's fellow Fun-Haver Vaughn Gittin Jr.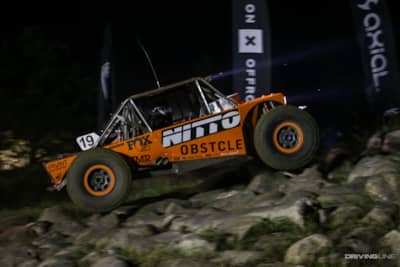 On lap four, the top competitors hit lap traffic just as they were going through the Bronco Boulders, but this didn't slow down their pace by much. Horschel used his increased horsepower to his advantage, out powering Gittin through some neck-and-neck turns while Healy continued to put down ground between him and his closest competitors. But Gittin's constant pressure paid off when Horschel pushed a little too hard on the last lap and broke a wheel, shredding his right rear tire. It was then that Gittin was able to get the pass he had worked hard for since the beginning and was able to cross the finish line one, two with his teammate Loren Healy. Despite his setback, Horschel was able to finish a well-earned third place.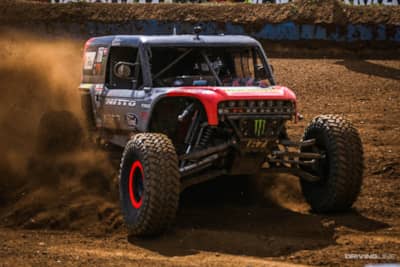 Now that all three Series races are complete, we're off to Nationals just this next month. Due to the Wild West Motorsports complex in Reno, Nevada shutting down, Nationals has been moved to Cross Bar Ranch in Davis, Oklahoma, where it took place last year and U4 has raced a number of events in years past.
For full Thursday qualifying results, please follow this LINK. Friday's UTV and EMC Crandon Classic race results can be found HERE. And Saturday's full Rigid Rage on the Rocks results can be found HERE!
2021 Ultra4 Crandon Race Results: 
Qualifying:
4400 Unlimited Class (21 cars registered):
1) Brian Caprara: 1:30.1
2) Loren Healy: 1:33.0 **
3) Erik Miller: 1:34.8 **
4) Paul Horschel: 1:35.5 **
5) Vaughn Gittin Jr. : 1:36.0 **
6) Brett Harrell: 1:37.1
7) Josh Blyler: 1:39.5 **
8) Bailey Cole: 1:39.7 **
9) Eric Blaise: 1:45.1
10) Rusty Blyler: 1:45.5 **
14) Chase Hunter: 1:52.4 **
4800 Branik Legends Class (14 cars):
1) Casey Gilbert: 1:42.2**
2) Shaun Rajski: 1:46.1
3) Jeremy Jones: 1:47.9
4500 Yukon Gear & Axle Modified Class (6 cars):
1) John Mathews: 1:50.5
2) Justin Hall: 1:57.5
3) Cody St. Clair: 2:00.1
4600 Spidertrax Stock Class (3 cars):
1) Jon Schaefer 2:18.2
4900 Can-Am UTV Class (19 cars):
1) Jacob Versey: 1:47.6
2) Levi Metzinger: 1:48.2
3) James Cantrell: 1:48.8

Friday Crandon Classic Race Results (short course): 
4500 Modified Class:
1) Justin Hall
2) Cody St. Clair
3) Duane Garretson
4600 Stock Class:
1) Jon Schaefer
2) Twitchy McGee
3) Jeremy Purick **
4800 Legends Class:
1) Jeremy Jones
2) Ryan Taylor
3) Ryan Webb
9) Casey Gilbert**
4900 UTV Class:
1) Jamie McCoy
2) Karson Atkins
3) Jacob Versey
Rigid Rage on the Rocks (Points Race – East and North Series) 2.5-mile lap
UTV Class (7 laps):
1) James Cantrell
2) Zachary Kirchner
3) Travis Zollinger

4600 Class (6 laps):
1) Jeremy Purick **
2) Twitchy McGee
3) Jon Schaefer

4500 Class (7 laps):
1) Justin Hall
2) John Mathews
3) John Grounds
4800 Class (7 laps):
1) Casey Gilbert **
2) Shaun Rajski
3) Jeremy Jones

4400 Class (8 laps):
1) Loren Healy **
2) Rusty Blyler **
3) Christopher Branton
4) Bailey Cole **
5) Brian Caprara
6) John Grounds
7) Vaughn Gittin Jr. **
8) Paul Horschel **
9) Kevin Taylor
10) Frank Vonderheide
17) Josh Blyler **
20) Erik Miller **

Crandon Classic World Championship
1) Loren Healy **
2) Vaughn Gittin Jr. **
3) Paul Horschel **
** Denotes a Team Nitto driver