The GT-R From Evasive You Never Saw Coming
Chances are, you already know all about Evasive Motorsports, the Southern California-based parts supplier and tuning firm that's made its presence known within the Time Attack realm. You know all about its Evo VIII track car the company began campaigning in 2006 and that held the Limited AWD class record at Buttonwillow for two years, its S2000 that fared just as well in the RWD Street division, and its FR-S, which still holds its Limited RWD class record and remains the fastest FR-S on the circuit. And now the people at Evasive want you to know everything about their R35 GT-R.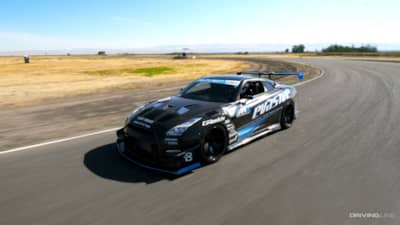 According to Evasive co-founder, Mike Chang, the company has had its finger on the GT-R's pulse since Nissan introduced the car, but didn't begin performance experimentation in earnest until 2014 when Chang and company acquired their own R35. "We've always had experience since the launch of the car," he says, "however, we learned more about the VQ engine once we started to run the car on the circuit hard."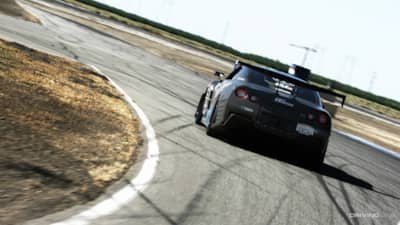 And by "learned more," Chang is talking about the cooling issues that the GT-R began to exhibit early on during shakedown testing. Many of the car's initial upgrades were aimed at addressing the excessive heat generated by sustained hard driving. "Engine overheating when running multiple laps on the track," Chang says, was the number-one challenge they faced. "We tackled it by beefing up the cooling system to the extreme." Upgrades included an aluminum Koyo radiator, the EVS Spec oil cooler and the intercooler and transmission cooler, both from GReddy.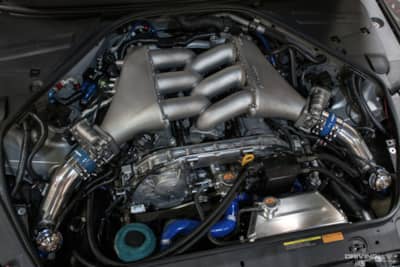 Stable temps meant the crew could go on doing what they do best, which is to "build the ultimate street-legal race car." Evasive tends to follow an order of operations. First, sort out the car's shortcomings, then address its suspension, and always give it more power. The GT-R's suspension is where, like most Time Attack cars, you'll find most of its updates. Tein's mono-tube Super Racing dampers are the star of the show here and are accompanied by spherical bushings, as well as a range of adjustable arms and links by way of SPL Parts.
The precise setting up all of those adjustable bits is just as important as choosing the proper parts. Since the beginning, Evasive has approached every one of its builds holistically, addressing power, aerodynamics, handling and braking all in a balanced sort of way. And it offers the same race-preparation services for its customers, including alignments, corner balancing, chassis setup, and even engine dyno tuning.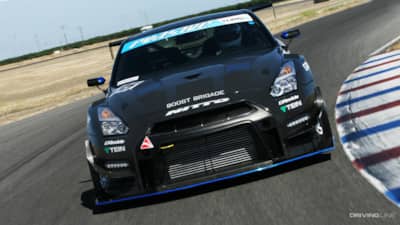 All of that suspension and chassis work doesn't mean Chang and company held back on  the GT-R's six-cylinder VQ. Here, 800 hp is achieved by way of a nearly bullet-proof short-block made up of forged Mahle pistons and Carrillo connecting rods. Up above, the GSC valve train allows for sustained periods of higher boost and high engine speeds, and the company's quartet of camshafts helps synchronize valve events in the sort of way Evasive sees fit. If you think all of this sounds like the makings for a dedicated race car, though, you'd be wrong. According to Chang, this GT-R is just as capable being driven on the street as it is setting records on the track, which it HAS already come close to doing in testing. And it does all of this with its A/C retained. After all, who really wants to set records in a sweaty driving suit?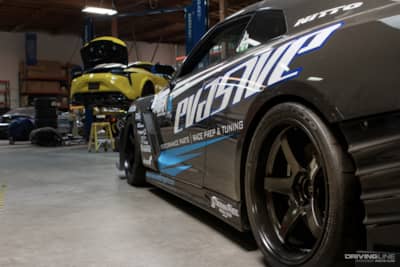 Outside, Evasive's GT-R says that it's all race car. The Ben Sopra aero and its Voltex rear wing, don't just look good, they've got jobs to do. The bumpers and fenders help direct air toward all the right places for proper cooling and downforce and the rear wing helps plant and direct as much of that 700 lb-ft of torque to the Nitto NT01 tires as it can. To maximize aerodynamic efficiency, Evasive had to have its way with those body pieces. In an effort to improve what Ben Sopra started, Evasive augmented all of it with its own front splitter that helps optimize the pressure differential around the body and positioned custom, carbon-fiber air ducts across the exterior to further improve cooling.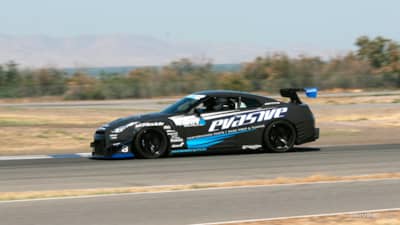 Odds are, you already knew Evasive Motorsports and were familiar with cars like its record-setting Evo VIII. With this GT-R, Evasive is set to redefine the car's capabilities, both on and off the track, and they might have just created one of the fastest cars currently on the circuit.
2010 Nissan GT-R
Engine:
800 hp and 700 lb-ft torque
Carrillo connecting rods
Custom-spec Mahle pistons
GSC Power-Division valvetrain
GSC Power-Division 272 S2 billet camshafts
EVS Spec turbo upgrade
GReddy Type 29 R intercooler kit
GReddy DCT transmission cooler
GReddy downpipe
GReddy intake
GReddy blow-off valve
GReddy intake manifold
Alpha oil catch tank
Koyo radiator
EVS Spec oil cooler
NGK Racing spark plugs
Custom EVS titanium exhaust system
Injector Dynamics 1,700 cc/min fuel injectors
Ported turbo inlet pipe
Carbing coolant reservoir tank
Radium Engineering dual-pump surge tank
EcuTek engine management
85 fuel
Transmission:
Shepherd Transmission Stage 2 transmission
OS Giken 1.5-way LSD
Suspension / Chassis:
Tein 3-way Super Racing Dampers
Tein Active EDFC Pro (rebound / compression)
Swift Springs front and rear anti-sway bars
SPL Parts PRO front upper A-arms
SPL Parts mono-ball bushings
SPL Parts titanium rear camber links
SPL Parts titanium rear traction links
SPL Parts titanium rear toe links
SPL Parts eccentric lockout kit
Zerek Fabrication roll bar
Brakes:
Alcon mono-block 6-piston calipers and 400mm x 36mm rotors (front)  
Alcon mono-block 6-piston calipers and 385mm x 33mm rotors (rear)
Project Mu H6 racing pads
Wheels and Tires:
20x12 +20 offset Advan GT Premium gloss black wheels
Nitto NT01 315/30-20 tires / 290/710-R20 Advan A005 slicks
Exterior:
Porsche 911 GT3 RS Grey Black paint
Ben Sopra Race Version front bumper
Ben Sopra Race Version fenders
Ben Sopra rear diffuser / rear bumper
N-Tune carbon-fiber side skirts
Top Speed carbon-fiber vented hood
EVS Spec chassis-mounted carbon-fiber splitter
EVS Spec carbon-fiber air ducts
Voltex Type 7SN 1800 mm Swan Neck GT rear wing
Craftsquare carbon-fiber GT mirrors
Voltex carbon-fiber canards
Interior:
Bride Proface bucket seats
Takata Race 6-point harnesses
Nardi Classic suede steering wheel