The Real Story Behind King of the Hammers
We've all heard the legend of how King of the Hammers was started when a couple of friends decided to race for bragging rights and a case of beer. Knowing there had to be more to the story, I started poking around for the "real" story when asked to write about KOH history.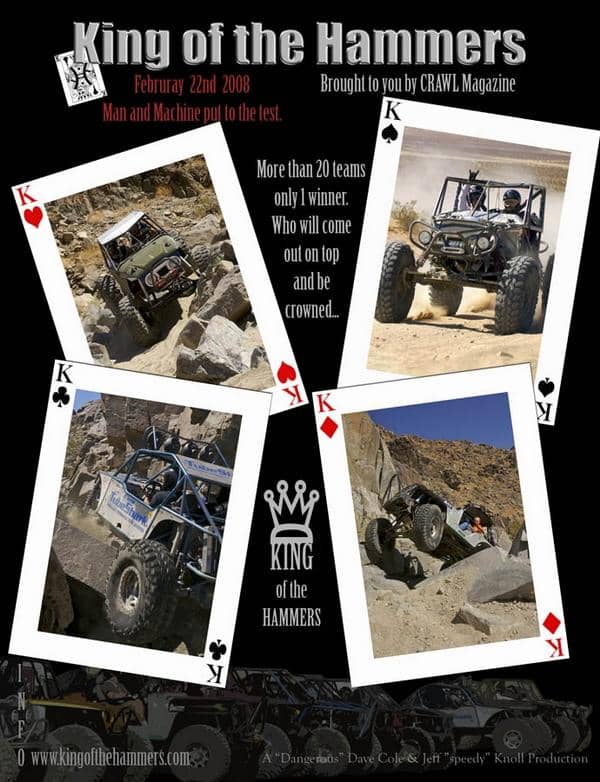 Photo courtesy of Hammerking Productions.

It's true that the first race in 2007 was planned out on a napkin in a bar (a Chili's in San Bernadino to be exact) by Dave Cole and Jeff Knoll one night. Cole was a championship rock-crawler who had a good relationship with the BLM. Knoll was involved in desert racing and had experience in running similar events. Together they made a great team for running an event that combined the best of both worlds. After working out the logistics, they invited twelve guys to meet them out in Johnson Valley for some fun. The group who showed up wasn't told anything about what the day had in store until they all arrived. That very first King of the Hammers race was run in secret - no spectators, no vendors, just some guys having fun. The course for that first 2007 King of The Hammers race was listed as: Lake bed to Outer Limits Up Outer Limits Down Aftershock Down Sunbonnet Up Devil's Slide Down Hell's Gate Take a right toward Landers Up the slide towards the end of Sledge(hammer) Up Jack(hammer) Down Jack North Up Wrecking Ball Down Claw(hammer) Back to the lake bed Clocking in at just over 35 miles long, there were twelve checkpoints throughout the course with registers to sign to make sure all trails were completed. JR Reynolds had the home court advantage and won the race with in an amazing 2:57. Tracy Jordan, a Hammers virgin that year, came in roughly half an hour later. Most of the others took over five hours to cross the finish. Some drivers, like Jordan, had never been to Johnson Valley before and were relying solely on GPS to find their way through the unmarked course. Eyeing the course on the trail map below will demonstrate just how confusing it would be to try to navigate these trails for those unfamiliar with the area.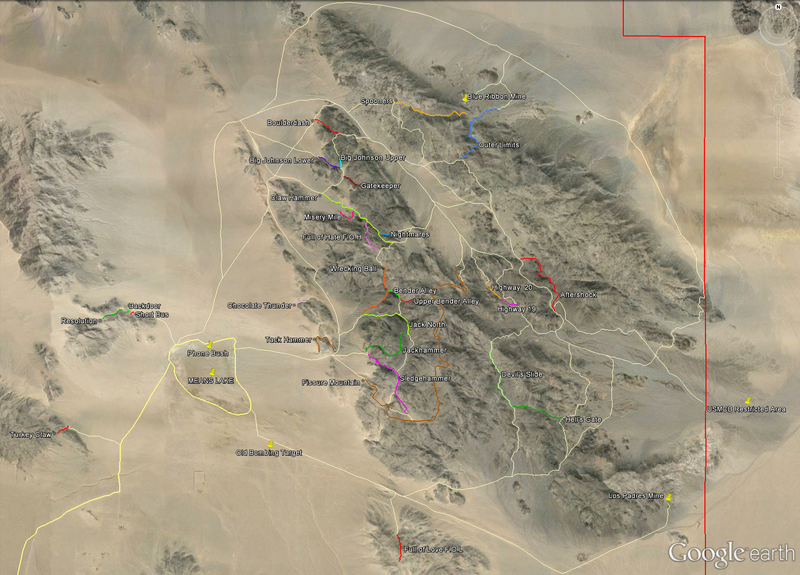 Image courtesy of GoogleEarth and dirtopia.

After the non-event was completed, Jeff Knoll posted on a forum asking everyone how fast they thought someone could run eight trails consecutively at the Hammers. Dave Cole stirred things up by betting $100 that no one could do it in less than five hours. After garnering interest they shared the results of the secret race and everyone wanted to give it a try for themselves. And that's how King of the Hammers came to be! So what's with the OG13 if there were only twelve drivers at that first race? A reliable source told me that when they had T-shirts made to commemorate that first race, there was an error made and what was supposed to be OG12 was printed as OG13. They've used OG13 ever since and now many sources refer to the original "13" racers... but now you know better. The first official race in 2008 was still a non-spectator event. It was 50 miles of desert racing and seven Hammers trails. Approximately 50 drivers competed, a combination of top desert racers and top rock crawlers - each wanting to see how well they would handle each other's turf. Shannon Campbell was crowned King of the Hammers after coming in from dead last to take the lead - his dramatic finish created even more interest in this extreme race.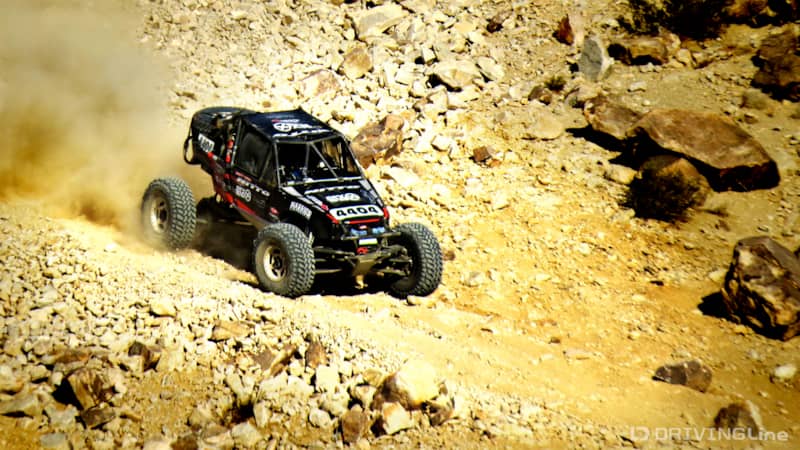 Soon Hammerking Productions was formed, spectators were invited, and sponsors signed up. The Ultra4 class was created (dubbed "unlimited", it's only qualifier is that a race vehicle must be capable of 4WD). The Ultra4 Racing series now comprises 7 qualifying races across the country to earn a chance to compete at King of the Hammers. The big race, King of the Hammers, is now a week-long event attracting over 170 race teams in various events and more than 35,000 spectators. The race is tougher than ever; in 2013 the course was three laps comprising 182 miles of high-speed desert racing and technical rock-crawling. No chase vehicles are allowed, requiring any carnage on the trail to be repaired by the driver/co-driver themselves on the trail or wait until they get back to the pits in Hammertown. Competitors are given 15 hours to complete the course - last year only 27 of the 129 competitors crossed the finish in time. At the time of this writing the 2014 course has not yet been released, but we can't wait to see what new challenges might be added for 2014 King of the Hammers on February 7th.

All of the original competitors and previous Kings are invited back to compete every year.  Randy Slawson, who was co-driver for winner JR Reynolds in 2007, went on to win the crown in 2013 and is back again this year to defend it. Shannon Campbell, the 2008 King, also won in 2011 to become the only two-time winner at KoH. Campbell, who placed third in 2012,  is here for a run at a third crown this year. JT Taylor has the honor of being the only competitor to green flag every year since 2007 and will be racing again this year. What makes these competitors so eager to push themselves and their vehicles to the limit knowing they face extremely high risk of carnage to their rigs and injury to their bodies? I found a great article written by Jeff Knoll a few years ago titled The History of Rock-sports newest adventure, "King of the Hammers". The Race and The Reasons. In it Knoll says: "There is a sense of adventure that lives inside all off-roaders; it thrusts them into the abyss of the unknown and puts their lives at risk, hanging just over the edge of control. A place not limited by a clear-cut route or designation. A place not enveloped in a wall of concrete and asphalt, or deemed somewhat safe by flocks of spectators...no cones to light the way or banners to suggest the correct method...certainly no judge looking over every move. This form of adrenaline is found in vast expanses of the southwest wilderness known as the open desert. A place we are taught from a very young age that we should never venture alone. A place where running out of talent may mean the possibility of a very uncomfortable ending, or, if you are not prepared, death."