The Silver Bullet LJ: A Modern Take on a Timeless Jeep
The original Jeep Wrangler Unlimited produced from 2004 to 2006 came in the form of a two-door and boasted an extra 15" of total length over its sister vehicle, the Jeep TJ. Affectionately known as the Jeep LJ, it quickly gained popularity among enthusiasts, as it was significantly more stable off-road thanks to a 10" longer wheel base, and allowed for more storage in the back with an additional 5" of cargo room. Thanks to its popularity and relatively low production numbers over a 3-year production run, the LJ has become rare and highly sought after.
Finding an LJ Rubicon in decent shape with low miles isn't an easy task, but that is exactly what my father, George Coates, was able to do.  It was only a matter of time until I was able to talk my dad into trusting Built2Wander to drum up a custom build on his 06' LJ Rubicon. Once convinced, I brought the Jeep from his home state of Ohio to 3D Off-Road in Colorado so that the build could begin. The name "Silver Bullet" was conceived thanks to the Jeep's silver paint and it being built in the Rocky Mountains. Together with Matt Thompson of 3D Off-Road and Ben Ryan of Mod Finishes, we were able to surprise my dad with the completed build on his 2006 Jeep Wrangler Unlimited Rubicon.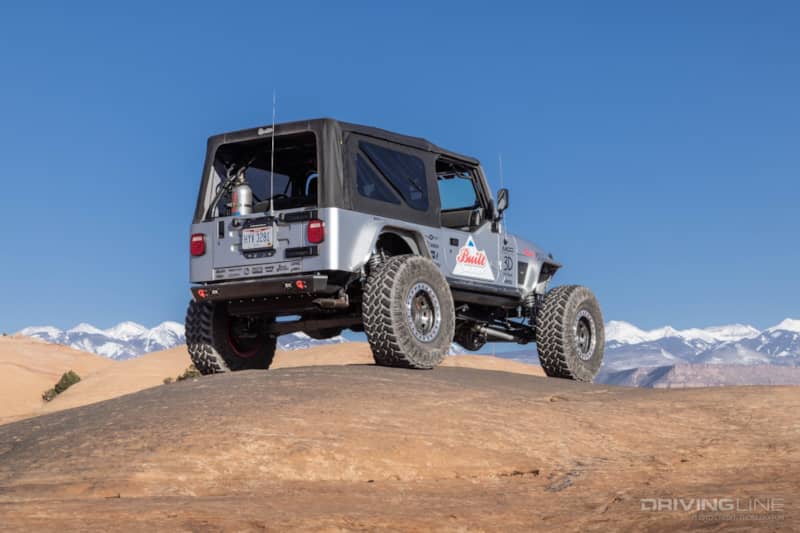 Classic LJ Styling
With only 50k miles on the clock and a clean frame and body, we set out to maximize the capability of this rig without altering the unique identity of the Jeep LJ too much. The goal was to fit the largest tire possible without cutting the body or hood. Thanks to a set of Genright Off Road aluminum tube fenders, we were able to clear a set of 37" Nitto Tire Trail Grapplers and cycle the suspension fully without having to stretch the rear of the tub or alter our OEM power dome hood. We also maintained the simplicity of the LJ's exterior with a set of Genright mini boat side rocker guards and Savvy Off Road's aluminum front and rear bumpers. Custom powder coating provided by Mod Finishes in Colorado Springs really helped to make these components stand out and tied them in with the theme of the build nicely.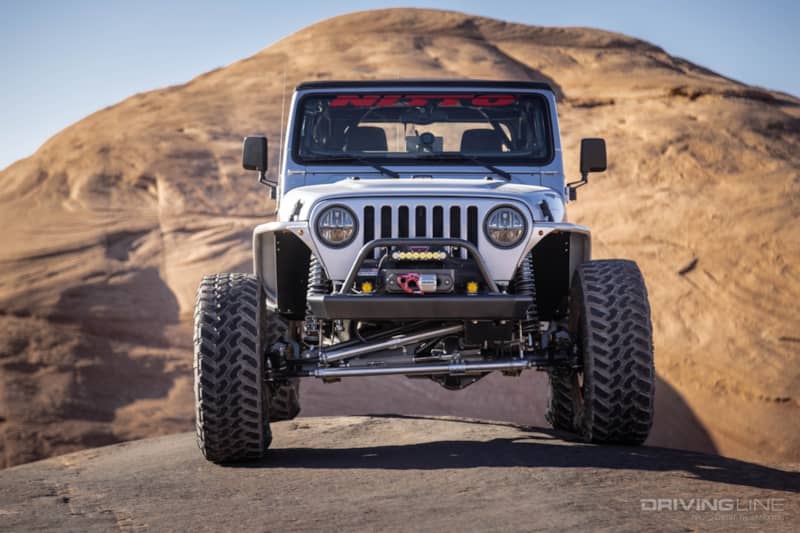 Move with Aggression
In order to reach our goal and maximize the capability of the Silver Bullet LJ, we needed a tire that was up to the task. With over 100,000 miles on the Nitto Trail Grappler in almost every condition imaginable both on-road and off, we knew it was the right tire for the build. We wanted something aggressive enough for the toughest trails out there yet comfortable and relatively quiet on-road. Mated to a set of 17" KMC Tank beadlock wheels, the Trail Grappler checked all of the boxes. The combination we came up with makes this Jeep LJ move with aggression.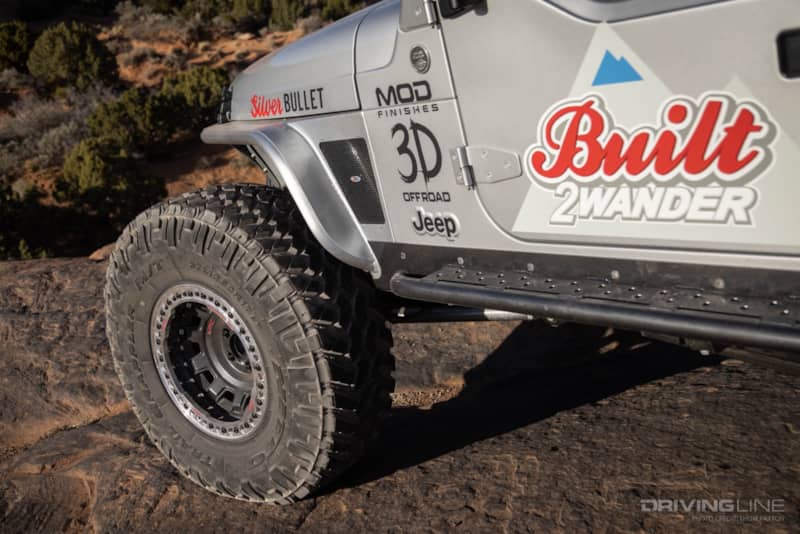 Riding on Cloud 9
In addition to needing extra ground clearance to properly stuff a set of 37" Trail Grapplers, we also wanted to maintain a comfortable ride quality as well. Both were achieved thanks to a set of 12" 60mm Bilstein coilovers coupled with Eibach springs and All German Motorsports coilover sliders. Bilstein hydraulic bump stops were also added at each corner to smooth things out as the suspension goes to full bump. Savvy Off Road's mid-arm suspension system offers maximum clearance and maintains proper geometry to make for a well-balanced ride. With RockJock 4x4 aluminum control arms, Johnny Joints, and Antirock sway bars, the entire suspension underneath the Silver Bullet LJ has you feeling like you are riding on cloud 9.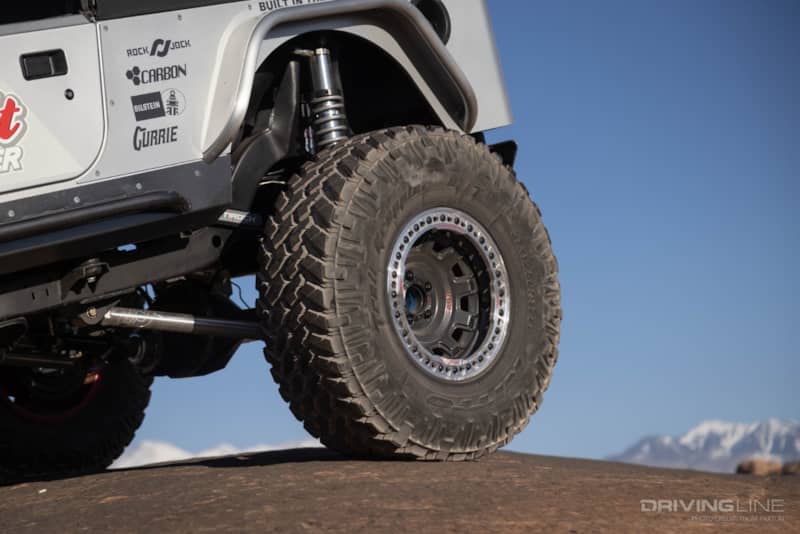 Drivetrain
We decided to keep the factory 4.0L I-6 motor for the time being since it has such low miles, but added an AEM intake and Magnaflow cat-back exhaust to allow it breathe better. The original Dana44 axles were replaced with far more superior units from Currie Enterprises. Out back you will find a Currie Fabricated 9" housing, stuffed with 5.13 gears and chromoly axle shafts from Carbon Off Road, as well as an ARB Air Locker. A Currie High-Pinion 44 housing sits up front, with the same internals as the rear axle. Both axles were spec'd out to JK-width, making it easy to find replacement parts if need be and allowing the jeep to remain much more stable in the rocks. The stock NP241 transfer case joins the axles with a 1350 series rear and a 1310 series front driveshaft provided by Adams Driveshaft.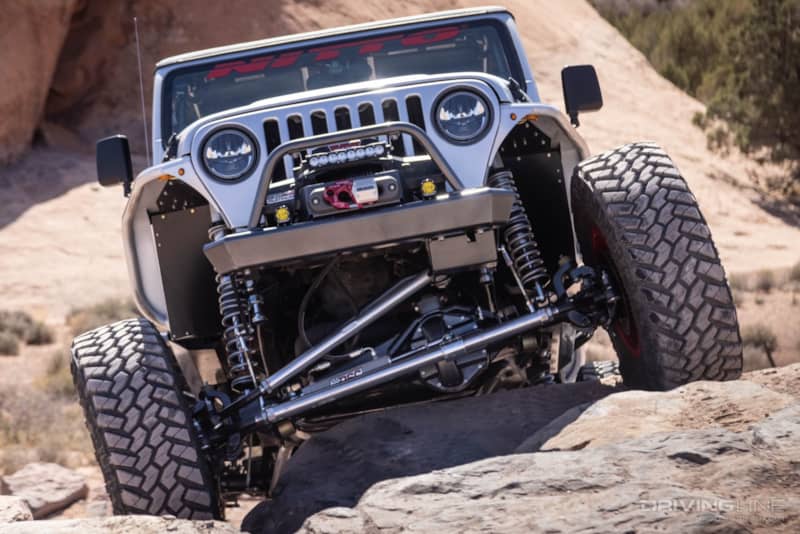 Heavy Duty Steering
A heavy wheel and tire combo calls for heavy duty steering. We added a PSC Motorsports Hydraulic Ram Assist steering kit and Big Bore XD Steering box with their high-flow pump to make sure steering was easy to do in the rocks. The PSC ram is mated up to RPM Steering's 2.5Ton Aluminum Tie Rod with Rare Parts rod ends. We also included RPM's 2.5Ton Aluminum Drag-Link, which joins a Genright Off Road Twisted Pitman Arm to allow us to obtain the full range of steering as the suspension cycles up and down. A custom trac-bar designed by 3D Off-Road utilizing RockJock 4x4 Johnny Joints rounds off the heavy duty steering up front.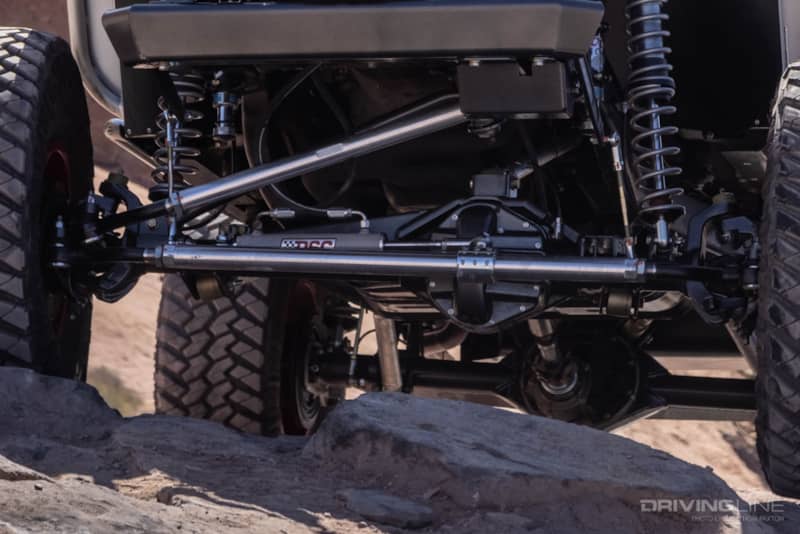 Functional Interior
The interior of the LJ was largely left alone. However, safety was of primary concern, so we swapped out the original cage for a Genright Off Road full roll cage.  The cage was slightly modified to accept Powertank's 10lb rotation system, which provides two 10-lb CO2 tanks with plenty of on-board air to fill up our 37s after a long day on the trails. We also added a full recovery kit from Factor 55 so that we would have all of the necessary tools on board to perform a safe & effective recovery with gear we could rely on. A SPOD HD Panel was mounted to the cage at the driver side a-pillar and provides the necessary switches to properly manipulate our ARB twin-air compressor, air lockers, and accessory Lighting from Baja Designs. Lastly, we installed a digital radio and intercom unit from Rugged Radios, to allow in-car and car-to-car communication with ease. We will be adding a set of PRP Enduro Elite seats in both the front and rear to make the interior as comfortable as possible, and look forward to the additional safety they will provide as well for all occupants.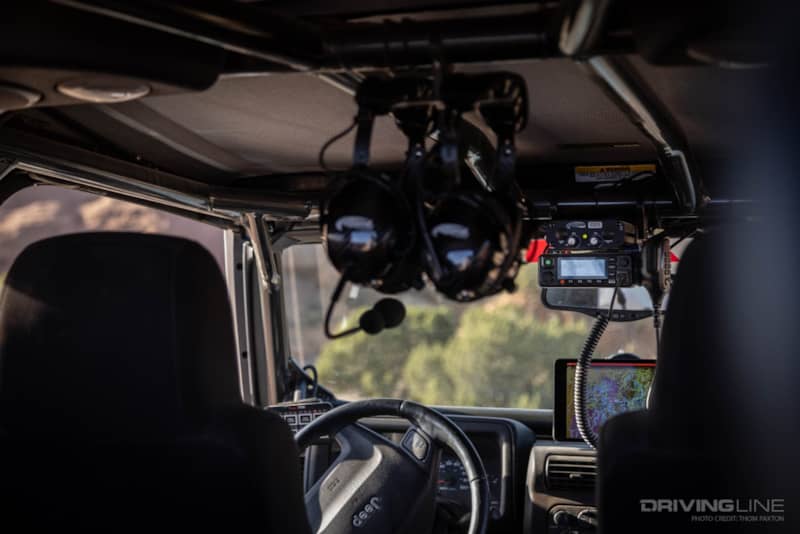 Accessories
The Silver Bullet has everything that is needed on the trail both day and night. Baja Designs Amber S1s function as fog lights and join an S8 10" LED light bar up front to provide ample amounts of light during night wheeling. Out back is a set of S2 reverse lights mounted flush in the rear Savvy bumper, and underneath is a set of Baja Designs Rock Lights. Savvy Off Road provided a set of LED tail lights, which achieve the same look as stock but in a brighter & more compact package. We equipped the vehicle with a Scosche tablet mount so that we had a functional place to have the onX Offroad navigation app up while on the trail. A Warn Zeon 10-S platinum winch, Factor 55 hawse fairlead, and Factor 55 UltraHook are on standby up front in the event of a recovery. The factory hardtop was replaced with a Bestop Supertop NX to take full advantage of that open-air experience while on the trail. Finally, a set of Apex Designs 3.0 Rapid Precision Valves were installed in the KMC Tank Wheels to allow for my dad to air down each Nitto Trail Grappler, reducing time spent at the trailhead and maximizing time on the trail.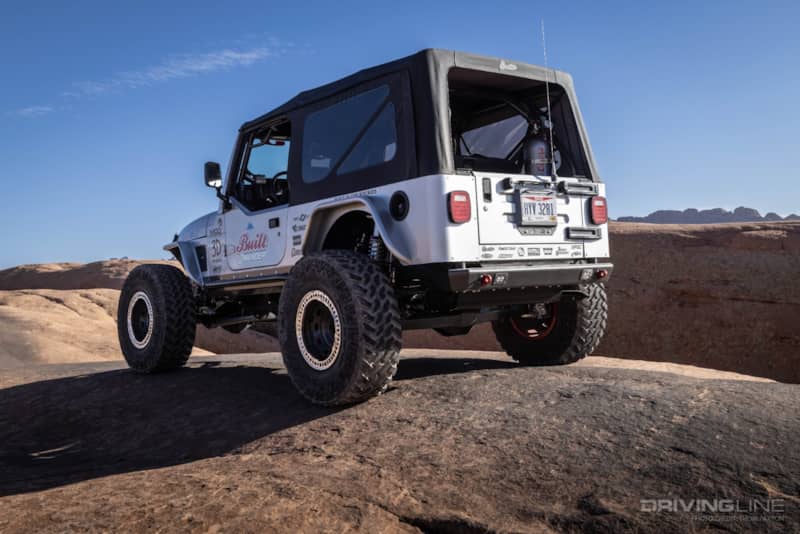 Built around a 37" Nitto Tire Trail Grappler and at stock LJ length, the Silver Bullet is a modern take on a timeless Jeep. We are thrilled with how well this full build came together on my dad's 2006 Jeep Wrangler Unlimited Rubicon and can't wait for him to join us in it on our adventures.