Top 10 Sport Compact Power Parts: SEMA 2016 Edition
The SEMA Show is all about horsepower. And for the last couple of decades, it's been all about horsepower and sport compacts. It's there where everything from some of the first bolt-on turbo kits designed for hatchbacks made in Japan to tuning solutions aimed right at four-cylinder engines have been revealed.
SEMA's 50th annual show was no different and played host to makers of parts for everything from Mazda's all-new Miata to Honda's tenth generation Civic and with a turbo good for around 2,500 hp that your Civic will never be able to make any use of thrown in for good measure.
1. Edelbrock 2016+ Mazda Miata MX-5 E-Force Supercharger
You don't even have your MX-5 yet, and you already know it isn't fast enough. So does Edelbrock, who has just revealed its latest E-Force supercharger — this time for the '16-and-up Miata.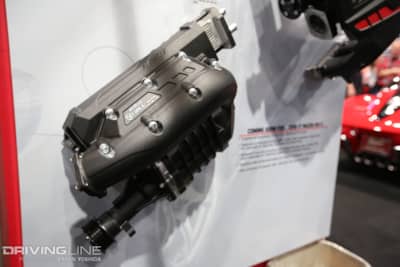 Nobody's saying just how much power the Eaton-based blower is good for, but considering the company's Scion FR-S/Subaru BRZ system that yields another 77 hp and 57 lb-ft of torque from a similarly sized four-cylinder mill, assuming something similar for the MX-5 kit wouldn't be too far of a stretch.
According to Edelbrock, the 50-state-emissions-legal kit, which will retail for $5,699.95 and be available by the end of November, will include a liquid-to-air intercooler, its own self-contained oiling system, and a pre-tuned EcuTek system, all of which is covered by a three-year warranty. 
2. DeatschWerks Sport Compact Fuel Rails
Sometimes it's the little things you'd never really stopped to consider that matter — like the adapters you've been using to get those Bosch EV14 fuel injectors to fit into whatever aftermarket fuel rail you've got. Turns out DeatschWerks cares about the little things too.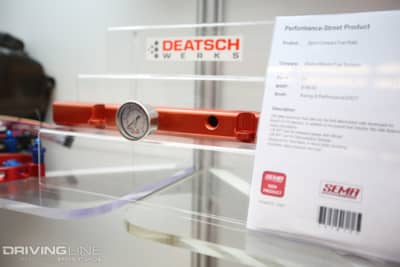 The company has released a line of fuel rails for multiple Honda, Mitsubishi and Nissan applications that'll allow those EV14s of yours to slide right into place with nary an adapter, spacer or whatever else you might've used to rig yours into place. DeatschWerks' all-new rails also feature 1/8-inch and 3/8-inch NPT ports for pressure gauges and fuel pulsation dampers as well as a Schrader-valve test port.
3. Garrett GTX 5533R Gen II Turbocharger
In all likelihood, you wouldn't know what in the world to do with Garrett's new GTX 5533R Gen II turbo that's good for as much as 2,500 hp.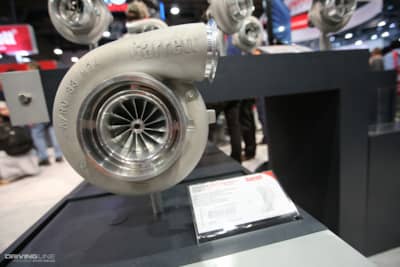 The all-new GTX is so powerful, in fact, that its recommended range doesn't even dip below the 1,000 hp mark that your Civic will never even see. Garrett's specially forged and CNC-machined compressor wheel, its high-flow compressor housing, its dual ceramic ball-bearing center cartridge and its specially designed turbine housing with an A/R as high as 1.78 all help lead to that ridiculous power figure.
So just how gargantuan is a turbo that's good for 2,500 hp, you ask? Well, according to Garrett, its redesigned compressor housing backing plate—a part you probably don't pay all that much attention to—which is now made out of lightweight billet aluminum, sheds a whopping 4 lbs all on its own.
4. Fujitsubo 2016+ Civic Coupe Exhaust Systems
There are exhaust systems, and then there are Fujitsubo exhaust systems. Think of them as the Cadillac of exhausts with their all-TIG-welded designs, their lightweight, all-stainless-steel materials and their racing and manufacturing heritage dating back to 1931.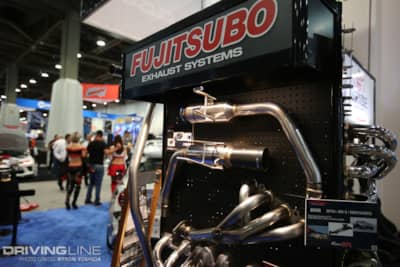 Of course, they don't make a single thing for any Cadillac, and you'll pay extra for all this. If you've got Honda's latest-generation Civic coupe, though, there are two ways for you to shell out all of that money: by way of Fujitsubo's Authorize RM with its carbon-fiber tip or its Rivid exhaust with its curled and color-processed outlet. Both systems are designed for low-end and mid-range power gains and were made for street use.
5. HPD Body in White Performance Parts
Honda wants you to go racing. So much so, in fact, that it's making its Honda Performance Development (HPD) line of touring car parts available directly to you, the average schmo.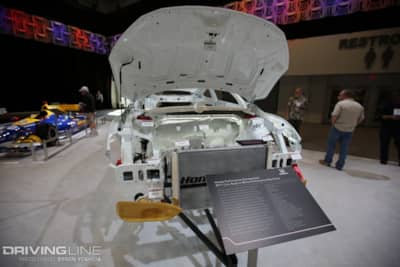 Buy a whole car if you want — a stripped-to-the-bone, body-in-white Civic chassis begging for an engine, suspension and brakes, or pick up the HPD tow strap that you can afford. The whole gamut of parts are available for Honda's latest-gen Civic and range from brake ducts to clutches and flywheels to brake pads to suspension adjusters like camber ball joints and caster correctors.
Designed specifically for those competing in Pirelli World Challenge and IMSA Continental Tire Sports Car Challenge events, according to Honda, HPD's engineers are on call for whatever product support you might need following your purchase. 
6. Fujitsubo 2016+ Mazda Miata MX-5 Super EX Header
More from the people who bring you some of the best exhaust systems that you can't afford, Fujitsubo's just released its Super EX header for Mazda's MX-5 Miata.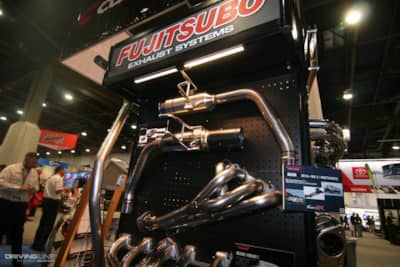 The high-polished, all-stainless-steel and TIG-welded header features 42.7mm primaries that merge into 45mm tubes and, finally, into a 60mm pipe. This completes the 4-2-1 design, which in most cases is better suited for street cars when compared to 4-1 configurations that favor high-RPM use.
7. Injen FK2 Honda Civic Type R Intake
If you live in the U.S., you can't buy Honda's FK2 Civic Type R — the predecessor to the CTR that Americans are set to get their hands on by next year.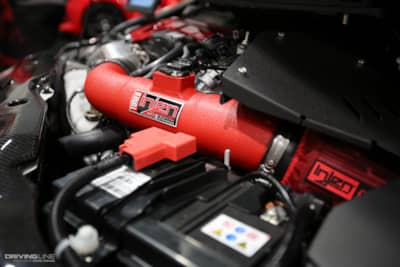 However, you can buy an intake for it, one made by the experts at Injen and offered by its European division for all of those blokes lucky enough to be able to actually use it. Injen says the all-aluminum and fittingly red-powder-coated short-ram is good for another 16 whp out of the turbocharged 2.0L engine, which is exactly 16 whp more than you'll ever experience, since you won't be getting your mitts on this particular CTR anytime soon.
8. Invidia FK2 Honda Civic Type R Exhaust
If you live in the U.S., you still can't buy Honda's FK2 Civic Type R, but you can own Invidia's cat-back exhaust system, which was designed specifically for the first-ever turbocharged Type R.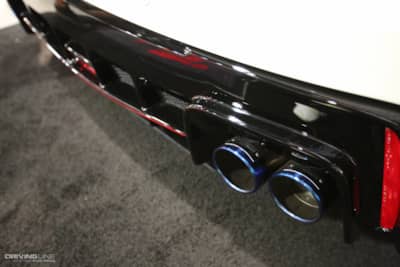 Like any good turbo exhaust system, this one features massive 76mm piping that terminates into two pairs of titanium tips, all of which allows that turbine to spin more freely.
9. HKS GTIII Turbochargers
Made by way of its partnership with Mitsubishi Heavy Industries (MHI), HKS has combined its years' worth of experience designing and building some of the most efficient compressor and turbine housings with MHI's center cartridges.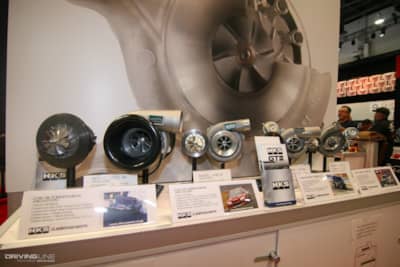 The results are the brand's GTIII series of turbos that have been configured for Nissan's RB26 and SR20 line of engines as well as Subaru's EJ20. Each feature built-in internal wastegates and, in the case of the RB, allows for gains beyond the 700 hp mark and without converting to a single-turbo layout. Typically, that sort of power on twin-turbo RB engines results in a whole lot of surging. According to HKS, its unique housings prevent that and allow for better spooling than any single-turbo conversion could ever hope for.
10. Mishimoto 2016+ Ford Focus RS Oil Cooler
You can barely get your hands on Ford's long-awaited Focus RS, and Mishimoto's already got most of its shortcomings figured out — like the RS' built-in liquid-to-liquid oil cooler that isn't all that efficient when the car's subjected to track days.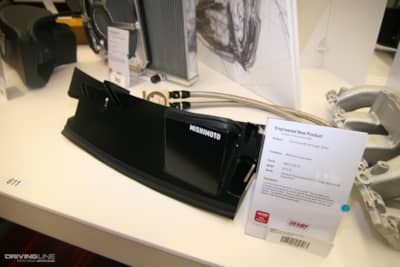 Mishimoto's liquid-to-air cooler keeps the engine's radiator and cooling system out of the equation, which, according to the company, means oil temps have suddenly dropped from 200 to 170 degrees F at the inlet and 155 degrees F at the outlet, with a modest oil pressure reduction of only 7 psi.